This website uses cookies to ensure you get the best experience while browsing it. By clicking 'Got It' you're accepting these terms.
Experts Air Serious Concerns Before New York Fracking Decision
Mar. 06, 2012 02:45PM EST
Energy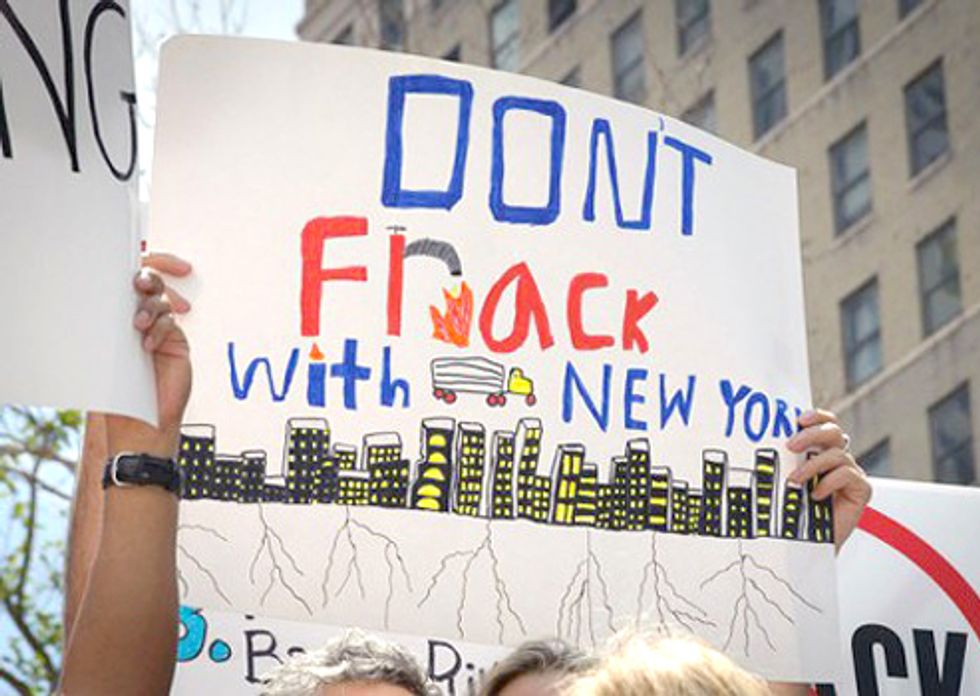 By Sharon Kelly
Two recent court decisions  in New York state upheld the right of towns to use zoning laws to limit or even ban fracking within their borders. Other states and cities such as Dallas, Maryland and North Carolina, are still trying to figure out whether, and if so how, to proceed with new drilling.
But the big decision that concerned citizens are watching is the one to be made by New York Gov. Andrew Cuomo about his state's moratorium. New York received more than 40,000 public comments on fracking and is plowing through them now.
The state has yet to publish those documents on the web, but DeSmogBlog has obtained many of them. Here is our initial shortlist of comments that offer the most important warnings and useful insights.
A Hidden Threat?
One of the most overlooked but potentially dangerous public health issues relating to unconventional gas drilling is radon. This odorless and radioactive gas comes up from the wells mixed with the gas that gets piped to consumers. Highly carcinogenic, radon is the second leading cause of lung cancer, just behind cigarette smoking, according to the U.S. Environmental Protection Agency (EPA).
In his comments, Dr. Marvin Resnikoff, director of Radioactive Waste Management Associates, concludes that radon levels in the gas that will come from Marcellus and likely be delivered to nearly 12 million New York residents will be far higher than current levels. As a result, "the potential number of fatal lung cancer deaths due to radon in natural gas from the Marcellus shale range from 1,182 to 30,448," he writes.
The threat is greater for New Yorkers and others living within the Marcellus shale because the gas not only is believed to carry higher radon levels but it also has far less time for the radon in the gas to decay since it is being transported shorter distances to consumers. Most gas used by New Yorkers presently comes from Texas and Louisiana rather than from Pennsylvania or New York.
Mr. Resnikoff isn't alone in sounding this alarm. James W. Ring, a physics professor at Hamilton College, previously raised similar concerns.
The Feds Weigh In
In an unusually cautionary series of comments, the U.S. EPA runs down a litany of more than 200 problems with New York's proposed regulations. The letter, in effect, emphasizes that New York needs to substantially strengthen its oversight of the industry before allowing shale gas drilling.
The U.S. EPA objects that New York underestimates how radioactive the waste from the Marcellus will be citing tests from Pennsylvania, and suggests rules that would make fracking off-limits for more than a half-million acres across the state. They express concern that the state may not have the budget and manpower to enforce the necessary drilling rules.
The agency also questions New York about the prudence of allowing drillers to sell the salty but radiation-laced wastewater to be spread on roads to fight ice and dust.
First Boom, Then Bust
The oil and gas industry love to talk about the jobs that new drilling will bring to New York. What the industry doesn't like to discuss are questions about who gets those jobs, how long they last and the hidden costs that come with drilling.
For a more sober and honest discussion of these issues, look to economists Jannette M. Barth and Edward C. Kokkelenberg who explain the financial boom and bust cycles created by drilling. In their letter to the state, these economists add that New York may never see the tax revenues projected, because the report relies on old data that overstates how much gas drillers can produce.
They also describe how the state over-estimates drilling's benefits by ignoring the hidden impact the industry will have on some of upstate New York's most lucrative businesses, such as farming, tourism, hunting and winemaking.
Private Gain at Public Risk
The oil and gas industry has a long history of privatizing profits while socializing risk. Anna K. Sears of Rochester, N.Y. offers a nice explanation of the latest incarnation.
She describes how many gas leases allow companies to truck in tankers with chemicals, transport flammable gas and toxic waste, operate heavy equipment 24/7 and store gas underground, for years, all in a person's back yard. Since mortgages forbid this kind of activity, a growing number of banks won't give new loans on homes with gas leases because they don't meet Fannie Mae and Freddie Mac standards.
When it comes time to sell their homes, people who have leased their land may run into serious problems. Every banker, insurance executive, housing official and mortgage specialist should read this comment very closely.
And The List Goes On
In comments signed by Pete Seeger, Ralph Nader, and dozens of government officials, scientists, and doctors, Walter Hang, president of Toxics Targeting, offers an unusually comprehensive list of concerns with proposed drilling in New York.
Mr. Hang's letter calls for a ban on sending drilling wastewater, which is highly contaminated and often radioactive, to sewage treatment plants, which discharge into rivers upstream from public drinking water intakes. It also points out that gas companies are eying not only the Marcellus shale, but also another layer called the Utica shale, which is deeper so fracking requires more water and creates more wastewater.
Mr. Hang skewers New York regulators for repeating one of the industry's favorite but utterly false mantras—that fracking has never led to groundwater contamination. He also quotes from internal emails where state officials talk about staffing levels that are woefully inadequate and a threat to public health.
You want one-stop shopping for reasons that New York should take it slow? Look no further.
For more information, click here.
EcoWatch Daily Newsletter
By Sabrina Kessler
Far-reaching allegations about how a climate-sinning American multinational could shamelessly lie to the public about its wrongdoing mobilized a small group of New York students on a cold November morning. They stood in front of New York's Supreme Court last week to follow the unprecedented lawsuit against ExxonMobil.
By Alex Robinson
Leah Garcés used to hate poultry farmers.
The animal rights activist, who opposes factory farming, had an adversarial relationship with chicken farmers until around five years ago, when she sat down to listen to one. She met a poultry farmer called Craig Watts in rural North Carolina and learned that the problems stemming from factory farming extended beyond animal cruelty.
People navigate snow-covered sidewalks in the Humboldt Park neighborhood on Nov. 11 in Chicago. Scott Olson / Getty Images
Temperatures plunged rapidly across the U.S. this week and around 70 percent of the population is expected to experience temperatures around freezing Wednesday.
A general view of the flooded St. Mark's Square after an exceptional overnight "Alta Acqua" high tide water level, on Nov. 13 in Venice. MARCO BERTORELLO / AFP / Getty Images
President Donald Trump doesn't like wind turbines.
In April, he claimed they caused cancer, and he sued to stop an offshore wind farm that was scheduled to go up near land he had purchased for a golf course in Aberdeenshire in Scotland. He lost that fight, and now the Trump Organization has agreed to pay the Scottish government $290,000 to cover its legal fees, The Washington Post reported Tuesday.
A verdant and productive urban garden in Havana. Susanne Bollinger / Wikimedia Commons
By Paul Brown
When countries run short of food, they need to find solutions fast, and one answer can be urban farming.
Trevor Noah appears on set during a taping of "The Daily Show with Trevor Noah" in New York on Nov. 26, 2018.
The Daily Show With Trevor Noah / YouTube screenshot