This website uses cookies to ensure you get the best experience while browsing it. By clicking 'Got It' you're accepting these terms.


The best of EcoWatch, right in your inbox. Sign up for our email newsletter!
Experiment Shows Profitability of Organic Farming
Nov. 22, 2011 09:55AM EST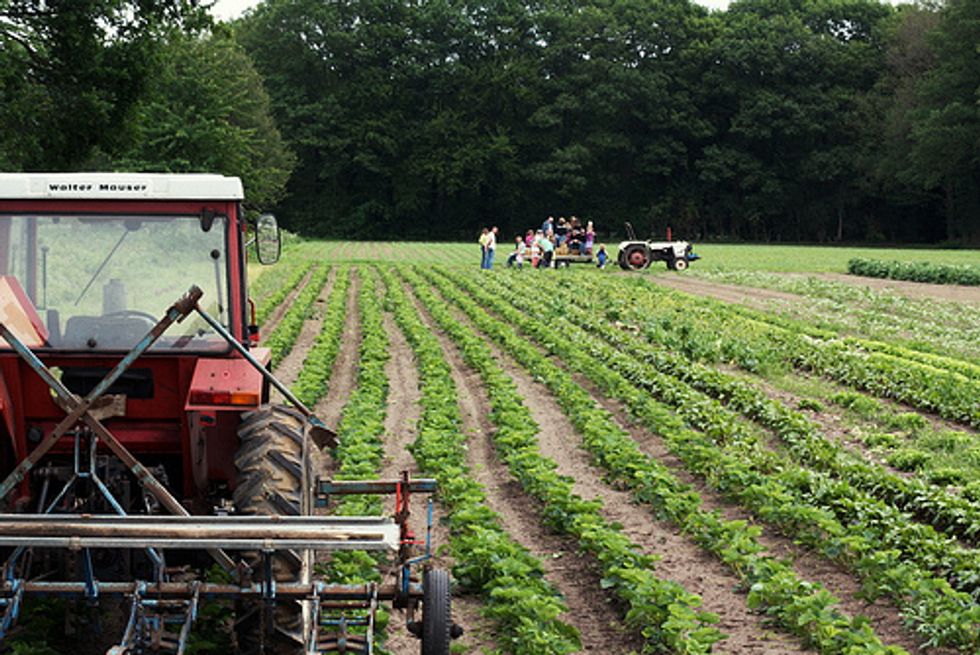 Organic crop systems can provide similar yields and much higher economic returns than a conventional corn-soybean rotation, according to 13 years of data from a side-by-side comparison at Iowa State University's Neely-Kinyon Research and Demonstration Farm.
The Long-Term Agroecological Research Experiment (LTAR) began in 1998 with support from the Leopold Center for Sustainable Agriculture. The LTAR is one of the longest running replicated comparisons in the country. Kathleen Delate, professor in Iowa State University Agronomy and Horticulture, leads the project.
"The transitioning years are the hardest years," Delate said, explaining that the project was originally designed to help farmers make the shift into an organic system. To sell a product as organic, the crop must be raised on land that has received no synthetic chemicals for three years prior to harvest."
The LTAR experiment shows that organic crops can remain competitive with conventional crops even during the three-year transition. Averaged over 13 years, yields of organic corn, soybean and oats have been equivalent to or slightly greater than their conventional counterparts. Likewise, a 12-year average for alfalfa and an 8-year average for winter wheat also show no significant difference between organic yields and the Adair County average.
Organic crops fetch a premium price on the market and eliminate the need for expensive inputs like herbicides and synthetic fertilizers. As a result, they are far more profitable than conventional crops. Craig Chase, interim leader of the Leopold Center's Marketing and Food Systems Initiative and extension farm management specialist, calculated the returns to management—that is, the money left over for family living after deducting labor, land and production costs—for both systems. He based his calculations on actual LTAR data from 1998 to 2004, as well as scenarios modeled with enterprise budgets.
Both methods gave the same result—On average, organic systems return roughly $200 per acre more than conventional crops.
In addition to its profitability, organic agriculture helps build healthy soils. While conventional LTAR plots receive synthetic herbicides, pesticides and fertilizer, organic plots receive only local, manure-based amendments. Total nitrogen increased by 33 percent in the organic plots, and researchers measured higher concentrations of carbon, potassium, phosphorous, magnesium and calcium. The results suggest that organic farming can foster greater efficiency in nutrient use and higher potential for sequestrating carbon.
Delate said they use "a whole suite of practices to manage weeds" in the organic plots, including timely tillage and longer crop rotations. Allelopathic chemicals from rye and alfalfa help keep weed populations under control, as does growing an alfalfa cover crop in winter, which provided cover for beneficial insects and animals.
"I think there's a strong future for organic agriculture," Delate said. "My phone is ringing off the hook. The interest hasn't waned."
When Delate became Iowa State's first specialist in organic agriculture in 1997, the Leopold Center provided start-up funds to develop a program and set up LTAR research plots. The center has provided annual operating funds for LTAR and, in 2010, the work was moved to a competitive grant in the Leopold Center's Cross-Cutting Initiative.
LTAR's findings concur with recently published results from the Rodale Institute's 30-year Farming Systems Trial in Pennsylvania. The Rodale Institute also concluded that organic systems can provide similar yields and greater profits. In addition, they calculated that organic crops required 45 percent less energy, and contributed significantly less to greenhouse gas emissions. Organic corn proved especially profitable during drought years, when its yields jumped up to 31 percent higher than conventional.
Download a brochure about the LTAR project by clicking here. Read the Rodale Institute report by clicking here.
For more information, click here.
EcoWatch Daily Newsletter
Pexels
By Danielle Nierenberg and Katherine Walla
As the holiday season ramps up for many across the world, Food Tank is highlighting 15 children's books that will introduce young eaters, growers and innovators to the world of food and agriculture. Authors and organizations are working to show children the importance — and fun — of eating healthy, nutritious and delicious food, growing their own produce, and giving food to others in need.
Pixabay
Purple cabbage, also referred to as red cabbage, belongs to the Brassica genus of plants. This group includes nutrient-dense vegetables, such as broccoli, Brussels sprouts, and kale.
Pexels
By Lauren Wolahan
For the first time ever, the UN is building out a roadmap for curbing carbon pollution from agriculture. To take part in that process, a coalition of U.S. farmers traveled to the UN climate conference in Madrid, Spain this month to make the case for the role that large-scale farming operations, long criticized for their outsized emissions, can play in addressing climate change.
Pexels
In recent years, acai bowls have become one of the most hyped-up health foods on the market.
They're prepared from puréed acai berries — which are fruits grown in Central and South America — and served as a smoothie in a bowl or glass, topped with fruit, nuts, seeds, or granola.
Investing in grid infrastructure would enable utilities to incorporate modern technology, making the grid more resilient and flexible. STRATMAN2 / FLICKR
By Elliott Negin
The Royal Swedish Academy of Sciences' recent decision to award the 2019 Nobel Prize in Chemistry to scientists who developed rechargeable lithium-ion batteries reminded the world just how transformative they have been. Without them, we wouldn't have smartphones or electric cars. But it's their potential to store electricity generated by the sun and the wind at their peak that promises to be even more revolutionary, reducing our dependence on fossil fuels and protecting the planet from the worst consequences of climate change.