This website uses cookies to ensure you get the best experience while browsing it. By clicking 'Got It' you're accepting these terms.
Expect More Crippling Heatwaves By 2020
Aug. 15, 2013 03:12PM EST
Business
By Tim Radford
Stand by for extreme weather. Prepare for heat waves on a scale that was once unprecedented. For once, there is no "if" in the forecast. Even if governments abandon fossil fuels everywhere, immediately and invest only in green energy, there will be new record temperatures.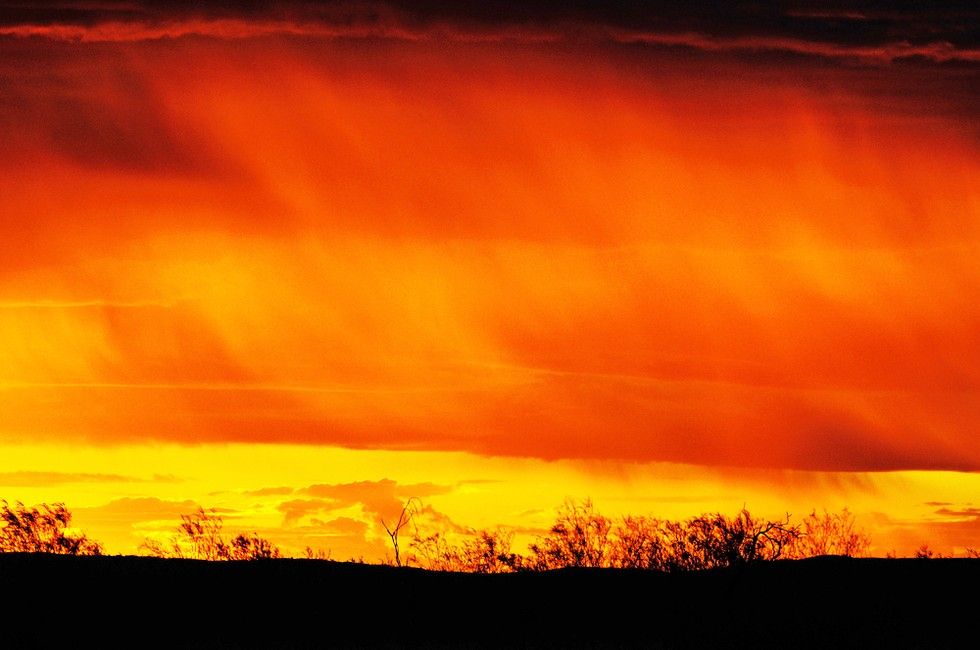 Photo courtesy of Shutterstock
European climate scientists say the greenhouse gases already in the atmosphere mean it is inevitable that far more parts of the world will experience more frequent and severe heat waves in the next 30 years.
The greenhouse gas emissions of the last few decades now mean that regions of the planet subjected to extreme heat will double by 2020 and quadruple by 2040.
Dim Coumou of the Potsdam Institute for Climate Impact Research in Germany and a colleague from Madrid in Spain make this prediction in Environmental Research Letters. In essence, they are only pointing out that the unprecedented heat waves that have already been recorded this century in Australia, the U.S., Russia, Greece and so on will increase in frequency and extent and in degrees Celsius.
They have followed the mathematical logic of climate models and simple thermodynamics. Extra greenhouse gas already in the atmosphere has pushed up global average temperatures. But an average is only the sum of all the extremes divided by the days in the year.
And as average temperatures rise in response to carbon dioxide levels, so will the extremes. And their forecast says the second half of the century will be even worse—unless global greenhouse emissions are reduced substantially.
"In many regions, the coldest summer months by the end of the century will be hotter than the hottest experienced today—that's what our calculations show for a scenario of unabated climate change. We would enter a new climatic regime", said Dr Coumou.
A Done Deal
Such warnings are not new: The World Meteorological Organisation made similar predictions in July, and the first years of this century have been marked by dramatic spells of record-breaking heat. In Russia in 2010, for instance, the temperature in July went up by 7 degrees Celsius to a daily peak of 40 degrees Celsius in Moscow.
Right now, five percent of the land area of the planet has experienced heat extremes, that is, temperatures far beyond the normal for summer at that latitude: temperatures that spell out deaths from heat stroke or heat exhaustion, harvest loss, devastating drought and forest fires.
By 2020 the area at risk will reach 10 percent, and by 2040, one fifth of the land area of the planet will be experiencing extreme temperatures at some point in the summer, just because of the extra energy already in the planetary system. "There's already so much greenhouse gas in the atmosphere today that the near-term increase of heat extremes seems to be almost inevitable", says Coumou.
The researchers combined the results from a comprehensive set of climate models, and used them to predict not only the next 30 years but the past as well.
"We show that these simulations capture the observed rise in heat extremes over the past 50 years very well", said Alex Robinson of the University Complutense in Madrid. "This makes us confident that they are able to robustly indicate what is to be expected in future."
But, on the same day, another study of climate extremes suggests that heat waves could actually make things even worse. A team of 18 European scientists led by Markus Reichstein of the Max-Planck Institute for Biogeochemistry in Jena in Germany reports in Nature that extreme weather events could actually lead to more carbon dioxide in the atmosphere, starting a vicious cycle of feedback.
In normal climatic conditions, plants absorb carbon dioxide and lock much of it away. In abnormal conditions, the response could be the reverse: Forest fires, for instance, would release huge volumes of carbon dioxide. Drought, too, would constrain any plant growth.
Increasing Frequency
The researchers calculate that because of extreme events that already occur, terrestrial ecosystems—forests, marshes, mangrove swamps, grasslands and so on—absorb around 11 billion tons of carbon dioxide less than they would if there were no extremes.
This time, they weren't working just with simulations. They pored over satellite images from 1982 to 2011 to work out how much biomass a particular ecosystem accumulated during or after an extreme weather event.
They also used data from a global network of recording stations that samples the air above forest canopies to check their figures, and came to the total of 11 billion tons. "That is roughly equivalent to the amount of carbon dioxide sequestered in terrestrial environments every year", said Dr Reichstein. "It is therefore by no means negligible."
Such a finding is tentative, because extremes of some kind must occur, no matter how stable the climate, and so the "normal" pattern of events is difficult to determine. In the stilted language of science, the researchers point out that the effect of fires, drought and baking heat on carbon stores and the flow of greenhouse gases is "non-linear." That means that a small change in average temperatures can have dramatic effects.
The next step is to investigate the ways that ecosystems respond to events. Experiments so far have measured responses only to so-called "once a century" events.
"We should also take account of events which so far have happened once in 1,000 years or even 10,000 years," said Michael Bahn from the University of Innsbruck, "because they are likely to become much more frequent by the end of this century."
Visit EcoWatch's CLIMATE CHANGE page for more related news on this topic.
——–
EcoWatch Daily Newsletter

georgeclerk / E+ / Getty Images
By Jennifer Molidor
One million species are at risk of extinction from human activity, warns a recent study by scientists with the United Nations. We need to cut greenhouse gas pollution across all sectors to avoid catastrophic climate change — and we need to do it fast, said the Intergovernmental Panel on Climate Change.
This research should serve as a rallying cry for polluting industries to make major changes now. Yet the agriculture industry continues to lag behind.
Edwin Remsburg / VW Pics / Getty Images
Botswana, home to one third of Africa's elephants, announced Wednesday that it was lifting its ban on the hunting of the large mammals.
"The Ministry of Environment, Natural Resources Conservation and Tourism wishes to inform the public that following extensive consultations with all stakeholders, the Government of Botswana has taken a decision to lift the hunting suspension," the government announced in a press release shared on social media.
Pxhere
By Richard Denison
Readers of this blog know how concerned EDF is over the Trump EPA's approval of many dozens of new chemicals based on its mere "expectation" that workers across supply chains will always employ personal protective equipment (PPE) just because it is recommended in the manufacturer's non-binding safety data sheet (SDS).
By Grant Smith
From 2009 to 2012, Gregory Jaczko was chairman of the Nuclear Regulatory Commission, which approves nuclear power plant designs and sets safety standards for plants. But he now says that nuclear power is too dangerous and expensive — and not part of the answer to the climate crisis.
A lake in Rocky Mountain National Park. Brett Walton / Circle of Blue
By Brett Walton
When Greg Wetherbee sat in front of the microscope recently, he was looking for fragments of metals or coal, particles that might indicate the source of airborne nitrogen pollution in Rocky Mountain National Park. What caught his eye, though, were the plastics.
Gabriele Holtermann Gorden / Pacific Press / LightRocket / Getty Images
In a big victory for animals, Prada has announced that it's ending its use of fur! It joins Coach, Jean Paul Gaultier, Giorgio Armani, Versace, Ralph Lauren, Vivienne Westwood, Michael Kors, Donna Karan and many others PETA has pushed toward a ban.
This is a victory more than a decade in the making. PETA and our international affiliates have crashed Prada's catwalks with anti-fur signs, held eye-catching demonstrations all around the world, and sent the company loads of information about the fur industry. In 2018, actor and animal rights advocate Pamela Anderson sent a letter on PETA's behalf urging Miuccia Prada to commit to leaving fur out of all future collections, and the iconic designer has finally listened.
Amer Ghazzal / Barcroft Media / Getty Images
If people in three European countries want to fight the climate crisis, they need to chill out more.
That's the conclusion of a new study from think tank Autonomy, which found that Germany, the UK and Sweden all needed to drastically reduce their workweeks to fight climate change.
Amazon Employees for Climate Justice held a press conference after the annual shareholder meeting on May 22. Amazon Employees for Climate Justice