This website uses cookies to ensure you get the best experience while browsing it. By clicking 'Got It' you're accepting these terms.
Exclusive Interview with Sen. Barbara Boxer
May. 12, 2014 06:56AM EST
Climate
Sen. Barbara Boxer (D-CA) serves as the majority chairperson of the U.S. Senate Committee on Environment and Public Works (EPW). She is the first woman to do so. It is from this vantage point that she has been a steadfast advocate for children, families and the environment. Boxer is the mother of two children and the grandmother of four. I reached out to her for this Moms Clean Air Force exclusive interview.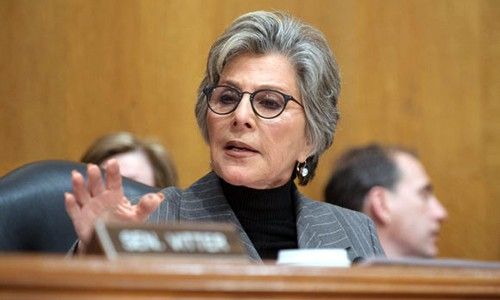 MCAF: How will upholding the U.S. Environmental Protection Agency's (EPA) Cross State Air Pollution rule help families?
Sen. Boxer: Last month's Supreme Court decision to uphold EPA's Cross State Air Pollution Rule was a big win for families and children across the country. This rule is a critical public health safeguard, which reduces deadly air pollution that crosses state lines and threatens the health of the American people. By making our air healthier to breathe, EPA's rule will save lives and prevent up to 34,000 premature deaths a year.
MCAF: You have been outspoken about the importance of factoring in the "public health impacts" of the tar sands oil when it comes to a decision on the Keystone XL pipeline proposal. What are your hopes for a resolution on this issue?
Sen. Boxer: There is a growing concern about the harmful health impacts of tar sands oil and the Keystone XL pipeline. I, along with Sen. Whitehouse, have written to Secretary of State John Kerry asking for a comprehensive health impact study on tar sands oil and the Keystone XL pipeline. We have been joined by well-respected public health professionals, such as National Nurses United, the American Public Health Association, the National Association of County and City Health Officials, in calling for a comprehensive health study on tar sands.
The State Department recently agreed to include health issues as part of the National Interest Determination, but we still need a full health study on how tar sands and the pipeline will impact all the communities along the route. We know that misery follows tar sands from extraction, to transportation, to refining, to waste storage. We should leave tar sands where they are—in the ground.
MCAF: You have been a strong advocate for the residential neighborhood of University Park, a low-income area in your district, where the petroleum company of AllenCo Energy Inc has been responsible for a variety of illnesses. Can you comment on the disproportionate presence of chemical facilities in minority areas?
Sen. Boxer: Personally, I do not believe a petroleum company like the facility in University Park should be placed in the middle of a residential neighborhood, but that is for the local government to determine. I was horrified when I toured the University Park neighborhood and interviewed women and children from families who had suffered from dizziness, headaches, respiratory ailments, and nosebleeds while the oil and gas pumping facility was operating. We cannot allow children and families in this community–and in others like it–to continue to suffer from unacceptable health hazards like toxic air pollution.
MCAF: What are your thoughts on the push for fracking, despite the numerous health concerns that have been identified?
Sen. Boxer: There are still many questions that need to be answered about the safety of natural gas exploration and hydraulic fracturing. The discovery of new resources creates an opportunity for increased production of a cleaner, domestically-produced fuel. While this could have benefits for our nation's economy and energy independence, it is critical to ensure that exploration for natural gas is done safely and responsibly, and that it does not threaten the air we breathe and the water we drink.
MCAF: Do you foresee any end to the tax breaks for oil companies in the near future?
Sen. Boxer: Special interests have been able to block action on ending tax breaks for Big Oil, but I will continue the fight. We must end loopholes and tax breaks that benefit Big Oil, millionaires, corporate jet owners and companies that ship jobs overseas.
MCAF: You have supported renewable energy and pointed to the pollution in China as an example of where America is headed if we don't get proactive as a nation. Based on the latest International Panel on Climate Change (IPCC) report, you commented, "The longer we wait to act, the harder and more expensive it will be." Opponents to renewable initiatives repeatedly pit "the economy" against "the environment." Can you address this?
Sen. Boxer: The U.S. has proven we can continue to protect the environment and grow the economy. Over the last forty years, despite dire predictions from polluters, since the passage of the Clean Air Act, air pollution has dropped 68 percent and America's GDP has grown 212 percent. Landmark environmental laws have bolstered an environmental technology and services sector that employs an estimated 3.4 million people, according to the Bureau of Labor Statistics. And many of these jobs, like installing solar roofs, cannot be outsourced. In 2013, the U.S. solar industry employed over 142,000 Americans. Last year alone, that industry added almost 24,000 additional jobs—nearly a 20 percent increase.
Clean energy solutions and green technology are critical to future U.S. competitiveness in the global marketplace. Over the next decade, investment in clean energy technologies could reach $2.3 trillion and represent increased job and export market opportunity. This is good news for American workers. Addressing climate change with clean energy technology is a win-win for the U.S. economy.
MCAF: You are an example to women political leaders and grassroots mother/activists. In your role as chairperson of the EPW, you must deal with other senators who are climate deniers. You make a point of pushing back and reading information into the record that reflects the scientific data. Are you hopeful that your committee and the Congress will get through the partisan intransigence to deal with the science at the heart of climate change?
Sen. Boxer: The latest report by the IPCC adds a tremendous sense of urgency for Congress to wake up and do everything in its power to reduce dangerous carbon pollution. And the projections for the future give us more reason to worry—a 2014 study in a peer reviewed journal published by National Institutes of Health predicts that by mid-century heat waves are expected to grow increasingly more frequent—causing up to 19 times more heat-related deaths.
I have formed the Senate Climate Action Task Force with Sen. Whitehouse and we are working to "wake up Congress" to climate change. We are realistic about the current makeup of Congress and the difficulty in passing climate change legislation, but we are not going to sit back or give up trying to raise visibility of the serious threats facing our nation. The great news is that we have a group of 23 Senators who are all committed to using our bully pulpit to elevate the issue and "wake up Congress."
MCAF: Are you concerned that the financial support of the Koch Brothers, which is often surreptitious, has added to the disinformation about environmental issues in our country?
Sen. Boxer: The Koch Brothers have funded efforts to mislead the public in the face of a mountain of scientific evidence that climate change is real and human activities are the cause. And special interests have tried to obscure the fact that environmental safeguards are important when it comes to the health and safety of the American people.
We know that climate change is real and we must take action now to reduce carbon pollution. And we must protect our landmark environmental laws, which have literally saved lives. Rest assured that I will continue to shine a light on these issues, which are so important to the American people.
MCAF: You have worked to protect children from lead and chemicals. You stated that the Court decision to uphold the EPA's Mercury and Air Toxic Standards was a "win for families." Women and mothers have become a very vocal part of the movement to protect the environment for future generations. What advice would you give them?
Sen. Boxer: We need to fight to protect the health of our families and children, and it is vitally important for people to make their voices heard to lawmakers on the local, state, and federal levels. We are the generation that must tackle climate change and other critical issues that impact public health and the environment. Our children and grandchildren are depending on us.
——–
YOU ALSO MIGHT LIKE
New Report Reveals Koch Brothers Could Make $100B Profit if Keystone XL Pipeline is Built
Coming Out of the Closet on Climate Change: If This Republican Congressman Can Do it …
New IPCC Report: Fossil Fuel Divestment Must Start Now
——–
EcoWatch Daily Newsletter

georgeclerk / E+ / Getty Images
By Jennifer Molidor
One million species are at risk of extinction from human activity, warns a recent study by scientists with the United Nations. We need to cut greenhouse gas pollution across all sectors to avoid catastrophic climate change — and we need to do it fast, said the Intergovernmental Panel on Climate Change.
This research should serve as a rallying cry for polluting industries to make major changes now. Yet the agriculture industry continues to lag behind.
Edwin Remsburg / VW Pics / Getty Images
Botswana, home to one third of Africa's elephants, announced Wednesday that it was lifting its ban on the hunting of the large mammals.
"The Ministry of Environment, Natural Resources Conservation and Tourism wishes to inform the public that following extensive consultations with all stakeholders, the Government of Botswana has taken a decision to lift the hunting suspension," the government announced in a press release shared on social media.
Pxhere
By Richard Denison
Readers of this blog know how concerned EDF is over the Trump EPA's approval of many dozens of new chemicals based on its mere "expectation" that workers across supply chains will always employ personal protective equipment (PPE) just because it is recommended in the manufacturer's non-binding safety data sheet (SDS).
By Grant Smith
From 2009 to 2012, Gregory Jaczko was chairman of the Nuclear Regulatory Commission, which approves nuclear power plant designs and sets safety standards for plants. But he now says that nuclear power is too dangerous and expensive — and not part of the answer to the climate crisis.
A lake in Rocky Mountain National Park. Brett Walton / Circle of Blue
By Brett Walton
When Greg Wetherbee sat in front of the microscope recently, he was looking for fragments of metals or coal, particles that might indicate the source of airborne nitrogen pollution in Rocky Mountain National Park. What caught his eye, though, were the plastics.
Gabriele Holtermann Gorden / Pacific Press / LightRocket / Getty Images
In a big victory for animals, Prada has announced that it's ending its use of fur! It joins Coach, Jean Paul Gaultier, Giorgio Armani, Versace, Ralph Lauren, Vivienne Westwood, Michael Kors, Donna Karan and many others PETA has pushed toward a ban.
This is a victory more than a decade in the making. PETA and our international affiliates have crashed Prada's catwalks with anti-fur signs, held eye-catching demonstrations all around the world, and sent the company loads of information about the fur industry. In 2018, actor and animal rights advocate Pamela Anderson sent a letter on PETA's behalf urging Miuccia Prada to commit to leaving fur out of all future collections, and the iconic designer has finally listened.
Amer Ghazzal / Barcroft Media / Getty Images
If people in three European countries want to fight the climate crisis, they need to chill out more.
That's the conclusion of a new study from think tank Autonomy, which found that Germany, the UK and Sweden all needed to drastically reduce their workweeks to fight climate change.
Amazon Employees for Climate Justice held a press conference after the annual shareholder meeting on May 22. Amazon Employees for Climate Justice