This website uses cookies to ensure you get the best experience while browsing it. By clicking 'Got It' you're accepting these terms.
Exclusive Interview: Pro Surfer Cyrus Sutton Develops Sunblock Safe for People and the Planet
Mar. 21, 2016 10:30AM EST
Business
For professional surfer and Emmy-winning filmmaker Cyrus Sutton, creating his own sustainable sunblock not only came from a deep respect for the oceans but also for a reason that really hit close to home.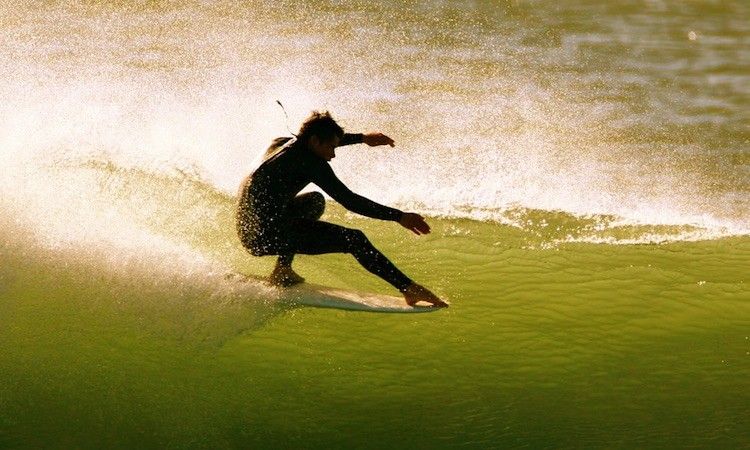 American director and professional surfer Cyrus Sutton. Photo credit: Anna Ehrgott
Writing for The Inertia, Sutton explained:
I started making my own sunblock after skin cancer nearly took my dad's life in 2008. This event spurred me to look at solutions to protect my skin. I learned that the chemicals in sunblocks were linked to negative health effects in humans and coral reefs. Corals are incredibly sensitive to chemicals. It's been shown in scientific literature that corals have shown abnormal bleaching with sunblock that's a dilution of just 10 micrometers. That's one millionth of a liter.
According to Environmental Working Group's (EWG) ninth annual Sunscreen Guide, 80 percent of 1,700 sunscreens, SPF-rated moisturizers and lip balms, available on the market "offer inferior sun protection or contain worrisome ingredients" such as the hormone disruptor oxybenzone or retinyl palmitate, a form of vitamin A linked to skin damage.
Added to that, between 4,000 and 6,000 tons of sunscreen leaches into our delicate coral reefs around the world every year. The oxybenzone found most sunscreens have been found to exacerbate coral bleaching, a devastating, human-caused factor contributing to world's worst coral die-off in history.
While there are a number of healthy, reef-safe sunscreens already on the market, Sutton's Manda Organic Sun Paste is unique in that it contains thanaka, a yellowish powder that comes from ground thanaka tree bark in Myanmar, as you can see in the video below from Manda's successful Kickstarter campaign.
The natural SPF has been used by the Burmese people for more than 2,000 years to protect their skin from the hot sun.
Sutton, who launched surf website Korduroy.tv, had been making homemade sunblock in his own kitchen and never thought about entering the sun care market until he was introduced to thanaka through his longtime friend and Korduroy collaborator Reis Paluso.
Sutton and his team created a formulation mixed with thanaka and seven other natural ingredients all of which are safe enough to eat, including organic cinnamon, organic cacao, organic shea butter, organic beeswax and organic coconut oil.
Manda's active ingredient, zinc oxide, is a natural mineral and powerful blocker of UVA rays—and is also Environmental Working Group's first choice for sun protection.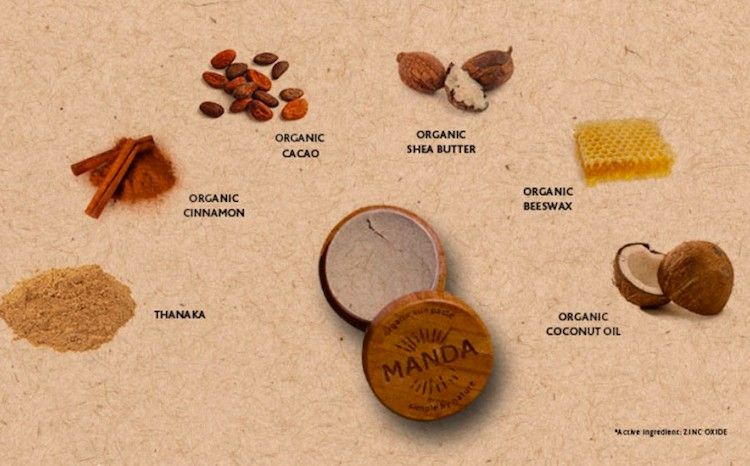 Cyrus, however, noted on The Inertia that zinc itself is "really hard on the environment to mine and refine." He continued:
After testing various combinations of thanaka and zinc, we settled on a formula that uses 20 percent zinc and 10 percent thanaka. The quantity of zinc alone qualifies us for what the FDA considers a 30 SPF or greater sunblock. We feel that by adding thanaka and our other natural ingredients that this number is significantly higher.
The final product is a waterproof, sweatproof sunscreen that leaves an off-white tint on the skin, reminiscent of the chalky streaks you might have seen on lifeguards' noses years ago. Note that Manda is a physical sunscreen unlike a chemical sunscreen which is rubbed and absorbed into your skin.
Ever the multi-tasker, Sutton took the time to answer some of EcoWatch's questions about his new sunscreen via email while sitting in his Sprinter van in Death Valley, California. The 33-year-old native Californian, who splits time living on the road and a 3-acre homestead in Washougal, Washington, is currently putting the finishing touches on his first feature documentary Island Earth from his solar-powered editing studio.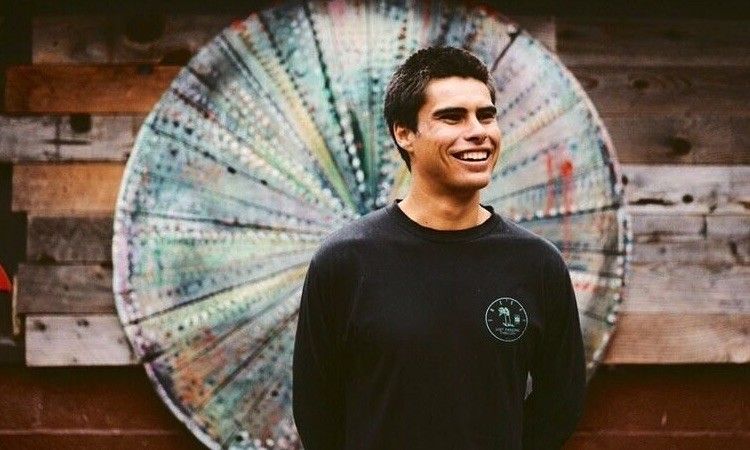 Sutton grew up in Southern California and divides his time on the road and his home in Washington state. Photo credit: Ryan Tatar
EcoWatch: Have you found that more people are looking for alternatives to chemical-based sunblock? If so, why do you think that is?
Sutton: I think our eyes are being opened to vast amounts of chemicals in the products that surround us. As consumers we are starting to second guess the marketing hype that we all grew up with. I think we're part of a backlash movement which is showing us that you can make products that are as or more effective as conventional ones without all of the chemicals. In terms of skin care and Manda, our skin is the largest organ in the body, it is responsible for respiration and elimination. Why would anybody want to put something on their skin that they couldn't eat?
EcoWatch: What are some things people are saying about Manda? How does it hold up after a long day in the sun?
Sutton: The response has been overwhelming. I didn't think people expected that something so simple could be so effective. Our Sun Paste is a targeted sun solution, which means you only apply it to your most sensitive areas. For most people that's their nose, lips, ears and cheeks. People have been sending us photos where they've applied Manda to a specific area like a scar and then applied a 30 SPF spray to the surrounding area. The area with our product at end of the day was not touched by the sun while the rest of their body was sunburned.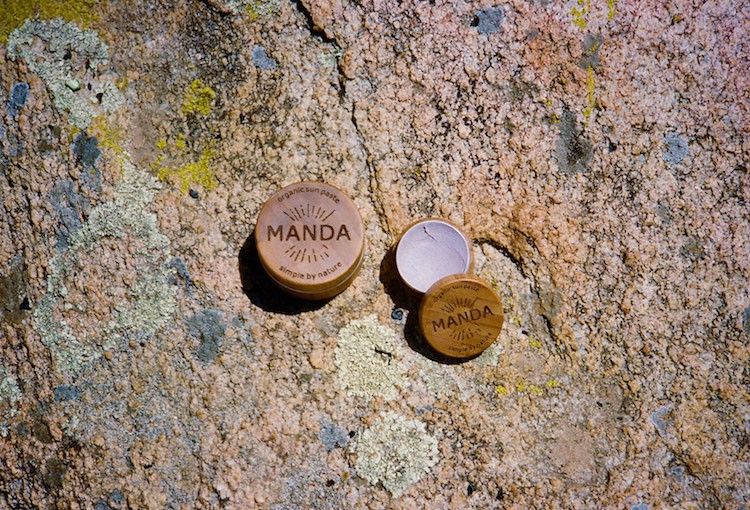 EcoWatch: Do you still make sunblock in your kitchen?
Sutton: I don't make sunblock in my kitchen anymore. My home brew could never match the recipe we've perfected.
EcoWatch: What are the other benefits of thanaka? Why isn't it currently used with any sun care products in the U.S.?
Sutton: Thanaka is used all over Southeast Asia as a holistic curative both topically and internally. I'm not sure why it is not used here. In my travels I've encountered all sorts of local medicines that have yet to be adopted by the West.
EcoWatch: Do you think that surfing or filmmaking has increased your appreciation of the ocean and the environment?
Sutton: Surfing is something that teaches you a rhythm of the natural world. To be good requires patience and respect. Filmmaking has allowed me to have in-depth conversations with recognized doctors, scientists and policy makers. What I've learned from these discussions is that the well-being of people and the planet is low on the list of priorities of companies who supply the majority of products we consume. As a surfer and a filmmaker, I think that it is my duty to create something that not only respects people and the environment but also hopefully shifts the way business is done.
EcoWatch: What's the one product/gadget you can't live without?
Sutton: My stove and pots. Otherwise I'd be eating out of cans. You can't live on the road very long eating out of cans.
EcoWatch: Who's your eco-hero and why?
Sutton: My eco heroes are Bill Mollison and David Holmgren, permaculture founders. Permaculture is a design science that combines modern technology with indigenous wisdoms to create not just sustainable but regenerative blueprints for human societies. It's been proven in all climates and just needs more people to participate. It was born as a reaction to the protest movements of 60's and 70's. Instead of protesting what we don't want, they researched the cultures and societies over history that were truly sustainable and applied them to today.
I love this quote by Mollison: "The greatest change we need to make is from consumption to production, even if on a small scale, in our own gardens. If only 10 percent of us do this, there is enough for everyone. Hence the futility of revolutionaries who have no gardens, who depend on the very system they attack, and who produce words and bullets, not food and shelter."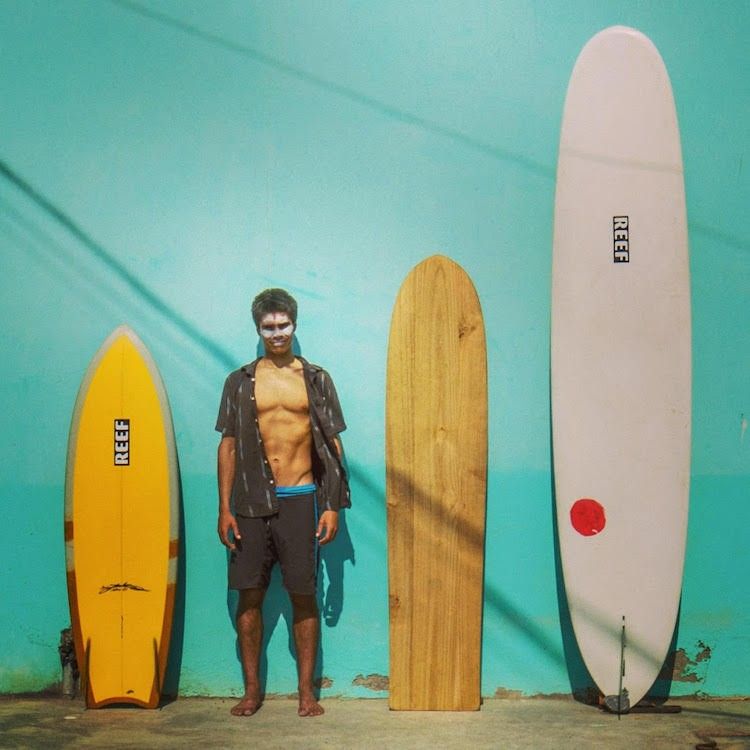 YOU MIGHT ALSO LIKE 
The Nature Conservancy and Leonardo DiCaprio Foundation Unite to Create Second Largest Marine Protected Area in West Indian Ocean
5 Powerful Skin Care Products Found Right in Your Kitchen
Ocean 'Artivist' Creates Breathtaking Coral Reef Sculptures
Teen Girls See Big Drop in Chemical Exposure With Switch in Cosmetics
EcoWatch Daily Newsletter

georgeclerk / E+ / Getty Images
By Jennifer Molidor
One million species are at risk of extinction from human activity, warns a recent study by scientists with the United Nations. We need to cut greenhouse gas pollution across all sectors to avoid catastrophic climate change — and we need to do it fast, said the Intergovernmental Panel on Climate Change.
This research should serve as a rallying cry for polluting industries to make major changes now. Yet the agriculture industry continues to lag behind.
Edwin Remsburg / VW Pics / Getty Images
Botswana, home to one third of Africa's elephants, announced Wednesday that it was lifting its ban on the hunting of the large mammals.
"The Ministry of Environment, Natural Resources Conservation and Tourism wishes to inform the public that following extensive consultations with all stakeholders, the Government of Botswana has taken a decision to lift the hunting suspension," the government announced in a press release shared on social media.
Pxhere
By Richard Denison
Readers of this blog know how concerned EDF is over the Trump EPA's approval of many dozens of new chemicals based on its mere "expectation" that workers across supply chains will always employ personal protective equipment (PPE) just because it is recommended in the manufacturer's non-binding safety data sheet (SDS).
By Grant Smith
From 2009 to 2012, Gregory Jaczko was chairman of the Nuclear Regulatory Commission, which approves nuclear power plant designs and sets safety standards for plants. But he now says that nuclear power is too dangerous and expensive — and not part of the answer to the climate crisis.
A lake in Rocky Mountain National Park. Brett Walton / Circle of Blue
By Brett Walton
When Greg Wetherbee sat in front of the microscope recently, he was looking for fragments of metals or coal, particles that might indicate the source of airborne nitrogen pollution in Rocky Mountain National Park. What caught his eye, though, were the plastics.
Gabriele Holtermann Gorden / Pacific Press / LightRocket / Getty Images
In a big victory for animals, Prada has announced that it's ending its use of fur! It joins Coach, Jean Paul Gaultier, Giorgio Armani, Versace, Ralph Lauren, Vivienne Westwood, Michael Kors, Donna Karan and many others PETA has pushed toward a ban.
This is a victory more than a decade in the making. PETA and our international affiliates have crashed Prada's catwalks with anti-fur signs, held eye-catching demonstrations all around the world, and sent the company loads of information about the fur industry. In 2018, actor and animal rights advocate Pamela Anderson sent a letter on PETA's behalf urging Miuccia Prada to commit to leaving fur out of all future collections, and the iconic designer has finally listened.
Amer Ghazzal / Barcroft Media / Getty Images
If people in three European countries want to fight the climate crisis, they need to chill out more.
That's the conclusion of a new study from think tank Autonomy, which found that Germany, the UK and Sweden all needed to drastically reduce their workweeks to fight climate change.
Amazon Employees for Climate Justice held a press conference after the annual shareholder meeting on May 22. Amazon Employees for Climate Justice