Exclusive Interview: IKEA Foundation CEO Says We Must Tackle Climate Change to Help Children in Need
Sep. 30, 2015 08:32AM EST
Climate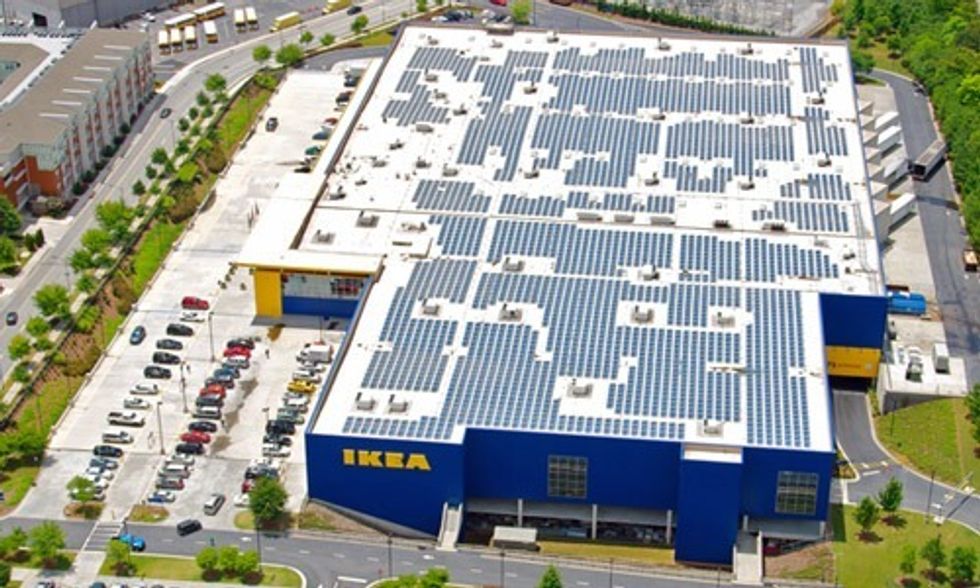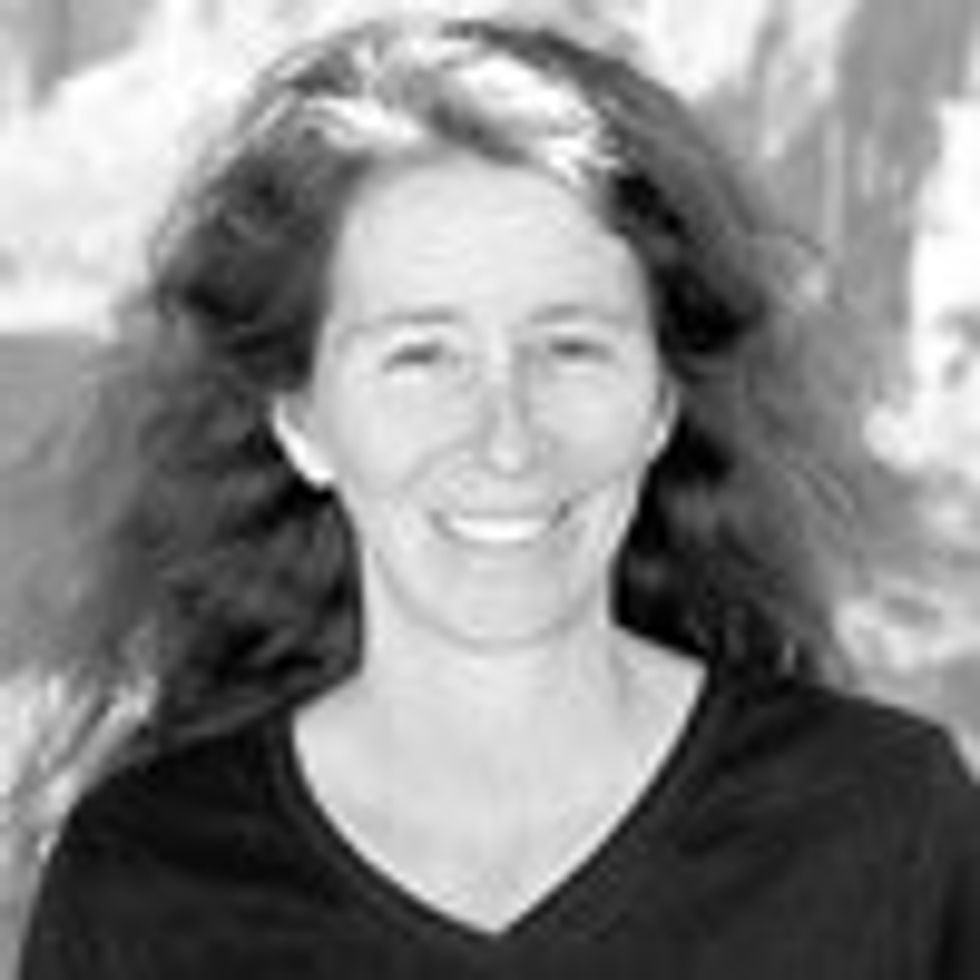 IKEA Foundation was announced the winner of the Childhood ThankYou Award by the World Childhood Foundation USA last week for its outstanding achievements in supporting vulnerable children and promoting their rights.
"IKEA's extraordinary commitment and investment in children's rights and environmental sustainability is unprecedented in the corporate sector," said Joanna Rubinstein, president and CEO of World Childhood Foundation USA. "Over the past 15 years, IKEA and the IKEA Foundation have embarked on improving the situation of vulnerable children in the world showing the way we can help ending the abuse, exploitation, trafficking and violence of children."
#IKEA Foundation receives ThankYou Award from World Childhood Foundation | http://t.co/Z9ExZNcJTi #unhcr http://t.co/1X5Ur8sGuR

— Jolanda van Ginkel (@Jolanda van Ginkel)1443362031.0
The IKEA Foundation was honored at the World Childhood Foundation's Gala on Friday for its extraordinary, longstanding efforts and investments in helping vulnerable children living in poverty and children affected by conflicts in order to ensure they have the opportunity to develop to their full potential. Since 2010, the IKEA Foundation has donated $475 million (EUR 420 million) to help 178 million children in more than 60 countries.
"IKEA and IKEA Foundation have demonstrated that protecting the most vulnerable members of our society, children, is not only a moral obligation. To be a 'good' company means happy employees, happy clients and as a result good business," said Her Royal Highness Princess Madeleine of Sweden, creator of the ThankYou campaign, a global initiative with the goal of building greater awareness about child abuse and exploitation, and to mobilize support for children in need.
"I hope that more companies will use the United Nations Convention on the Rights of the Child and the new Sustainable Development Goals framework as their guiding principles to show that economic growth is not in conflict with social inclusion and environmental sustainability," concluded Princess Madeleine. 
Per Heggenes, CEO of the IKEA Foundation—the philanthropic arm of the Swedish home furnishings company, IKEA—accepted the award. "We're working toward a world where children living in poverty have more opportunities to create a better future for themselves and their families," said Heggenes. "Funding in crisis areas and tackling climate change are critical to achieving this goal. We are grateful to receive this award."
I had the chance to interview Heggenes to get a deeper understanding of IKEA Foundation's work in helping children, combatting climate change and expediting renewable energy.
Q. Can you share how IKEA Foundation's commitment to helping children in some of the world's poorest communities transcended into the foundation's work to combat climate change?
A. Our current work at IKEA Foundation grew from IKEA's efforts to fight child labor in its supply chain. Early on in the endeavor, IKEA learned that to prevent child labor, it is vital to address the root causes of why children work.
We realized that if we wanted children to be kept out of our suppliers' factories, we also have to make sure that children can go school, so they don't end up working again, elsewhere. It didn't take us long to realise that if we wanted children to stay in school and out of factories, we also had to improve their health, so that easily preventable diseases would not keep them out of school. Today, IKEA Foundation supports projects that change attitudes towards child labor and that provide education and support so children and families can break the cycle of poverty. We also fund programmes to empower women.
Climate change threatens a lot of the progress that has been made for children living in the world's poorest communities. Climate change has become the negative undercurrent that threatens children's rights, as well as pretty much everything else. Nobel Peace Laureate Kailash Satyarthi argues that disasters resulting from climate change are pushing poor Indian families into poverty so deep that they are lured by traffickers into selling their children into bonded labor or prostitution.
A recent report published in India revealed that 40 percent of the children living in Delhi suffer from irreversible lung damage due to air pollution. Unfortunately, India will continue to be hit by climate change impacts, so poor communities will need to adapt to a changing climate and even become renewable energy champions. We believe that the world's poorest people constitute a massive force for good, as "planet positive champions"—this is one of our guiding principles.
Q. IKEA and IKEA Foundation pledged in June, $1.13 billion for climate action. Can you share the goals of the campaign and what your decision-making process has been like in deciding how to spend that money?
A. We are spending the next several months meeting with leading children's rights and environmental voices, as well as searching for our own insights from communities where we are already working. Overall, our focus will be on helping communities hardest hit by climate change, we'll be looking at ways to help them both prepare for and overcome these impacts, as well as recover when disasters do hit. A few weeks ago we met with some of the leading climate foundations in Europe, and we were in New York this week to meet with the leading foundations from the U.S. We will continue to develop our insights over the coming months as to where we could have the biggest impact. In early 2016, we expect to have a clearer sense of how we want to go about supporting communities impacted by climate change, so stay tuned for more information!
Q. IKEA has made some of the largest investments in renewable energy of any Fortune 500 company, with rooftop solar on nearly 90 percent of its stores. What role has the foundation played in IKEA's commitment to reducing its carbon footprint?
A. The IKEA Foundation is a charitable foundation separate from the IKEA retail business. Indeed, IKEA has been making a lot of progress on this front, from its commitment to produce as much renewable energy as it consumes by 2020, to introducing veggie meatballs, energy-saving light bulbs and seafood from certified sources but that's very separate from our work at the IKEA Foundation.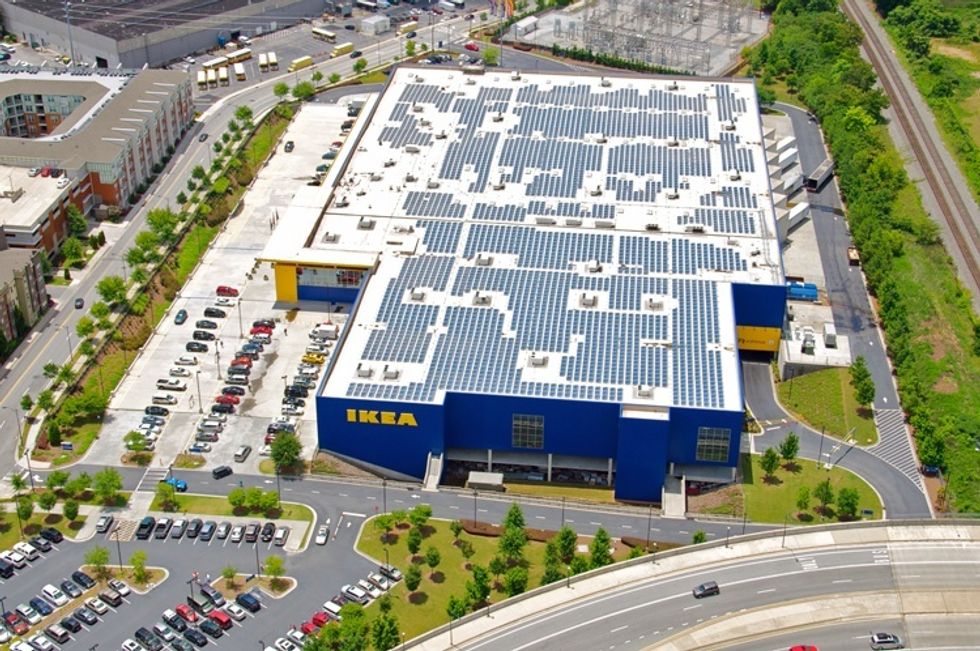 Our experience at the foundation tells us that people in some of the world poorest communities are also those most affected by, and vulnerable to, climate change events. In general, we will be looking to strengthen resilience building measures to help children and families recover from natural disasters, or lessen the severity of likely disasters. As you can see, we work on different sides of the same issue, and our work here at the foundation will focus at the intersection between children's rights and climate change. We are the first generation to experience the impacts of climate change, and the last one that can do something about it. This is a huge challenge that requires everyone, from governments to companies, civil society and communities. I recently came across a quote by Franklin Roosevelt, which remains very current in the context we are in: "There is a mysterious cycle in human events. To some generations much is given. Of other generations much is expected. This generation has a rendez-vous with destiny."
Q. One of the most pivotal moments for the future of our planet is just months away when world leaders will meet in Paris for COP21. As CEO of the IKEA Foundation, what are you hoping the outcome will be for these critical climate talks?
A. I would leave the experts to comment on that, but I think business has an important role to play in driving change towards a more sustainable future. We all know that working together gets more done, so I think it's obvious that it will take a massive joint effort to create a renewable energy future and help communities, especially the poorest ones, adapt to a changing climate. We are doing our part and we are asking for others to join efforts, corporates and foundations alike.
Q. You recently received the ThankYou Award from the World Childhood Foundation, founded by Her Majesty Queen Silvia of Sweden. What does that mean for IKEA Foundation?
A. We are humbled to receive the World Childhood Foundation's ThankYou Award for our work to promote children's rights globally. There is so much work to be done! The founder of IKEA and IKEA Foundation, Ingvar Kamprad, once said: "The most dangerous poison is the feeling of achievement. The antidote is to every evening think what can be done better tomorrow."
YOU MIGHT ALSO LIKE
9 Fortune 500 Companies Pledge to Go 100% Renewable
IKEA: Going 100% Renewable by 2020 Makes Good Business Sense
Tesla CEO Elon Musk: VW Scandal Shows Time's Up for Fossil Fuels
EcoWatch Daily Newsletter
Related Articles from EcoWatch