Exclusive: Food Fight Continues Over GMO Labeling
Oct. 25, 2015 10:54AM EST
Food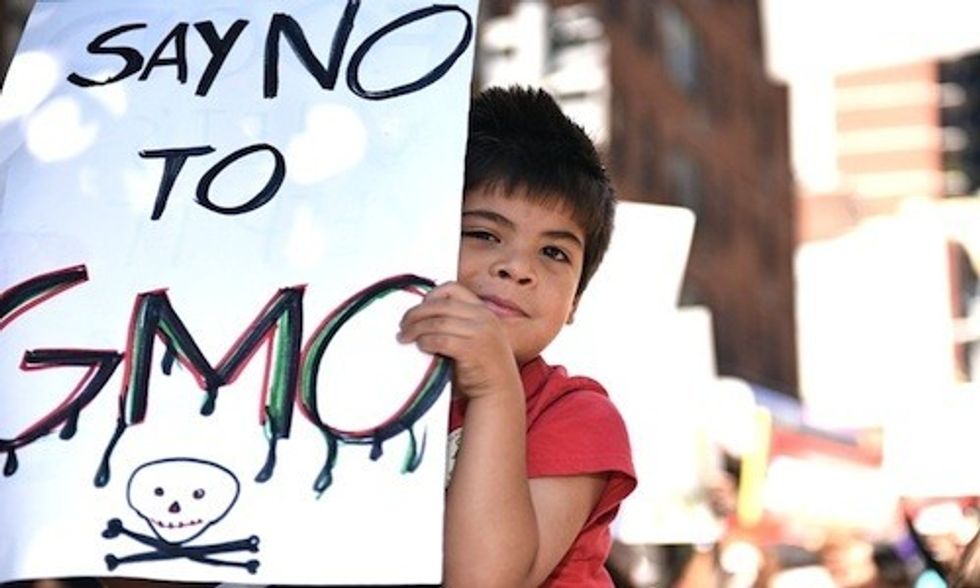 The Grocery Manufacturers Association (GMA)—the world's largest trade association for food, beverages and consumer products—has issued a road map to its member companies on how to comply with Vermont's precedent-setting law that requires the labeling of genetically modified organisms (GMOs), even though the powerful organization has heavily lobbied and spent eye-popping sums to fight state-by-state labeling mandates.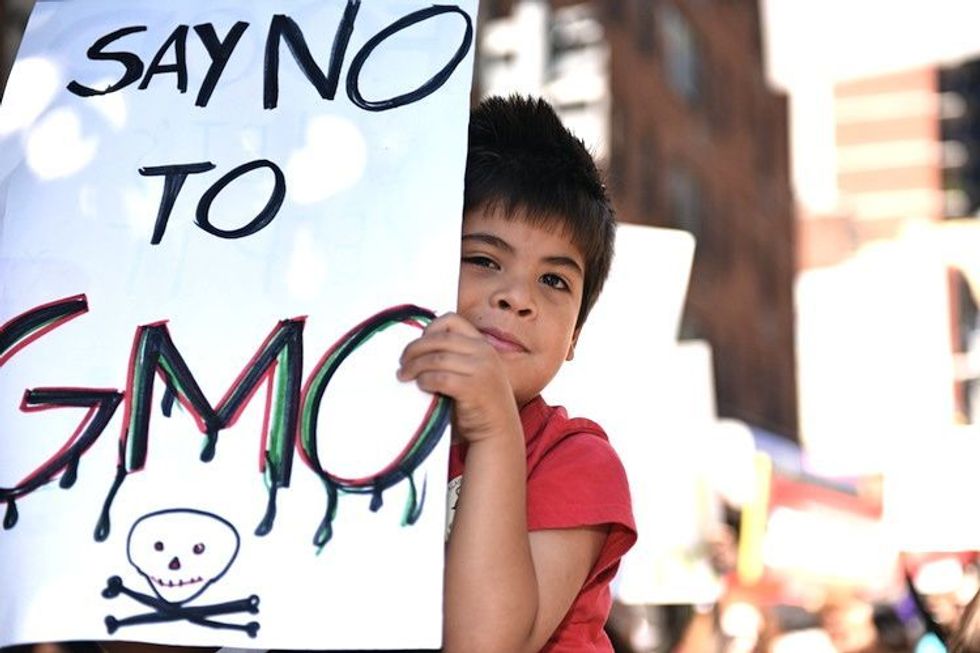 Photo credit: a katz
/
Shutterstock.com
Is Big Food Throwing in the Towel on GMO Labeling?
The GMA, which represents more than 300 food and beverage titans such as ConAgra, Nestlé, Coca-Cola, Pepsi, Kellogg and Hershey, has posted on its website a six page, 29-point FAQ [Frequently Asked Questions] document in order "to respond to questions that companies have about compliance with the Vermont law," Roger Lowe, the executive vice president of GMA's Strategic Communications, told EcoWatch in an email.
EcoWatch was made aware of this FAQ after a tipster sent us a copy of an earlier version of the document that was last updated on Aug. 3, 2015.
In the document, the GMA offers a bevy of guidelines for its companies on how to comply with Vermont's label law set to take effect July 1, 2016, even though the GMA has slapped lawsuits on the state to block the labeling law, and has spent millions in lobbying against mandatory labels at the state and federal level.
Their FAQ brings up points such as the specific language that can be used on a label, what the label should look like, where it should be placed, financial penalties for noncompliance, whether or not the word "natural" can be used for GMO-foods (prohibited by Vermont), and even whether or not GMO-food sold from restaurants or vending machines would require labeling (they don't).
Although the GMA expresses outright that this document is "NOT legal advice" and "it is up to each company to unilaterally decide its own course of action," just the existence of this FAQ suggests that Big Food companies are preparing a transition to labeling their GMO products, or at least in Vermont.
But there's a larger picture: If (or when) Vermont's mandate kicks in next year, it could have far-reaching implications for the labeling of GMO food products in the U.S.
Vermont Wins the Right to Know
The case for labeling GMO food has been boiling over in recent years, and in May 2014, Vermont became the first state in the U.S. to do just that. Unsurprisingly, the law was immediately shunned by the GMA and the organization sued the state, claiming GMOs are "safe and have important benefits for people and our planet." It would be too burdensome and costly for national food and beverage manufacturers to make a special GMO label for Vermont but not for the other 49 states, is how the argument against labels basically goes.
In June 2014, the GMA, as well as the Snack Food Association, International Dairy Foods Association and National Association of Manufacturers, asked for a preliminary injunction against implementation of the Vermont labeling law at the state's District Court. District Judge Christina Reiss denied the request, so the groups promptly filed a joint appeal at the U.S. Court of Appeals for the Second Circuit in New York City. Opening arguments for Grocery Manufacturers Association, et al. v. Sorrell, Case No. 15-1504, were heard earlier this month.
Unless the Second Circuit panel rules in favor with the food groups, or a federal law supersedes Vermont (more on that later), Vermont's labeling law could open the door for at least 30 other states considering GMO label laws, such as Connecticut and Maine that are waiting on neighboring states to pass similar legislation before triggering their own GMO labeling laws.
Public Opinion on GMOs
So why did the GMA bother to float around a FAQ document guiding its members on how to accommodate Vermont's new GMO labeling mandate—something they've been fighting tooth and nail?
The document suggests that the food industry is responding to U.S. consumer wariness over GMOs, according to Scott Faber, the vice president of government affairs at the Environmental Working Group, who has seen a copy of the document.
An oft-cited statistic is that 93 percent of Americans support mandatory labeling of GMOs, and that at least 64 countries have either banned GMOs or require labels. The sentiment is compounded with the World Health Organization's infamous classification of glyphosate—the main ingredient in biotech giant Monsanto's popular weedkiller Roundup—as a possible carcinogen.
"It's evidence that the industry is recognizing that they face a steep climb, and the time has come to prepare for labeling," said Faber, who is also the executive director of the Just Label It campaign that advocates for mandatory labeling of GMO foods.
The Elephant in the Room
Now, the federal bill. Vermont's labeling law could be completely undermined with the passage of a national standard for labeling GMO food and beverages. And that might actually happen.
This past July, the U.S. House of Representatives voted in favor of H.R. 1599. The bill bans states from requiring GMO labels on food, blocks the U.S. Food and Drug Administration from ever implementing mandatory GMO food labeling and allows food companies to continue to make "natural" claims for foods containing GMO ingredients. The bill has been dubbed the "Deny Americans the Right to Know" Act or DARK Act by opponents.
Lowe told EcoWatch that the GMA "supports a uniform national standard for GMO labeling so that consumers have the same labeling rules and regulations regardless of where they live or shop, not a patchwork of different state labeling mandates that are confusing and costly to consumers."
However, as POLITCO said in a report, the GMA is "advocating for an industry-friendly law with a voluntary federal standard—a move that food activists see as a power grab by an industry that has tried to kill GMO labeling initiatives every step of the way."
The fate of GMO labeling is now in the hands of the Senate. On Wednesday, the Senate's Committee on Agriculture, Nutrition and Forestry held its fourth hearing on the topic of GMO food.
During the hearing, the consensus from nearly all of the Senate Agriculture committee and the panel members providing testimony was that GMOs are safe and that mandatory labeling for foods that contain GMOs would be too burdensome for food companies and manufacturers.
This tweet from Wednesday, indicates that the GMA seemed pleased by what was said in the hearing:
Senate Agriculture Hearing Highlights Safety of GMOs and Urgent Need for Passage of National Labeling Standard https://t.co/8XVC0BrTO8

— GroceryManufacturers (@GroceryManufacturers)1445451444.0
"While we continue our efforts in federal court to challenge Vermont's state labeling law, the court process could take years until full resolution, and will certainly not be concluded prior to the implementation of the Vermont law in just over eight months. That leaves only Congress with the authority to prevent this law and others like it from enactment," said Pamela G. Bailey, president and CEO of the Grocery Manufacturers Association, in a statement after the hearing.
"It is critically important that Congress act this year to prevent a costly and confusing patchwork of state labeling laws from taking effect next year and spreading across the country," she concluded.
Time will tell if the mostly Republican-backed bill will reach the Senate floor, but currently no Democrat Senator has agreed step up to bat for it.
"The truth of the matter is that Congress is unlikely to come to the industry's rescue," EWG's Faber explained to EcoWatch about the likelihood of a Senate-backed bill. "Nothing changes the fact that passing legislation to deny the right of Americans to know what is in their food is an uphill climb."
The Organic Food Movement
The debate over the human safety and environmental impacts of GMOs is, in a word, polarizing. While many consumers, scientific minds and agricultural industries deem these products safe and aid global food insecurity, there are just as many individuals in these same camps who think the exact opposite.
Amid the controversy of labeling GMOs, more and more U.S. consumers are buying organic food and products. According to the latest Organic Survey from the USDA's National Agricultural Statistics Service, sales from organic farms across the country boomed last year, with consumer spending up 72 percent since 2008.
Many major restaurants and food brands have also transitioned away from GMOs on their own. In April, Chipotle removed genetically modified ingredients from its menu, making it the first major restaurant chain to take this step. Vermont's own Ben & Jerry's has been GMO-free since 2013.
In recent news, Wendy's, McDonald's and Gerber have decided to not sell or use the Arctic apple, the first genetically engineered apple approved by the U.S. Department of Agriculture.
The "Natural" Label Fight
Another interesting question raised by the GMA in their FAQ addresses use of the word "natural" for food products containing GMOs, a designation that the GMA has been actively seeking from the Food and Drug Administration (FDA) since Dec. 2013.
"Natural" or "all natural" is a famously dubious food description that the FDA has not defined. As such, labeling GMO products as "natural" was made illegal by Vermont's GMO labeling law. However, as the GMA notes in its document, this specific condition could change after the Second Circuit case or if the topic enters into higher courts.
How should companies address "natural" claims on labels given the Vermont trial court's favorable response on this issue?
The Vermont law bans the use of the specific terms "natural," "naturally," and "nature" on labels of food containing GE ingredients. The state has clarified in its Annotated Rule that this also includes any advertising at the physical retail premises and includes in-store advertisements. This is regardless of the type of media (printed circulars, window signs, billboards, television commercials, or other digital displays).
This suggests that the next big food labeling brouhaha could center on the definition of the word "natural," so it looks like this GMO food fight is only heating up.
YOU MIGHT ALSO LIKE
Lawsuits Mount Against Monsanto's 'Cancer-Causing' Weedkiller
Deceptive Tactics Used by Industry-Funded Group to Gain Support for Bill That Would Ban GMO Labeling
This Pennsylvania Community Is Determined to Ban GMOs and Pesticides
EcoWatch Daily Newsletter