This website uses cookies to ensure you get the best experience while browsing it. By clicking 'Got It' you're accepting these terms.
EVs vs. Horse-Drawn Carriages in New York's Central Park
Jan. 07, 2014 03:59PM EST
Business
While there are plenty of carriage drivers and tourists who aren't happy with one of New York City Mayor Bill de Blasio's first orders of business, electric vehicle (EV) proponents would likely approve of the newcomer's comments.
De Blasio said he would "quickly and aggressively" work to get rid of the tradition of horse carriage rides around Central Park, replacing them with electric vehicles. He'll try to maintain the classic feel of those trips by deploying EVs that are replicas of antique cars from the early 1900s.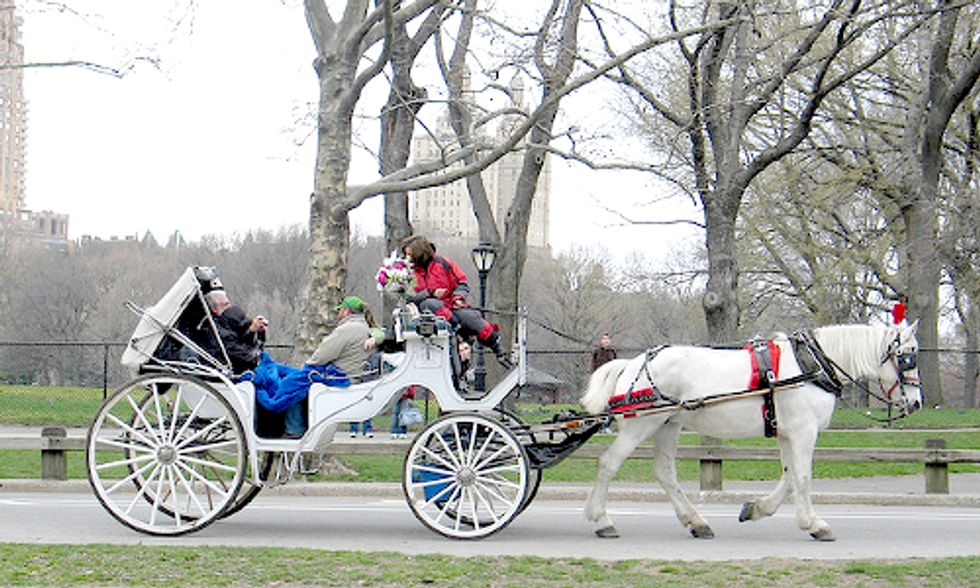 De Blasio hasn't said much about the advantages of EVs. He mostly wants to incorporate EVs into the tours because he believes using horse carriages is unfair to the animals. There are about 220 horses working in New York, according to CBS.
"We are going to get rid of the horse carriages, period," he said at a pre-inauguration press conference. "They are not humane, they are not appropriate for the year 2014. It's over. So, just watch us do it."
A 2007 study from the city comptroller concluded that there weren't "any serious violations regarding the health and safety of the horses when we accompanied them to the stables."
Representatives from the Teamsters union representing the carriage drivers said they aren't opposed to EVs, but don't believe the workers would be interested in transitioning from the horses to de Blasio's plan. The mayor said he would preserve jobs, inviting carriage drivers to man the antique EVs.
"We are against the thought of the electric car replacing the horse carriage industry," Demos Demopoulos, secretary/treasurer and executive officer of Teamsters Local No. 553, told Politico.
If and and when EVs do replace the horses that stroll Central Park as part of the city's $37 billion tourism industry, it will come after a long, political battle that includes city council hopefuls, animal advocacy groups, union leaders, property owners and more.
New York recently approved a law requiring owners of new off-street parking lots and garages to supply 20 percent of their spaces with charging ports with a minimum capacity of 3.1 kilowatts. There are just 200 such spaces now, but former mayor Michael Bloomberg said he believed the city could grow that number to 10,000 by 2020.
New York estimates that 44 percent of the city's greenhouse gas emissions will come from the transportation sector by 2030, according to the legislation. Emissions were at 22 percent in 2010.
Visit EcoWatch's TRANSPORTATION page for more related news on this topic.

EcoWatch Daily Newsletter
A new study shows that half of all Arctic warming and corresponding sea-loss during the late 20th century was caused by ozone-depleting substances. Here, icebergs discharged from Greenland's Jakobshavn Glacier. Kevin Krajick / Earth Institute /
EurekAlert!
The world awakened to the hole in the ozone layer in 1985, which scientists attributed it to ozone depleting substances. Two years later, in Montreal, the world agreed to ban the halogen compounds causing the massive hole over Antarctica. Research now shows that those chemicals didn't just cut a hole in the ozone layer, they also warmed up the Arctic.
Diane Wilson holds up a bag full of nurdles she collected from one of Formosa's outfall areas on Jan. 15. Julie Dermansky / DeSmogBlog
On the afternoon of Jan. 15, activist Diane Wilson kicked off a San Antonio Estuary Waterkeeper meeting on the side of the road across from a Formosa plastics manufacturing plant in Point Comfort, Texas.
After Wilson and the waterkeeper successfully sued Formosa in 2017, the company agreed to no longer release even one of the tiny plastic pellets known as nurdles into the region's waterways. The group of volunteers had assembled that day to check whether the plant was still discharging these raw materials of plastics manufacturing.
Malaysian Environment Minister Yeo Bee Yin (front 2nd L) and officials inspect a container containing plastic waste shipment on Jan. 20, 2020 before sending back to the countries of origin. AFP via Getty Images
The Southeast Asian country Malaysia has sent 150 shipping containers packed with plastic waste back to 13 wealthy countries, putting the world on notice that it will not be the world's garbage dump, as CNN reported. The countries receiving their trash back include the United States, the United Kingdom, France and Canada.
Trump leaves after delivering a speech at the Congress Centre during the World Economic Forum annual meeting in Davos on Jan. 21, 2020. JIM WATSON / AFP via Getty Images