This website uses cookies to ensure you get the best experience while browsing it. By clicking 'Got It' you're accepting these terms.
Evolution of Butterfly 'Eyespots' Lend Insight Into Age-Old 'Chicken or the Egg' Riddle
May. 28, 2014 03:56PM EST
A new study of the colorful "eyespots" on the wings of some butterfly species is helping to address fundamental questions about evolution that are conceptually similar to the quandary Aristotle wrestled with about 330 B.C.—"which came first, the chicken or the egg?"
After consideration, Aristotle decided that both the egg and the chicken had always existed. That was not the right answer. The new Oregon State University research is providing a little more detail.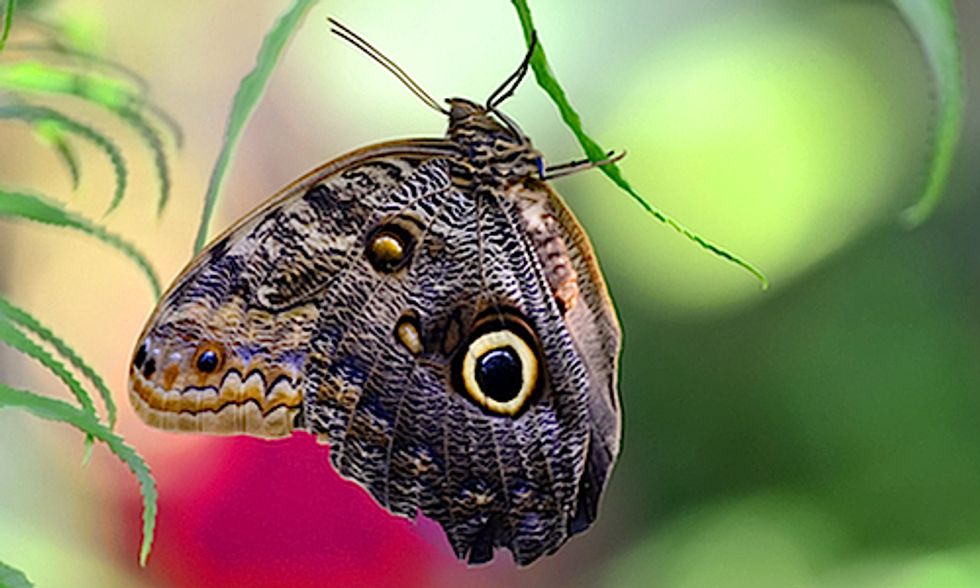 Photo courtesy of Shutterstock
The study, published yesterday in Proceedings of the Royal Society B, actually attempts to explain the existence of what scientists call "serial homologues," or patterns in nature that are repetitive, serve a function and are so important they are often retained through millions of years and across vast numbers of species.
Repeated vertebra that form a spinal column, rows of teeth and groups of eyespots on butterfly wings are all examples of serial homologues. Researchers have tracked the similarities and changes of these serial features through much time and many species, but it's remained a question about how they originally evolved.
Put another way, it's easier to see how one breed of chicken evolved into a different breed of chicken, rather than where chickens—or their eggs —came from to begin with.
Butterfly wings are helping to answer that question. These eyespots, common to the butterfly family Nymphalidae, now serve many butterflies in dual roles of both predator avoidance and mate identification. One theory of their origin is that they evolved from simpler, single spots; another theory is that they evolved from a "band" of color which later separated into spots.
"What we basically conclude is that neither of the existing theories about butterfly eyespots is correct," said Jeffrey Oliver, a postdoctoral scholar in the Department of Integrative Biology of the OSU College of Science. "The evidence suggests that a few eyespots evolved as a group at about the same time, but behaved somewhat as individual entities."
Having appeared as a result of some genetic mutation, however, the eyespots then had the capability to move, acquire a function that had evolutionary value, and because of that value were retained by future generations of butterflies. And at all times, they retained the biological capacity for positional awareness—the eyespots formed in the same place until a new mutation came along.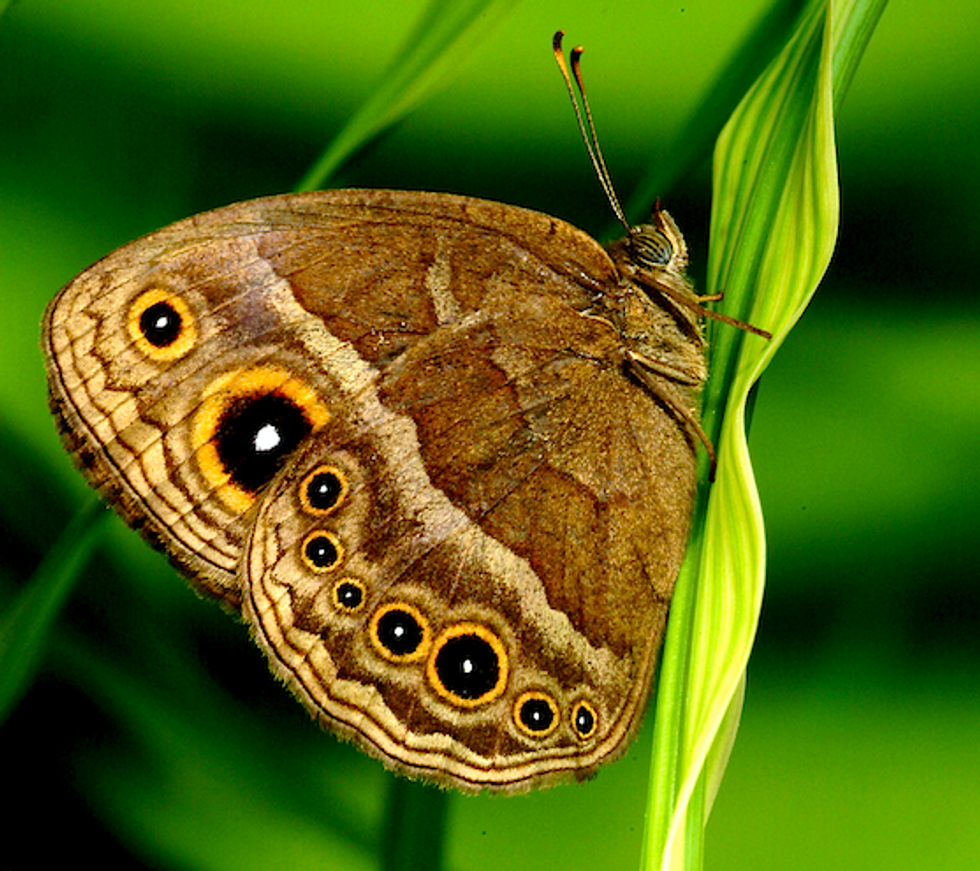 "At first, it appears the eyespots helped this group of butterflies with one of the most basic aspects of survival value, which is avoiding predators," Oliver said.
On the side of the wing that predators saw when the wings were closed, the eyespots could have served as camouflage from a distance, and up close almost a "bulls-eye" for a predator to see and attack. But this directed the attack toward the tips of less-important wings, and not the more vulnerable head or body of the insect.
But just as important, Oliver said, the study indicates how through continued mutation these eyespots moved to a completely different place—the other side of the wing. There, they performed a completely different function—helping the butterfly to attract and be identified by optimal mates.
"If you take this same concept and apply it to other important features like vertebra and a spinal column, it suggests that some small number of bones would form through mutation, and eventually move, join and be perpetuated as they acquired a function with survival value," Oliver said.
"There would be a biological position in which they were supposed to form, and that would be retained," Oliver said. "And over time, the vertebra might expand in number, and acquire other functions that had nothing to do with their original function, but which still had value."
The evolution of life has never been simple, as Aristotle and the other early philosophers found out. But one bone or butterfly eyespot at a time, the pieces continue to come together.
--------
YOU MIGHT ALSO LIKE
Two New Studies Address the Ongoing Plight of Honeybees
Is This Moth Beating Climate Change?
New Report Shows Monsanto A Major Culprit in Record Decline of Monarch Butterflies
--------
EcoWatch Daily Newsletter
One of the 25 new Long Beach Transit hybrid gasoline-electric buses on April 23, 2009. Jeff Gritchen / Digital First Media / Orange County Register / Getty Images
In Long Beach, California, some electric buses can charge along their route without cords or wires.
When a bus reaches the Pine Avenue station, it parks over a special charging pad. While passengers get on and off, the charger transfers energy to a receiver on the bottom of the bus.
Semi trucks travel along I94 on June 21 near Lake forest, Illinois. Scott Olson / Getty Images
The Trump administration pushed through an exemption to clean air rules, effectively freeing heavy polluting, super-cargo trucks from following clean air rules. It rushed the rule without conducting a federally mandated study on how it would impact public health, especially children, said the Environmental Protection Agency (EPA) Inspector General Charles J. Sheehan in a report released yesterday, as the AP reported.

A time-restricted eating plan provides a new way to fight obesity and metabolic diseases that affect millions of people worldwide. RossHelen / iStock / Getty Images Plus
By Satchin Panda and Pam Taub
People with obesity, high blood sugar, high blood pressure or high cholesterol are often advised to eat less and move more, but our new research suggests there is now another simple tool to fight off these diseases: restricting your eating time to a daily 10-hour window.
Kunhui Chih / iStock / Getty Images Plus
A man and his dog walk past an H&M store in Stockholm, Sweden on March 11, 2014. Melanie Stetson Freeman / The Christian Science Monitor via Getty Images
By Ashutosh Pandey
H&M's flagship store at the Sergels Torg square in Stockholm is back in business after a months-long refurbishment. But it's not exactly business as usual here.