This website uses cookies to ensure you get the best experience while browsing it. By clicking 'Got It' you're accepting these terms.
Evolution of Butterfly 'Eyespots' Lend Insight Into Age-Old 'Chicken or the Egg' Riddle
May. 28, 2014 03:56PM EST
A new study of the colorful "eyespots" on the wings of some butterfly species is helping to address fundamental questions about evolution that are conceptually similar to the quandary Aristotle wrestled with about 330 B.C.—"which came first, the chicken or the egg?"
After consideration, Aristotle decided that both the egg and the chicken had always existed. That was not the right answer. The new Oregon State University research is providing a little more detail.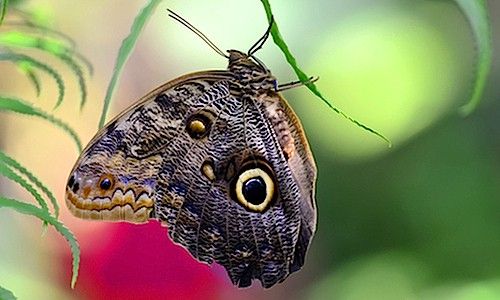 Photo courtesy of Shutterstock
The study, published yesterday in Proceedings of the Royal Society B, actually attempts to explain the existence of what scientists call "serial homologues," or patterns in nature that are repetitive, serve a function and are so important they are often retained through millions of years and across vast numbers of species.
Repeated vertebra that form a spinal column, rows of teeth and groups of eyespots on butterfly wings are all examples of serial homologues. Researchers have tracked the similarities and changes of these serial features through much time and many species, but it's remained a question about how they originally evolved.
Put another way, it's easier to see how one breed of chicken evolved into a different breed of chicken, rather than where chickens—or their eggs —came from to begin with.
Butterfly wings are helping to answer that question. These eyespots, common to the butterfly family Nymphalidae, now serve many butterflies in dual roles of both predator avoidance and mate identification. One theory of their origin is that they evolved from simpler, single spots; another theory is that they evolved from a "band" of color which later separated into spots.
"What we basically conclude is that neither of the existing theories about butterfly eyespots is correct," said Jeffrey Oliver, a postdoctoral scholar in the Department of Integrative Biology of the OSU College of Science. "The evidence suggests that a few eyespots evolved as a group at about the same time, but behaved somewhat as individual entities."
Having appeared as a result of some genetic mutation, however, the eyespots then had the capability to move, acquire a function that had evolutionary value, and because of that value were retained by future generations of butterflies. And at all times, they retained the biological capacity for positional awareness—the eyespots formed in the same place until a new mutation came along.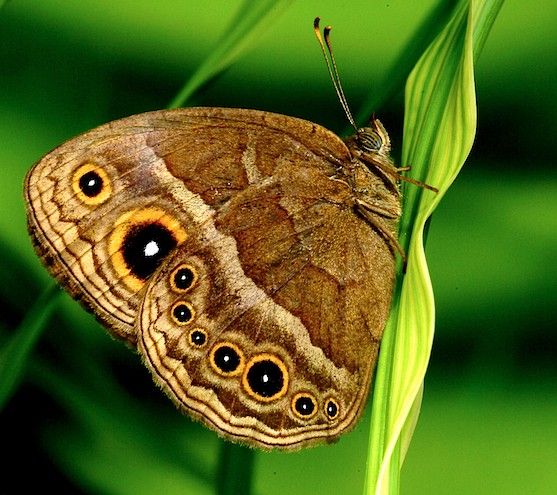 "At first, it appears the eyespots helped this group of butterflies with one of the most basic aspects of survival value, which is avoiding predators," Oliver said.
On the side of the wing that predators saw when the wings were closed, the eyespots could have served as camouflage from a distance, and up close almost a "bulls-eye" for a predator to see and attack. But this directed the attack toward the tips of less-important wings, and not the more vulnerable head or body of the insect.
But just as important, Oliver said, the study indicates how through continued mutation these eyespots moved to a completely different place—the other side of the wing. There, they performed a completely different function—helping the butterfly to attract and be identified by optimal mates.
"If you take this same concept and apply it to other important features like vertebra and a spinal column, it suggests that some small number of bones would form through mutation, and eventually move, join and be perpetuated as they acquired a function with survival value," Oliver said.
"There would be a biological position in which they were supposed to form, and that would be retained," Oliver said. "And over time, the vertebra might expand in number, and acquire other functions that had nothing to do with their original function, but which still had value."
The evolution of life has never been simple, as Aristotle and the other early philosophers found out. But one bone or butterfly eyespot at a time, the pieces continue to come together.
--------
YOU MIGHT ALSO LIKE
Two New Studies Address the Ongoing Plight of Honeybees
Is This Moth Beating Climate Change?
New Report Shows Monsanto A Major Culprit in Record Decline of Monarch Butterflies
--------
EcoWatch Daily Newsletter
An Exxon station in Florida remains open despite losing its roof during Hurricane Katrina on Aug. 29, 2005. Florida Air National Guard photo by Master Sgt. Shaun Withers
The country's largest fossil fuel company goes on trial today to face charges that it lied to investors about the safety of its assets in the face of the climate crisis and potential legislation to fight it, as the AP reported.
El Niño's effect on Antarctica is seen in a tabular iceberg off of Thwaites ice shelf. Jeremy Harbeck / NASA
El Niños are getting stronger due to climate change, according to a new study in Monday's Proceedings of the National Academy of Sciences.
By Julia Ries
Antibiotic resistance has doubled in the last 20 years.
Additionally a new study found one patient developed resistance to a last resort antibiotic in a matter of weeks.
Health experts say antibiotic prescriptions should only be given when absolutely necessary in order to avoid growing resistance.
Over the past decade, antibiotic resistance has emerged as one of the greatest public health threats.
Pexels
There are hundreds of millions of acres of public land in the U.S., but not everyone has had the chance to hike in a national forest or picnic in a state park.
Workers attend to a rooftop solar panel project on May 14, 2017 in Wuhan, China. Kevin Frayer / Getty Images
By Simon Evans
Renewable sources of electricity are set for rapid growth over the next five years, which could see them match the output of the world's coal-fired power stations for the first time ever.

Firefighters work during a wildfire threatening nearby hillside homes in the Pacific Palisades neighborhood on Oct. 21 in Los Angeles. The fire scorched at least 30 acres and prompted mandatory evacuations. Mario Tama / Getty Images
A wildfire that broke out Monday near Los Angeles' wealthy Pacific Palisades area threatened around 200 homes and injured two people, CNN reported.
Justin Trudeau gives a speech following a victory in his Quebec riding of Papineau on Oct. 22.
CBC News / YouTube screenshot
Pharmaceutical giant Johnson & Johnson recalled 33,000 bottles of baby powder on Friday after the U.S. Food and Drug Administration (FDA) found trace amounts of asbestos in one of its bottles.