Ever Wonder What's Happened to the More Than 570 Million iPhones Sold Since 2007?
Feb. 24, 2016 01:05PM EST
Business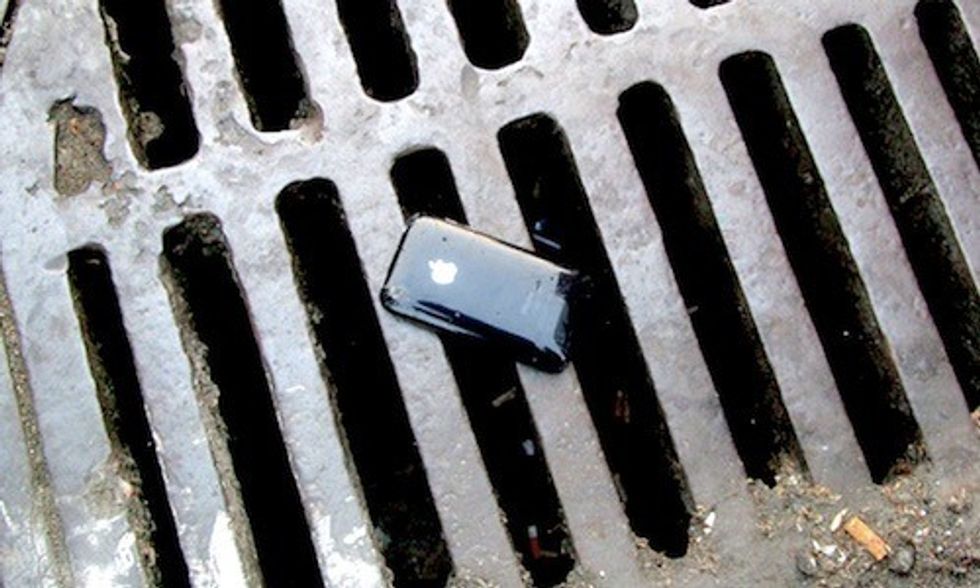 What happens when electronics come to the end of their useful life? For the vast majority of these devices, they either collect dust somewhere in our homes or offices or get sent to the landfill. According to the U.S. Environmental Protection Agency, only 12.5 percent of electronic waste, or e-waste, is recycled in the U.S.
Bloomberg recently dug into Apple's e-waste problem—namely the fate of the more than 570 million smartphones that have been sold since the first generation iPhone debuted in Jan. 9, 2007—and found that the tech giant has collected more than 40,000 tons of e-waste in 2014, recovering enough steel to lay 100 miles of railway track.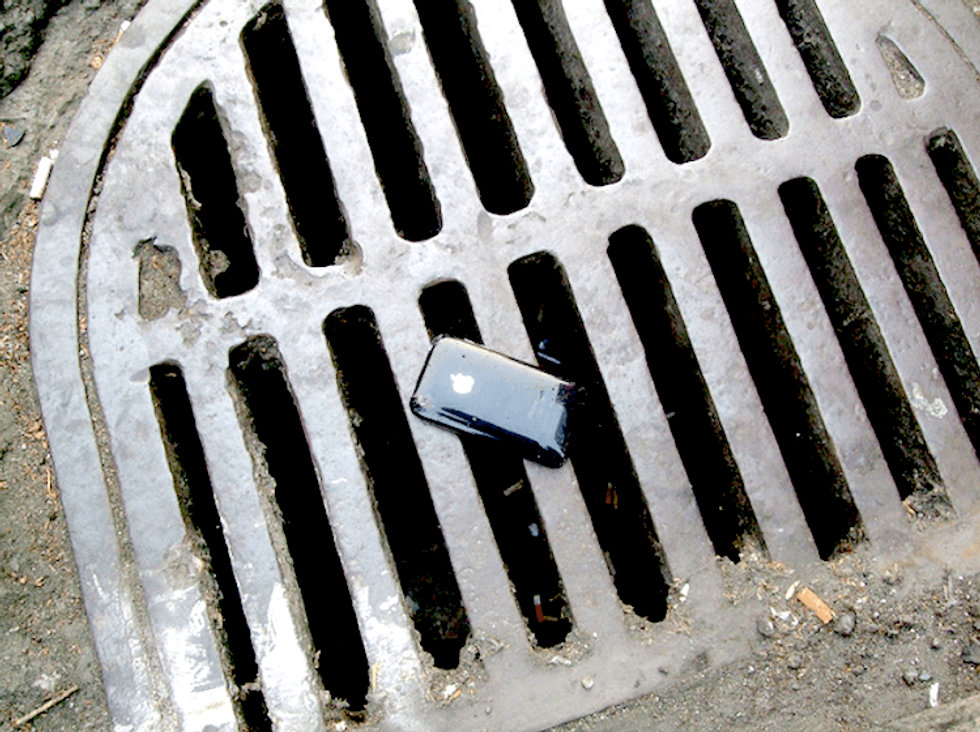 Apple has sold 570 million iPhones in the past 9 years. What happens to these phones when they reach the end of the road? Photo credit: Flickr
It's clear that our increasingly digital world has left a shocking impact on our planet. These gadgets require a massive amount of energy to manufacture and its potentially hazardous components can have a toxic and even deadly imprint on planetary inhabitants.
With a growing number of smartphones, computers and tablets piling up in our drawers or the landfill, United Nations officials estimated that the volume of e-waste generated worldwide is expected to climb by 33 percent by 2017 to 65 million tons.
Apple will have to face this mounting e-waste catastrophe as each new product comes along. However, as Lisa Jackson, Apple's vice president of environment, policy and social initiatives told Bloomberg, Apple has led the industry in recycling efforts:
In the electronics recycling business, the benchmark is to try to collect and recycle 70 percent, by weight, of the devices produced seven years earlier. Jackson says Apple exceeds that, typically reaching 85 percent, including recycling some non-Apple products that customers bring in.
That means it will have to get hold of and destroy the equivalent of more than 9 million of 2009's iPhone 3GS models this year around the world. With iPhone sales climbing to 155 million units last fiscal year, grinding up Apple products is a growth business.
Apple has a free reuse and recycling program that allows users to turn in their old iPhones, iPads or computers (Mac or PC) for Apple gift cards if the device qualifies for reuse. If it doesn't qualify for reuse, Apple will recycle it at no cost to the consumer.
Apple works with the Hong Kong-based electronics recycler Li Tong Group that follows a strict and secretive multi-step process that consists of breaking down every single element of an old phone and capturing 100 percent of the chemicals and gasses that's released during the process, Bloomberg reported.
This is where iPhones come to die (and be reborn) https://t.co/uWaFft1UdO https://t.co/03oswdogFD

— Bloomberg (@Bloomberg)1456012888.0
Jackson said that the never-ending buildup of new tech gear is a global issue.
"There's an e-waste problem in the world," Jackson told Bloomberg. "If we really want to leave the world better than we found it, we have to invest in ways to go further than what happens now."
Jackson, who once headed the U.S. Environmental Protection Agecny, has achieved a number of green initiatives since she was tapped to take charge of Apple's environmental affairs in 2013. From banning a number of toxic chemicals from their products to overseeing the company's $1.5 billion green bond, the largest such bond from a U.S. business.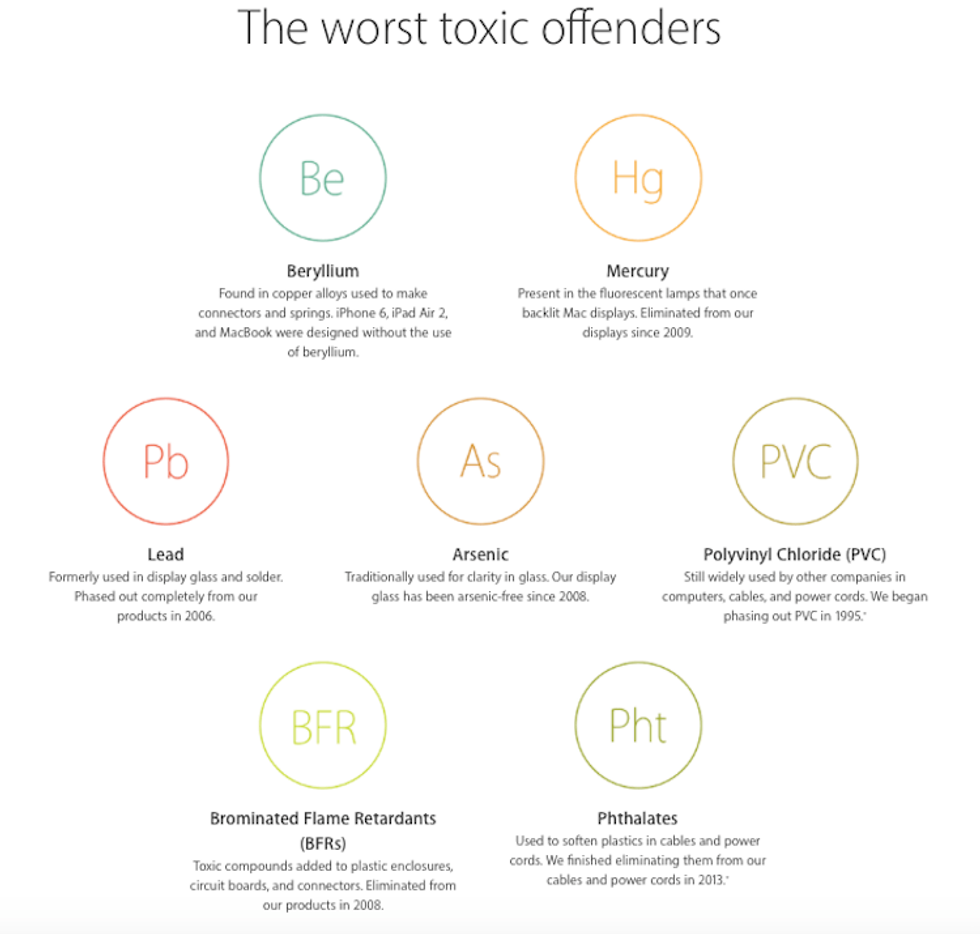 Apple has banned these chemicals in their products out of concern for the environment. Photo credit: Apple
The Cupertino, California-based company is currently running its entire nation-wide operation on 100 percent renewable energy and has committed to running its overseas supply chain on renewables as well.
"I think people expect it of us. I think our customers hold us to a high standard," Jackson told Bloomberg.
Apple CEO Tim Cook is a big believer in big businesses taking charge on environmental sustainability.
"The environment must also be on the business agenda," he said in a speech at Bocconi University in Italy in November.
"As business leaders, we have a responsibility to address this, and urgently," he continued. "We have obligations to our companies and our shareholders because climate change impacts supply chains, energy crises and overall economic stability."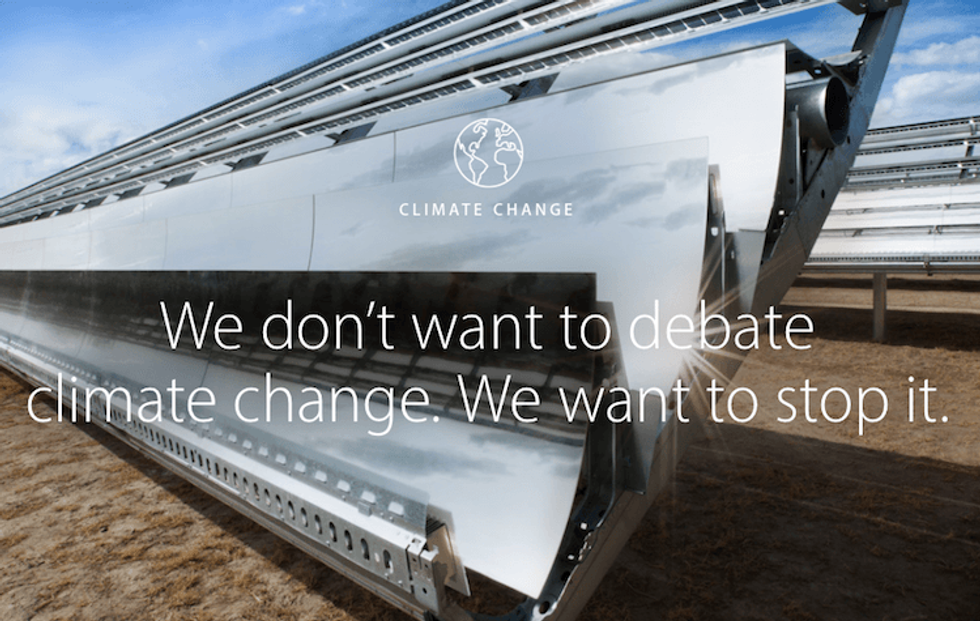 YOU MIGHT ALSO LIKE
World's First Vegan Supermarket Chain to Open in Portland
Leonardo DiCaprio Joins Carbon Capture Technology Company to 'Bring About a More Sustainable Future for Our Planet'
5 Sustainable Market Trends That Unleash a World of Opportunities
Solutions Wanted: Do You Have a Solution That Will Create a Cleaner, Greener World?
EcoWatch Daily Newsletter
Related Articles from EcoWatch