Even Without Exemption from the Halliburton Loophole, It's Still Not Regulated
Oct. 15, 2012 09:16PM EST
Energy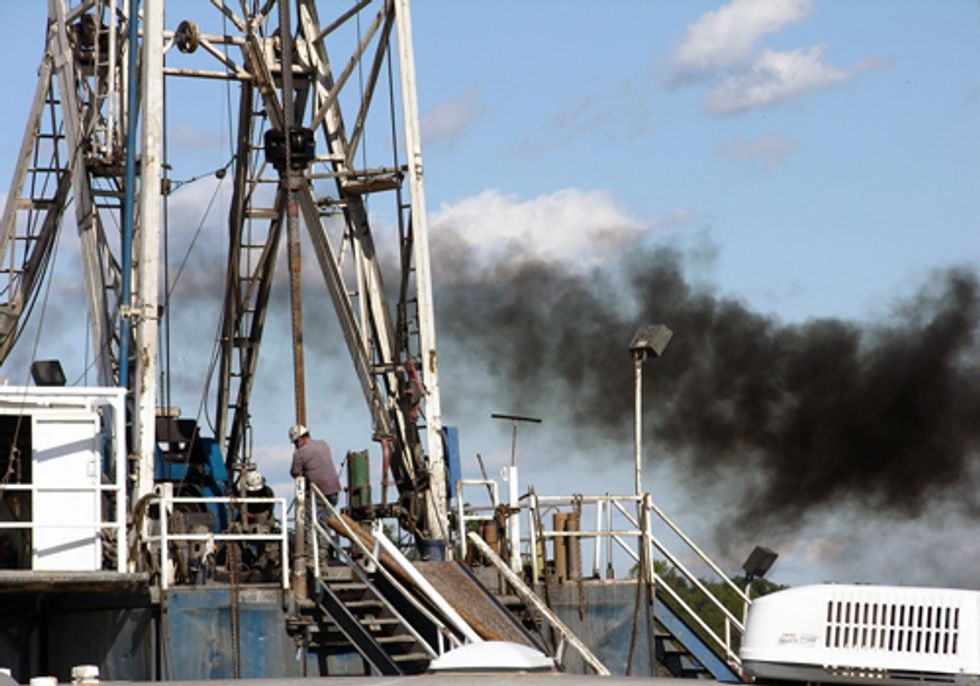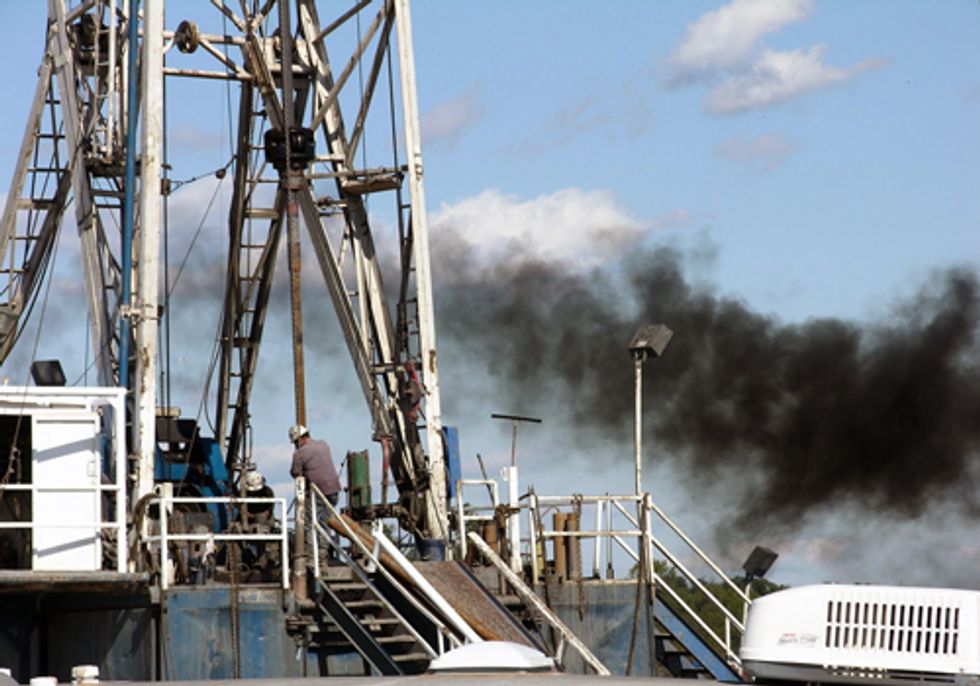 SkyTruth has concluded that diesel fuels continue to be used in hydraulic fracturing despite known health hazards and in violation of the Safe Drinking Water Act (SDWA). Analyzing a database of voluntary industry disclosures, we found that kerosene and diesel fuels #1 and #2 were used on 448 separate occasions in 12 states between January 2011 and August 2012.
When Congress passed the Energy Policy Act of 2005, it included the now-infamous "Halliburton Loophole," a controversial clause that excluded nearly everything used in fracking from being regulated by the U.S. Environmental Protection Agency (EPA). However, in spite of Congress exempting an entire Pandora's Box of chemicals and additives to be injected at high-pressure into the ground, diesel fuels remained off-limits, as seen in Section 322 of the Act:
SEC. 322. HYDRAULIC FRACTURING.
Paragraph (1) of section 1421(d) of the Safe Drinking Water Act (42 U.S.C. 300h(d)) is amended to read as follows:
''(1) UNDERGROUND INJECTION.—The term 'underground injection'—
''(A) means the subsurface emplacement of fluids by well injection; and
''(B) excludes—
''(i) the underground injection of natural gas for
purposes of storage; and
''(ii) the underground injection of fluids or propping
agents (other than diesel fuels)pursuant to hydraulic fracturing operations related to oil, gas, or geothermal production activities.''.

For the full text click here.
Naturally, with all of the toxic chemicals being allowed by this exemption, one has to wonder what is so bad about diesel fuels to explicitly exclude them from this otherwise blank check? The reason is the toxicity of the volatile aromatic compounds benzene, toluene, ethylbenzene and xylene (also known as BTEX), which are known to the State of Maryland and many other agencies to cause respiratory problems from acute exposure (usually in occupational settings), in the long term to have toxic effects on the kidney, liver and blood, and benzene specifically has been classified by the U.S. EPA as a carcinogen. Not only do these health hazards raise concern about injection through groundwater supplies to shale layers deep beneath the earth, but also air transmission through flaring and fugitive emissions.
Now, when we searched our database for diesel fuels, we used the U.S. EPA's own draft designation for regulating diesel fuels, a list of six unique types of petroleum distillates that industry would have to seek a permit for to use in future fracking. Kerosene, (Chemical Abstract Service [CAS] # 8008-20-6) was the most used, a total of 278 times, although only four reports explain its purpose. Three reports in Alaska identified its purpose as a freeze inhibitor, one  in Texas listed its purpose as a corrosion inhibitor, but all the rest listed no explanation for its use. 
We wondered why kerosene was identified by the U.S. EPA as a diesel fuel, so I found a paper identifying kerosene as a hydrocarbon chain with 8-15 carbon atoms, well within the 8-21 carbon atom chain that identifies diesel fuel in general. That particular paper was written to determine how petroleum distillate contamination in groundwater could be detected. Given that the authors found total BTEX values from kerosene contaminated water were even higher (2440 µg/l) than than that of diesel fuel (2140 µg/l) and fuel oil (1400 µg/l), I believe it fully deserves its place on our list as a petroleum distillate too dangerous to frack with.
Back to our analysis, diesel fuel #2 (CAS # 68476-34-6) was in second place, used 166 times across 11 states. This time  a wide range of uses were listed, mainly with some reference to acting as a gelling agent. The final diesel fuel we identified in our database was diesel fuel #1, which only appeared four times with no defined purpose.
However, this is not the first time fracking with diesel fuel has been brought up as an issue. In January of 2011, three legislators from the House of Representatives sent a letter to Lisa Jackson, administrator of the U.S. EPA, regarding their investigation on diesel fuels' use in fracking between 2005 and 2009. Representatives Henry A. Waxman, Edward J. Markey and Diana DeGette found that while the public and legislature had been led to believe that this practice had ceased even before the passage of the Energy Policy Act, "oil and gas service companies injected 32.2 million gallons of diesel fuel or hydraulic fracturing fluids containing diesel fuel in wells in 19 states."
The representatives' report did not state how many separate incidents they documented, only the volume, and while our database does not reliably calculate weight (due to limitations in the data source), we are certain that diesel fuels are still being used in fracking. 

However, despite wide-spread assumption that industry had stopped using it in 2005 (on account of no permits being issued), there is another actor who bears responsibility for this continued disregard of the law: the U.S. EPA.
Note that earlier we said our analysis was conducted based on the fuels identified for regulation and permitting by the U.S. EPA's draft guidelines on this issue. The act was signed into law by President George W. Bush on Aug. 8, 2005, and the draft was only published  to comment in May of 2012. Industry has not sought or received permits for using diesel fuel in fracking, in compliance with the Safe Drinking Water Act of 1974, because the U.S. EPA does not yet have the framework to process such requests.
The frequency of diesel fuels' use in fracking, according to voluntary industry reports, appears to be on the overall decline. However, this information is not complete, as reports are not timely (check back soon for more on this subject), and reporting on this same issue by Energy and Environment Reporter Mike Sorgahan found that companies can go back and modify reports. We intend to keep a close eye on this issue in the coming months as the record is filled out.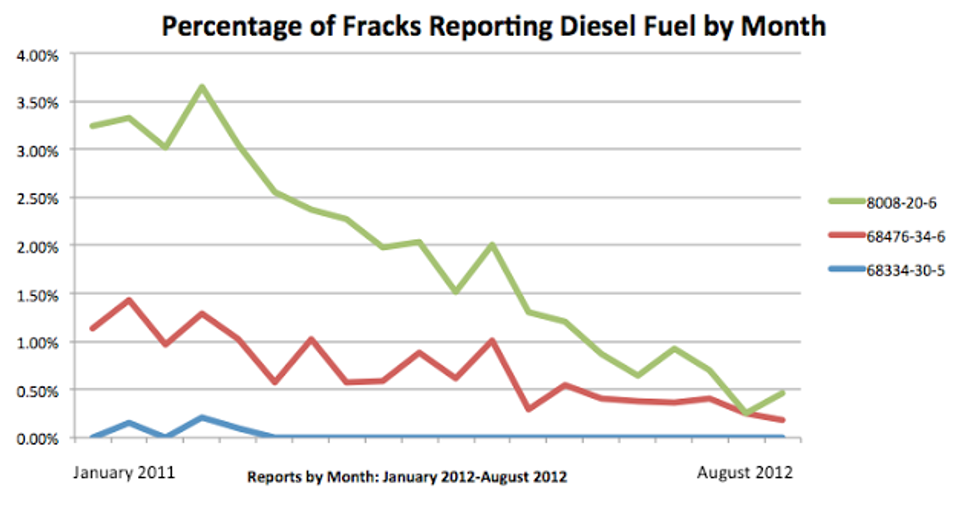 Nevertheless, the ongoing disregard for the Safe Drinking Water Act is unacceptable, and must be addressed as soon as possible by both industry and our government regulators. The list of toxic chemicals exempted by the Halliburton Loophole is staggering, but to find that the one item still restricted is nonetheless being used without regulation or consequence is unacceptable.
Furthermore, we believe that access to the data which we used to conduct this analysis is far too complicated and legally restricted to serve the purpose of full disclosure. We will be writing more in the near future about the challenges we have encountered to even reach the point were we can conduct analyses of industry activity and point out these glaring problems.
Visit EcoWatch's FRACKING page for more related news on this topic.
--------
Read more about SkyTruth's analysis on fracking: PART I: What 20 Months of Water Consumption for Fracking in the U.S. Looks Like and PART II: Underwater Park—A Visualization of 20 Months of Frackwater in NYC.
In "Weather," Jenny Offill tells the story of a librarian named Lizzie who prepares for a climate apocalypse. Andrew Merry / Getty Images
By Suzanne Cords
One day Lizzie, the first-person narrator of the novel, receives an old book as a gift, with a dedication wishing the reader to be among the survivors. Like the preppers who build bunkers and stockpile supplies in remote areas to be ready for the end of the world, Lizzie is convinced that the end of the world is definitely near in times of a threatening climate disaster.
Lizzie, who lives in New York with her husband and son, is a university campus librarian. She worries about almost everything: her brother, an ex-junkie, or her dental insurance and the future in the face of the apocalypse. She is obsessed with reading reference books and articles about climate change.
She also devours words of wisdom, including about Buddhist spirituality: "A visitor once asked the old monks on Mount Athos what they did all day, and was told: We have died and we are in love with everything." But nothing can lift her spirits.
'Lizzie Is Just Like Us'
Lizzie observes rich New Yorkers plan their move to regions that are less threatened by climate change, something she simply cannot afford. Sometimes she watches disaster movies, which lead her to worry even more.
Above all, she is a gifted observer of her fellow human beings. "Young person worry: What if nothing I do matters? Old person worry: What if everything I do, does?"
Lizzie, the U.S. author told DW, is a bit like the rest of us — well aware of the climate crisis, but because she cares and worries about so many other things, that awareness falls by the wayside. That's how she felt herself, Jenny Offill said, but the more she looked into the issue, the more she saw a need for action on her part, too.

"I also was trying to see if there was a way to make it funny, because, you know, so much of the world of prepping and imagining disaster is actually sort of strangely funny."
The novel was shortlisted for the 2020 UK's Women's Prize for Fiction and has now been released in German translation.
Climate Activist With a Vision
But then, there is also this serious, scientifically based concern about what climate change means. In the past, says Offill, artists were the ones who would predict disasters; today it's the experts, as well as the students she teaches. In the end, their fears and their justified anger motivated her to take a closer look at the issue. Today, she is a climate activist herself, and is involved in initiatives along with many other artists.
Lizzie, the heroine of Weather, hasn't gotten that far. But she voices her fears, and that's a start. "Of course, the world continues to end," says Sylvia, a mentor of Lizzie's, at one point — and commences to water her garden. There is hope after all.
Reposted with permission from Deutsche Welle.
EcoWatch Daily Newsletter
A Shell oil drilling rig off the coast of Alaska in the Chukchi Sea on May 21, 2015. Orjan F. Ellingvag / Corbis via Getty Images
By Jake Johnson
A federal appeals court on Tuesday dealt the final blow to former President Donald Trump's attempt to open nearly 130 million acres of territory in the Arctic and Atlantic Oceans to oil and gas drilling.
Electric vehicles are the cars of the future. sl-f / Getty Images
By 2035, every new car and truck sold in the U.S. could be an EV, a new report says.
Accelerations in technology and especially battery affordability, paired with new policy, mean the dramatic transition would save American drivers $2.7 trillion by 2050, an average savings of $1,000 per household per year.
The ramp up in EV production would also create 2 million new jobs by 2035. Battery prices have fallen 74% since 2014, and their unexpectedly rapid fall is a key driver of the cost savings.
EVs are far simpler mechanically, and more efficient, than internal combustion engine (ICE) vehicles, which translates to reduced climate pollution and lower costs for consumers.
Strengthened vehicle efficiency standards and investment in fast charging infrastructure are needed to accelerate the transition, which would prevent 150,000 premature deaths and save $1.3 trillion in health environmental costs by 2050.
For a deeper dive:

The Guardian, Fast Company, E&E, Morning Consult, Canary Media

For more climate change and clean energy news, you can follow Climate Nexus on Twitter and Facebook, sign up for daily Hot News, and visit their news site, Nexus Media News.
The Gowanus Canal in Brooklyn, New York, a polluted nearly 2 mile-long waterway that is an EPA Superfund site. Jonathan Macagba / Moment / Getty Images
Thousands of Superfund sites exist around the U.S., with toxic substances left open, mismanaged and dumped. Despite the high levels of toxicity at these sites, nearly 21 million people live within a mile of one of them, according to the U.S. Environmental Protection Agency (EPA).
The National Weather Service station in Chatham, Massachusetts, near the edge of a cliff at the Monomoy National Wildlife Refuge. Bryce Williams / National Weather Service in Boston / Norton
A weather research station on a bluff overlooking the sea is closing down because of the climate crisis.
The National Weather Service (NWS) station in Chatham, Massachusetts was evacuated March 31 over concerns the entire operation would topple into the ocean.
"We had to say goodbye to the site because of where we are located at the Monomoy Wildlife Refuge, we're adjacent to a bluff that overlooks the ocean," Boston NWS meteorologist Andy Nash told WHDH at the time. "We had to close and cease operations there because that bluff has significantly eroded."
Chatham is located on the elbow of Cape Cod, a land mass extending out into the Atlantic Ocean that has been reshaped and eroded by waves and tides over tens of thousands of years, The Guardian explained. However, sea level rise and extreme weather caused by the climate crisis have sped that change along.
"It's an extremely dynamic environment, which is obviously a problem if you are building permanent infrastructure here," Andrew Ashton, an associate scientist at Cape-Cod based Woods Hole Oceanographic Institution, told The Guardian. "We are putting our foot on the accelerator to make the environment even more dynamic."
This was the case with the Chatham weather station. It used to be protected from the drop into the ocean by about 100 feet of land. However, storm action in 2020 alone washed away as much as six feet of land a day.
"We'd know[n] for a long time there was erosion but the pace of it caught everyone by surprise," Nash told The Guardian. "We felt we had maybe another 10 years but then we started losing a foot of a bluff a week and realized we didn't have years, we had just a few months. We were a couple of storms from a very big problem."
The Chatham station was part of a network of 92 NWS stations that monitor temperature, pressure, humidity, wind speed and direction and other data in the upper atmosphere, The Cape Cod Chronicle explained. The stations send up radiosondes attached to weather balloons twice a day to help with weather research and prediction. The Chatham station, which had been observing this ritual for the past half a century, sent up its last balloon the morning of March 31.
"We're going to miss the observations," Nash told The Cape Cod Chronicle. "It gives us a snapshot, a profile of the atmosphere when the balloons go up."
The station was officially decommissioned April 1, and the two buildings on the site will be demolished sometime this month. The NWS is looking for a new location in southeastern New England. In the meantime, forecasters will rely on data from stations in New York and Maine.
Nash said the leavetaking was bittersweet, but inevitable.
"[M]other nature is evicting us," he told The Cape Cod Chronicle.