This website uses cookies to ensure you get the best experience while browsing it. By clicking 'Got It' you're accepting these terms.


The best of EcoWatch, right in your inbox. Sign up for our email newsletter!
Even Wall Street Asks: 'Why Would You Not?' Take Action on Climate Change
Sep. 01, 2015 07:45AM EST
Climate
Given the economic, environmental and public health benefits of transitioning to a low-carbon future, a new report from Citigroup asks: When presented with the opportunity to take action on climate change, "Why would you not?"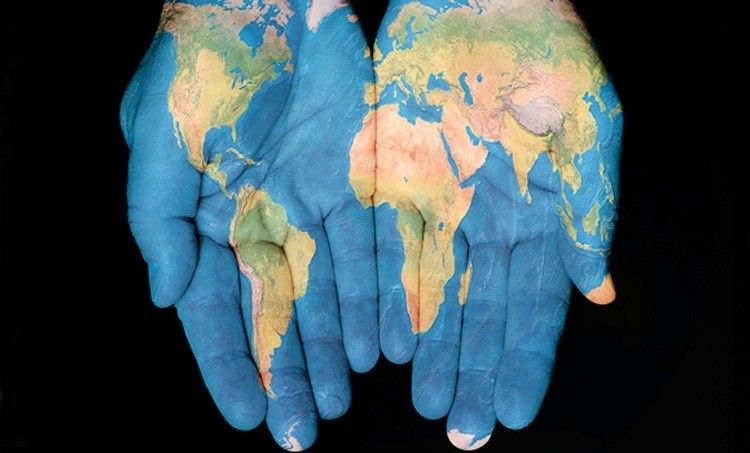 "While fossil reserves aren't running out, our ability to burn them without limit may be," reads the report from America's third-largest bank, "due to the fact that atmospheric concentrations of CO2 and equivalents are rapidly approaching the so-called "carbon budget"—the level that if we go beyond is likely to lead to global warming in excess of the important 2°C level."
Fortunately, the report finds that taking action to cut carbon pollution and slow global warming by investing in energy efficiency and renewable power generation would result in a positive return on investment, ultimately saving trillions of dollars.
In fact, in its analysis of two scenarios—"inaction," which involves continuing on a business-as-usual path and "action," which involves transitioning to a low-carbon energy mix—Citigroup found that because of savings due to reduced fuel costs and increased energy efficiency, the action scenario is actually slightly cheaper than the inaction scenario. The report predicts that following a low carbon path would incur a net cost per year until 2025, after which net savings would stem from via lower fuel usage.
And down the line, a low carbon energy mix could account for $30-50 trillion in savings from avoiding climate damage, the report states.
"The incremental costs of following a low carbon path are in context limited and seem affordable, the 'return' on that investment is acceptable and moreover the likely avoided liabilities are enormous," reads the introduction to Energy Darwinism II: Why a Low Carbon Future Doesn't Have to Cost the Earth, issued this month by the Citi Global Perspectives & Solutions division. "Given that all things being equal cleaner air has to be preferable to pollution, a very strong 'Why would you not?' argument begins to develop."
To be sure, the implications of such a paradigm shift are not rosy for everyone. As the report authors note, "[s]witching to a low carbon energy future means that significant fossil fuels that would otherwise have been burnt will be left underground."
In particular, Citigroup forecasts rough waters ahead for the coal industry, for which it predicts mine closures, liquidation and bankruptcy. The "clear loser" between the action and inaction scenarios is coal, according to the report, "which sees its total investment bill fall by some $11.5 trillion over the next quarter century."
The financial giant's analysis is hardly the first to address "stranded assets"—those fossil fuel reserves that must stay in the ground to avoid climate catastrophe—or the economic benefits of increased investment in alternative energies. As David Roberts wrote for Vox, Citigroup's conclusions echo those of "an increasingly huge body of research."
But Roberts expressed hope that someone will take the Citigroup analysis and push it further, pointing out that "having a model scenario doesn't help much if you don't understand the sociopolitical barriers to implementing it."
Especially in the lead-up to this fall's climate talks in Paris, "here's what I'd like to see," he wrote. "[A] report as extensive as Citi's, conducted by an equally distinguished group of researchers, about the political economy of the action scenario. Which companies, industries and governments face threats to which interests? Which industries give money to which public officials and through what channels? Which industries do public officials gravitate to when they leave office? Which spend the most on lobbying? What domestic and international levers do industries and governments have at their disposal to impede or delay the transition?"
He continued: "In short, I want a report that answers 'why would you not?'— a report that canvases potential winners and losers and charts their sociopolitical capacity to accelerate or delay the transition."
YOU MIGHT ALSO LIKE
Bernie Sanders: The Environment Deserves a Debate
Arctic Drilling: A Giant Gamble for the Planet and Shell's Bottom Line
Obama Heads to Alaska as Climate Groups Cry 'Hypocrisy' Over Decision to Drill in the Arctic
EcoWatch Daily Newsletter
Pxhere
By Richard Denison
Readers of this blog know how concerned EDF is over the Trump EPA's approval of many dozens of new chemicals based on its mere "expectation" that workers across supply chains will always employ personal protective equipment (PPE) just because it is recommended in the manufacturer's non-binding safety data sheet (SDS).
By Grant Smith
From 2009 to 2012, Gregory Jaczko was chairman of the Nuclear Regulatory Commission, which approves nuclear power plant designs and sets safety standards for plants. But he now says that nuclear power is too dangerous and expensive — and not part of the answer to the climate crisis.
A lake in Rocky Mountain National Park. Brett Walton / Circle of Blue
By Brett Walton
When Greg Wetherbee sat in front of the microscope recently, he was looking for fragments of metals or coal, particles that might indicate the source of airborne nitrogen pollution in Rocky Mountain National Park. What caught his eye, though, were the plastics.
Gabriele Holtermann Gorden / Pacific Press / LightRocket / Getty Images
In a big victory for animals, Prada has announced that it's ending its use of fur! It joins Coach, Jean Paul Gaultier, Giorgio Armani, Versace, Ralph Lauren, Vivienne Westwood, Michael Kors, Donna Karan and many others PETA has pushed toward a ban.
This is a victory more than a decade in the making. PETA and our international affiliates have crashed Prada's catwalks with anti-fur signs, held eye-catching demonstrations all around the world, and sent the company loads of information about the fur industry. In 2018, actor and animal rights advocate Pamela Anderson sent a letter on PETA's behalf urging Miuccia Prada to commit to leaving fur out of all future collections, and the iconic designer has finally listened.
Amer Ghazzal / Barcroft Media / Getty Images
If people in three European countries want to fight the climate crisis, they need to chill out more.
That's the conclusion of a new study from think tank Autonomy, which found that Germany, the UK and Sweden all needed to drastically reduce their workweeks to fight climate change.
Amazon Employees for Climate Justice held a press conference after the annual shareholder meeting on May 22. Amazon Employees for Climate Justice
An artist's rendering of the recomposition facility. MOLT Studios
Washington became the first U.S. state to legalize human composting Tuesday, offering residents a more environmentally friendly way to dispose of their remains, AFP reported.
Mr.TinDC / Flickr / CC BY-ND 2.0
Many nutrients are essential for good health.