Even Climate Denier Ben Carson Says We Should Power America With Renewables
Oct. 05, 2015 12:08PM EST
Politics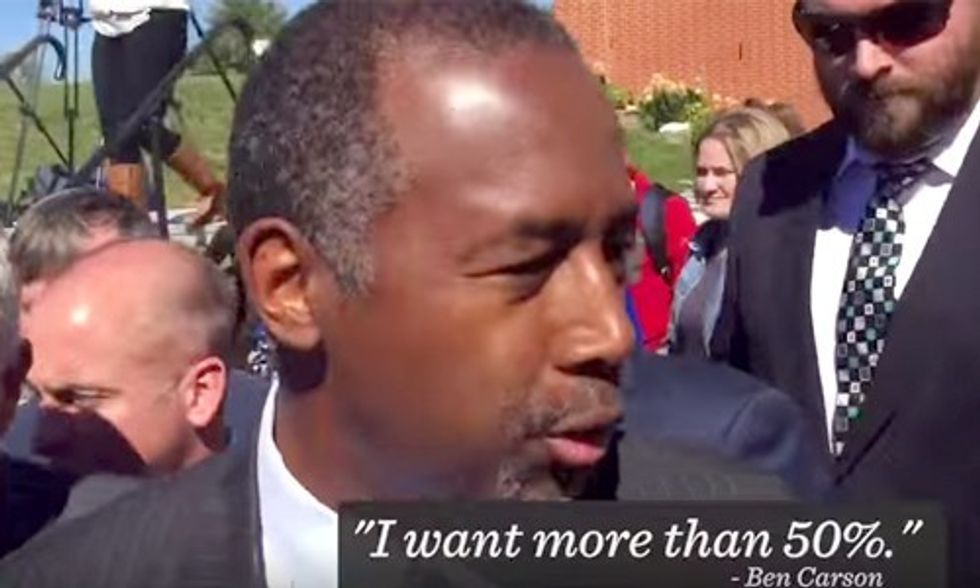 Retired neurosurgeon turned GOP presidential candidate Ben Carson is by no means a strong advocate for action on climate change. When asked whether he believed in climate change at a campaign event last Wednesday, he gave the tired conservative trope "the climate is always changing" before digressing into how he doesn't have "enough faith" to believe in the Big Bang Theory and eventually musing "gravity, where did it come from?"
But even Ben Carson can't deny how much sense renewable energy makes. Neither can the majority of Republicans. Recent research found that among all Republicans, 72 percent said they support "taking action to accelerate the development and use of clean energy."
When asked if he'd support 50 percent renewables in the U.S. by 2030 at an event in Iowa on Friday, Carson responded with "I want more than 50 percent."
The 50 percent by 2030 goal is part of the advocacy group NextGen Climate, which has launched a campaign pushing candidates on the issue. Carson has not released any details of how he plans to reach that goal, according to Mother Jones, but Carson is at least taking a step in the right direction.
"I don't care whether you are a Democrat or a Republican, a liberal or a conservative, if you have any thread of decency in you, you want to take care of the environment because you know you have to pass it on to the next generation," he said at the campaign event on Wednesday. "There is no reason to make it into a political issue."
YOU MIGHT ALSO LIKE
5 Extreme Weather Events Devastating the Planet​
Robert Redford: Pope Francis Is Right, Climate Change Is a Moral Imperative
Ben Carson Says He Doesn't Believe in Climate Change or Evolution
Al Gore Blasts GOP Climate Deniers, Thom Hartmann Says Throw Them in Jail
EcoWatch Daily Newsletter
Related Articles from EcoWatch
Recent Stories from EcoWatch