This website uses cookies to ensure you get the best experience while browsing it. By clicking 'Got It' you're accepting these terms.
EV Drivers Want More Public Chargers, Fear Getting Stranded
Nov. 14, 2013 10:13AM EST
Business
With an automaker incentivizing businesses with $15,000 to build charging stations and a coalition of governors plotting to reduce emissions and strengthen infrastructure, it's safe to say the adoption of electric vehicles (EV) around the U.S. is trending upward.
Sales tripled from 2011 to 2012, people are making EV-based documentaries and small businesses are developing technologies around the eco-friendly cars. The group of governors believes 215,000 zero-emission vehicles (mostly EVs) will be on American roads by 2015 and 3.3 million by 2025. Still, some in the industry think even more people would leave their gas guzzlers behind for EVs or plug-in vehicles (PEV) if they had fewer fears about their reliability, batteries and access to charging.
EV software and information services firm Recargo Inc. released its inaugural U.S. PEV Charging Study today to examine the experiences, behaviors and opinions of current PEV drivers, especially when it comes to charging. Recargo also launched its research firm PlugInsights in conjunction with the study. PlugInsights polled a panel of 3,700 PEV motorists who drive 17 different makes and models.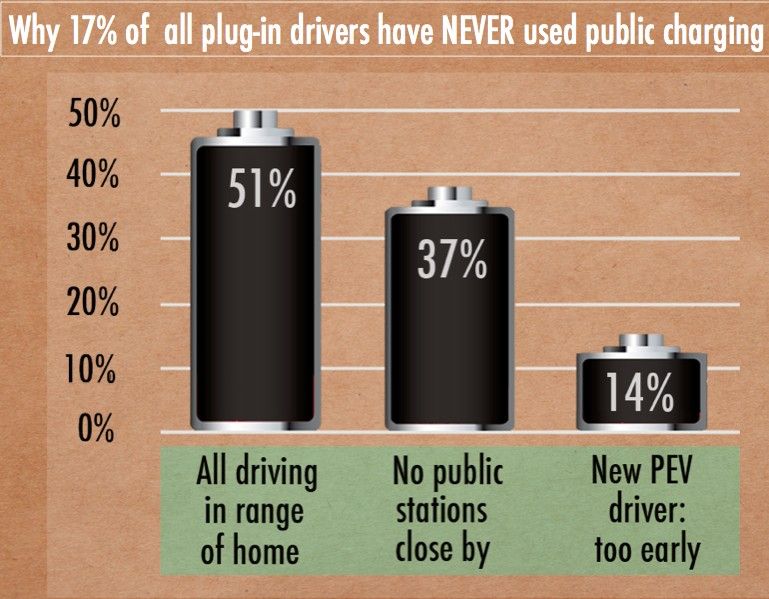 "EV drivers are sophisticated people who aren't shy about things they want to see done differently," said Brian Kariger, CEO of Recargo. "The list of driver suggestions that emerges from this study is long and constructive. It ranges from seemingly trivial things like wanting longer cables at public stations, to fundamental needs like a more robust charging infrastructure, broader availability of workplace charging, special utility rates, and everything in between."
There are nearly 7,000 charging stations in the country, and harmonizing building codes to construct more is one of the main goals of the group of governors pushing for more EVs. California Gov. Jerry Brown's state announced a $6 million grant program this month to encourage the development of more charging stations at shopping centers, apartment buildings and along highways.
The study, which also refers to mid-range battery electric vehicles (BEVs), shows that drivers desperately seek a quicker way to charge batteries.
"Until fast charging becomes broadly available, [BEVs] like the Nissan LEAF are trapped on a leash, close to home," PlugInsights Managing Director Norman Hajjar said.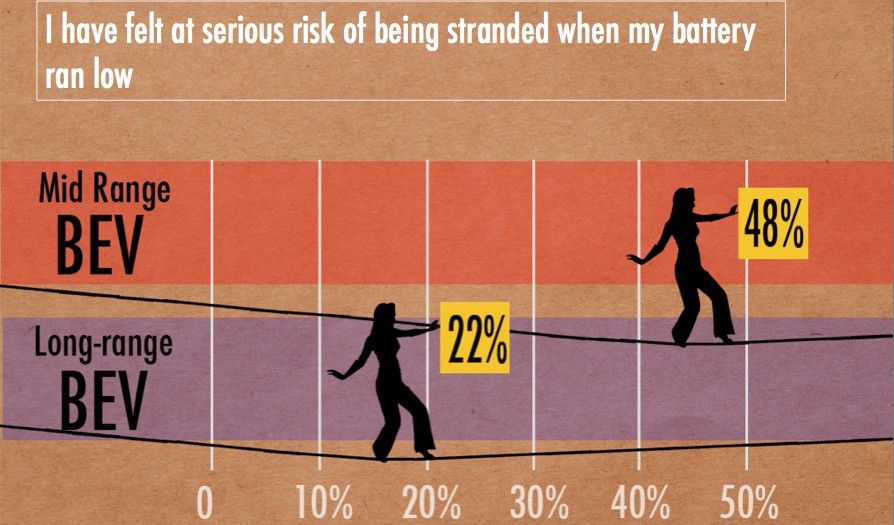 "Our data shows the average longest trip mid-range BEV drivers have ever taken is only 93 miles," Hajjar continued. "They never stray too far from home because it's just not practical to stop at a slow Level 2 charging station and plug in for four-plus hours, mid-journey. Until fast chargers can bridge the gap between distant points, the appeal of these vehicles to a broader audience will be limited."
The study also revealed behavioral differences between plug-in electric/gas hybrid (PHEV) drivers and BEV drivers.
"They disagree on who should have priority at a public charging station," Hajjar said, "and unlike BEV drivers who must live with 'range anxiety,' PHEV drivers never worry getting stranded when their batteries run low."
PlugInsights said it will reveal more thoughts from its PEV panel in additional studies in the coming months.
Visit EcoWatch's TRANSPORTATION page for more related news on this topic.

EcoWatch Daily Newsletter
Protestors marched outside the Prudential Center in Newark, New Jersey on Monday, August 26, during the MTV Video and Music Awards to bring attention to the water crisis currently gripping the city. Karla Ann Cote / NurPhoto / Getty Images
By Will Sarni
It is far too easy to view scarcity and poor quality of water as issues solely affecting emerging economies. While the images of women and children fetching water in Africa and a lack of access to water in India are deeply disturbing, this is not the complete picture.
The city of Flint, Michigan, where dangerous levels of pollutants contaminated the municipal water supply, is a case in point — as is, more recently, the city of Newark, New Jersey.
The Past is No Longer a Guide to the Future
We get ever closer to "day zeros" — the point at when municipal water supplies are switched off — and tragedies such as Flint. These are not isolated stories. Instead they are becoming routine, and the public sector and civil society are scrambling to address them. We are seeing "day zeros" in South Africa, India, Australia and elsewhere, and we are now detecting lead contamination in drinking water in cities across the U.S.

"Day zero" is the result of water planning by looking in the rear-view mirror. The past is no longer a guide to the future; water demand has outstripped supplies because we are tied to business-as-usual planning practices and water prices, and this goes hand-in-hand with the inability of the public sector to factor the impacts of climate change into long-term water planning. Lead in drinking water is the result of lead pipe service lines that have not been replaced and in many cases only recently identified by utilities, governments and customers. An estimated 22 million people in the US are potentially using lead water service lines. This aging infrastructure won't repair or replace itself.
One of the most troubling aspects of the global water crisis is that those least able to afford access to water are also the ones who pay a disproportionately high percentage of their income for it. A report by WaterAid revealed that a standard water bill in developed countries is as little as 0.1 percent of the income of someone earning the minimum wage, while in a country like Madagascar a person reliant on a tanker truck for their water supply would spend as much as 45 percent of their daily income on water to get just the recommended daily minimum supply. In Mozambique, families relying on black-market vendors will spend up to 100 times as much on water as those reached by government-subsidized water supplies.
Finally, we need to understand that the discussion of a projected gap between supply and demand is misleading. There is no gap, only poor choices around allocation. The wealthy will have access to water, and the poor will pay more for water of questionable quality. From Flint residents using bottled water and paying high water utility rates, to the poor in South Africa waiting in line for their allocation of water — inequity is everywhere.
Water Inequity Requires Global Action — Now.
These troubling scenarios beg the obvious question: What to do? We do know that ongoing reports on the 'water crisis' are not going to catalyze action to address water scarcity, poor quality, access and affordability. Ensuring the human right to water feels distant at times.
We need to mobilize an ecosystem of stakeholders to be fully engaged in developing and scaling solutions. The public sector, private sector, NGOs, entrepreneurs, investors, academics and civil society must all be engaged in solving water scarcity and quality problems. Each stakeholder brings unique skills, scale and speed of impact (for example, entrepreneurs are fast but lack scale, while conversely the public sector is slow but has scale).
We also urgently need to change how we talk about water. We consistently talk about droughts happening across the globe — but what we are really dealing with is an overallocation of water due to business-as-usual practices and the impacts of climate change.
We need to democratize access to water data and actionable information. Imagine providing anyone with a smartphone the ability to know, on a real-time basis, the quality of their drinking water and actions to secure safe water. Putting this information in the hands of civil society instead or solely relying on centralized regulatory agencies and utilities will change public policies.
Will Sarni is the founder and CEO of Water Foundry.

Note: This post also appears on the World Economic Forum.
Reposted with permission from our media associate Circle of Blue.
From Your Site Articles
Related Articles Around the Web
Pexels
Mice exposed to nicotine-containing e-cigarette vapor developed lung cancer within a year.
More research is needed to know what this means for people who vape.
Other research has shown that vaping can cause damage to lung tissue.
A new study found that long-term exposure to nicotine-containing e-cigarette vapor increases the risk of cancer in mice.
Demonstrators with The Animal Welfare Institute hold a rally to save the vaquita, the world's smallest and most endangered porpoise, outside the Mexican Embassy in DC on July 5, 2018. SAUL LOEB / AFP / Getty Images
Six months: That's how much time Mexico now has to report on its progress to save the critically endangered vaquita porpoise (Phocoena sinus) from extinction.
Pexels
It may seem innocuous to flush a Q-tip down the toilet, but those bits of plastic have been washing up on beaches and pose a threat to the birds, turtles and marine life that call those beaches home. The scourge of plastic "nurdles," as they are called, has pushed Scotland to implement a complete ban on the sale and manufacture of plastic-stemmed cotton swabs, as the BBC reported.
Air conditioners, like these in a residential and restaurant area of Singapore city, could put a massive strain on electricity grids during more intense heatwaves. Taro Hama @ e-kamakura / Moment / Getty Images
By Tim Radford
Scientists in the U.S. have added a new dimension to the growing hazard of extreme heat. As global average temperatures rise, so do the frequency, duration and intensity of heatwaves.
Actress Jane Fonda is arrested on the East Front of the U.S. Capitol in Washington, DC on Oct. 11. Marvin Joseph / The Washington Post via Getty Images
Oscar-award winning actress and long-time political activist Jane Fonda was arrested on the steps of Capitol Hill in Washington, DC on Friday for peacefully protesting the U.S. government's inaction in combating the climate crisis, according to the AP.
sam thomas / iStock / Getty Images Plus
By Caroline Hickman
I'm up late at night worrying that my baby brothers may die from global warming and other threats to humanity – please can you put my mind at rest? – Sophie, aged 17, East Sussex, UK
Sheriff officials work the scene at Villa Calimesa Mobile Home Park in Calimesa on Oct. 13. Jennifer Cappuccio Maher / MediaNews Group / Inland Valley Daily Bulletin / Getty Images