This website uses cookies to ensure you get the best experience while browsing it. By clicking 'Got It' you're accepting these terms.
Europe's Rejection of GMOs Ignites Eco-Farming Revolution
Nov. 16, 2015 12:24PM EST
Food
Despite years of pressure and efforts by the European Union political elite in favor of genetically engineered (GE) crops, European citizens and national governments from a broad range of political backgrounds have won a major victory: 17 European countries and four European regions have chosen to ban GE crops. For those in the rest of the world who are fighting large-scale industrial and chemical agriculture—and the GE crops that abet it—this victory gives hope. Now they see hope for equitable and sustainable solutions such as ecological farming.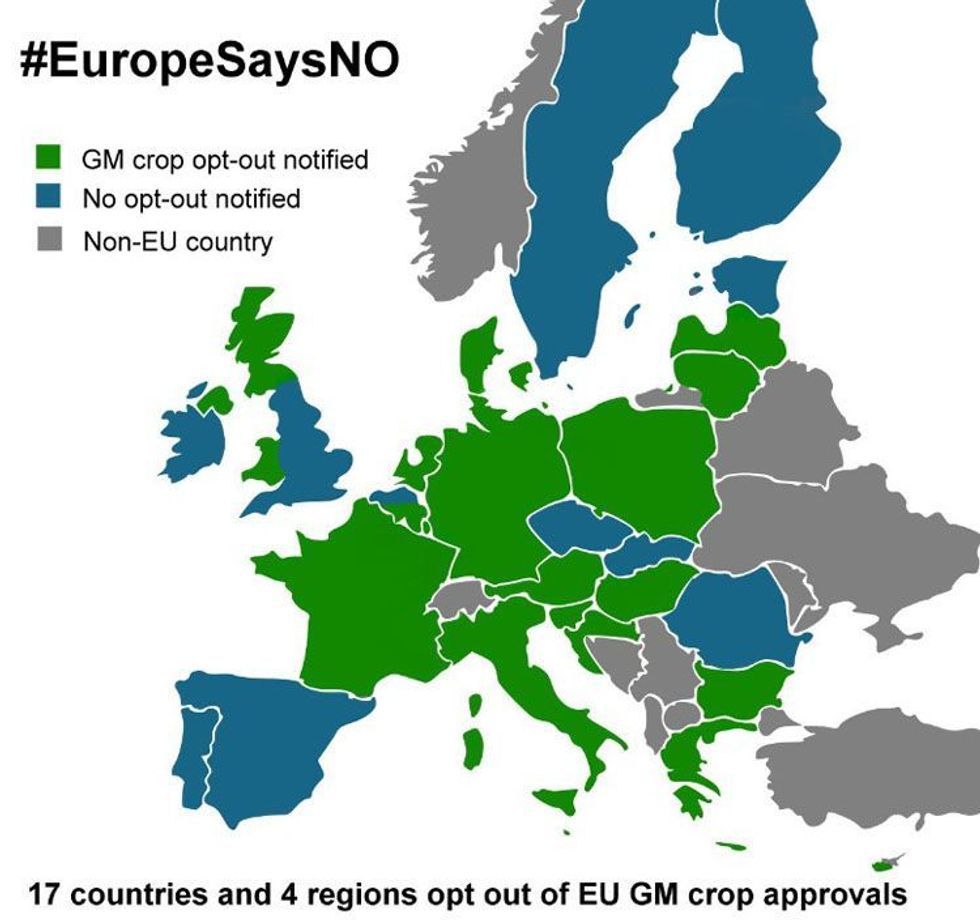 These 17 European countries and 4 regions have now clearly decided with legal determination that no GE crops will be planted in the foreseeable future in their territories. Together these countries comprise more than two-thirds of the arable land of Europe and represent 65 percent of EU population. This decisive majority demonstrates how public opposition to GE foods is a growing tide in Europe and around the world.
There are many reasons for Europe and the world to remain skeptical about GE crops as outlined in our most recent report: Twenty Years of Failure: Why GM crops have failed to deliver on their promise.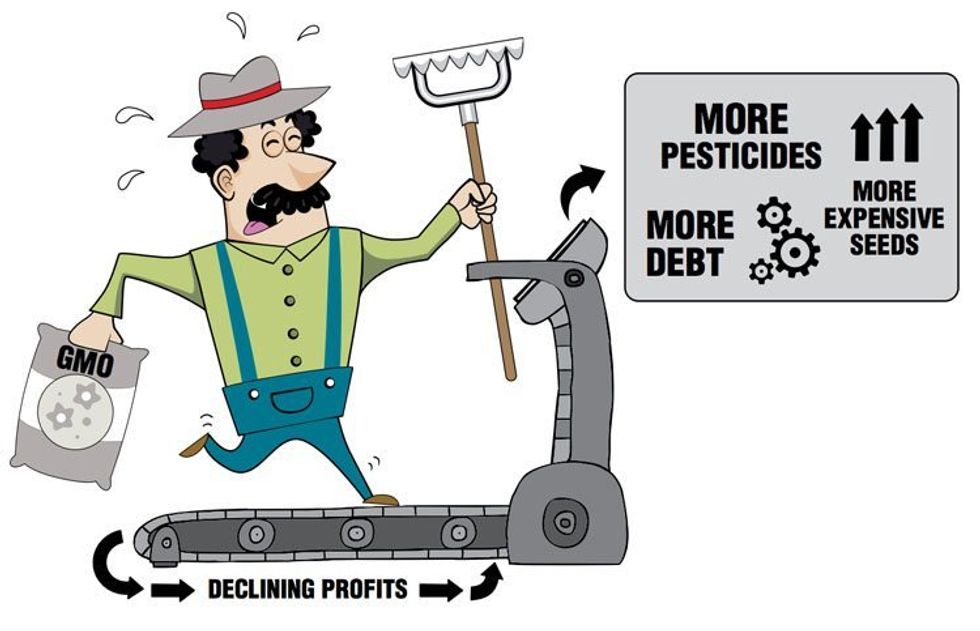 The European opposition to GE crops is a huge victory over the corporate control of our food production. It is the explicit and strong reaffirmation of the right for people everywhere in the world to choose the food they want to eat and the type of agriculture they want to encourage. In essence, it is about ecological farming, food sovereignty, and healthy and nutritious food.
Greenpeace believes in a system of farming based on science, innovation, knowledge and biodiversity. We call this eco-farming. Eco-farming allows us to confront modern challenges, such as climate change, while preserving environmental integrity and protecting health.
GE is the wrong approach to food and agriculture because it encourages monocultures, intensification and chemicals-use while undermining biodiversity. GE also shifts the power away from small and medium-size farmers to the major corporations and their patented genetic materials. These are all elements of the broken food system we fight against. A new farming system with people and farmers at its heart is the way to go.
YOU MIGHT ALSO LIKE
Awesome 5-Minute Video Urges Young People to Start a Farming Revolution
Vandana Shiva: Agri-Corporations Attempt to Hijack COP21
An Organic Indoor Vertical Farm May Be Coming to a City Near You
Monsanto Handed 'Double Whammy' by Mexican Courts Over Planting GMOs
EcoWatch Daily Newsletter
Pro-environment demonstrators on the streets of Washington, DC during the Jan. 20, 2017 Trump inauguration.
Mobilus In Mobili
/ Flickr /
CC BY-SA 2.0
By Dr. Brian R. Shmaefsky
One year after the Flint Water Crisis I was invited to participate in a water rights session at a conference hosted by the US Human Rights Network in Austin, Texas in 2015. The reason I was at the conference was to promote efforts by the American Association for the Advancement of Science (AAAS) to encourage scientists to shine a light on how science intersects with human rights, in the U.S. as well as in the context of international development. My plan was to sit at an information booth and share my stories about water quality projects I spearheaded in communities in Bangladesh, Colombia, and the Philippines. I did not expect to be thrown into conversations that made me reexamine how scientists use their knowledge as a public good.
Mt. Rainier and Reflection Lake on Sept. 10, 2015. Crystal Geyser planned to open a bottling plant near Mt. Rainier, emails show.
louelke - on and off / Flickr
Bottled water manufacturers looking to capture cool, mountain water from Washington's Cascade Mountains may have to look elsewhere after the state senate passed a bill banning new water permits, as The Guardian reported.
Large storage tank of Ammonia at a fertilizer plant in Cubatão, Sao Paulo State, Brazil. Luis Veiga / The Image Bank / Getty Images
The shipping industry is coming to grips with its egregious carbon footprint, as it has an outsized contribution to greenhouse gas emissions and to the dumping of chemicals into open seas. Already, the global shipping industry contributes about 2 percent of global carbon emissions, about the same as Germany, as the BBC reported.
At high tide, people are forced off parts of the pathway surrounding DC's Tidal Basin. Andrew Bossi /
Wikimedia
The Jefferson Memorial in Washington, DC overlooks the Tidal Basin, a man-made body of water surrounded by cherry trees. Visitors can stroll along the water's edge, gazing up at the stately monument.
But at high tide, people are forced off parts of the path. Twice a day, the Tidal Basin floods and water spills onto the walkway.
Lioness displays teeth during light rainstorm in Kruger National Park, South Africa. johan63 / iStock / Getty Images
Ahead of government negotiations scheduled for next week on a global plan to address the biodiversity crisis, 23 former foreign ministers from various countries released a statement on Tuesday urging world leaders to act "boldly" to protect nature.