Europe's Fossil Fuel Intensive Energy Plan Fails to Embrace Renewables
Given some member nations' success with deploying renewable energy, the European Union surprised green advocates Wednesday with a report that focused more on diversifying its fossil fuel sources than clean energy or efficiency.
The European Commission issued the communication to leaders, with more discussion to come at a summit beginning June 26 in Brussels. The 28-country bloc is focused on decreasing dependence on Russian imports while increasing transparency, but mostly as it pertains to natural gas. That didn't sit well with environmental groups.
"This is like a surreal [Alcoholics Anonymous] meeting where addicts are handed out phone numbers of new dealers instead of being helped out of their addiction," Greenpeace UK energy campaigner Louise Hutchins said in a statement.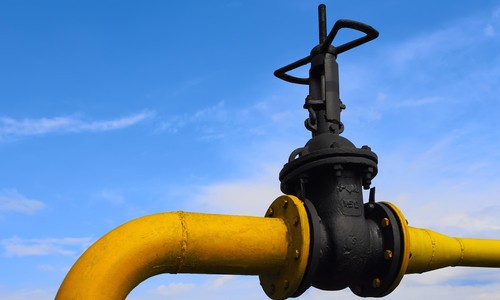 Photo courtesy of Shutterstock
According to an EU memo, Russia is the sole external supplier for six EU states, including three that rely on gas for more than one-quarter of their total energy needs. Russia sent 80 percent of its gas exports to Europe last year, with the largest volumes sold to Germany and Italy. However, instead of focusing on ways to clean up the mix, the EU Commission praises liquified natural gas as an "important source of diversification" and also mentions the idea of new investments in dangerous nuclear energy.
"It is baffling that the European Commission prioritizes highly uncertain supplies of gas from autocratic regimes like Azerbaijan, LNG exports from the U.S. or large-scale fracking in the EU in a strategy that seeks to improve the reliability of gas supplies to the EU," Food & Water Europe Director Geert De Cock said. "Rather than looking for non-existent 'abundant' energy supplies, the Commission should have recognized that energy is and will remain scarce for the foreseeable future and that demand reduction for natural gas is the only no-regret option for the EU."
The Commission included increasing gas stocks among its short-term plans, which, to Hutchins, represents a large step backwards.
"Europe's big plan for energy independence is a timid attempt at rearranging the deck chairs on the Titanic," Hutchins said. "The bloc's reliance on dirty fossil fuels is at the root of its energy problem, yet the Commission's plan does little to tackle it. In fact, pointing to false solutions like fracking and new gas pipelines will only lock us into fossil fuel dependence for decades to come." 
——–
YOU ALSO MIGHT LIKE
Germany Generates Record-Setting 74 Percent of Energy From Renewables
Wind Energy Blows Away Records Throughout Europe
European Commission Proposes 40-Percent Emissions Cut by 2030
——– 
A coalition of conservation groups and others announced Thursday that a historic number of comments and petitions of support have been submitted to the U.S. Department of the Interior in support of Bears Ears National Monument. Despite the entirely inadequate 15-day comment period ending on May 26, more than 685,000 comments in support of Bears Ears National Monument have been collected.
Keep reading...
Show less
Rink Glacier in western Greenland, with a meltwater lake visible center. NASA/OIB
Scientists have had their eyes on Greenland as its iconic glaciers have begun disappearing due to a warming climate. But, what they didn't expect to see was a whole new type of melting.
Keep reading...
Show less
Mountain View Fire
By Lena Moffitt
An oil tanker in Mead, Colorado exploded, killing one and injuring three on Thursday. Authorities are continuing to investigate the cause of the explosion.
Keep reading...
Show less
Banner created by Alliance for Climate Education
Keep reading...
Show less
Twenty-two GOP senators sent a letter Thursday urging Donald Trump to pull out of the Paris agreement. They argued remaining in the deal could "upend" the administration's ability "to fulfill its goal of rescinding the Clean Power Plan."
Keep reading...
Show less
By Cheryl Johncox
The Federal Energy Regulatory Commission (FERC) rejected on Thursday Energy Transfer Partners' request to resume horizontal directional drilling at two sites for its Rover fracked gas pipeline. This rejection comes after numerous leaks into Ohio's wetlands, and Clean Air and Clean Water act violations. FERC has halted the process at only eight locations of the 32 where drilling is taking place under Ohio's wetlands and streams.
Keep reading...
Show less
By Nadia Prupis
A majority of people in eight countries say they are ready to change their lifestyles if it would prevent climate catastrophe, a survey on global threats released Wednesday found.
Keep reading...
Show less
May. 25, 2017 01:55PM EST
Bill Maher is sick of billionaires' obsession with Mars, more like "Mars-a-Lago," he said.
In a new animation produced by ATTN:, the popular talk show host of Real Time, discusses the perils of our planet, including how "climate change is killing us."
Keep reading...
Show less