Europe's Addiction to Russian Natural Gas Complicates Political Action in Ukrainian Crisis
By Andy Rowell
As the West scrambles for a diplomatic solution to the crisis in Crimea, Ukraine, they know that as they try and negotiate with Russian President, Vladimir Putin, he holds one of the aces in the pack: Russian gas supplies to the west.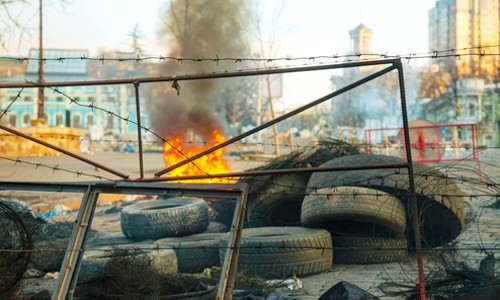 Photo courtesy of Shutterstock
Western diplomatic options are limited because oil and gas are at the center of Europe's commercial ties with Russia. Although Europe has been trying to wean itself off Russian gas for the last decade, it is still reliant on Russia.
As one British commentator wrote today: "Moscow has its thumb on our economic throat."
Estimates vary, but some 25-30 percent of European gas comes from Russia, with about half that transiting through Ukraine. Just how dependent Europe is can be seen from the graph, which is from Morgan Stanley: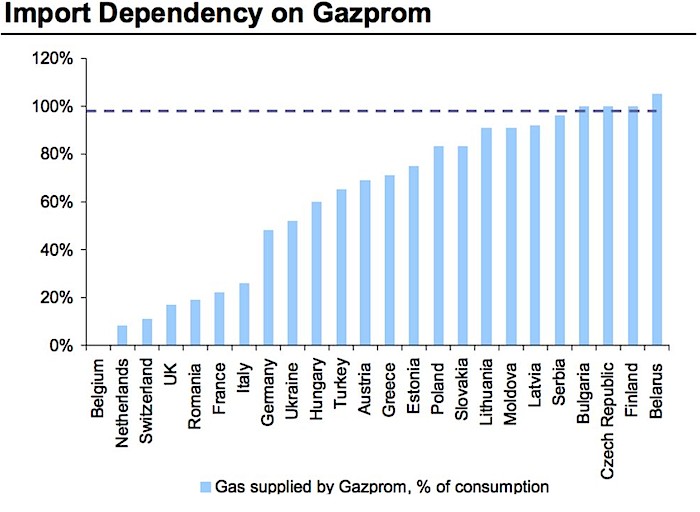 Although still strategically important, Ukraine is less important than in the past, with other pipeline routes via the Baltic Sea or Belarus and Poland being options.
There are already signs that the Russian government, which has a history of using gas exports as an economic lever, is threatening the Ukrainians with higher gas prices.
Mikhail Korchemkin, head of  Pennsylvania-based East European Gas Analysis told Bloomberg that "gas debt is a traditional Russian move to pressure Ukraine. In the past decade the Kremlin used the gas tap as a tool of political pressure on the former Soviet republics."
And this threat is already pushing up prices. In recent days, oil prices have climbed $2-$3 a barrel. The escalating conflict has already pushed the price of gas futures up 10 percent in early trading this morning, while the benchmark price for oil rose by more than two percent.
Many political analysts are arguing that Germany is the central diplomatic player in the crisis, but its hands are effectively tied due to its reliance on Russian gas. The country is Europe's biggest gas consumer and Russia's largest customer.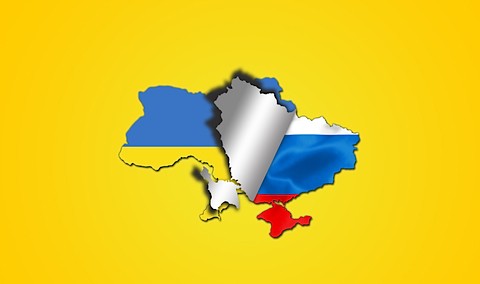 Photo courtesy of Shutterstock
The only good news is that spring is fast approaching after a particularly mild winter, so European gas reserves are said to be high.
Meanwhile, the British position seems to be pretty hypocritical too. Whilst warning that there would be significant costs and consequences to the Russians for their actions, leaked documents reveal that that the British negotiating position should be that "London's financial centre" should not be closed to Russian businesses, including oil and gas companies.
With impeccable timing, on Monday, Gazprom held its annual meeting in London. And at the weekend, the London Mayor hosted a Russian Maslenitsa or pancake festival whose lead sponsor was Rosnfeft, the vast Russian oil drilling company.
The bottom line is—despite the dire warnings of consequences for Russian by western politicians—the continent is still addicted to Russian gas, so any draconian sanctions or effective political action remains highly unlikely.
Visit EcoWatch's ENERGY page for more related news on this topic.

A coalition of conservation groups and others announced Thursday that a historic number of comments and petitions of support have been submitted to the U.S. Department of the Interior in support of Bears Ears National Monument. Despite the entirely inadequate 15-day comment period ending on May 26, more than 685,000 comments in support of Bears Ears National Monument have been collected.
Keep reading...
Show less
Rink Glacier in western Greenland, with a meltwater lake visible center. NASA/OIB
Scientists have had their eyes on Greenland as its iconic glaciers have begun disappearing due to a warming climate. But, what they didn't expect to see was a whole new type of melting.
Keep reading...
Show less
Mountain View Fire
By Lena Moffitt
An oil tanker in Mead, Colorado exploded, killing one and injuring three on Thursday. Authorities are continuing to investigate the cause of the explosion.
Keep reading...
Show less
Banner created by Alliance for Climate Education
Keep reading...
Show less
Twenty-two GOP senators sent a letter Thursday urging Donald Trump to pull out of the Paris agreement. They argued remaining in the deal could "upend" the administration's ability "to fulfill its goal of rescinding the Clean Power Plan."
Keep reading...
Show less
By Cheryl Johncox
The Federal Energy Regulatory Commission (FERC) rejected on Thursday Energy Transfer Partners' request to resume horizontal directional drilling at two sites for its Rover fracked gas pipeline. This rejection comes after numerous leaks into Ohio's wetlands, and Clean Air and Clean Water act violations. FERC has halted the process at only eight locations of the 32 where drilling is taking place under Ohio's wetlands and streams.
Keep reading...
Show less
By Nadia Prupis
A majority of people in eight countries say they are ready to change their lifestyles if it would prevent climate catastrophe, a survey on global threats released Wednesday found.
Keep reading...
Show less
May. 25, 2017 01:55PM EST
Bill Maher is sick of billionaires' obsession with Mars, more like "Mars-a-Lago," he said.
In a new animation produced by ATTN:, the popular talk show host of Real Time, discusses the perils of our planet, including how "climate change is killing us."
Keep reading...
Show less