This website uses cookies to ensure you get the best experience while browsing it. By clicking 'Got It' you're accepting these terms.
Europe Passes Historic Limits on Plastic Bags
Nov. 28, 2014 01:15PM EST
Business
European Union (EU) members would have to set goals to reduce the amount of lightweight, one-use plastic bags in circulation under new draft rules agreed upon by member countries. The rules would require that EU countries do one of two things: institute policies that would reduce bag use from the current level of nearly 200 per person annually to 90 by 2019 and 40 by 2025 or require that they not be given out free plastic bags after 2018. The rules would apply to bags thinner than 50 microns, which comprise about 90 percent of the plastic bags used used in Europe and the ones mostly likely to become litter or waste.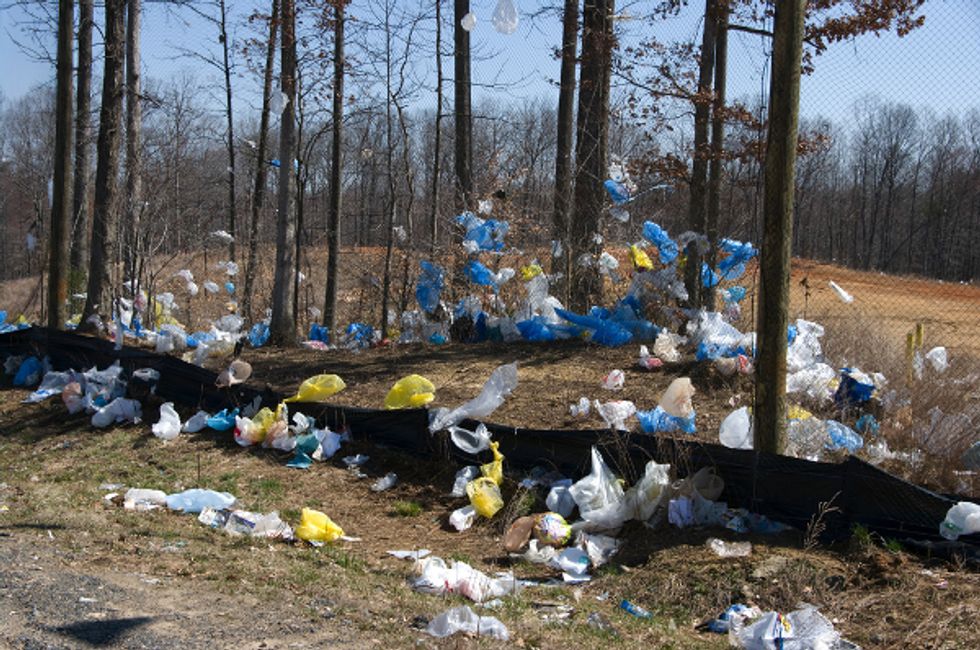 Photo credit: Shutterstock
"This is an historic moment for all of Europe," said European Parliament member (MEP) from Denmark Margrete Auken, who is steering the legislation through the European Parliament. "For the first time ever we have agreed on ambitious measures to reduce the amount of plastic bag waste in the environment. This is good news for the environment and all Europeans who expected the EU to take ambitious action on plastic bags. As front-running countries have demonstrated, dramatically reducing the consumption of these disposable bags is easily achievable with a consistent policy. Swiftly phasing out these bags is a readily-implementable solution to the pervasive problem of plastic waste in the environment."
One of those front-running countries is Italy, where the bags were banned in 2012. Italian Minister for the Environment Gian Luca Galletti expressed support for the EU action, saying, "The agreement reached enables Europe to effectively tackle a very relevant environmental problem, thanks to the joint efforts of its institutions: today we have the right tools to greatly limit the use of plastic bags and to disseminate new environmental best practices that contribute to developing waste management in the individual states and at European level."
According to the European Parliament press release, "In a business-as-usual scenario, consumption of plastic bags is expected to grow further. Estimates also suggest that over eight billion plastic carrier bags became litter in the EU in 2010."
That, of course, is fine with PlasticsEurope, the representative organization for plastics manufacturers. The group said of the proposed limits, "It opens the door for member states to ban not only plastic bags but other types of packaging. Such an inconsistent political framework would hinder investments and innovation and would create barriers to trade in packaged goods in Europe."
The group favors charging for plastic bags instead, something the UK already has on the table, although its Tory representatives to the European Parliament oppose the new EU rules.
"Plastic bags blight our countryside and oceans and kill millions of marine animals each year," said MEP Catherine Bearder, a Liberal Democrat. "The Lib Dems in government are already set to curb plastic bag use by introducing a 5p charge next year. It makes sense for the rest of Europe to follow suit. I'm deeply concerned that Conservative MEPs refused to support legislation to reduce their use across the EU."
In September, California became the first U.S. state to pass a law banning one-use plastic bags although many cities and counties have already taken action.
YOU MIGHT ALSO LIKE
22 Facts About Plastic Pollution (And 10 Things We Can Do About It)
The Global Downfall of the Plastic Bag
Plastic Bag Bans Spread Across U.S. 
EcoWatch Daily Newsletter
Baby orangutan and mother orang utan seen walking in Jakarta, Indonesia. Aprison Photography / Moment / Getty Images
By Tara Lohan
To be a good wildlife photographer, you need an expertly trained eye. But good ears help, too.
Worker spraying toxic pesticides or insecticides on corn plantation. D-Keine / E+ / Getty Images
Poor people in developing countries are far more likely to suffer from exposure to pesticides classified as having high hazard to human health or the environment, according to new data that Unearthed analyzed.
Power to heat, to cool, to drive the world's industries. Renewables can supply it all.
Jason Blackeye / Unsplash
By Paul Brown
Virtually all the world's demand for electricity to run transport and to heat and cool homes and offices, as well as to provide the power demanded by industry, could be met by renewable energy by mid-century.

Phthalates, a group of chemicals used to make plastics more flexible and harder to break, affect health in many ways. Tatyana Tomsickova Photography / Moment / Getty Images
By George Citroner
Exposure to phthalates was associated with autism traits in boys (but not girls) between ages 3 and 4 years, according to a new study.
However, the risk was diminished in women who took folic acid during their pregnancy.
This study is the first to find that folic acid supplements provide a protective effect from phthalates.
Exposure in the womb to a group of endocrine-disrupting chemicals called phthalates was associated with autism traits in boys (but not girls) between ages 3 and 4 years, according to a new study.
A coral and fish community at the Great Barrier Reef, northeast of Port Douglas, Queensland, Australia, on Aug. 28, 2018. Francois Gohier / VWPics / Universal Images Group via Getty Images
Researchers released a sobering study this week showing that all of the world's coral reefs may be lost to the climate crisis by 2100.