This website uses cookies to ensure you get the best experience while browsing it. By clicking 'Got It' you're accepting these terms.
Europe Passes Historic Limits on Plastic Bags
Nov. 28, 2014 01:15PM EST
Business
European Union (EU) members would have to set goals to reduce the amount of lightweight, one-use plastic bags in circulation under new draft rules agreed upon by member countries. The rules would require that EU countries do one of two things: institute policies that would reduce bag use from the current level of nearly 200 per person annually to 90 by 2019 and 40 by 2025 or require that they not be given out free plastic bags after 2018. The rules would apply to bags thinner than 50 microns, which comprise about 90 percent of the plastic bags used used in Europe and the ones mostly likely to become litter or waste.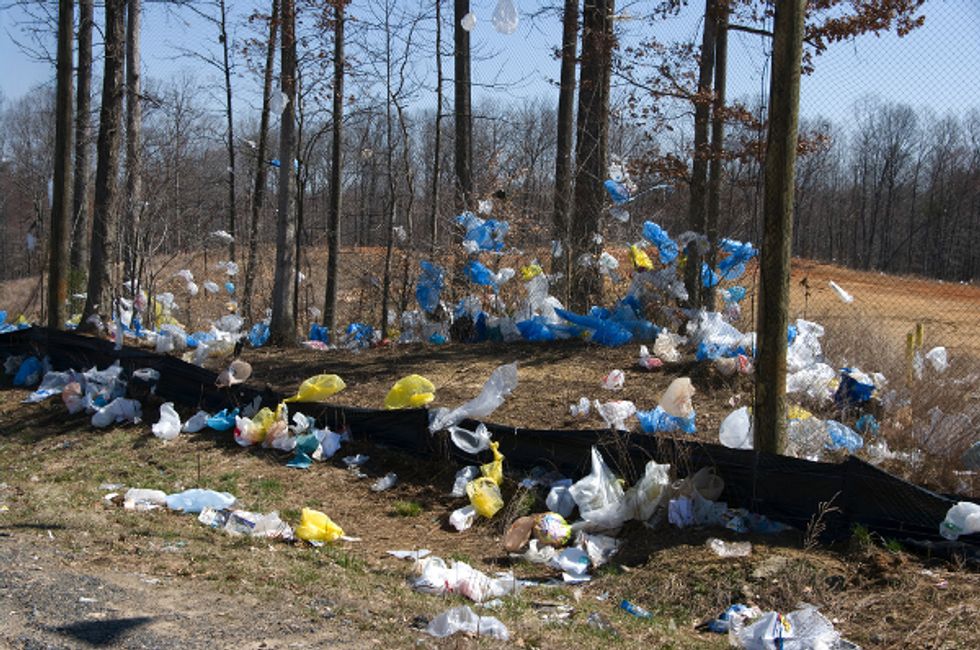 Photo credit: Shutterstock
"This is an historic moment for all of Europe," said European Parliament member (MEP) from Denmark Margrete Auken, who is steering the legislation through the European Parliament. "For the first time ever we have agreed on ambitious measures to reduce the amount of plastic bag waste in the environment. This is good news for the environment and all Europeans who expected the EU to take ambitious action on plastic bags. As front-running countries have demonstrated, dramatically reducing the consumption of these disposable bags is easily achievable with a consistent policy. Swiftly phasing out these bags is a readily-implementable solution to the pervasive problem of plastic waste in the environment."
One of those front-running countries is Italy, where the bags were banned in 2012. Italian Minister for the Environment Gian Luca Galletti expressed support for the EU action, saying, "The agreement reached enables Europe to effectively tackle a very relevant environmental problem, thanks to the joint efforts of its institutions: today we have the right tools to greatly limit the use of plastic bags and to disseminate new environmental best practices that contribute to developing waste management in the individual states and at European level."
According to the European Parliament press release, "In a business-as-usual scenario, consumption of plastic bags is expected to grow further. Estimates also suggest that over eight billion plastic carrier bags became litter in the EU in 2010."
That, of course, is fine with PlasticsEurope, the representative organization for plastics manufacturers. The group said of the proposed limits, "It opens the door for member states to ban not only plastic bags but other types of packaging. Such an inconsistent political framework would hinder investments and innovation and would create barriers to trade in packaged goods in Europe."
The group favors charging for plastic bags instead, something the UK already has on the table, although its Tory representatives to the European Parliament oppose the new EU rules.
"Plastic bags blight our countryside and oceans and kill millions of marine animals each year," said MEP Catherine Bearder, a Liberal Democrat. "The Lib Dems in government are already set to curb plastic bag use by introducing a 5p charge next year. It makes sense for the rest of Europe to follow suit. I'm deeply concerned that Conservative MEPs refused to support legislation to reduce their use across the EU."
In September, California became the first U.S. state to pass a law banning one-use plastic bags although many cities and counties have already taken action.
YOU MIGHT ALSO LIKE
22 Facts About Plastic Pollution (And 10 Things We Can Do About It)
The Global Downfall of the Plastic Bag
Plastic Bag Bans Spread Across U.S. 
EcoWatch Daily Newsletter
No longer will the options when we die be a choice between just burial or cremation. Soon it will be possible to compost your remains and leave your loved ones with rich soil, thanks to a new funeral service opening in Seattle in 2021 that will convert humans into soil in just 30 days, as The Independent reported.
You can reduce the footprint of a medium-sized live tree by donating it to elephants at a local zoo, like this African elephant pictured above. eans / iStock / Getty Images
The holiday season is supposed to be about giving and sharing, but often it is actually about throwing away. The U.S. generates 25 percent more garbage between Thanksgiving and New Year's than it does during the rest of the year. That's around one million extra tons per week, according to National Environmental Education Foundation (NEEF) figures reported by The Associated Press.
The Opera House is seen with smoke haze which enveloped Sydney Harbor on Dec. 10 in Sydney, Australia. Smoke haze hangs over the city as the New South Wales fire danger risk is raised from 'very high' to 'severe'. James D. Morgan / Getty Images
The brushfires raging through New South Wales have shrouded Australia's largest city in a blanket of smoke that pushed the air quality index 12 times worse than the hazardous threshold, according to the Australia Broadcast Corporation (ABC).
People walk across the bridge near Little Raven Court in downtown Denver. Younger Americans increasingly prefer to live in walkable neighborhoods. Helen H. Richardson / The Denver Post via Getty Images
By David B. Goldstein
Energy efficiency is the cornerstone of any country's plan to fight the climate crisis. It is the cheapest option available, and one that as often as not comes along with other benefits, such as job creation, comfort and compatibility with other key solutions such as renewable energy. This has been recognized by the International Energy Agency (IEA) for at least a decade.
Activists from Extinction Rebellion New York City engaged in nonviolent direct action to confront climate change outside City Hall on April 17, 2019. Erik McGregor / Pacific Press / LightRocket via Getty Images
By Andrea Germanos

Over 500 groups on Monday rolled out an an action plan for the next president's first days of office to address the climate emergency and set the nation on a transformative path towards zero emissions and a just transition in their first days in office.