This website uses cookies to ensure you get the best experience while browsing it. By clicking 'Got It' you're accepting these terms.
EU to Meet 2020 Climate Targets Thanks to Cheap Carbon Credits
Oct. 14, 2013 12:51PM EST
Climate
By Paul Brown
Good news that the European Union (EU) will achieve its aim of a 20 percent reduction in greenhouse gases by 2020 has been tempered by criticism that, for most countries, the target has been too easy and that much more could and should have been done to help combat the threat of global warming.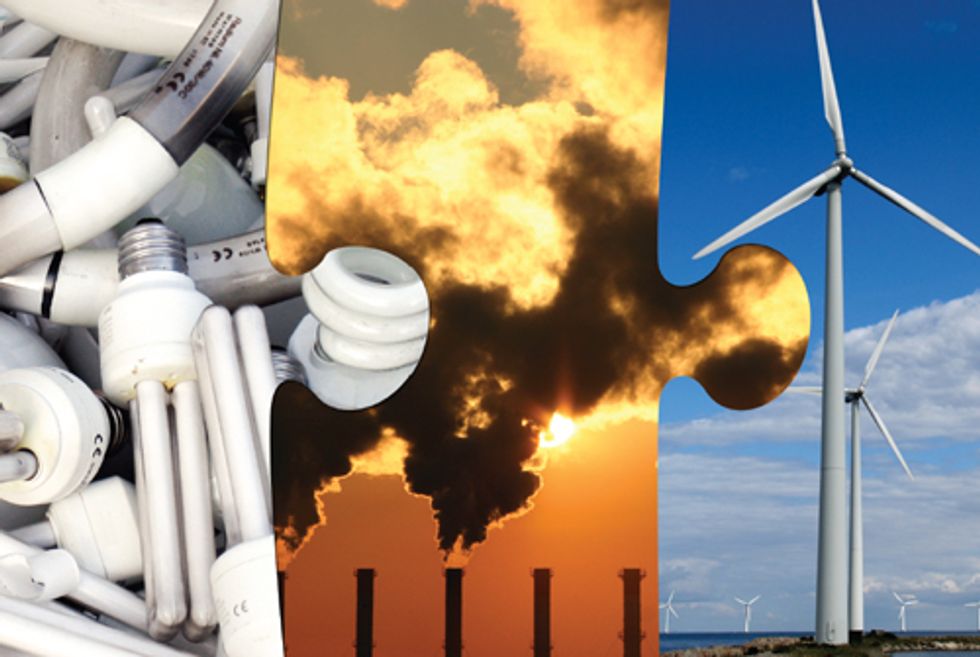 A combination of the recession and vast quantities of cheap carbon credits available for countries to buy their way out of their obligations has meant that industry has been able to afford to pollute as much as it wants, and governments have made too little political effort to promote energy efficiency and to boost renewables.
The figures on carbon reductions are produced by the European Environment Agency (EEA) to keep track of what is happening in the EU and to make sure countries are keeping to their international obligations and EU law.
The agency presents a generally rosy picture on reducing emissions. However, targets to produce 20 percent of energy from renewables and achieve 20 percent energy efficiency gains are not going to be reached so easily, if at all.
The EEA report confirms for the first time that the EU exceeded its commitments under the Kyoto Protocol. Total emissions in 2012 were 12.2 percent below the 1990 levels—what the report calls an "overachievement of 5.5 percent."
Cheap Way Out
This was due to the 2008 recession, a switch in electricity production from coal to gas and an increase in renewables. However, for industries and countries that did not reduce emissions enough, there was an easy lifeline to grab: there were 1.8 billion surplus allowances from industry for carbon credits under the EU trading scheme, providing a cheap way for polluters to buy their way out of trouble.
As a result of the same trends continuing, the EEA report suggests that the whole of the expanded EU is going to meet and even exceed its 20 percent reduction target by 2020, with most countries not having to make any further effort.
Since the Kyoto Protocol came into force in 2005, the number of countries in the EU has expanded dramatically, while aviation has been included in overall emission targets. Partly as a result of these changes, carbon dioxide emissions have gone down even further, and so the report says that, for the larger EU in 2012, they were already 18 percent below 1990 levels. It concludes that, as a result, the 20 percent target is within reach eight years ahead of schedule.
The report also takes stock of the two other 2020 EU targets—a 20 percent increase in energy efficiency for every country in Europe, and a 20 percent production of energy through renewables. Here, the agency says the picture is more mixed.
Only four of the 28 EU member states—Bulgaria, Denmark, France and Germany—are making good progress in reducing energy consumption and primary energy intensity through "well-balanced policy packages across relevant sectors." For most member states, the current policies are not sufficiently developed or implemented—partly due to insufficient enforcement.
The worst offenders are Cyprus, Estonia, Italy, Luxembourg, Malta, Romania, Slovakia and Spain, which do not yet have policies in place to reach the 20 percent target on energy efficiency by the end of the decade.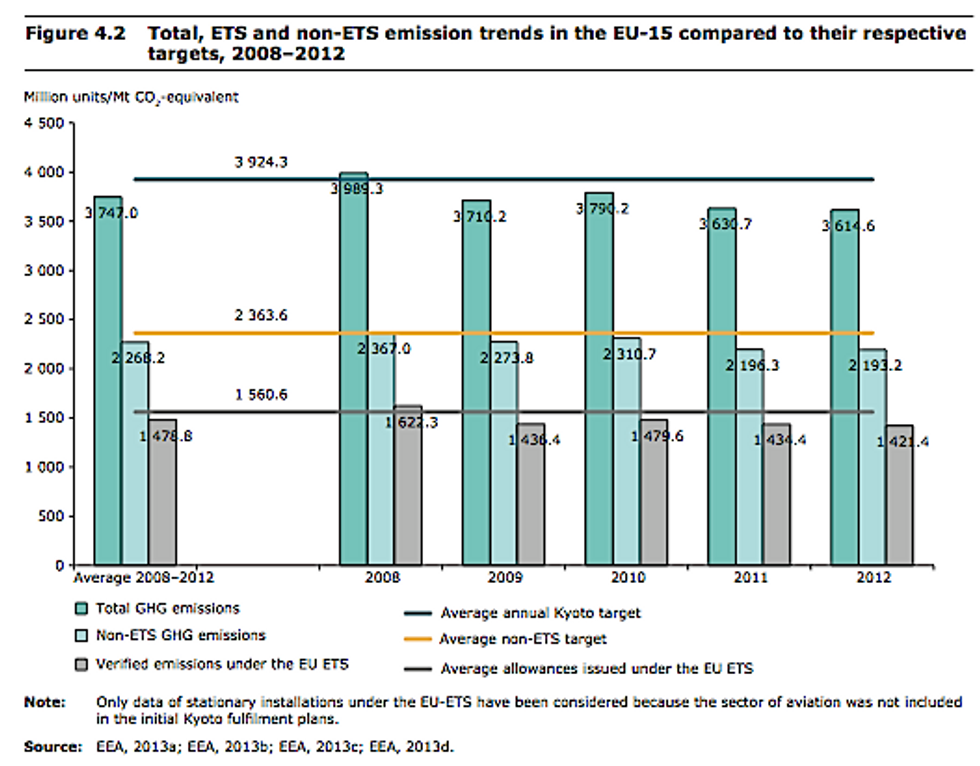 Legally Binding
The picture on renewable energy is better. The EU has exceeded its target of 10 percent of gross final energy consumption from renewables in 2010 by 3 percent. However, Europe needs to double the use of renewable energy by 2020, compared to the 2005–2011 period, if  it is to reach the EU's legally binding renewable energy target. Six countries are currently well below target—Belgium, France, Latvia, Malta, the Netherlands and the UK.
In contrast, 14 member states had met or exceeded their 2011 targets and were continuing in the right direction. They are Bulgaria, Germany, Estonia, Finland, Greece, Hungary, Italy, Lithuania, Luxembourg, Romania, Slovakia, Slovenia, Spain and Sweden. Norway, outside the EU, is also doing so.
Non-governmental organizations that keep an eye on the EU and its attempts to combat climate change were not impressed by the EEA report. They say that that while it was good that targets were being reached, it showed that the EU was being unambitious and could have done far more.
"Science tells us that we need to reduce emissions by 95 percent in 2050 to keep global warming below two degrees Celsius," said Eva Filzmoser, director of Carbon Market Watch. "It's a travesty that countries spend billions on international offset credits instead of investing in energy efficiency measures and renewable energies on the home front."
David Holyoake, a legal adviser with ClientEarth's climate and energy program, said: "The report shows that member states will virtually not need to do anything between now and 2020 to reach some targets. This is a huge missed opportunity for further much-needed emissions reduction, especially in the buildings, agriculture and transport sectors."
Visit EcoWatch's CLIMATE CHANGE page for more related news on this topic.
——–

EcoWatch Daily Newsletter
New pine trees grow from the forest floor along the North Fork of the Flathead River on the western boundary of Glacier National Park on Sept. 16, 2019 near West Glacier, Montana. Chip Somodevilla / Getty Images
Household actions lead to changes in collective behavior and are an essential part of social movements. Pixabay /
Pexels
Talk is cheap, says the acting executive secretary of the United Nations Convention on Biological Diversity, who begged governments around the world to make sure that 2020 is not another year of conferences and empty promises, but instead is the year to take decisive action to stop the mass extinction of wildlife and the destruction of habitat-sustaining ecosystems, as The Guardian reported.
The people of Kiribati have been under pressure to relocate due to sea level rise. A young woman wades through the salty sea water that flooded her way home on Sept. 29, 2015. Jonas Gratzer / LightRocket via Getty Images
Refugees fleeing the impending effects of the climate crisis cannot be forced to return home, according to a new decision by the United Nations Human Rights Committee, as CNN reported. The new decision could open up a massive wave of legal claims by displaced people around the world.
The first day of the Strike WEF march on Davos on Jan. 18, 2020 near Davos, Switzerland. The activists want climate justice and think the WEF is for the world's richest and political elite only. Kristian Buus / In Pictures via Getty Images
By Ashutosh Pandey
Teenage climate activist Greta Thunberg is returning to the Swiss ski resort of Davos for the 2020 World Economic Forum with a strong and clear message: put an end to the fossil fuel "madness."