This website uses cookies to ensure you get the best experience while browsing it. By clicking 'Got It' you're accepting these terms.
EU Fracking Laws May Galvanize U.S. Gas Industry
Feb. 01, 2012 03:43PM EST
Energy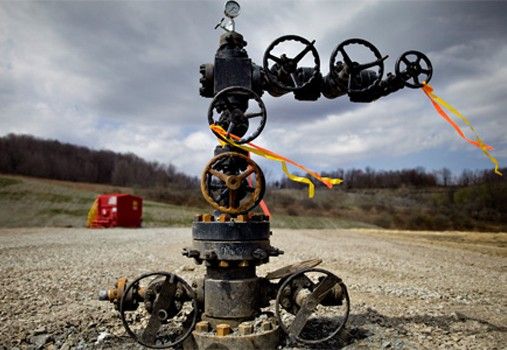 By Andy Rowell
In a decision that will both dismay and worry environmental campaigners and communities facing fracking across Europe, the European Commission has concluded that existing laws are adequate to cover the controversial drilling technique.
A new report undertaken for the European Commission by the Belgian law firm Philippe & Partners, argues that there is no need for more environmental legislation concerning fracking until it reaches commercial scale.
"Neither on the European level nor on the national level have we noticed significant gaps in the current legislative framework, when it comes to regulating the current level of shale gas activities," the study says.
However, in words that are meant to reassure people, the report continued: "However, this is no reason for complacency, since this assessment explicitly refers to the current level of experience and scale of operations as can be expected during the exploration phase."
Although the study was finished last November, it has only just been released by the commission. It also just covered four countries—Sweden, Poland, France and Germany.
But the report argues that activities relating to exploration of shale gas are already subject to EU and national laws and regulations, such as the Water Framework Directive, the Groundwater Directive and the Mining Waste Directive. The use of chemicals is covered by the REACH (Registration, Evaluation, Authorisation and Restriction of Chemical substances) regulation.
"It is a new technology and we do not have a specific legislation on shale gas, because it is so new," said Marlene Holzner, European commission spokesperson on energy. "So the study only says that the existing regulations are applicable for shale gas, that the tool is there and has only to be applied."
Ironically this report is at odds with another report submitted last summer to the commission, which was written for the European Parliament's Committee on Environment, Public Health and Food Safety.
That report called for "consideration to be given to developing a new directive at European level regulating all issues in this area comprehensively." The report, entitled Impacts of shale gas and shale oil extraction on the environment and human health also recommended that for fracking, "all chemicals to be used should be disclosed publicly, the number of allowed chemicals should be restricted and its use should be monitored."
But of course, by the time fracking gets to a commercial scale it could well be too late to monitor all the chemicals being used and to rush in EU-wide legislation, especially given the time it takes to draft legislation and then get it past the EU's various respective bodies.
Meanwhile, there would be huge financial and other pressure from the oil industry to carry on drilling without having to wait for further regulations. It is a scenario that many communities in America are finding to their cost.
The new report will be used by the oil industry as a green light to carry on fracking. Poland, where the fracking revolution is occurring full steam ahead, is planning to begin commercial shale gas production in two years' time. So if laws are to be implemented at the EU level to cover commercial drilling, that needs to happen now.
Not every country in the EU is fracking mad, though.
A couple of weeks ago, thousands of Bulgarians protested against fracking over fears it could poison underground water, trigger earthquakes and pose serious public health hazards. Protestors rallied in more than six Bulgarian cities calling for a fracking moratorium.
"I am opposed because we do not know what chemicals they will put in the ground. Once they poison the water, what shall we drink?" said Olga Petrova, 24, a student who attended a protest in Sofia.
Days later, Bulgaria's National Assembly voted to impose an indefinite fracking ban in the country. France also banned fracking last July, while in Britain fracking has caused minor earthquakes.
Who's going to draft a law to stop that happening again?
For more information, click here.
EcoWatch Daily Newsletter
A vegan diet can improve your health, but experts say it's important to keep track of nutrients and protein. Getty Images
By Dan Gray
Research shows that 16 weeks of a vegan diet can boost the gut microbiome, helping with weight loss and overall health.
A healthy microbiome is a diverse microbiome. A plant-based diet is the best way to achieve this.
It isn't necessary to opt for a strictly vegan diet, but it's beneficial to limit meat intake.
New research shows that following a vegan diet for about 4 months can boost your gut microbiome. In turn, that can lead to improvements in body weight and blood sugar management.
Students gathered at the National Mall in Washington DC, Sept. 20. NRDC
By Jeff Turrentine
Nearly 20 years have passed since the journalist Malcolm Gladwell popularized the term tipping point, in his best-selling book of the same name. The phrase denotes the moment that a certain idea, behavior, or practice catches on exponentially and gains widespread currency throughout a culture. Having transcended its roots in sociological theory, the tipping point is now part of our everyday vernacular. We use it in scientific contexts to describe, for instance, the climatological point of no return that we'll hit if we allow average global temperatures to rise more than 2 degrees Celsius above preindustrial levels. But we also use it to describe everything from resistance movements to the disenchantment of hockey fans when their team is on a losing streak.
samael334 / iStock / Getty Images
Berries are small, soft, round fruit of various colors — mainly blue, red, or purple.
A glacier is seen in the Kenai Mountains on Sept. 6, near Primrose, Alaska. Scientists from the U.S. Geological Survey have been studying the glaciers in the area since 1966 and their studies show that the warming climate has resulted in sustained glacial mass loss as melting outpaced the accumulation of new snow and ice. Joe Raedle / Getty Images
By Mark Mancini
On Aug. 18, Iceland held a funeral for the first glacier lost to climate change. The deceased party was Okjökull, a historic body of ice that covered 14.6 square miles (38 square kilometers) in the Icelandic Highlands at the turn of the 20th century. But its glory days are long gone. In 2014, having dwindled to less than 1/15 its former size, Okjökull lost its status as an official glacier.
Members of Chicago Democratic Socialists of America table at the Logan Square Farmers Market on Aug. 18. Alex Schwartz
By Alex Schwartz
Among the many vendors at the Logan Square Farmers Market on Aug. 18 sat three young people peddling neither organic vegetables, gourmet cheese nor handmade crafts. Instead, they offered liberation from capitalism.
Hackney primary school students went to the Town Hall on May 24 in London after school to protest about the climate emergency. Jenny Matthews / In Pictures / Getty Images
Bird watching in the U.S. may be a lot harder than it once was, since bird populations are dropping off in droves, according to a new study.