This website uses cookies to ensure you get the best experience while browsing it. By clicking 'Got It' you're accepting these terms.
EU Delays Approval of Glyphosate, Again
May. 19, 2016 07:48AM EST
Food
By The Greens / European Free Alliance
A decision on whether or not to re-approve the controversial toxic substance glyphosate for use in Europe was postponed Thursday for the second time, following disagreement among representatives of EU governments. A revised proposal by the European Commission to re-approve glyphosate for use in Europe for nine more years, with almost no restrictions, failed to secure the required majority among EU governments.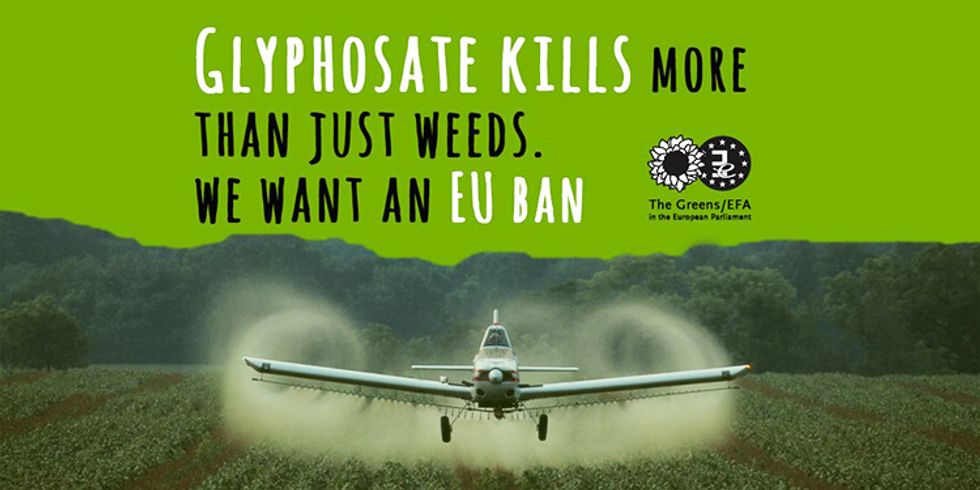 The decision was due to be taken by representatives of EU governments in the Standing Committee on Plants, Animals, Food and Feed. The proposal by the European Commission to approve glyphosate for 9 more years, with no restrictions on its use, would have to have been approved by a qualified majority of member states. It is not yet clear when the next meeting of the committee will take place, but the commission can now either present a new proposal or propose a technical extension for a shorter timeframe (e.g. 2 years).
Bart Staes, Green environment and food safety spokesperson, had this to say about the decision:
"This latest postponement is a sign that the significant opposition to re-approving glyphosate is being taken seriously by key EU governments. It is clear that the EU Commission and the agro-chemical industry were hell-bent on bulldozing through the approval of glyphosate for unrestricted use for a long timeframe but thankfully this push has been headed off for now. We hope this postponement will convince more EU governments to join in opposing the approval of this controversial substance and, at the very least, to proactively propose comprehensive restrictions on its use.
"The Commission cannot keep coming back with proposals that do not address the concerns with glyphosate. Instead, it needs to finally recognize that there are major problems with glyphosate and legislate for this.
"Only last month, the European Parliament voted to highlight its concerns with glyphosate and adopted a resolution opposing approval of glyphosate for most of its uses. MEPs voted to oppose the approval of glyphosate in agriculture where there are alternative methods for weed control, in the pre-harvest stage, in public parks and playgrounds and for hobby gardeners. EU governments should now take this on board both in terms of the pending EU approval but also at national level, where member states can introduce their own bans or restrictions, as France has already indicated it will do.
"While the agro-chemical lobby is desperately trying to spin it otherwise, the finding by the WHO'S IARC that glyphosate is probably carcinogenic to humans is of major concern. This, combined with the established negative impacts on the environment, should be leading to a global moratorium on its use. "
YOU MIGHT ALSO LIKE
Results of Glyphosate Pee Test Are in 'And It's Not Good News'
Join Jamie Oliver's Food Revolution
UN Says Glyphosate 'Unlikely' to Cause Cancer, Industry Ties to Report Called Into Question
National Research Council GMO Study Compromised by Industry Ties
EcoWatch Daily Newsletter
A harbour seal on an ice floe in Glacier Bay, Alaska. A new study shows that the climate crisis has warmed waters, changing ecosystems and crippling sea ice growth. Janette Hill / robertharding / Getty Images Plus
Doctors report that only 1 in 4 children are getting the recommended 60 minutes of physical activity per day. Ronnie Kaufman / DigitalVision / Getty Images
By Dan Gray
Pediatricians are being urged to start writing "exercise prescriptions" for the children they see in their office.
A First Nations protester walks in front of a train blockade in Tyendinaga, near Belleville, Ontario, Canada on Feb. 21, 2020. LARS HAGBERG / AFP via Getty Images
An indigenous rail blockade that snarled train travel in Canada for more than two weeks came to an end Monday when police moved in to clear protesters acting in solidarity with another indigenous community in British Columbia (B.C.), which is fighting to keep a natural gas pipeline off its land.
A rainbow snake, a rare reptile spotted in a Florida county for the first time in more than 50 years, seen here on July 5, 2013.
Kevin Enge / FWC Fish and Wildlife Research Institute / Flickr
A Florida hiker recently stumbled across a slithering surprise — a rare snake that hadn't been spotted in the area for more than 50 years.
We need our government to do everything it can to stop PFAS contamination and exposure from wreaking havoc in communities across the country. LuAnn Hun /
Unsplash
By Genna Reed
The EPA announced last week that it is issuing a preliminary regulatory determination for public comment to set an enforceable drinking water standard to two of the most common and well-studied PFAS, PFOA and PFOS.
This decision is based on three criteria:
PFOA and PFOS have an adverse effect on public health
PFOA and PFOS occur in drinking water often enough and at levels of public health concern;
regulation of PFOA and PFOS is a meaningful opportunity for reducing the health risk to those served by public water systems.