This website uses cookies to ensure you get the best experience while browsing it. By clicking 'Got It' you're accepting these terms.
EU Climate Chief Adds Voice to Fossil Fuel Divestment Movement
Jul. 09, 2013 04:03PM EST
Fracking
The European Union's climate chief has become the latest political heavyweight to publicly support divestment from fossil fuels.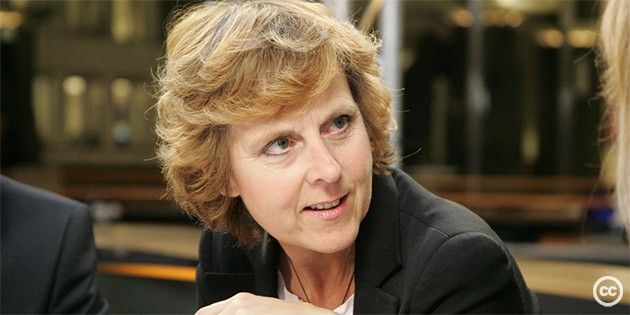 Connie Hedegaard has urged the European Investment Bank (EIB), the European Bank for Reconstruction and Development (EBRD), and the World Bank to take a lead role in eliminating public finance support for fossil fuels.
Although all three of the banks have policies aimed at encouraging lending to renewables and energy efficiency, in practice fossil fuel projects continue to benefit from their support.
Between 2007 and 2011, the EIB invested €15 billion in fossil fuel projects compared to €14.8 billion in renewables, while similarly around half of the EBRD's annual €6.7 billion of energy lending is still going to fossil fuels.
With a collective annual lending pot of €130 billion, Hedegaard said the banks must "lead by example by restricting conditions for greater public financing of coal, the most damaging fossil fuel, and by pressing for greater transparency in reporting on emissions."
The World Bank looks set to take its first step in this transition, as a leaked report last month announced the bank would stop lending to coal power projects, except in "rare circumstances" where there were no other options available.
Experts say that two-thirds of the planet's fossil fuel reserves must be left underground if disastrous levels of global warming are to be avoided.
By continuing to invest in ultimately unburnable fossil fuel assets these banks are contributing to a "carbon bubble" that poses a major risk to economic security.
Hedegaard joins other political figures and a growing chorus of people supporting the divestment movement, pushing the issue up the agenda.
Two weeks ago, President Obama used his climate change speech at Georgetown University to call on U.S. citizens to "convince those in power to reduce our carbon pollution. Push your own communities to adopt smarter practices. Invest. Divest."
Smart organizations are already shifting their money away from risky fossil fuel assets.
Last week, pension fund, Storebrand, pulled out of 19 fossil fuel companies to "reduce fossil fuel and CO2 exposure and ensure long-term stable returns" stating that such high carbon assets would likely become "worthless financially" in the future.
The bank, Rabobank also announced a blanket ban on loans to firms involved with oil sands and fracking for shale gas due to the financial and environmental risks associated with projects of this nature.
The United Church of Christ also became the latest notable organization to approve a fossil fuel divestment strategy in the U.S., becoming the country's first national and religious body to do so.
In the UK, the Church of England has also said it would consider divesting from fossil fuels, following a resolution passed by the diocese of Southwark—with the issue now passed onto the General Synod, the legislative body which governs the church.
The church has already reduced its exposure to fossil fuels by 62 percent since 2010, a significant shift in its £8 billion of assets, which has previously seen large investments in oil giants Shell and BP.
Following in the footsteps of giant institutions, local businesses and individuals are also starting to minimize their exposure to the carbon bubble and harness the potential of clean energy investments, showing they are ready to invest in renewables.
Visit EcoWatch's RENEWABLES page for more related news on this topic.
——–
SHARE YOUR THOUGHTS BELOW: What are you doing to contribute to the growing divestment movement?
——–

EcoWatch Daily Newsletter
A house under construction with plastic bottles filled with sand to build shelters that better withstand the climate of the country where temperatures reach up to 50° C Awserd in the Saharawi refugee camp Dakhla on Dec. 31, 2018 in Tindouf, Algeria. Stefano Montesi / Corbis / Getty Images
A UN expert painted a bleak picture Tuesday of how the climate crisis could impact global inequality and human rights, leading to a "climate apartheid" in which the rich pay to flee the consequences while the rest are left behind.

The Oregon Senate Chamber. Cacophony / CC BY 3.0
Simple swaps that cut down on kitchen trash.
Sponsored
By Kayla Robbins
Along with the bathroom, the kitchen is one of the most daunting areas to try and make zero waste.
Artist's conception of solar islands in the open ocean. PNAS
Millions of solar panels clustered together to form an island could convert carbon dioxide in seawater into methanol, which can fuel airplanes and trucks, according to new research from Norway and Switzerland and published in the Proceedings of the National Academy of Sciences journal, PNAS, as NBC News reported. The floating islands could drastically reduce greenhouse gas emissions and dependence on fossil fuels.
Marcos Alves / Moment Open / Getty Images
More than 40 percent of insects could go extinct globally in the next few decades. So why did the U.S. Environmental Protection Agency (EPA) last week OK the 'emergency' use of the bee-killing pesticide sulfoxaflor on 13.9 million acres?
EcoWatch teamed up with Center for Biological Diversity via EcoWatch Live on Facebook to find out why. Environmental Health Director and Senior Attorney Lori Ann Burd explained how there is a loophole in the The Federal Insecticide, Fungicide, and Rodenticide Act under section 18, "that allows for entities and states to request emergency exemptions to spraying pesticides where they otherwise wouldn't be allowed to spray."
View of downtown Miami, Florida from Hobie Island on Feb. 2, 2019.
Michael Muraz / Flickr
The Democratic candidates for president descended upon Miami for a two-night debate on Wednesday and Thursday. Any candidate hoping to carry the state will have to make the climate crisis central to their campaign, as The New York Times reported.
By Sharon Kelly
On Monday, the Wall Street Journal featured a profile of Scott Sheffield, CEO of Pioneer Natural Resources, whose company is known among investors for its emphasis on drawing oil and gas from the Permian basin in Texas using horizontal drilling and hydraulic fracturing, or fracking.
Pexels
By Craig K. Chandler
The federal government has available to it, should it choose to use them, a wide range of potential climate change management tools, going well beyond the traditional pollution control regulatory options. And, in some cases (not all), without new legislative authorization.