Ethiopia, Where the Paris Climate Agreement Gets Real
By Peyton Fleming
The same day global leaders were gathering at the United Nations in New York to sign an historic climate agreement, my family and I stood in front of a tiny solar-powered trailer on the side of a dusty, dirt-packed road in southern Ethiopia.
The tiny SolarKiosk, nestled near traditional thatched huts and surrounded by cows and goats, sells different-sized solar lanterns, as well as power for mobile phones and bottles of Fanta.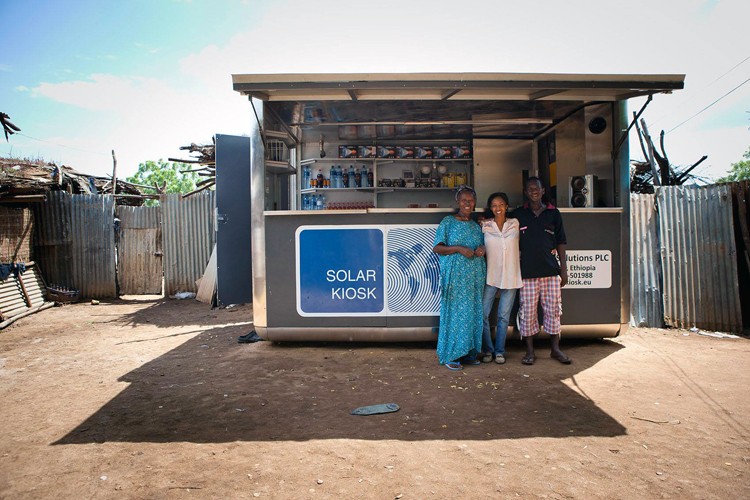 The Omorate SolarKiosk operator, Masresha (right), with his mother (left). He has worked as a local guide and speaks five languages. Photo credit: © Georg Schaumberger / SolarKiosk
The people we met here were not thinking about global climate deals brokered in Paris. But villages, such as Bulbula, and countries, such as Ethiopia, are surely in the minds of government leaders assembling at the UN to ink a 32-page document that is our last great hope for curbing global carbon pollution at the levels needed to avoid dangerous climate change.
The Paris agreement is undoubtedly big on ambition; more than 170 countries signed the accord last week and most, including Ethiopia, have also committed to their own carbon pollution reduction plans. The big question is whether countries such as Ethiopia, India, China and even the U.S. can deliver on their promises so that the agreement can achieve its ultimate goal of limiting global temperature rise to well below two degrees Celsius.
While Ethiopia's current carbon footprint is tiny compared to developed countries, what happens down the road, as its economy grows, is a big question. The country's commitment—to be carbon neutral, even as its lifts 25 million people out of poverty, by 2025—is wildly ambitious. The fact that its population is soaring and that most rural communities still lack electricity—and need it—only adds to the challenge.
Six days of dusty, bumpy driving in southern Ethiopia makes clear that the country's economy is booming. Construction is everywhere: most of it in the form of partially built paved roads and concrete building shells with the ubiquitous eucalyptus-tree scaffolding. Further back from the roads, there are dozens of vast flower greenhouses and garment factories—key reasons why exports and the overall economy are growing at double-digit rates every year.
But it wasn't until day seven, roughly 1,200 kilometers in our trip, that we saw our first sign of clean energy. Just north of Lake Langano we came across the SolarKiosk. Within seconds of pulling over, we were surrounded by dozens of villagers who were eager to talk about the solar shop's offerings, especially its portable lanterns that have transformed their lives.
The solar-powered kiosk, operated by a German firm and one of 31 in Ethiopia, provides power for solar lighting, mobile phones, batteries and even computers. It also sells a few varieties of solar lanterns, starting as low as $12 (basic lamp) and $25 (a lantern with a USB charger) up to as high as $150. Most villagers are using the small lamps, with a hand-sized solar panel, which provides six hours of light after every charge.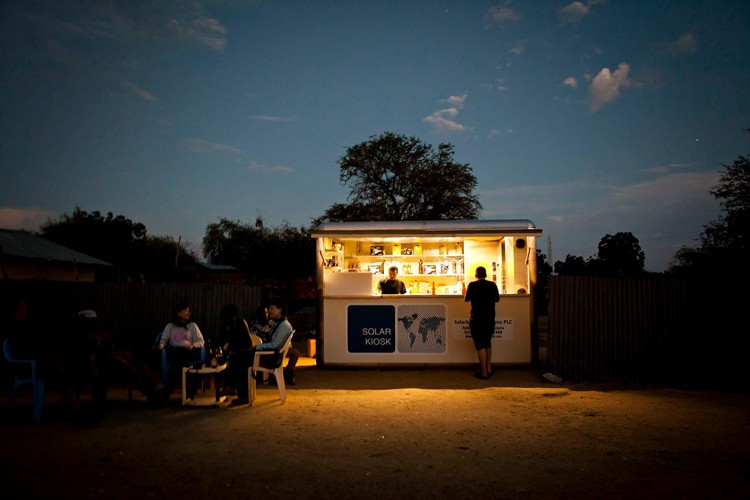 The SolarKiosk provides the rare source of light once the dusk starts setting in. This Solarkiosk is in Turmi, Gamo Gofa, Ethiopia. Photo credit: © Georg Schaumberger / SolarKiosk
Midhasso Hordofa, a subsistence farmer, has been using a small lamp for the past two years and the biggest benefit he mentions is charging his mobile phone.
Alima Badhsoo, whose husband runs the kiosk, has two lamps and she cites wide-ranging perks, including nighttime light so her oldest son can study and being able to "chase away hyenas" when they get too close.
The kiosk was the first in what is now more than 150 solar stands SolarKiosk is operating across Africa, most of them in rural areas where electric grids do not exist, says the company's general manager Roger Sobotker.
"We're playing a crucial role in addressing energy challenges in off-grid areas," said Sobotker, in an email exchange. "We're also replacing the existing use of unclean fuels."
While Sobotker could not cite exact sales figures in Africa, he says the response has been strong, with many customers "graduating" to bigger solar systems which can charge even computers and TVs. "We bring a bouquet of services—entertainment, access to the Internet, new products—which undoubtedly assist in arresting the migration of people to the city," he said.
SolarKiosks are an important contribution, for sure, but larger-scale solutions will obviously be needed, too, for Ethiopia to achieve its carbon-neutral commitment. Indeed, utility-scale projects—especially hydroelectricity and geothermal—are taking hold in many parts of the country—the most noteworthy being the Grand Renaissance Dam and hydro project near the headwaters of the Blue Nile River which flows to Egypt. Slated for completion next year, it will be Africa's largest hydro project, providing 6,000 megawatts.
During the time of our visit, in fact, an Icelandic company announced an MOU with the Ethiopian government to generate 1,000 megawatts from geothermal reserves near the southern Ethiopian town of Shashemene. The developer, Reykjavic Geothermal, plans to invest $4 billion in the project and signed the first power purchasing agreement in Ethiopia's history.
The agreement was made possible by a new—and hugely important—national law allowing private developers to generate and sell power to Ethiopian electric utilities.
We can only hope to see progress on more of these projects the next time we visit Ethiopia.
YOU MIGHT ALSO LIKE
Massive Victory for 7 Kids in Climate Change Lawsuit in Washington State
Kenya to Burn Biggest Ever Stockpile of Illegal Ivory
Neil Young's New Album EARTH Breaks All the Rules
Watch Susan Sarandon Share on Colbert Why She Broke Up With Hillary Clinton
Glyphosate, the main ingredient in Monsanto's widely used herbicide Roundup, will be added July 7 to California's list of chemicals known to the state to cause cancer, according to a Reuters report Tuesday. This news comes after the company's unsuccessful attempt to block the listing in trial court and requests for stay were denied by a state appellate court and California's Supreme Court.
California's Office of Environmental Health Hazard Assessment (OEHHA) announced the designation on Monday under the Safe Drinking Water and Toxic Enforcement Act of 1986, or Proposition 65.
Keep reading...
Show less
www.facebook.com
Keep reading...
Show less
Researchers from the Marine Animal Response Society examine one of the dead right whales. Marine Animal Response Society
Canadian government officials and marine biologists are investigating the mysterious deaths of six North American right whales. The endangered animals all turned up dead between June 6 and June 23 in the Gulf of St. Lawrence, off Canada's southeastern coast.
North Atlantic right whales are the rarest of all large whale species and among the rarest of all marine mammal species, with only about 450 right whales in the North Atlantic.
Keep reading...
Show less
Scott Pruitt testifies during his Senate confirmation hearing for EPA administrator, January 2017.
The U.S. Environmental Protection Agency's (EPA) chief of staff pressured the leader of its Board of Scientific Counselors to change her congressional testimony to downplay the impact of the agency's mass dismissal of scientists from the board, the New York Times reports.
Keep reading...
Show less
By Jason Mark
Sequoiadendron giganteum. That's the scientific name for the giant sequoia: the mammoth trees found in California's Sierra Nevada that are the largest organisms on Earth, and among the longest-lived. Biologists estimate that about half of all sequoias live in Giant Sequoia National Monument, a 328,000-acre preserve in the Southern Sierra Nevada established by President Clinton in 2000.
Now that national monument is in jeopardy.
Keep reading...
Show less
By Andy Rowell
Donald Trump this week is launching an "energy week," pushing the argument that the U.S. will become a net exporter of oil and gas.
The president and his cronies are talking about a new era of "U.S. energy dominance," which could stretch for decades to come. However, no one believes the president anymore.
Keep reading...
Show less
UN
By Colleen Curry
The United Nations has designated 23 new sites around the world to its World Network of Biosphere reserves—stunning natural landscapes that balance environmental and human concerns and strive for sustainability.
The forests, beaches and waterways were added to the list this year at the International Coordinating Council of the Man and the Biosphere Programme meeting in Paris earlier this month.
Keep reading...
Show less
Jun. 26, 2017 01:48PM EST
www.elysee.fr
By Andy Rowell
There is a growing feeling within European capitals that a quiet, but deeply positive, revolution is happening under Emmanuel Macron in France.
Macron's opinion poll rating is high, especially boosted in how the young French president has reacted to Donald Trump on the international stage.
Keep reading...
Show less
Jun. 26, 2017 12:32PM EST
www.facebook.com
Keep reading...
Show less