This website uses cookies to ensure you get the best experience while browsing it. By clicking 'Got It' you're accepting these terms.
Ethical Eggs, Dairy and Meat
Nov. 30, 2011 10:12AM EST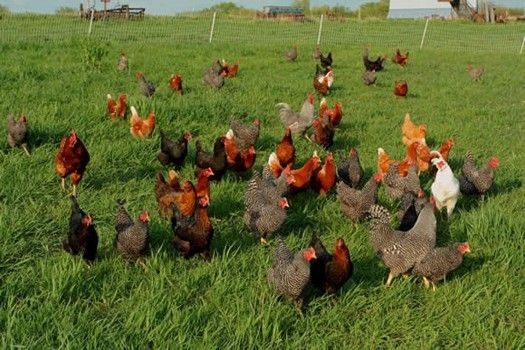 By Sheryl Eisenberg
Used with permission of NRDC - This Green Life
There is something terribly wrong with the industrial agriculture system that produces almost all of our country's eggs, dairy and meat. By wrong, I mean unethical, and I am not talking about the killing part at the end of the process, but everything that precedes it. I am talking about the way farm animals are treated for the whole of their lives.
It goes by the name of factory farming because it deals with animals as just so many inanimate parts on an assembly line. The treatment involves great cruelty of a kind we outlaw for animals in pet shops and zoos. Only livestock is allowed this kind of abuse.
Nearly all of us are implicated in it. Vegans are an exception, of course, and more power to them. But most of the rest of us, meat-eaters and vegetarians alike, perpetuate the abuse, not by intention, but by its opposite, inattention.
We ignore what could be easily known—that factory farm animals, including dairy cows and egg-laying chickens, suffer such severe crowding, they cannot steer clear of their own manure. Egg-laying hens do not have room to flap their wings; sows, to turn around. In place of food, factory farm animals get feed, which may include waste and parts from other animals—even animals of their own species. They are routinely exposed to crippling health conditions and disease from agricultural practices to accelerate their growth and they undergo painful, non-medical procedures, from debeaking to tail docking (amputation), without anesthetics. It can be safely said, without anthropomorphizing, that a factory farm animal's life is not worth living.
There are two ways you can stop supporting this abuse. One, of course, is to quit eating animal products altogether (or even most of the time). By joining the ever-growing ranks of vegans, you will have the satisfaction of knowing no animals were killed, hurt or even made uncomfortable for your eating pleasure.
The other way is to limit yourself to animal foods that are humanely produced. How can you recognize them? When shopping at a farmers market, ask the farmers about their practices. (For help on what to ask, visit Sustainable Table's handouts page and scroll down to the list of Questions to Ask handouts.)
Here are some of the key practices that indicate a humane farm:
Chickens are uncaged, spend a significant portion of their day in the real outdoors (not a concrete yard) and receive high quality food that includes grasses, grains and insects. Egg-laying hens are not force molted, which involves starvation, and poultry are not given growth promoters.
Cattle are raised on pasture and eat only (or mostly) grass, hay and silage. Cows raised for dairy are not given rBGH, and cows raised for beef spend little or no time in the feedlot.
Hogs have housing with proper bedding that allows them to root and nest, are provided with access to the real outdoors (not a concrete yard) for a good part of the day and can forage for roots and bugs in the dirt. Sows are not confined to farrowing pens, and piglets are not bought from other farms where their mothers were so confined.
The animals do not get antibiotics for non-therapeutic purposes.
When shopping for animal products online or at the supermarket, look for a reliable eco-label guaranteeing that stringent standards to protect animal welfare have been followed. The standards should include all or most of the criteria listed above, and then some. Adherence should be verified by third-party certifiers. As of this writing, Animal Welfare Approved and Certified Humane are the best such labels. Other choices include American Grassfed and Food Alliance Certified. Check out their websites to learn where to get products certified by each.
What is not a meaningful indicator of animal welfare are the words "free-range," "free-roaming," "cage-free," "grass-fed" or "natural" on the product label. They are marketing terms for the most part and do not guarantee what they seem to promise. For instance, a so-called free-range animal might never even get outdoors.
As to the cost of humanely raised animal food, yes, you guessed right, it's higher. A decent life, even of the most basic variety, can't be had for a bargain basement price, as any pet-owner knows. Sometimes we just have to put our money where our mouths are.
For more information, click here.
EcoWatch Daily Newsletter
David Gilmour performs at Anfiteatro Scavi di Pomei on July 7, 2016 in Pompei, Italy. Francesco Prandoni / Redferns / Getty Images
David Gilmour, guitarist, singer and songwriter in the rock band Pink Floyd, set a record last week when he auctioned off 126 guitars and raised $21.5 million for ClientEarth, a non-profit environmental law group dedicated to fighting the global climate crisis, according to CNN.
U.S. Secretary of Agriculture Sonny Perdue speaks during a forum April 18, 2018 in Washington, DC. Alex Wong / Getty Images
The Trump administration ratcheted up its open hostility to climate science in a move that may hide essential information from the nation's farmers.
Simple swaps that cut down on kitchen trash.
Sponsored
By Kayla Robbins
Along with the bathroom, the kitchen is one of the most daunting areas to try and make zero waste.
Protestors and police stand on ether side of railway tracks. dpa / picture-alliance
Police have cleared 250 climate activists who stayed overnight at the Garzweiler brown coal mine in western Germany, officials said Sunday.
Cecilie_Arcurs / E+ / Getty Images
By Megan Jones and Jennifer Solomon
The #MeToo movement has caused profound shake-ups at organizations across the U.S. in the last two years. So far, however, it has left many unresolved questions about how workplaces can be more inclusive and equitable for women and other diverse groups.

Cigarette butts are the most-littered item found at beach clean ups. John R. Platt
By Tara Lohan
By now it's no secret that plastic waste in our oceans is a global epidemic. When some of it washes ashore — plastic bottles, plastic bags, food wrappers — we get a stark reminder. And lately one part of this problem has been most glaring to volunteers who comb beaches picking up trash: cigarette butts.

Andrea Rodgers, second from the right, takes notes during a hearing in the Juliana v. U.S. case before the 9th Circuit Court of Appeals in Portland, Oregon on June 4. Colleague Elizabeth Brown sits to her left, while colleague Julia Olson sits on her right, with co-council Philip Gregory on Julia's right. Robin Loznak / Our Children's Trust
By Fran Korten
On June 4, Andrea Rodgers was in the front row of attorneys sitting before a three-judge panel of the 9th Circuit Court. The court session, held in Portland, Oregon, was to determine whether the climate change lawsuit (Juliana v. United States) brought by 21 young plaintiffs should be dismissed, as requested by the U.S. government, or go on to trial.
Seventy Extinction Rebellion protesters were arrested outside The New York Times building Saturday.
SCOOTERCASTER / YouTube screenshot