This website uses cookies to ensure you get the best experience while browsing it. By clicking 'Got It' you're accepting these terms.
Estimating Chemical Risk to Neurodevelopment of Children
Apr. 26, 2012 06:30AM EST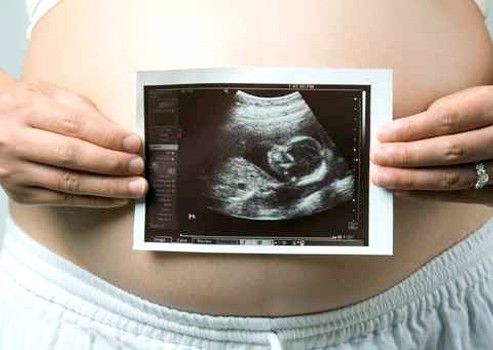 By Jennifer McPartland, Ph.D.
Earlier this month Dr. David Bellinger at Boston Children's Hospital published a very interesting paper in Environmental Health Perspectives offering a new way to consider the importance of various risk factors for child neurodevelopment—such as pre-existing medical conditions, poor nutritional status or harmful chemical exposures—at the population level. "A Strategy for Comparing the Contributions of Environmental Chemicals and Other Risk Factors to Neurodevelopment of Children" argues that, in evaluating the contribution of a risk factor to a health outcome, it is critical to consider not only the magnitude of its effect on the health outcome, but also the prevalence of that risk factor in the population.
Dr. Bellinger argues: "Although a factor associated with a large impact would be a significant burden to a patient, it might not be a major contributor to the population if it occurs rarely. Conversely, a factor associated with a modest but frequently occurring impact could contribute significantly to population burden."  The former "disease-oriented" approach has generally been used to estimate the burden of harmful chemical exposures to population health, rather than the latter "population-oriented" approach. Relying solely on the former approach, he contends, may result in an underestimation of the impact of a chemical exposure or other risk factor on public health.
Dr. Bellinger illustrates his point by examining the impact of various risk factors on neurodevelopment in U.S. children. He first estimates the drop in full-scale IQ (FSIQ) score (the size of the risk factor's effect) associated with various risk factors, ranging from congenital heart disease to lead exposure. He then multiplies the effect size of each risk factor by the prevalence at which that risk factor occurs in U.S. children aged 0 to 5 years (a total of 25.5 million children), to determine the total cumulative impact of each risk factor on FSIQ loss in these children. 
The eye-opening results are shown in the table below.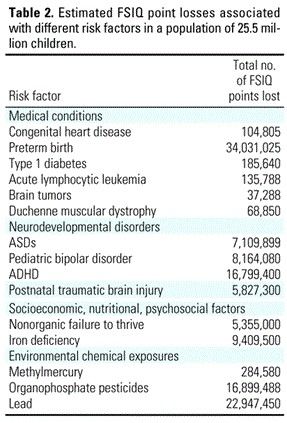 Dr. Bellinger notes that the cumulative population burdens associated with chemical exposures (methylmercury, organophosphate pesticides and lead) are "surprisingly" large—due not so much to their effect sizes (degree of FSIQ loss), but rather to the prevalence at which children in the U.S. experience these exposures.
Dr. Bellinger emphasizes that the estimates of FSIQ loss associated with the various risk factors should not be over-interpreted, pointing to several limitations in his calculations. For example, some of the effect-size estimates for the risk factors were derived from studies conducted on non-U.S. samples. There could be regional differences that modify effect size in these populations versus U.S. populations. 
Nevertheless, the take-home message stands: Population burden needs to be considered just as much individual burden when evaluating the impact of a risk factor to a health outcome.
In EDF's chemicals policy work, we emphasize that the effects of chemical exposures on human health can vary across individuals and sub-populations, and hence, we need policies that protect the most vulnerable among us, such as children and pregnant women. Such vulnerabilities can be considered to represent the "depth" of a chemical exposure. This paper points out the other side of the same coin, namely that the "breadth"—or prevalence at which a chemical exposure occurs—is just as important in judging its significance to public health.
For more information, click here.
EcoWatch Daily Newsletter
An African elephant is pictured on November 19, 2012, in Hwange National Park in Zimbabwe. MARTIN BUREAU / AFP / Getty Images
The unprecedented drought that has caused a water crisis in Zimbabwe has now claimed the life of at least 55 elephants since September, according to a wildlife spokesman, as CNN reported.
Maria Dornelas.
By John C. Cannon
Life is reshuffling itself at an unsettling clip across Earth's surface and in its oceans, a new study has found.
An Exxon station in Florida remains open despite losing its roof during Hurricane Katrina on Aug. 29, 2005. Florida Air National Guard photo by Master Sgt. Shaun Withers
The country's largest fossil fuel company goes on trial today to face charges that it lied to investors about the safety of its assets in the face of the climate crisis and potential legislation to fight it, as the AP reported.
El Niño's effect on Antarctica is seen in a tabular iceberg off of Thwaites ice shelf. Jeremy Harbeck / NASA
El Niños are getting stronger due to climate change, according to a new study in Monday's Proceedings of the National Academy of Sciences.
By Julia Ries
Antibiotic resistance has doubled in the last 20 years.
Additionally a new study found one patient developed resistance to a last resort antibiotic in a matter of weeks.
Health experts say antibiotic prescriptions should only be given when absolutely necessary in order to avoid growing resistance.
Over the past decade, antibiotic resistance has emerged as one of the greatest public health threats.
Pexels
There are hundreds of millions of acres of public land in the U.S., but not everyone has had the chance to hike in a national forest or picnic in a state park.
Workers attend to a rooftop solar panel project on May 14, 2017 in Wuhan, China. Kevin Frayer / Getty Images
By Simon Evans
Renewable sources of electricity are set for rapid growth over the next five years, which could see them match the output of the world's coal-fired power stations for the first time ever.