This website uses cookies to ensure you get the best experience while browsing it. By clicking 'Got It' you're accepting these terms.
Erin Brockovich: Porter Ranch Gas Leak Is Worst Environmental Disaster Since BP Oil Spill
Dec. 22, 2015 09:14AM EST
Since October, residents of Porter Ranch, California, have been exposed to dangerous contaminants from a massive natural gas leak that continues to seep into the air, causing a catastrophe the scale of which has not been seen since the 2010 BP oil spill.
After only a week of visiting families in Porter Ranch, I am already experiencing the headaches, nausea and congestion that have plagued this community living at the center of one of the most significant environmental disasters in recent history.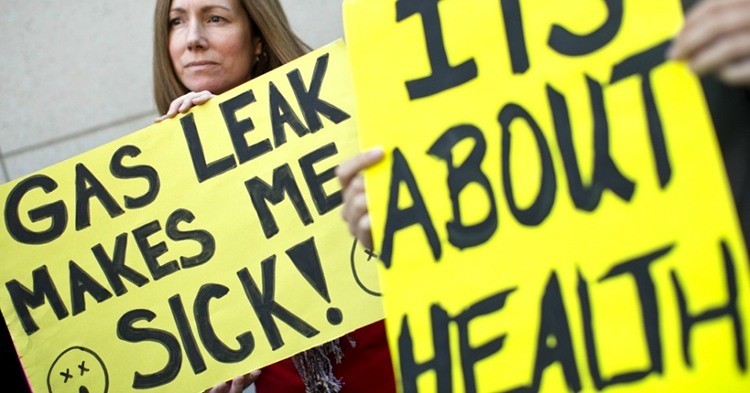 Southern California Gas Co. or SoCalGas, has essentially ignored the impact to victims and its actions have instead added to their suffering. The company has refused to release air quality data that could be used to protect its residents, it has made relocation very difficult and it has forged ahead with plans to expand its facility before the leak has even been contained.
The enormity of the Aliso Canyon gas leak cannot be overstated. Gas is escaping through a ruptured pipe more than 8,000 feet underground and it shows no sign of stopping. As the pressure from weight on top of the pipe causes the gas to diffuse, it only continues to dissipate across a wider and wider area. According to tests conducted in November by the California Air Resources Board, the leak is spewing 50,000 kilograms of gas per hour—the equivalent to the strength of a volcanic eruption.
At this rate, in just one month, the leak will have accounted for one-quarter of the total estimated methane emissions in the state of California.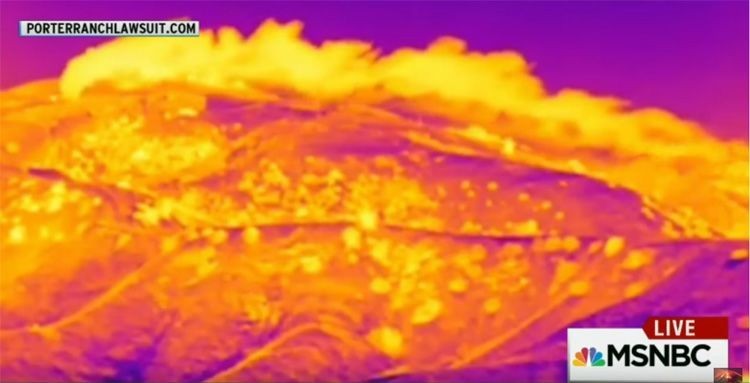 So it is no surprise that residents here feel sick. While I can escape to my home to recover from my symptoms, this community wakes up to conditions that cause vomiting, nosebleeds and serious respiratory issues daily. And no one really knows the potential long-term side effects of benzene and radon, the carcinogens that are commonly found in natural gas.
This dangerous environment is why the Los Angeles Unified School District unanimously voted last week to close two Porter Ranch schools and relocate their nearly 1,900 students and staff to protect their safety.
SoCalGas' response to this disaster is almost as alarming as the impact on the community.
The company has offered some assistance in relocating residents in the affected area, but those efforts are woefully inadequate. People have been told they have to wait, they are 300th in line and that they will not be able to relocate before Christmas. Many residents simply cannot afford pay for a hotel or apartment while continuing to cover home costs. SoCalGas does not even know exactly how long it will take to fix the leak, but the company's CEO has said it will be at least another three to four months. Curiously, despite this admission, SoCalGas is only offering three months of relocation to those fortunate enough to receive a return call.
The company has also refused to release the data from air quality monitoring it has conducted in the community, despite numerous requests from the public. The company is withholding vital information about the exact composition of the air—information that is critical for the thousands of residents who want to understand why they are so sick. That is why I have been out in the community distributing canisters that we hope will provide an independent verification of the toxicity in the air.
And while Porter Ranch continues to suffer, SoCalGas is moving ahead with a project to expand the Aliso Canyon facility, even though the company still has no idea how the gas leak there started and is unsure of how to fix it. The company hasn't even established any risk management or emergency response plans in the event of another leak.
That is why I am working with the law firm Weitz and Luxenberg to seek justice for Porter Ranch and hold SoCalGas accountable for the physical and emotional damage they have caused and to ensure that something like this never happens again. This community should not have to wait any longer to receive the justice and fair treatment it deserves.
The situation Porter Ranch residents are facing today is unacceptable. It is time for SoCalGas to acknowledge this fact, gather whatever resources are necessary to help every resident now and provide answers about the health impacts to residents who have suffered for too long.
YOU MIGHT ALSO LIKE
3 Communities Transition Away From Fossil Fuels to Run on 100% Renewables
4,000 Bottles of Fresh Air Shipped to China, Company Struggling to Keep Up With Demand
Moving Beyond Coal: Major Global Grassroots Fights of 2015
Wife Dies of Cancer, Widowed Father Wages War on Chemical Industry
Plus, learn if there's one that's best for your health.
Catherine Falls Commercial / Moment / Getty Images
An invasive Amynthas worm, also known as a crazy snake worm, Asian jumping worm and Alabama jumper Tom Potterfield / Flickr
By Jason Bittel
My wife and I built a house two years ago on a few acres of woodland outside of Pittsburgh. The backyard is full of maples, poplars, briars and common spicebush. Two-lined salamanders and grumpy-looking crayfish wade among the rocks in the small stream that runs down the edge of the property. Deer, raccoon and opossum tracks appear regularly in the snow and mud. Sometimes, my trail-cam even catches a pair of gray foxes as they slink through the night.
AleksandarNakic / Getty Images
By Kate Murphy
No matter the time of year, there's always a point in each season when my skin decides to cause me issues. While these skin issues can vary, I find the most common issues to be dryness, acne and redness.

David Woodfall / The Image Bank / Getty Images
By Sam Nickerson
The U.S. Environmental Protection Agency (EPA) in April 2018 proposed relaxing standards related to how it assesses the effects of exposure to low levels of toxic chemicals on public health.
Now, correspondence obtained by the LA Times revealed just how deeply involved industry lobbyists and a controversial, industry-funded toxicologist were in drafting the federal agency's proposal to scrap its current, protective approach to regulating toxin exposure.
Steve Irwin poses with a three foot long alligator at the San Francisco Zoo on June 26, 2002. Justin Sullivan / Getty Images
February 22 is the birthday of conservationist and beloved TV personality "Crocodile Hunter" Steve Irwin, who would have been 57 years old today.
Irwin's life was tragically cut short when the barb from a stingray went through his chest while he was filming in 2006, but his legacy of loving and protecting wildlife lives on, most recently in a Google Doodle today honoring his birthday.