Epic Urban Treehouse Offers Glimpse Into Future Living
Did you ever dream of living in a treehouse when you were young? Well, the residents of 25 Verde in Turin, Italy are living out the ultimate childhood fantasy in a breathtaking eco-friendly building enclosed within hundreds of trees.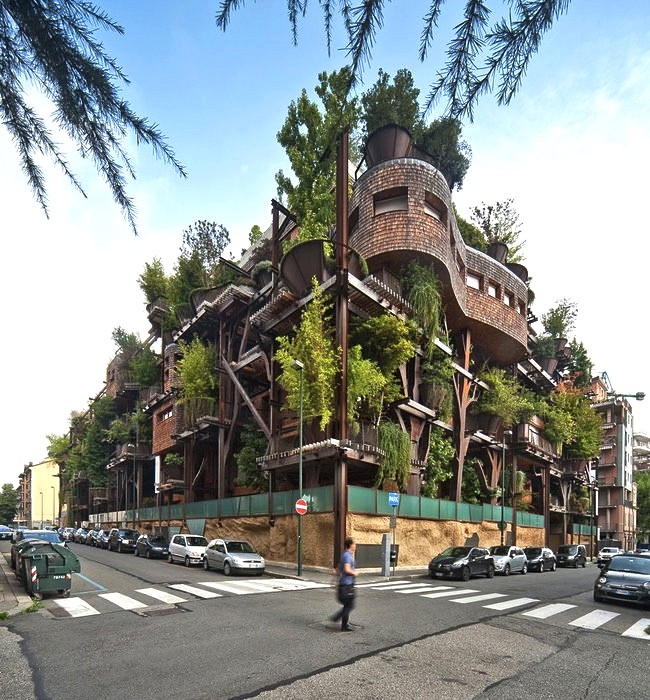 Designed by architect Luciano Pia, the five-story structure is held up by rust-colored metal beams made to look like tree trunks and branches. Potted trees and shrubs of various leaves, colors and flowering are placed on terraces and inside the building to provide shade and reduce noise pollution. There are 150 trees surrounding the building and on the roof and 50 more trees in the courtyard.
As the architect puts it, the building is alive, grows and changes with the seasons. "When all the green is fully blooming it gives the feeling of living in a tree house," he wrote on his website. "You can dream of a house or live in a dream!"
Deciduous varieties of flora were chosen to filter out the hot summer sun and to allow light to break into the units during winter as the leaves fall from the trees. Like an urban forest, the abundant foliage apparently sucks in 200,000 liters of carbon dioxide an hour, a welcome reprieve from the city's notorious pollution.
As noted by a local English publication, Turin is one of the most polluted cities within the European Union due to a number of factors including the high concentration of industrial plants, and how it's situated in the Po Valley, which traps pollution.
The building has several green features. Pia wrote that "one of the aims of the project is the increase of the energetic efficiency, and for this reason several integrated solutions have been adopted: continuous insulation, sun protection, heating and cooling systems which make use of the geothermal energy with heat pumps and recycling of the falling rain to water the green."
There are a total of 63 residential units in the building. The upper floors have views of a park and the Po river, and the top floor apartments are covered by private green roofs. According to the New York Times, two-thirds of the apartments were sold before construction completed in 2012 at €6,500 per square meter.
The northern Italian city was the site of the 2006 winter olympics and is home to carmaker Fiat. The building sits on some of the auto company's former offices at the address Via Gabriele Chiabrera, 25, 10126 Torino, Italy. Check out the Google street view and wander around the area, but first check out these cool images: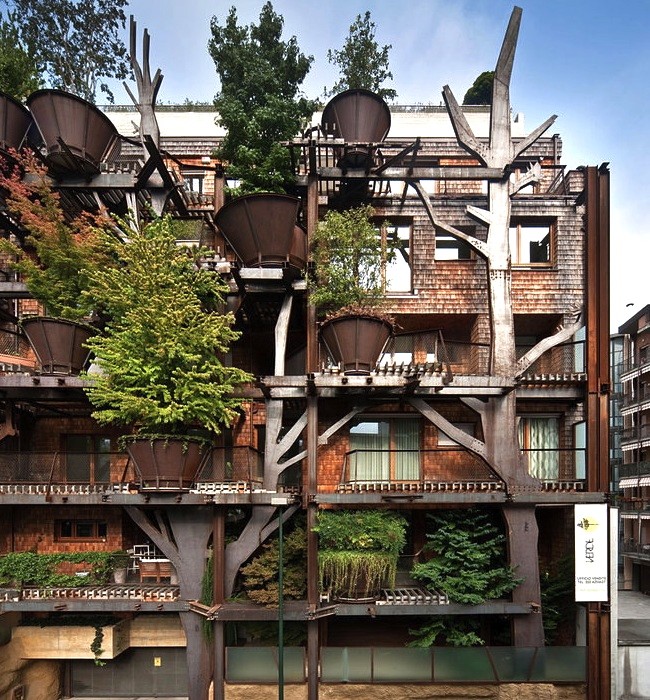 A living, growing building. Deciduous foliage blocks the summer sun and lets in light in the winter as the leaves fall. Photo Credit: Beppe Giardino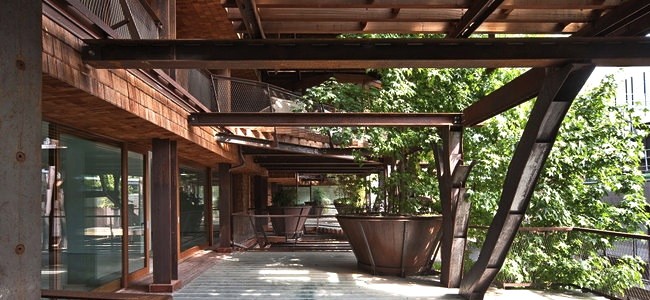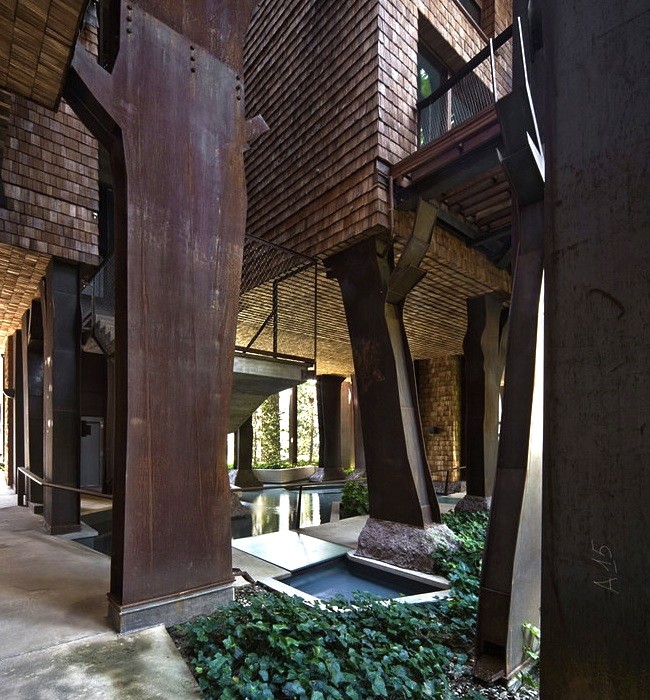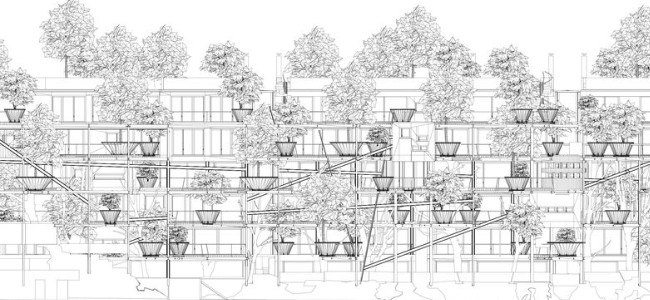 YOU MIGHT ALSO LIKE
Off Grid Living on Manhattan-Sized Island
5 Ways Vertical Farms Are Changing the Way We Grow Food
iStock
By Robert Coleman
The Environmental Working Group's (EWG) just-released Tap Water Database shows that a startling number of cancer-causing chemicals contaminate the nation's drinking water. Of 250 different contaminants detected in tests by local utilities, 93 are linked to an increased risk of developing cancer.
Keep reading...
Show less
Aaron Teasdale
By Aaron Teasdale
"How much moon do we have tonight?" I yelled to my friend Greg, trying to make myself heard over the sounds of wind and surging water. The sun was sinking toward the mountains all too quickly and our float-in campsite lay somewhere down the river's bends in darkening forest.
Greg shrugged. He had no clue of the moon's cycle either, which showed just how tragically pasty and over-civilized we'd turned. Our days had become filled with computer screens, not forest scenes; our nights capped with ceilings, not stars. All of which made this journey on standup paddleboards so sweet—or at least we hoped it would be sweet, if the pesky headwind would let up before we had to risk disfiguring ourselves while navigating boulder-strewn waters by headlamp and whatever light the moon might spare.
Keep reading...
Show less
By Rebekah Wilce
The world of independent chemical testing has a shiny veneer. The public is reassured that chemicals they're exposed to on a daily basis are certified by technicians in spotless white lab coats who carefully conduct scientific studies, including on animals in neat rows of cages.
But a federal grand jury investigation that ended with convictions in the early 1980s discovered that Industrial Bio-Test Laboratories (IBT), the largest such lab in the U.S., conducted trials with mice that regularly drowned in their feeding troughs. The dead animals would decompose so quickly that "their bodies oozed through wire cage bottoms and lay in purple puddles on the dropping trays." IBT even invented an acronym "TBD/TDA" for its raw safety data, later discovered to mean "too badly decomposed."
Keep reading...
Show less
iStock
Roman officials are considering shutting off the water supply to one-third of the city's residents for eight hours per day as early as this weekend, according to reports.
Keep reading...
Show less
Ararat Rock Solar farm in Mount Airy, North Carolina. NARENCO
North Carolina Gov. Roy Cooper signed a bill into law Thursday that will boost solar production but curb wind energy in the state.
House Bill 589, the result of months of arduous negotiations between utilities and the solar industry, is intended to encourage the continued growth of solar in the state, but it includes a moratorium on new wind projects for the next 18 months.
Keep reading...
Show less
Algal blooms in Lake St. Clair and in western Lake Erie in 2015. NASA Earth Observatory
Heavier rainfall linked to rising temperatures could substantially increase the volume of agricultural runoff flowing into waterways, triggering toxic algal blooms, according to new research.
A study published Thursday in the journal Science finds that heavier rainfall could increase nitrogen runoff in U.S. lakes, rivers and streams by 19 percent by the end of this century.
Keep reading...
Show less
iStock
By Jen Sawada
Sharks have been around for 400 million years, before the time of the dinosaurs, but there's much more to them than big teeth and summer blockbusters. Consider these facts, which will change what you think about sharks.
Keep reading...
Show less
Felix Kramer / Wikimedia
By Jason Mathers
The high level of confidence that automotive industry leaders have in the future of electric vehicles (EVs) has been on full display recently.
Keep reading...
Show less


Get EcoWatch in your inbox