This website uses cookies to ensure you get the best experience while browsing it. By clicking 'Got It' you're accepting these terms.
Epic Drought Brings Fear of Worst Wildfire Season Yet
May. 04, 2015 08:17AM EST
Climate
The firefighters are primed, hoses at the ready. May and June are often the peak months for forest fires in the southwest of the U.S., and the outlook for this year is grim.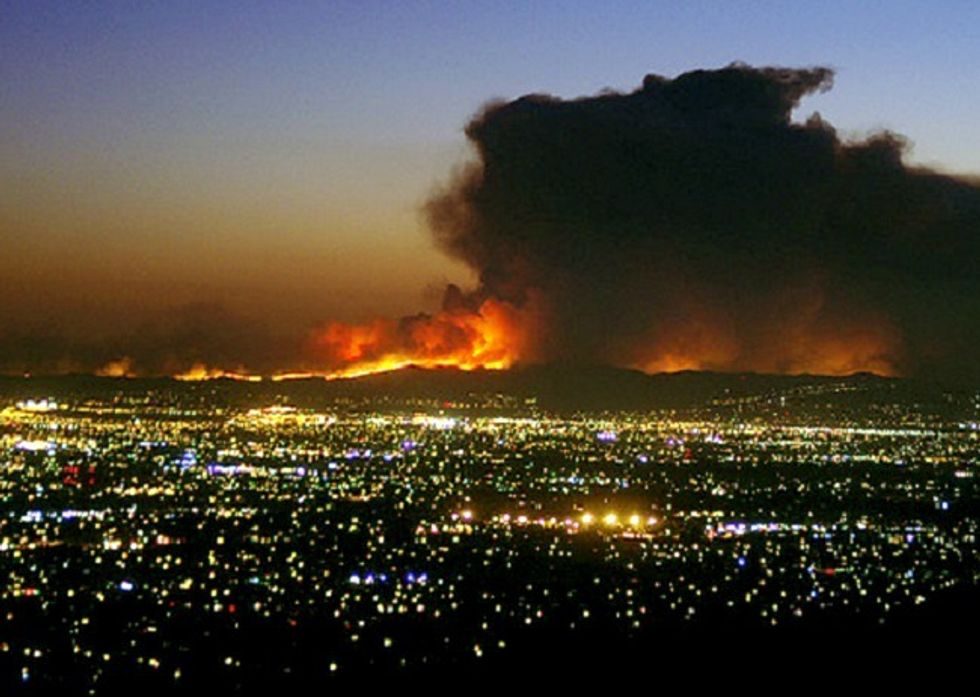 "I wish I could have some hope," says Dr Wally Covington, director of the Ecological Restoration Institute at North Arizona University. "It's just a terrible situation in southern California."
Covington, an internationally recognized expert on forest restoration, says a prolonged drought, higher temperatures and stronger than usual winds mean big wildfires are inevitable across the southwestern U.S.
The main season for wildfires in the region has in the past been from mid-May through till late September, but now forest fires burn virtually year round.
Vulnerable landscape
"Climate change and misguided forestry policies have combined to present a landscape very vulnerable to devastating fires," Covington told the Climate News Network.
"Since around 2000, we've seen more severe dry weather, matched with high winds throughout the western U.S. Intense firestorms are the result. Get in the vicinity of one of those and it's like being near a blast furnace."
Covington and other experts say it is vital that people and government policy adapt to the changes in climate.
Over the years, forests have been densely planted in many areas, and old forestry practices—such as clearing out forest and shrubland by regularly burning off old tree cover and dry shrubs—were stopped.
The result is not only an abundance of dense forested areas where fire can build up and spread easily, but also accumulations of dried-out grasses and shrubs—referred to as fine fuel.
Opening up forest areas and reintroducing controlled, periodic burning to rid the landscape of these tinder-dry fuels is key, according to Covington.
He says: "The U.S. Forest Service now sees opening up forest areas and restoring them to what they once were—right across the U.S.—as its primary goal. That's a huge policy breakthrough."
The past three years have been among the driest on record in California, and there are fears that the drought will continue.
Historic low
Wells have dried up in many areas, reservoirs in the state are at a record low, and the snowpack in the Sierra Nevada mountain range—vital for feeding water on to the lands below—is at an historic low for the time of year.
For the first time in California's history, mandatory water restrictions have been brought in, with cities and towns required to cut water use by 25 percent.
This does not, however, apply to the state's multi-billion dollar agricultural industry, which uses up to 80 percent of water supplies.
Besides the drought, strong winds and higher temperatures, other factors have increased the risk of wildfires across the region. For example, building houses in forest and shrubland areas has also increased the danger of fires being ignited.
"We've just got to stop building in those places," Covington says. "It was crazy 40 years ago—and it's even more crazy now."
YOU MIGHT ALSO LIKE
Alaskan Entrepreneur Wants to Sell Bulk Water Shipments to Drought-Stricken California
250,000 People Call for Action on Climate Change and an End to Extreme Poverty
EcoWatch Daily Newsletter
picture alliance / dpa / F. Rumpenhorst
By Arthur Sullivan
When was the last time you traveled by plane? Various researchers say as little as between 5 and 10 percent of the global population fly in a given year.
A Starbucks barista prepares a drink at a Starbucks Coffee Shop location in New York. Ramin Talaie / Corbis via Getty Images
By Cathy Cassata
Are you getting your fill of Starbucks' new Almondmilk Honey Flat White, Oatmilk Honey Latte, and Coconutmilk Latte, but wondering just how healthy they are?
By Sharon Kelly
Back in April last year, the Trump administration's Environmental Protection Agency decided it was "not necessary" to update the rules for toxic waste from oil and gas wells. Torrents of wastewater flow daily from the nation's 1.5 million active oil and gas wells and the agency's own research has warned it may pose risks to the country's drinking water supplies.
Swedish climate activist Greta Thunberg takes part in a "Friday for Future" youth demonstration in a street of Davos on Jan. 24, 2020 on the sideline of the World Economic Forum annual meeting. FABRICE COFFRINI / AFP via Getty Images
Treasury Secretary Steven Mnuchin pretended not to know who Greta Thunberg is, and then he told her to get a degree in economics before giving world leaders advice, as The Guardian reported.
The Visible Infrared Imaging Radiometer Suite on the Suomi NPP satellite acquired this image of forest fire smoke hovering over North America on Aug. 15, 2018. NASA Earth Observatory
New York City isn't known for having the cleanest air, but researchers traced recent air pollution spikes there to two surprising sources — fires hundreds of miles away in Canada and the southeastern U.S.