This website uses cookies to ensure you get the best experience while browsing it. By clicking 'Got It' you're accepting these terms.
Epic Drought Blamed for Ban on Fireworks in Bone-Dry States
Jul. 03, 2015 09:22AM EST
Climate
Gathering in a local park with neighbors to watch city-sponsored fireworks or shooting off (sometimes illegal) fireworks in the backyard have become a time-honored way of celebrating the 4th.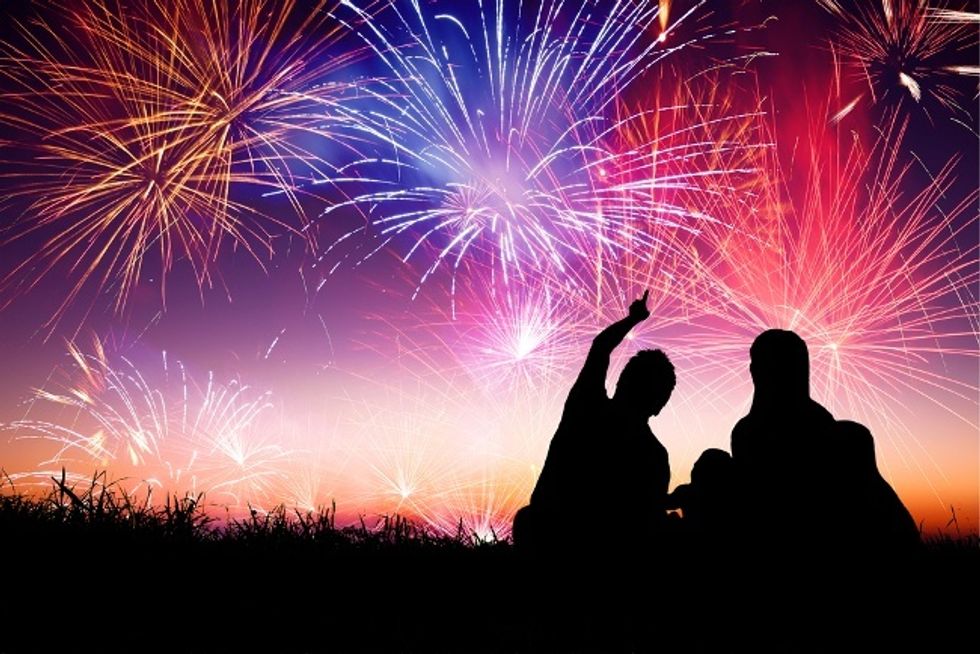 Photo credit: Shutterstock
But thanks to the ongoing drought, some communities on the west coast have eliminated their city-sponsored fireworks displays while many more have clamped down on personal fireworks. And fire departments across the country are on high alert over concern that illegal fireworks could fuel brush fires that turn into major wildfires, even as more states lift bans on the sales of fireworks to private individuals, including, most recently, Georgia and Ohio.
With an earlier than usual wildfire season already giving firefighters an extra workload, communities in California, Oregon, Washington and Alaska have nixed these civil displays of patriotism.
With Alaska currently ravaged by drought-fueled wildfires, the state's largest city, Anchorage, has cancelled its fireworks even though the state fire marshall's statewide ban on fireworks sales has been lifted following cooler weather and rains.
Cupertino, California, outside San Jose in the Bay area, will also go dark this year. With many cities in that area cutting their displays following the 2008 recession, Cupertino was one of the few still hosting such a show. Its reason for cancellation was drought-related but not wildfire-related: it's trying to conserve water. The high school, where the fireworks take place, switched to artificial turf 10 years ago to save water. But 100,000 gallons of water is needed to spray on the turf to prevent falling ashes from turning the turf into a pile of burning plastic.
City spokesman Rick Kitson said if the field was still real grass, the fireworks probably would have gone on.
"Because we've done the right thing, the total use of water becomes more conspicuous," said Kitson. "You've got to hose down the plastic before and a lot afterward."
Elsewhere in California, Kern County has banned displays in public parks and Danville has banned all fireworks, including those childhood staples of the 4th, sparklers.
"With the drought leaving the hills and yards in Danville extremely dry, it could potentially be very dangerous to be out and using fireworks this week," said Lt. Allan Shields of the Danville Police Department. "In Contra Costa County alone, firefighters respond to several fires per year, directly attributable to fireworks."
Los Angeles and San Francisco will still host displays. Bass Lake at the entrance to Yosemite National Park will be doing a laser light show in place of its usual fireworks display.
"There is no replacement for the fireworks show," said Michelle Miller, secretary of the Bass Lake Chamber. "But we believe the laser light show will be a fun and unique alternative, and a great option considering the current fire risks."
Washington Gov. Jay Inslee said the law doesn't allow a statewide fireworks ban. Such a ban is not on the list of things the governor can prohibit after declaring a state of emergency, as Inslee did last month due to wildfire danger, although many communities have banned personal fireworks. Some cities, including Seattle, will still sponsor civic shows. But in the small rural timber community of Forks, the official display was cancelled due to unusually dry conditions.
Portland, Oregon's fire chief Erin Janssen issued a burn ban a week before the holiday that included legal fireworks due to hot, windy weather conditions, but lifted the ban the following day.
"I suggest to show our patriotism, fly U.S. flags, not fireworks," said Janssens.
Oregon Gov. Kate Brown also urged caution.
"I encourage Oregonians to be aware and considerate of our state's natural beauty, neighbors and pets before deciding on when and where you choose to light fireworks," said Gov. Brown.
About 18,000 fires a year are reported to have been started by fireworks, with a majority of those occurring during the 4th of July holiday. And while most of those are small and quickly extinguished, cities and firefighters fear drought conditions could cause more of them to spread.
"Fireworks are not only dangerous, but of course due to their very nature can spark fires from dying embers reaching the dried-out vegetation," said AccuWeather Western weather expert Ken Clark. "This is heightened during periods of droughts, especially in the historic drought California is now in."
YOU MIGHT ALSO LIKE
Epic Drought Brings Fear of Worst Wildfire Season Yet
EcoWatch Daily Newsletter
A First Nations protester walks in front of a train blockade in Tyendinaga, near Belleville, Ontario, Canada on Feb. 21, 2020. LARS HAGBERG / AFP via Getty Images
An indigenous rail blockade that snarled train travel in Canada for more than two weeks came to an end Monday when police moved in to clear protesters acting in solidarity with another indigenous community in British Columbia (B.C.), which is fighting to keep a natural gas pipeline off its land.
A rainbow snake, a rare reptile spotted in a Florida county for the first time in more than 50 years, seen here on July 5, 2013.
Kevin Enge / FWC Fish and Wildlife Research Institute / Flickr
A Florida hiker recently stumbled across a slithering surprise — a rare snake that hadn't been spotted in the area for more than 50 years.
We need our government to do everything it can to stop PFAS contamination and exposure from wreaking havoc in communities across the country. LuAnn Hun /
Unsplash
By Genna Reed
The EPA announced last week that it is issuing a preliminary regulatory determination for public comment to set an enforceable drinking water standard to two of the most common and well-studied PFAS, PFOA and PFOS.
This decision is based on three criteria:
PFOA and PFOS have an adverse effect on public health
PFOA and PFOS occur in drinking water often enough and at levels of public health concern;
regulation of PFOA and PFOS is a meaningful opportunity for reducing the health risk to those served by public water systems.
Charging EVs in Stockholm: But where does a dead battery go? Ranjithsiji / Wikimedia Commons
By Kieran Cooke
Driving an electric-powered vehicle (EV) rather than one reliant on fossil fuels is a key way to tackle climate change and improve air quality — but it does leave the old batteries behind as a nasty residue.
U.S. Secretary of the Treasure Steven Mnuchin arrives for a welcome dinner at the Murabba Palace in Riyadh, Saudi Arabia on Feb. 22, 2020 during the G20 finance ministers and central bank governors meeting. FAYEZ NURELDINE / AFP via Getty Images
Finance ministers from the 20 largest economies agreed to add a scant mention of the climate crisis in its final communiqué in Riyadh, Saudi Arabia on Sunday, but they stopped short of calling it a major economic risk, as Reuters reported. It was the first time the G20 has mentioned the climate crisis in its final communiqué since Donald Trump became president in 2017.