This website uses cookies to ensure you get the best experience while browsing it. By clicking 'Got It' you're accepting these terms.


The best of EcoWatch, right in your inbox. Sign up for our email newsletter!
EPA Urged by Nearly 100,000 Americans to Redo Highly Controversial Fracking Study
Aug. 28, 2015 04:16PM EST
Energy
The public comment period for the highly controversial U.S. Environmental Protection Agency's (EPA) fracking study ends today. Food & Water Watch, Environmental Action, Breast Cancer Action and other advocacy groups delivered nearly 100,000 comments from Americans asking the U.S. EPA to redo their study with a higher level of scrutiny and oversight.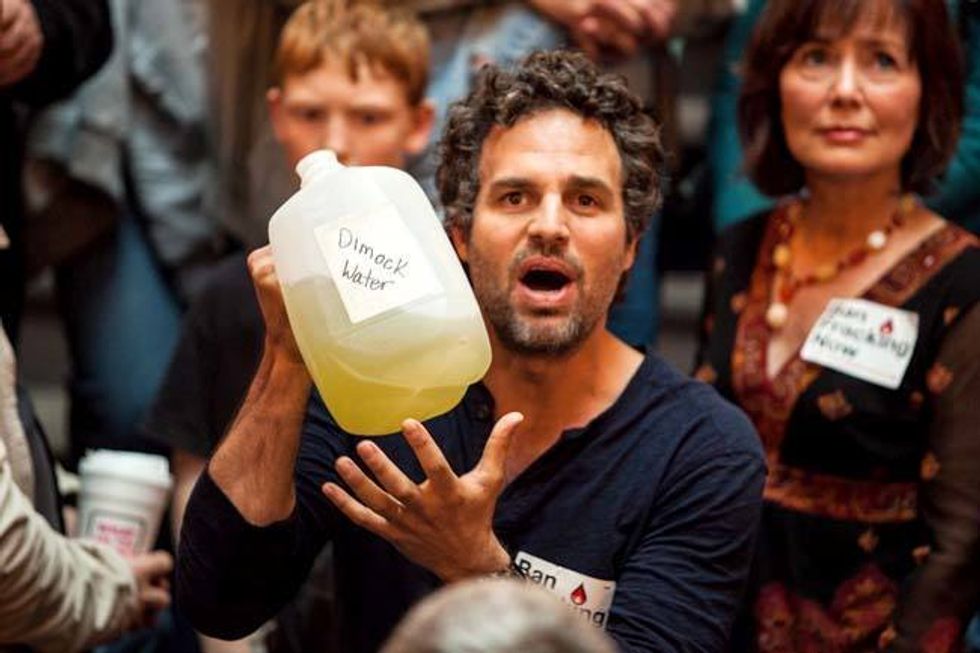 Flickr
The study produced significant controversy due to the discrepancy in what the EPA found in its report and what the agency's news release title said. The study stated that "we did not find evidence" of "widespread, systemic impacts to drinking water resources," but the title of the EPA's news release said, "Assessment shows hydraulic fracturing activities have not led to widespread, systemic impacts to drinking water resources"—a subtle but significant difference that led to most news coverage having headlines like this one in Forbes, "EPA Fracking Study: Drilling Wins."
In addition to the misleading EPA headline, the groups were also quick to point out that the study had a limited scope and was conducted with a lack of new substantive data. "Concluding that fracking is safe based off a study with such a limited scope is irresponsible," said Wenonah Hauter, executive director of Food and Water Watch. "How many more people must be poisoned by the oil and gas industry for the EPA to stand up and protect people's health? It's time for the agency to do its job and stop letting industry shills intimidate it."
The groups emphasize that despite the limitations of the report, the agency still found numerous harms to drinking water resources from fracking. For instance, the EPA found evidence of more than 36,000 spills from 2006 to 2012. That amounts to about 15 spills every day somewhere in the U.S.
"By downplaying its findings of water contamination from fracking, the EPA ultimately provided cover for the fracking industry to continue to poison our drinking water with chemicals linked to a variety of health problems, including breast cancer," said Karuna Jaggar, executive director of Breast Cancer Action. "When the EPA finalizes its study, they need to focus on protecting public health—not the fracking industry—by highlighting and condemning drinking water contamination from fracking."
But still, groups claim that there was huge oversight in the report. "The EPA's report clearly shows that fracking pollution harms our water supplies, but the agency also turned a blind eye to some of the biggest risks of this toxic technique," said Clare Lakewood of the Center for Biological Diversity. "It's bizarre and alarming that the EPA report refused to look at the harm caused by the disposal of toxic fracking waste fluid into unlined pits and underground injection wells. The EPA needs to get serious about the threat of fracking and look at every pathway to water contamination."
Jennifer Krill, Earthworks' executive director, agrees. "In its June study on fracking's impacts on water, EPA cited more than 140 waste spills alone that contaminated water. And they found those instances despite industry obstruction, and despite not looking in places where community complaints and EPA's own investigations suggested such pollution was occurring."
YOU MIGHT ALSO LIKE
Corporate Rights Trump Democracy in Ohio Fracking Fight
Activists Take to the Sea to Help Stop Future Oil Spills
President Obama, Your Climate Legacy Lies with Keeping Fossil Fuels in the Ground
EcoWatch Daily Newsletter
A school in Queensland, Australia sent a note home to parents asking them to send their children with extra water bottles since its water supply has run dry, according to the Australian Broadcasting Corporation (ABC).
European Commission President Ursula von der Leyen delivers a press statement on the European Green Deal at the EU headquarters in Brussels, Belgium on Dec. 11, 2019. Xinhua / Zheng Huansong via Getty Images
The European Commission introduced a plan to overhaul the bloc's economy to more sustainable, climate-conscious policies and infrastructure, with the goal of being carbon-neutral by 2050, according to CNBC.
Young activists shout slogans on stage after Greta Thunberg (not in the picture) took part in the plenary session during the COP25 Climate Conference on Dec. 11 in Madrid, Spain. Pablo Blazquez Dominguez / Getty Images
By Andrea Germanos
Young activists took over and occupied the main stage at the COP25 climate conference in Madrid, Spain Wednesday and demanded world leaders commit to far more ambitious action to address the ecological emergency.
A NASA image showing the ozone hole at its maximum extent for 2015. NASA Goddard Space Flight Center
The Montreal Protocol, a 1987 international treaty prohibiting the production of chlorofluorocarbons (CFCs) to save the ozone layer, was the first successful multilateral agreement to successfully slow the rate of global warming, according to new research. Now, experts argue that similar measures may lend hope to the climate crisis.
Police in Wales are in the midst of an unusual investigation: the sudden death of more than 200 starlings.