This website uses cookies to ensure you get the best experience while browsing it. By clicking 'Got It' you're accepting these terms.
EPA Shale Gas Emissions Standards Are 'Too Little, Too Late'
May. 02, 2012 10:24AM EST
Climate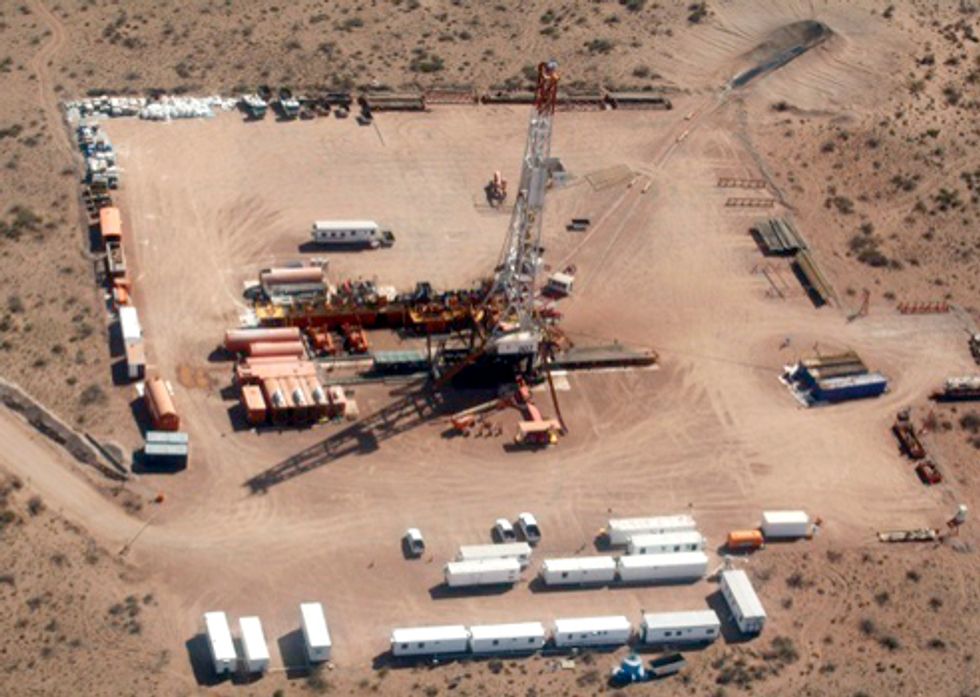 By Carol Linnitt
The gas industry received a blow on April 30 when the nonprofit group Physicians, Scientists & Engineers for Healthy Energy (PSE) released a joint statement by Professors Anthony Ingraffea and Robert Howarth of Cornell University. According to the release, the U.S. Environmental Protection Agency's (EPA) new emissions standards for methane and volatile organics from shale gas development "must be considered too little, too late" given the urgent need to reduce global levels of greenhouse gas (GHG) emissions.
The gas industry is set to remain the single largest methane polluter in the U.S., according to the release, with an overall GHG footprint surpassing emissions from coal.
The EPA's new national emissions standards, finalized in mid-April, rely on new air quality measures, the New Source Performance Standards (NSPS) and National Emission Standards for Hazardous Pollutants (NESHAPS), that target pollutants discharged during gas extraction activities. New procedures, such as a methane capture technique known as "green completion," are expected to play a significant role in achieving the new standards.
Howarth and Ingraffea agree these standards are significant and if strongly-enforced could amount to a reduction in methane emissions of about one-third. But despite this achievement, they write, methane emissions remain a serious problem.
"Despite the new regulations, shale gas methane emissions will remain significant, with the estimates of EPA (2011) and Howarth et al. (2011) indicating a likely leakage of 2.5—3.9 percent of the amount of methane produced over the lifetime of a shale-gas well, and possibly as high as 6 percent," the statement reads.
Despite the EPA's efforts, which have caught positive attention from prominent environmental groups, Howarth and Ingraffea remain very matter-of-fact about the real issue, which hinges on a nation-wide spread of poor practice. Gas production is plagued with 'ongoing emission' problems and the EPA's emissions standards—while a step in the right direction—just aren't enough to make the concerns associated with poor practice go away.
Howarth and Ingraffea add that recent scientific studies stress the urgent need to reduce methane emissions globally. "Without immediate changes to our emissions regime we are heading towards "critical changes in the Earth's climate system such as huge increases in release of methane stored in arctic permafrost, leading to greatly accelerated global warming—within the next 15 to 40 years. These ongoing emissions result from chronic leakages at the well site as well as chronic leakages and purposeful venting associated with gas storage, transmission through high-pressure pipeline, and distribution to consumers."
More information about the background studies informing the statement can be found on the PSE website.
For more information, click here.
—————
Stay up-to-date on the latest fracking news by clicking here.

EcoWatch Daily Newsletter
No longer will the options when we die be a choice between just burial or cremation. Soon it will be possible to compost your remains and leave your loved ones with rich soil, thanks to a new funeral service opening in Seattle in 2021 that will convert humans into soil in just 30 days, as The Independent reported.
You can reduce the footprint of a medium-sized live tree by donating it to elephants at a local zoo, like this African elephant pictured above. eans / iStock / Getty Images
The holiday season is supposed to be about giving and sharing, but often it is actually about throwing away. The U.S. generates 25 percent more garbage between Thanksgiving and New Year's than it does during the rest of the year. That's around one million extra tons per week, according to National Environmental Education Foundation (NEEF) figures reported by The Associated Press.
The Opera House is seen with smoke haze which enveloped Sydney Harbor on Dec. 10 in Sydney, Australia. Smoke haze hangs over the city as the New South Wales fire danger risk is raised from 'very high' to 'severe'. James D. Morgan / Getty Images
The brushfires raging through New South Wales have shrouded Australia's largest city in a blanket of smoke that pushed the air quality index 12 times worse than the hazardous threshold, according to the Australia Broadcast Corporation (ABC).
People walk across the bridge near Little Raven Court in downtown Denver. Younger Americans increasingly prefer to live in walkable neighborhoods. Helen H. Richardson / The Denver Post via Getty Images
By David B. Goldstein
Energy efficiency is the cornerstone of any country's plan to fight the climate crisis. It is the cheapest option available, and one that as often as not comes along with other benefits, such as job creation, comfort and compatibility with other key solutions such as renewable energy. This has been recognized by the International Energy Agency (IEA) for at least a decade.
Activists from Extinction Rebellion New York City engaged in nonviolent direct action to confront climate change outside City Hall on April 17, 2019. Erik McGregor / Pacific Press / LightRocket via Getty Images
By Andrea Germanos

Over 500 groups on Monday rolled out an an action plan for the next president's first days of office to address the climate emergency and set the nation on a transformative path towards zero emissions and a just transition in their first days in office.