This website uses cookies to ensure you get the best experience while browsing it. By clicking 'Got It' you're accepting these terms.
EPA Scientists Call Foul on Fracking Study, Say Findings 'Inconsistent With Data Presented'
Jan. 08, 2016 09:25AM EST
Energy
The U.S. Environmental Protection Agency's (EPA) advisors are calling foul on the agency's highly controversial study that determined hydraulic fracturing, or fracking, has not led to "widespread, systemic impacts on drinking water resources in the U.S."
This specific conclusion is being called into question by members of the EPA Science Advisory Board, which reviews the agency's major studies, Bloomberg reported.
The EPA's conclusion requires clarification, David Dzombak, a Carnegie Mellon University environmental engineering professor who is leading the review, told Bloomberg. A panel headed by Dzombak will release its initial recommendations later this month.
"Major findings are ambiguous or are inconsistent with the observations/data presented in the body of the report," the 31 scientists on the panel said in December 2015.
Possible changes to the report could spell trouble for the oil and gas industry that recently celebrated the ending of a 40-year-old crude oil export ban in December 2015. According to Bloomberg, "a repudiation of the results could reignite the debate over the need for more regulation."
Fracking involves the pumping of highly pressurized water, sand and chemicals into underground rock formations to release trapped oil and gas. The controversial drilling process has spurred a boom in U.S. oil and gas production and driven down gas prices across the country. However, numerous environmental complications have arisen from fracking, including pollution of water and air, landscape destruction and even earthquakes.
Five years ago, Congress commissioned the U.S. EPA to study the impacts of fracking on drinking water. After analyzing more than 950 sources, including previously published papers, state reports and the EPA's own research, the agency released a draft analysis in June 2015 that indeed found numerous harms to drinking water resources from fracking. As EcoWatch reported, the U.S. EPA found evidence of more than 36,000 spills from 2006 to 2012. That amounts to about 15 spills per day somewhere in the U.S.
However, the report's misleading and widely reported conclusion—"there is no evidence fracking has led to widespread, systemic impacts on drinking water resources"—has not only downplayed fracking's effects on drinking water resources, it was also seen by many in the pro-drilling camp as the EPA's thumbs up to the drilling industry. For instance, a Forbes writer summed up the study with this headline: EPA Fracking Study: Drilling Wins.
According to Bloomberg, the review panel could ask the U.S. EPA to rescind this main conclusion or clarify it by saying that the "widespread, systemic" impacts from fracking are relative to the number of wells drilled.
Pennsylvania State University professor Elizabeth Boyer, a member of the Science Advisory Board, noted that the "widespread, systemic" top line was "widely quoted and interpreted in many different ways," EnergyWire reported. "The executive summary and press materials should be carefully reworded" for clarity, she said.
Some panel members also said that more weight should be given to the "severity of local impacts" on water supplies.
Some environmental advocates want the final U.S. EPA document to include additional information on "high-profile cases of fracking contamination inexplicably left out of the study," Food & Water Watch Executive Director Wenonah Hauter said in a statement, pointing to drilling sites in Dimock, Pennsylvania; Parker County, Texas; and Pavillion, Wyoming.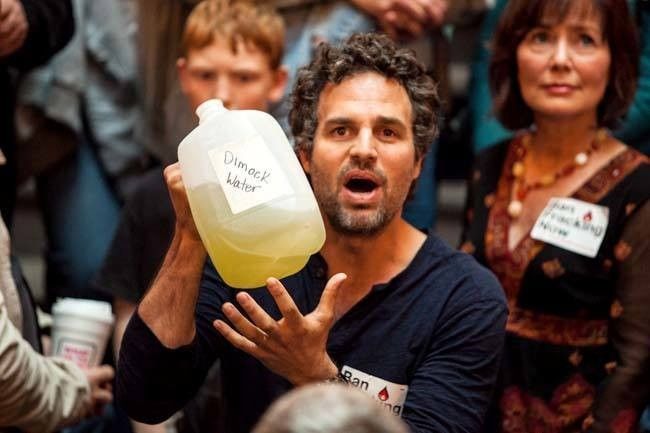 Flickr
Hauter added that EPA Science Advisory Board's official review of the study on fracking and drinking "may seem surprising, but it shouldn't be to anyone who actually read the original study thoroughly."
"There was a clear disconnect between the EPA's top-line spin—that there was no evidence of 'widespread, systemic' impacts on drinking water from fracking—and the content of the actual study, which highlights data limitations, open questions, and clear evidence of local and severe impacts," Hauter said. "This disconnect raises serious questions about political tampering with scientific conclusions in the release of the draft study."
Unsurprisingly, Big Oil and Gas are unhappy with the Science Advisory Board's review. American Petroleum Institute President Jack Gerard blamed the panel's criticisms on environmental activists opposed to fossil fuels.
"The science should be settled," Gerard said at a news conference Tuesday. "There are a handful of people who are not happy with the outcome and they continue to drive their agenda based on ideology, not based on the science."
The agency will use the comments from the advisory panel as well as those submitted by the public "to evaluate how to augment and revise the draft assessment," EPA spokeswoman Melissa Harrison told Bloomberg. "The final assessment will also reflect relevant literature published since the release of the draft assessment."
Meanwhile, a new paper published Jan. 6 in the Journal of Exposure Science and Environmental and Epidemiology only emphasizes why further evaluations on fracking fluids are a must.
After analyzing 1,021 chemicals used in fracking, Yale School of Public Health researchers found that many of the substances have been linked to reproductive and developmental health problems, and the majority had undetermined toxicity due to insufficient information, Phys.org reported on the study.
The research team said in their paper that further exposure and epidemiological studies are urgently needed to evaluate potential threats to human health from chemicals found in fracking fluids and wastewater created by fracking.
YOU MIGHT ALSO LIKE 
Teflon's Toxic Legacy: DuPont Knew for Decades It Was Contaminating Water Supplies
12 Earthquakes Hit Frack-Happy Oklahoma in Less Than a Week
Confirmed: 4.6-Magnitude Earthquake in British Columbia Caused by Fracking (Likely World's Largest)
Energy Companies Want Judge to Dismiss Historic Lawsuit Over Oklahoma Earthquakes
EcoWatch Daily Newsletter
Protesters gathered outside US Bank and Wells Fargo locations around the U.S. to protest investment in the Dakota Access Pipeline on Dec. 1, 2016. This photo is from a protest outside US Bank in south Minneapolis, Minnesota.
Fibonacci Blue / CC BY 2.0
By Jake Johnson
As a growing number of states move to pass laws that would criminalize pipeline protests and hit demonstrators with years in prison, an audio recording obtained by The Intercept showed a representative of a powerful oil and gas lobbying group bragging about the industry's success in crafting anti-protest legislation behind closed doors.
Reposted with permission from our media associate Common Dreams.

DESIREE MARTIN / AFP / Getty Images
Wildfires raging on Gran Canaria, the second most populous of Spain's Canary Islands, have forced around 9,000 people to evacuate.
Wolves in Mount Rainier, Washington. Ron Reznick / VW Pics / Universal Images Group via Getty Images
The last four members of an embattled wolf pack were killed in Washington State Friday, hours before the court order that could have saved them.
Aerial view of lava flows from the eruption of volcano Kilauea on Hawaii, May 2018. Frizi / iStock / Getty Images
Hawaii's Kilauea volcano could be gearing up for an eruption after a pond of water was discovered inside its summit crater for the first time in recorded history, according to the AP.
Plateau Creek near De Beque, Colorado, where land has been leased for oil and gas production. Helen H. Richardson / The Denver Post / Getty Images
By Randi Spivak
Slashing two national monuments in Utah may have received the most attention, but Trump's Interior Department and U.S. Forest Service have been quietly, systematically ceding control of America's public lands to fossil fuel, mining, timber and livestock interests since the day he took office.
Global SO2 Emission Hotspot Database / Greenpeace
A new report by Greenpeace International pinpointed the world's worst sources of sulfur dioxide pollution, an irritant gas that harms human health. India has seized the top spot from Russia and China, contributing nearly 15 percent of global sulfur dioxide emissions.
The huge surge this year in Amazon deforestation is leading some European countries to think twice about donations to the Amazon Fund. LeoFFreitas / Moment / Getty Images
By Sue Branford and Thais Borges
Ola Elvestrun, Norway's environment minister, announced Thursday that it is freezing its contributions to the Amazon Fund, and will no longer be transferring €300 million ($33.2 million) to Brazil. In a press release, the Norwegian embassy in Brazil stated:
Gina Lopez, the Philippine secretary of the environment, at a meeting with residents affected by a mine tailing disaster. Keith Schneider
Gina Lopez, a former Philippine environment secretary, philanthropist and eco-warrior, died on Aug. 19 from brain cancer. She was 65.