This website uses cookies to ensure you get the best experience while browsing it. By clicking 'Got It' you're accepting these terms.
EPA Scientists Call Foul on Fracking Study, Say Findings 'Inconsistent With Data Presented'
Jan. 08, 2016 09:25AM EST
Energy
The U.S. Environmental Protection Agency's (EPA) advisors are calling foul on the agency's highly controversial study that determined hydraulic fracturing, or fracking, has not led to "widespread, systemic impacts on drinking water resources in the U.S."
This specific conclusion is being called into question by members of the EPA Science Advisory Board, which reviews the agency's major studies, Bloomberg reported.
The EPA's conclusion requires clarification, David Dzombak, a Carnegie Mellon University environmental engineering professor who is leading the review, told Bloomberg. A panel headed by Dzombak will release its initial recommendations later this month.
"Major findings are ambiguous or are inconsistent with the observations/data presented in the body of the report," the 31 scientists on the panel said in December 2015.
Possible changes to the report could spell trouble for the oil and gas industry that recently celebrated the ending of a 40-year-old crude oil export ban in December 2015. According to Bloomberg, "a repudiation of the results could reignite the debate over the need for more regulation."
Fracking involves the pumping of highly pressurized water, sand and chemicals into underground rock formations to release trapped oil and gas. The controversial drilling process has spurred a boom in U.S. oil and gas production and driven down gas prices across the country. However, numerous environmental complications have arisen from fracking, including pollution of water and air, landscape destruction and even earthquakes.
Five years ago, Congress commissioned the U.S. EPA to study the impacts of fracking on drinking water. After analyzing more than 950 sources, including previously published papers, state reports and the EPA's own research, the agency released a draft analysis in June 2015 that indeed found numerous harms to drinking water resources from fracking. As EcoWatch reported, the U.S. EPA found evidence of more than 36,000 spills from 2006 to 2012. That amounts to about 15 spills per day somewhere in the U.S.
However, the report's misleading and widely reported conclusion—"there is no evidence fracking has led to widespread, systemic impacts on drinking water resources"—has not only downplayed fracking's effects on drinking water resources, it was also seen by many in the pro-drilling camp as the EPA's thumbs up to the drilling industry. For instance, a Forbes writer summed up the study with this headline: EPA Fracking Study: Drilling Wins.
According to Bloomberg, the review panel could ask the U.S. EPA to rescind this main conclusion or clarify it by saying that the "widespread, systemic" impacts from fracking are relative to the number of wells drilled.
Pennsylvania State University professor Elizabeth Boyer, a member of the Science Advisory Board, noted that the "widespread, systemic" top line was "widely quoted and interpreted in many different ways," EnergyWire reported. "The executive summary and press materials should be carefully reworded" for clarity, she said.
Some panel members also said that more weight should be given to the "severity of local impacts" on water supplies.
Some environmental advocates want the final U.S. EPA document to include additional information on "high-profile cases of fracking contamination inexplicably left out of the study," Food & Water Watch Executive Director Wenonah Hauter said in a statement, pointing to drilling sites in Dimock, Pennsylvania; Parker County, Texas; and Pavillion, Wyoming.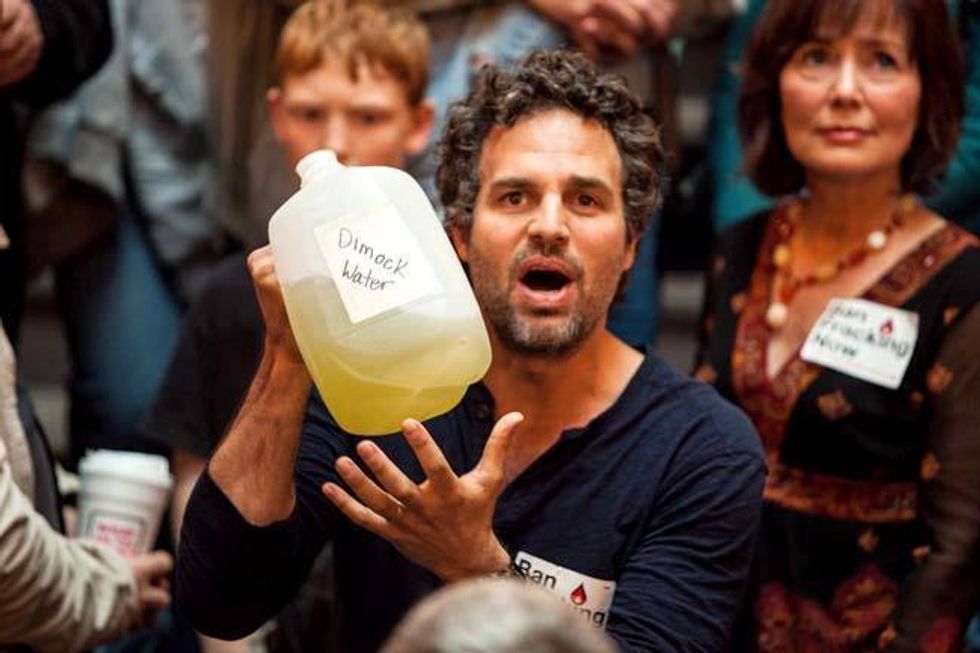 Flickr
Hauter added that EPA Science Advisory Board's official review of the study on fracking and drinking "may seem surprising, but it shouldn't be to anyone who actually read the original study thoroughly."
"There was a clear disconnect between the EPA's top-line spin—that there was no evidence of 'widespread, systemic' impacts on drinking water from fracking—and the content of the actual study, which highlights data limitations, open questions, and clear evidence of local and severe impacts," Hauter said. "This disconnect raises serious questions about political tampering with scientific conclusions in the release of the draft study."
Unsurprisingly, Big Oil and Gas are unhappy with the Science Advisory Board's review. American Petroleum Institute President Jack Gerard blamed the panel's criticisms on environmental activists opposed to fossil fuels.
"The science should be settled," Gerard said at a news conference Tuesday. "There are a handful of people who are not happy with the outcome and they continue to drive their agenda based on ideology, not based on the science."
The agency will use the comments from the advisory panel as well as those submitted by the public "to evaluate how to augment and revise the draft assessment," EPA spokeswoman Melissa Harrison told Bloomberg. "The final assessment will also reflect relevant literature published since the release of the draft assessment."
Meanwhile, a new paper published Jan. 6 in the Journal of Exposure Science and Environmental and Epidemiology only emphasizes why further evaluations on fracking fluids are a must.
After analyzing 1,021 chemicals used in fracking, Yale School of Public Health researchers found that many of the substances have been linked to reproductive and developmental health problems, and the majority had undetermined toxicity due to insufficient information, Phys.org reported on the study.
The research team said in their paper that further exposure and epidemiological studies are urgently needed to evaluate potential threats to human health from chemicals found in fracking fluids and wastewater created by fracking.
YOU MIGHT ALSO LIKE 
Teflon's Toxic Legacy: DuPont Knew for Decades It Was Contaminating Water Supplies
12 Earthquakes Hit Frack-Happy Oklahoma in Less Than a Week
Confirmed: 4.6-Magnitude Earthquake in British Columbia Caused by Fracking (Likely World's Largest)
Energy Companies Want Judge to Dismiss Historic Lawsuit Over Oklahoma Earthquakes
EcoWatch Daily Newsletter
Ingredients are displayed for the Old School Pinto Beans from the Decolonize Your Diet cookbook by Luz Calvo and Catriona Rueda Esquibel. Melissa Renwick / Toronto Star via Getty Images
By Molly Matthews Multedo
Livestock farming contributes to global warming, so eating less meat can be better for the climate.
Locals board up their shops in Vanuatu's capital of Port Vila on April 6, 2020 ahead of Tropical Cyclone Harold. PHILIPPE CARILLO / AFP via Getty Images
The most powerful extreme weather event of 2020 lashed the Pacific nation of Vanuatu Monday as it tries to protect itself from the new coronavirus.
A tiger at the Bronx Zoo is believed to be the first animal in the U.S. and the first tiger in the world to test positive for the new coronavirus.
Derrick Jackson
By Derrick Z. Jackson
As much as hurricanes Katrina and Maria upended African American and Latinx families, the landfall of the coronavirus brings a gale of another order. This Category 5 of infectious disease packs the power to level communities already battered from environmental, economic, and health injustice. If response and relief efforts fail to adequately factor in existing disparities, the current pandemic threatens a knockout punch to the American Dream.
President Donald Trump speaks during a roundtable meeting with energy sector CEOs in the Cabinet Room of the White House April 3 in Washington, DC. Doug Mills-Pool / Getty Images
By Andrea Germanos
A coalition of climate organizations strongly criticized President Donald Trump's in-person Friday meeting with the chief executives of some of the biggest fossil fuel companies in the world, saying the industry that fueled climate disaster must not be allowed to profiteer from government giveaways by getting bailout funds or preferred treatment during the coronavirus pandemic.