This website uses cookies to ensure you get the best experience while browsing it. By clicking 'Got It' you're accepting these terms.
EPA Rule Would Close Loopholes in Clean Water Act, Restore Protections for Streams and Wetlands
Mar. 25, 2014 01:23PM EST
Today, in the biggest step forward for clean water in more than a decade, the Environmental Protection Agency (EPA) and the Army Corps of Engineers proposed a rule to close loopholes in the Clean Water Act that leave more than half of America's streams and millions of acres of wetlands at risk of unchecked pollution and development.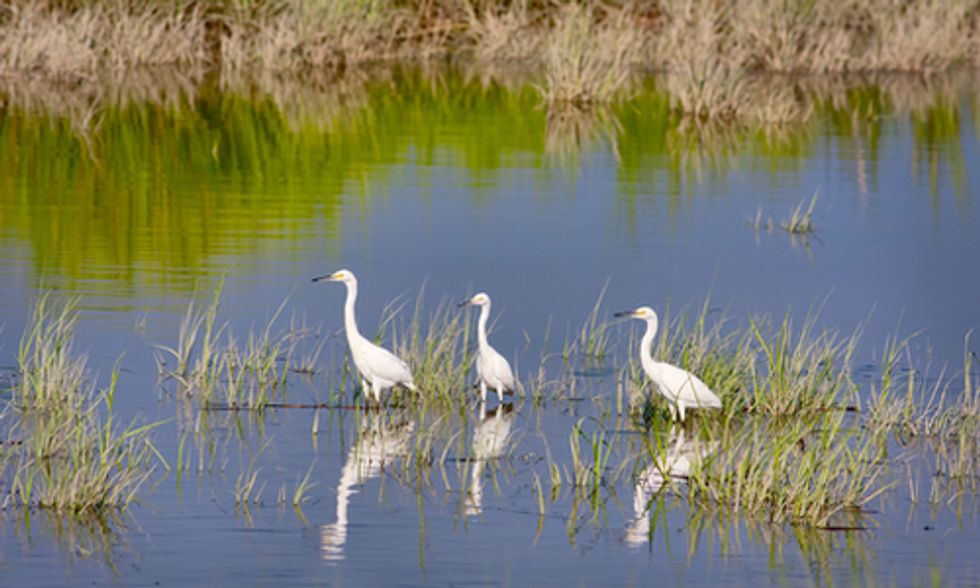 Photo courtesy of Shutterstock
"Whether we look back to the recent spill in West Virginia that left 300,000 people without drinking water or ahead to the dead zones that will blight Lake Erie and the Chesapeake Bay this summer, it's obvious that our waterways are not as clean or safe as we need them to be—for our drinking water, for recreation, or for the health of our ecosystems and wildlife," said Margie Alt, executive director of Environment America. "Today's action by the EPA will help ensure that all our waterways get the protection they need so we can enjoy them for years to come."
This rule-making comes after a decade of uncertainty over the jurisdiction of the Clean Water Act, following polluter-led Supreme Court challenges in 2001 and 2006. The rule, which could be finalized by the end of this year, would restore Clean Water Act protections to 20 million acres of wetlands and more than half our nation's streams, restoring protections to the drinking water for 117 million Americans.
"Today's action is vital to the health of America's great waters," said Alt. "By protecting the streams that feed into mighty rivers like the Mississippi and the wetlands that filter pollution from the Puget Sound and other iconic waters, this rule is a safety net for all the waterways Americans care about."
With so much at stake, Environment America and its state affiliates have waged an intensive multi-year campaign to restore these Clean Water Act protections—including more than 1 million face-to-face conversations across the country, and rallying more than 400 local elected officials, 300farmers and 300 small business owners to call on the Obama Administration to take action.
"Water is so important for all farmers—big and small. It's critical to our way of life," said Lynn Utesch, owner of Guardians of the Field Farm, a cattle farm in Kewanee County, WI. "Here in Wisconsin, we've experienced a new dead zone in Green Bay as an effect of the health of our streams and other waterways. To protect the waters we love and need, like Lake Michigan, we need to make sure the Clean Water Act protects all our waterways."
Unfortunately, many of the nation's biggest polluters have opposed the EPA's action. Thousands of miles of pipelines running through wetlands prompted Big Oil to threaten "legal warfare" over the issue. Factory farms that dump millions of gallons of manure annually attacked the rule as a "land grab." And with mountaintop removal literally burying valley streams in rubble and waste, big coal is also opposing these common sense clean water protections.
In Sept. 2013, the EPA announced plans to move forward with the rule-making and simultaneously released a draft science report on the connection between smaller streams and wetlands and downstream waters, which makes the scientific case for the rule-making. Members of the public submitted more than 150,000 public comments in support of the report's findings.
"When finalized, this rule will be the biggest step forward for clean water in more than a decade," said Alt. "Thank you, Administrator McCarthy and all the staff at the EPA, for fighting to protect clean water. We look forward to working with you to get the job done."
RELATED CONTENT:
Duke Energy Announces Coal Ash Spill Cleanup Will Take 2+ Years; Emails Show Collusion Between Regulators and NC Utility
Grassroots Organizations Mobilize to Meet Community Water Needs Following WV Chemical Spill
EcoWatch Daily Newsletter
Deserted view of NH24 near Akshardham Temple on day nine of the 21-day nationwide lockdown to curb the spread of coronavirus on April 2, 2020 in New Delhi, India. Raj K Raj / Hindustan Times via Getty Images
A Unicef social mobilizer uses a speaker as she carries out public health awareness to prevent the spread and detect the symptoms of the COVID-19 coronavirus by UNICEF at Mangateen IDP camp in Juba, South Sudan on April 2. ALEX MCBRIDE / AFP / Getty Images
By Eddie Ndopu
South Africa is ground zero for the coronavirus pandemic in Africa.
Its townships are typical of high-density neighbourhoods across the continent where self-isolation will be extremely challenging.
The failure to eradicate extreme poverty is a threat beyond the countries in question.
The outside of the Food and Drug Administration headquarters in White Oak, Md. on Nov. 9, 2015. Al Drago / CQ Roll Call
The U.S. Food and Drug Administration has approved the use of two malarial drugs to treat and prevent COVID-19, the respiratory infection caused by the SARS-CoV-2 coronavirus, despite only anecdotal evidence that either is proven effective in treating or slowing the progression of the disease in seriously ill patients.

Some
speculate
that the dissemination of the Antarctic beeches or Nothofagus moorei (seen above in Australia) dates to the time when
Antarctica
, Australia and
South America
were connected. Auscape / Universal Images Group / Getty Images
A team of scientists drilled into the ground near the South Pole to discover forest and fossils from the Cretaceous nearly 90 million years ago, which is the time when dinosaurs roamed the Earth, as the BBC reported.
The recovery of elephant seals is one of the "signs of hope" that scientists say show the oceans can recover swiftly if we let them. NOAA /
CC BY 2.0