This website uses cookies to ensure you get the best experience while browsing it. By clicking 'Got It' you're accepting these terms.
EPA Report Finds Nearly 700 Chemicals Used in Fracking
Apr. 01, 2015 08:30AM EST
Energy
The U.S. Environmental Protection Agency (EPA) released a report on Friday that found there are nearly 700 chemicals used in the fracking process. The EPA completed the analysis by looking at more than 39,000 FracFocus disclosures in the last two years. The FracFocus Chemical Disclosure Registry was developed by the Groundwater Protection Council and the Interstate Oil and Gas Compact Commission in response to public concern about the contents of fracking fluid, says the EPA report.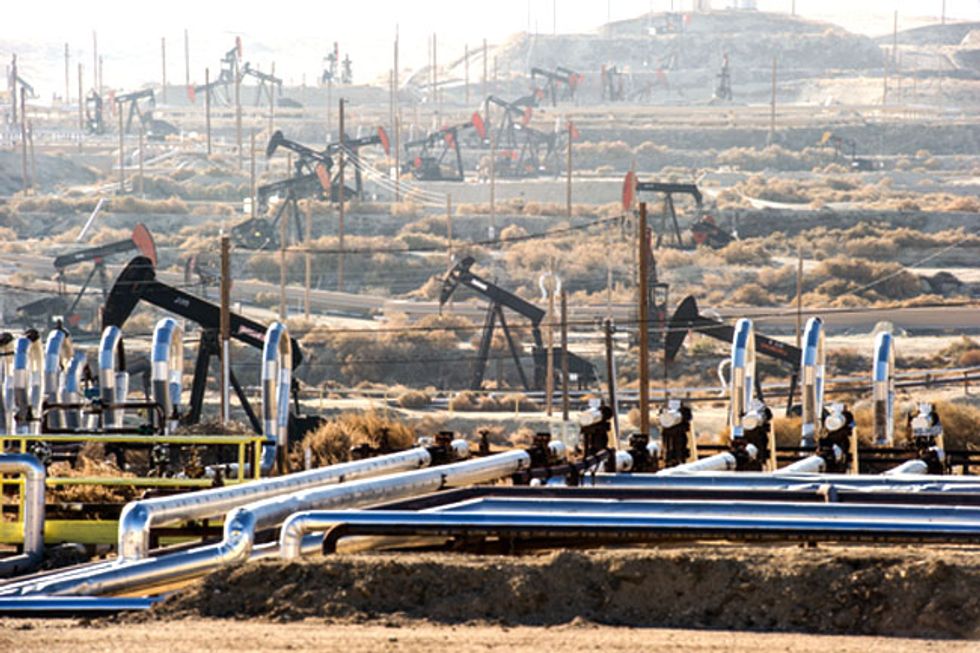 The report has been heavily criticized for its reliance on a voluntary reporting system and for not probing deep enough into the toxicity of these chemicals. Christopher Halloran / Shutterstock.com
"FracFocus is a publicly accessible website where oil and gas production well operators can disclose information about the ingredients used in hydraulic fracturing fluids at individual wells," says the EPA report. However, only 20 states require fracking companies to use FracFocus "to publicly disclose the chemicals they inject into wells," says The Hill. Additionally, the report found that 10 percent of all chemicals used during the fracking process were not disclosed.
Despite all these limitations, the findings were still alarming. The report found that the median number of chemical additives per fracking job was 14. Hydrochloric acid, methanol, and hydrotreated light petroleum distillates were the most common additives, being reported in 65 percent of all disclosures, says The Hill. Even in low doses, these are known to cause skin irritation, chemical burns, headaches and blurred vision, according to the Center for Disease Control and California's Office of Environmental Health Hazard Assessment. At higher concentrations, exposure to these chemicals can cause shortness of breath, blindness and possibly death.
The report has been heavily criticized for its reliance on a voluntary reporting system and for not probing deep enough into the toxicity of these chemicals. "Launched in 2011 and delayed repeatedly, the study was supposed to provide definitive answers to the public's concerns about fracking's possible effect on drinking water," says InsideClimate News. "But pushback from the oil and gas companies and the EPA's weakness relative to the multi-billion dollar fossil fuel sector narrowed the project's scope."
Specifically, the $29 million initiative "will not include baseline studies that provide chemical snapshots of water before and after fracking," says InsideClimate News. "Such data is essential to determine whether drilling contaminated water or whether toxic substances were present before oil and gas development began." However, EPA researcher, Tom Burke, assured The Hill that "This report really focuses on the first step, and that is collecting information about what is used and the volumes of what is used. As part of our broader assessment, we will definitely be focusing on toxicity, though."
YOU MIGHT ALSO LIKE
Watch Viral Video: Nebraska Man Asks Oil and Gas Commission One Simple Question: 'Would You Drink It?'
Fighting Dark Money to Restore Our Democracy
U.S. Makes Historic Climate Pledge Ahead of Paris Talks, Joins EU, Mexico, Norway and Switzerland
EcoWatch Daily Newsletter
picture alliance / dpa / F. Rumpenhorst
By Arthur Sullivan
When was the last time you traveled by plane? Various researchers say as little as between 5 and 10 percent of the global population fly in a given year.
A Starbucks barista prepares a drink at a Starbucks Coffee Shop location in New York. Ramin Talaie / Corbis via Getty Images
By Cathy Cassata
Are you getting your fill of Starbucks' new Almondmilk Honey Flat White, Oatmilk Honey Latte, and Coconutmilk Latte, but wondering just how healthy they are?
By Sharon Kelly
Back in April last year, the Trump administration's Environmental Protection Agency decided it was "not necessary" to update the rules for toxic waste from oil and gas wells. Torrents of wastewater flow daily from the nation's 1.5 million active oil and gas wells and the agency's own research has warned it may pose risks to the country's drinking water supplies.
Swedish climate activist Greta Thunberg takes part in a "Friday for Future" youth demonstration in a street of Davos on Jan. 24, 2020 on the sideline of the World Economic Forum annual meeting. FABRICE COFFRINI / AFP via Getty Images
Treasury Secretary Steven Mnuchin pretended not to know who Greta Thunberg is, and then he told her to get a degree in economics before giving world leaders advice, as The Guardian reported.
The Visible Infrared Imaging Radiometer Suite on the Suomi NPP satellite acquired this image of forest fire smoke hovering over North America on Aug. 15, 2018. NASA Earth Observatory
New York City isn't known for having the cleanest air, but researchers traced recent air pollution spikes there to two surprising sources — fires hundreds of miles away in Canada and the southeastern U.S.