This website uses cookies to ensure you get the best experience while browsing it. By clicking 'Got It' you're accepting these terms.
EPA Official Says Feds Are Winning Asian Carp War
Mar. 02, 2012 02:20PM EST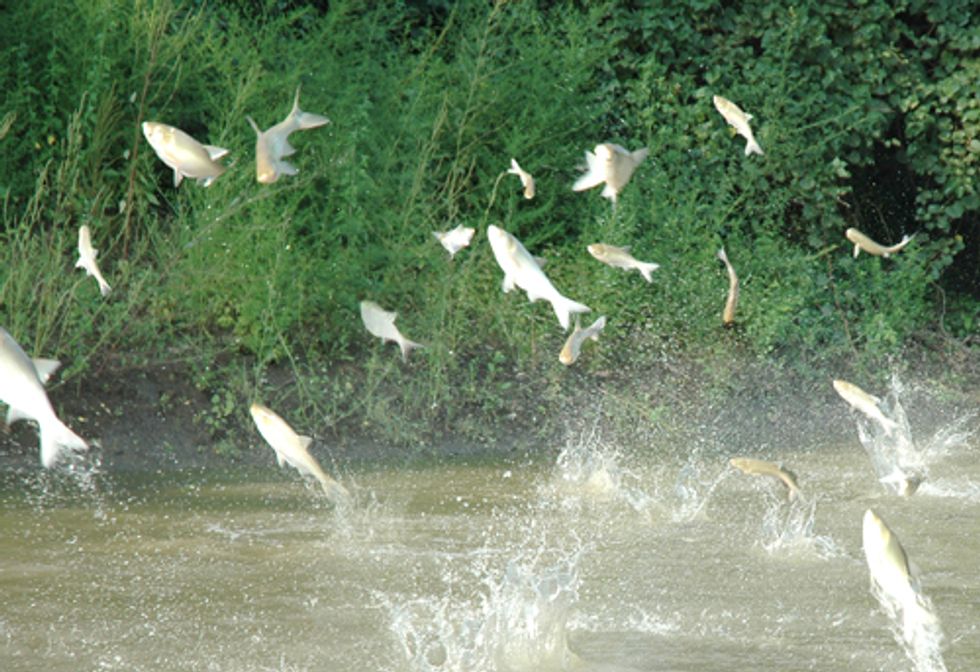 By Jeff Alexander
The federal government is winning the battle to keep Asian carp from reaching the Great Lakes, according to an Obama administration official.
Cameron Davis, the Obama administration's point person on Great Lakes issues, told a group of conservation leaders this week that the government has stopped the advance of Asian carp, which—depending on whom you believe—are either 50 miles from Lake Michigan or already in the lake.
"We're winning the war on Asian carp," Davis said on Feb. 29 during a White House Great Lakes Summit, which was held in conjunction with Great Lakes Days in Washington, D.C.
Government crews are "beating back" the advance of Asian carp in the Chicago Waterway System, the network of manmade canals that form an artificial link between the Mississippi River and Lake Michigan, Davis said.
His claim was met with a stunned silence from the group of scientists and conservation leaders (including several from National Wildlife Federation) who were invited to participate in the Great Lakes Summit.
The reason—Researchers have repeatedly found traces of Asian carp DNA in Chicago-area waters with direct connections to Lake Michigan. Those findings suggest Asian carp have breached an electric fish barrier in the Chicago Waterway System and reached the southern fringe of Lake Michigan.
Faster action needed on separating Great Lakes, Mississippi River basins
The Obama administration has spent more than $100 million over the past two years to fight Asian carp and plans to spent another $50 million this year. That level of support is commendable.
Asian carp—which eat like hogs, breed like mosquitoes and leap out of the water when disturbed by the sound of boat motors—could decimate the $7 billion Great Lakes fishery and pose potentially lethal hazards to boaters in the region.
If the president wants to pull out all the stops in the fight against Asian carp, he must speed up efforts to separate Lake Michigan from the Mississippi River basin.
The U.S. Army Corps of Engineers is currently moving at a snail's pace as it studies how best to prevent Asian carp in the Mississippi River system from invading the Great Lakes. The Corps plans to study the issue for at least three more years before recommending solutions.
Experts have said that separating Lake Michigan from the Mississippi River is the only sure way to prevent Asian carp and other harmful invasive species from moving between the two basins.
The Great Lakes Commission produced a report in January that offered three options for breaking the artificial connection between Lake Michigan and the Mississippi River basin.
The looming threat
Currently, there are no reproducing populations of Asian carp in the Great Lakes. But individual Asian carp have been found in Lake Erie, Lake Huron and Chicago-area waters connected to Lake Michigan.
Given the mounting evidence of Asian carp lurking in southern Lake Michigan, it's premature for government officials to claim they are winning the war against this menacing species of fish. Worse, it's tempting fate.
For more information, click here.
EcoWatch Daily Newsletter
We need our government to do everything it can to stop PFAS contamination and exposure from wreaking havoc in communities across the country. LuAnn Hun /
Unsplash
By Genna Reed
The EPA announced last week that it is issuing a preliminary regulatory determination for public comment to set an enforceable drinking water standard to two of the most common and well-studied PFAS, PFOA and PFOS.
This decision is based on three criteria:
PFOA and PFOS have an adverse effect on public health
PFOA and PFOS occur in drinking water often enough and at levels of public health concern;
regulation of PFOA and PFOS is a meaningful opportunity for reducing the health risk to those served by public water systems.
Charging EVs in Stockholm: But where does a dead battery go? Ranjithsiji / Wikimedia Commons
By Kieran Cooke
Driving an electric-powered vehicle (EV) rather than one reliant on fossil fuels is a key way to tackle climate change and improve air quality — but it does leave the old batteries behind as a nasty residue.
U.S. Secretary of the Treasure Steven Mnuchin arrives for a welcome dinner at the Murabba Palace in Riyadh, Saudi Arabia on Feb. 22, 2020 during the G20 finance ministers and central bank governors meeting. FAYEZ NURELDINE / AFP via Getty Images
Finance ministers from the 20 largest economies agreed to add a scant mention of the climate crisis in its final communiqué in Riyadh, Saudi Arabia on Sunday, but they stopped short of calling it a major economic risk, as Reuters reported. It was the first time the G20 has mentioned the climate crisis in its final communiqué since Donald Trump became president in 2017.
Aerial view of Parque da Cachoeira, which suffered the January 2019 dam collapse, in Brumadinho, state of Minas Gerais, Brazil — one of the country's worst industrial accidents that left 270 people dead. Millions of tons of toxic mining waste engulfed houses, farms and waterways, devastating the mineral-rich region. DOUGLAS MAGNO / AFP / Getty Images
Participants of the climate demonstration Fridays for Future walk through Hamburg, Germany on Feb. 21, 2020. Axel Heimken / picture alliance via Getty Images