This website uses cookies to ensure you get the best experience while browsing it. By clicking 'Got It' you're accepting these terms.
EPA: Mine Waste Spill 3 Times Larger Than Original Estimate
Aug. 11, 2015 09:48AM EST
The spill which sent toxic waste from an abandoned mine into a Colorado waterway last week released 3 million gallons of contaminates into the state's 126-mile Animas River—not 1 million, as previously announced, according to new estimates by the U.S. Environmental Protection Agency (EPA).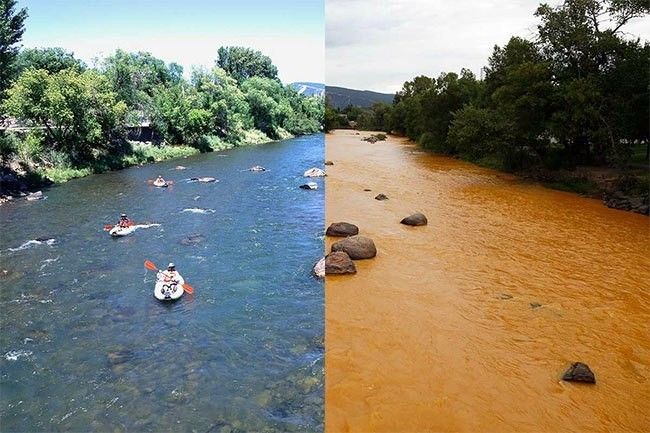 Animas River in Colorado before the spill (left) that began Wednesday after 3 million gallons of wastewater containing lead, arsenic and cadmium leaked from a goldmine, turning more than 100 miles of the river orange. Photo credit: Solarb on imgur
As the orange-hued sludge kept flowing through Colorado and into the San Juan River in New Mexico on Monday, the fallout from the massive accident continued to spread, with communities declaring states of emergency and the Navajo Nation vowing to take action against the EPA, which caused the spill.
The county of La Plata and the city of Durango, both in Colorado, each declared a state of emergency at Noon on Sunday.
La Plata County manager Joe Kerby said in a statement: "This action has been taken due to the serious nature of the incident and to convey the grave concerns that local elected officials have to ensure that all appropriate levels of state and federal resources are brought to bear to assist our community not only in actively managing this tragic incident but also to recover from it."
Water quality tests along the rivers were still being conducted as of Monday afternoon. According to preliminary data released by the EPA on Sunday, arsenic levels in the Durango area were, at their peak, 300 times higher than normal. Lead was 3,500 times higher than normal. The waste also includes copper, zinc, aluminum and cadmium.
Meanwhile, the mine continues to discharge at 500 gallons per minute. Although the EPA maintains that the waste is unlikely to have harmed wildlife in the area, local officials in affected areas have advised residents not to use the river for agricultural or recreational purposes or to allow their pets to drink the water.
The Navajo Nation Commission on Emergency Management also declared a state of emergency. During a meeting Saturday at the Shiprock Chapter House in Shiprock, New Mexico, Navajo Nation president Russell Begaye said he intends to take legal action against the EPA for causing the spill.
"The EPA was right in the middle of the disaster and we intend to make sure the Navajo Nation recovers every dollar it spends cleaning up this mess and every dollar it loses as a result of injuries to our precious Navajo natural resources," Begaye told those in attendance.
"I have instructed Navajo Nation Department of Justice to take immediate action against the EPA to the fullest extent of the law to protect Navajo families and resources," he said. "They're not going to get away with this."
New Mexico Governor Susana Martinez visited a portion of the contaminated river in Farmington over the weekend. "The magnitude of it, you can't even describe it," she said of the scene.
Things worse: when the EPA dumps 3 million toxic gallons into the beautiful animas river. https://t.co/WNH9ssSpMs pic.twitter.com/mjLu0yw9D4

— Worse Than Nuc Power (@WorseThanNucPow) August 11, 2015
Climate activists with Peaceful Uprising on Monday also staged a protest in Utah that connected the spill to the larger issues of fossil fuel mining and the environmental harm such activities cause. Several activists blockaded a Book Cliffs tar sands mine, owned by Calgary-based U.S. Oil Sands, which they say operates on land that rightfully belongs to Indigenous people and risks poisoning the surrounding environment with a similar spill.
"Thousands of mines like open wounds tell the story of a century of exploitation, destruction and violence—against the people of this land and the land and water themselves," said Melanie Martin, an activist with Peaceful Uprising. "U.S. Oil Sands continues that sick tradition by squandering precious water in a thirsty region and saddling future generations with a toxic legacy there is no way to clean up."
The orange wastewater, still flowing downriver, is currently heading toward Utah, where the San Juan River joins Lake Powell. In preparation, officials in the town of Montezuma Creek have shut off water pumps there and in nearby Aneth, parking a 7,000-gallon tanker of potable water at a Montezuma Creek fire station.
The accident occurred last Wednesday after EPA workers attempting to investigate heavy metal waste at the abandoned Gold King Mine in Colorado accidentally unleashed the toxic materials into the Cement Creek, which feeds the Animas River. As Common Dreams reported on Sunday, cleanup of non-functioning mines in the U.S. has long been hampered by legal and financial roadblocks.
YOU MIGHT ALSO LIKE
Massive Mine Waste Spill Reaches New Mexico
Shell Dumps ALEC as Oil Giant Prepares to Drill in Arctic
Why the Voting Rights Act Matters for Environmentalists
EcoWatch Daily Newsletter
Oil palm plantations in northeastern Borneo, state of Sabah, Malaysia. Recently planted oil palms can be seen in the bright green grassy areas and a tiny bit of natural rainforest still struggles for survival farther away. Vaara / E+ / Getty Images
A fuel truck carries fuel into a fracking site past the warning signs Jan. 27, 2016 near Stillwater, Oklahoma. J Pat Carter / Getty Images
By Jessica Corbett
For more than three decades, the U.S. government has mismanaged toxic oil and gas waste containing carcinogens, heavy metals and radioactive materials, according to a new Earthworks report — and with the country on track to continue drilling and fracking for fossil fuels, the advocacy group warns of growing threats to the planet and public health.
European Union blue and gold flags flying at the European Commission building in Brussels, Belgium. 35007/ iStock / Getty Images Plus
Newly adopted guidelines set forth by the European Commission Tuesday aim to tackle climate change by way of the financial sector. The move comes to bolster the success of the Sustainable Action Plan published last year to reorient capital flows toward sustainable investment and manage financial risks from climate change, environmental degradation and social issues.
Prime Minister Justin Trudeau delivering remarks to supporters at a Liberal Climate Action Rally in Toronto, Ontario on March 4. Arindam Shivaani / NurPhoto / Getty Images
Canadian Prime Minister Justin Trudeau announced Tuesday that his government would once again approve the expansion of the Trans Mountain pipeline, which would triple the amount of oil transported from Alberta's tar sands to the coast of British Columbia (BC).
An exhausted polar bear wanders the streets of Norilsk, a Siberian city hundreds of miles from its natural habitat. IRINA YARINSKAYA / AFP / Getty Images

An exhausted, starving polar bear has been spotted wandering around the Siberian city of Norilsk, Reuters reported Tuesday. It is the first time a polar bear has entered the city in more than 40 years.
Bumblebees flying and pollinating a creeping thyme flower. emeliemaria / iStock / Getty Images
It pays to pollinate in Minnesota.