This website uses cookies to ensure you get the best experience while browsing it. By clicking 'Got It' you're accepting these terms.


The best of EcoWatch, right in your inbox. Sign up for our email newsletter!
EPA Finally Issues First Limits on Air Pollution from Natural Gas Fracking
Apr. 18, 2012 01:16PM EST
Energy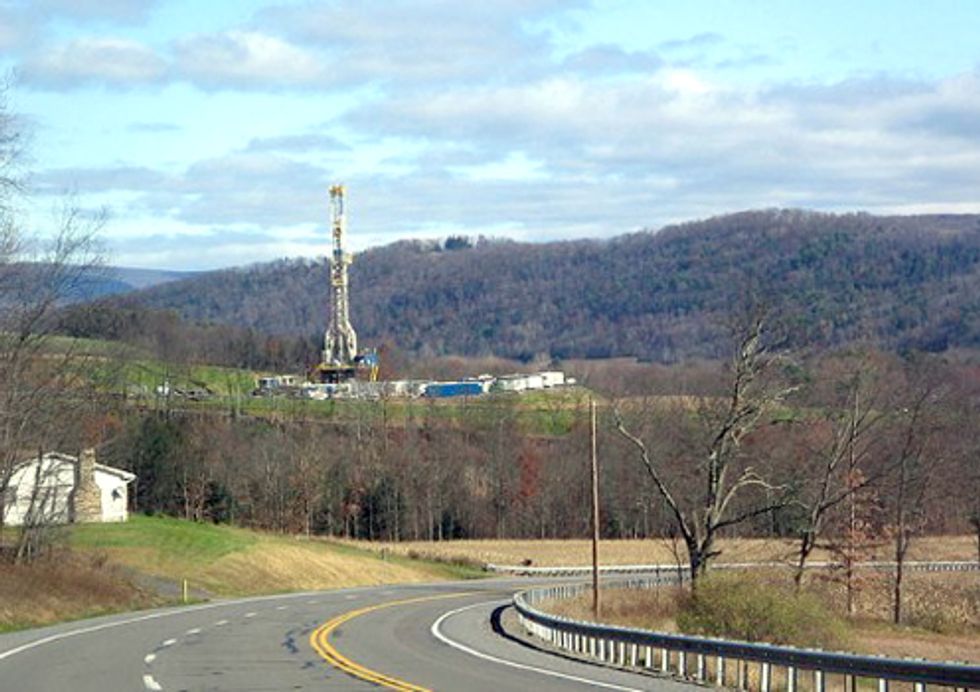 The U.S. Environmental Protection Agency (EPA) today issued federal standards that will begin to curb millions of tons of dangerous air pollution coming from tens of thousands of hydraulically fractured ("fracked") natural gas wells and other oil and gas production facilities.
"These first-ever EPA limits on dangerous air pollution from natural gas fracking wells are a critical step toward protecting our kids, our communities and our planet," said Meleah Geertsma, an attorney in Natural Resources Defense Council's (NRDC) climate and clean air program. "But to fulfill President Obama's State of the Union pledge to develop these resources 'without putting the health and safety of our citizens at risk,' the EPA needs to do more to protect people living near oil and gas production facilities."
"The rapid expansion of oil and natural gas drilling without modern air pollution controls has exposed millions of Americans to a toxic brew of cancer-causing, smog-producing and climate-changing air pollutants," said Miriam Rotkin-Ellman, staff scientist at NRDC. "Left to police itself for too long, the oil and gas industry has failed even to adopt pollution controls that pay for themselves."
Background
EPA today updated and broadened two Clean Air Act standards to control dangerous air pollution released during natural gas and oil drilling, pumping and distribution through pipelines to refineries and other processing facilities. This pollution is made up of cancer-causing chemicals such as benzene, volatile organic compounds (VOCs) that cause region-wide smog, and methane, a powerful global warming pollutant.
Updated "new source performance standards" and "hazardous air pollutant standards" will require better controls on VOC and toxic emissions at key points in drilling and distribution operations. The VOC pollution controls will also begin capturing methane. 
NRDC is pleased that the standards will for the first time require "green completions"—to prevent the huge surge of pollution that now comes from newly fracked and re-fracked natural gas wells—but NRDC is disappointed that EPA has allowed industry more than two and a half years for full compliance. It should not take that long to build more of the truck-mounted rigs that can capture these gases and put them into the pipelines to be sold at a profit instead of leaked into our air. 
EPA also needs to set strong standards that directly curb leakage of methane and other dangerous pollutants from the existing wells and operations. An NRDC report, Leaking Profits, released in March, revealed that oil and gas companies can reduce methane waste by 80 percent at a profit, using available technologies that will add $2 billion a year to industry's bottom line. Doing so would cut total U.S. methane emissions by approximately one third, which is equivalent to the global warming pollution from more than 50 coal-fired power plants.
To read more about today's announcement, see a new blog post by David Doniger, policy director of NRDC's climate and clean air program by clicking here.
Meleah Geertsma and Miriam Rotkin-Ellman will update their blogs later today with more details on the standards as they become available.
For more information, click here.
—————
Stay up-to-date on the latest fracking news by clicking here.
EcoWatch Daily Newsletter
A school in Queensland, Australia sent a note home to parents asking them to send their children with extra water bottles since its water supply has run dry, according to the Australian Broadcasting Corporation (ABC).
European Commission President Ursula von der Leyen delivers a press statement on the European Green Deal at the EU headquarters in Brussels, Belgium on Dec. 11, 2019. Xinhua / Zheng Huansong via Getty Images
The European Commission introduced a plan to overhaul the bloc's economy to more sustainable, climate-conscious policies and infrastructure, with the goal of being carbon-neutral by 2050, according to CNBC.
Young activists shout slogans on stage after Greta Thunberg (not in the picture) took part in the plenary session during the COP25 Climate Conference on Dec. 11 in Madrid, Spain. Pablo Blazquez Dominguez / Getty Images
By Andrea Germanos
Young activists took over and occupied the main stage at the COP25 climate conference in Madrid, Spain Wednesday and demanded world leaders commit to far more ambitious action to address the ecological emergency.
A NASA image showing the ozone hole at its maximum extent for 2015. NASA Goddard Space Flight Center
The Montreal Protocol, a 1987 international treaty prohibiting the production of chlorofluorocarbons (CFCs) to save the ozone layer, was the first successful multilateral agreement to successfully slow the rate of global warming, according to new research. Now, experts argue that similar measures may lend hope to the climate crisis.
Police in Wales are in the midst of an unusual investigation: the sudden death of more than 200 starlings.