This website uses cookies to ensure you get the best experience while browsing it. By clicking 'Got It' you're accepting these terms.
EPA, Deny Dow's Pesticide for GMO Crops
Jul. 07, 2014 09:34AM EST
Ashley Ugarte is the student advisory board president for the Bay Area based non-profit, Teens Turning Green. This passionate foodie, environmental activist and Teens Turning Green chef-in-residence is a senior at Rice University in Houston, TX majoring in Health Sciences and minoring in Water and Energy Sustainability.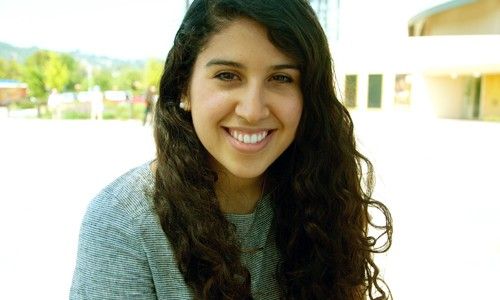 For me, a typical day consists of informing myself and others about the pertinent issues facing our environment—GMOs, pesticides, herbicides, toxic chemicals—they're all on my radar. After reading article after article about the recent (and disturbing) actions of the EPA, one of these pieces of journalism was finally my tipping point. I couldn't simply READ any longer, I needed to ACT. Maybe if I did, other people would join me, and together, we could finally begin taking steps in the right direction. [You can help by signing this petition]. So I decided to write a letter…
Subject Line: EPA, Please Protect My Generation
To the Honorable Administrator Gina McCarthy,
My name is Ashley Ugarte, a rising senior at Rice University in Houston, TX, and Student Advisory Board President for Teens Turning Green. On April 30, 2014, the EPA proposed the impending approval of Enlist Duo™, a double herbicide combination of 2,4-D and glyphosate from Dow Chemical Co. Today, I am writing to you as a daughter, a sister, a friend, a leader and an environmental activist concerned for the future of my generation to advise the EPA to not approve Dow's Enlist Duo.
It wasn't until I came across a devastating article on EcoWatch, "Environmental Groups Fear EPA Could Approve Dow Pesticide for GMO Crops," that I first became aware of this proposal. Upon finishing the article, I couldn't help but feel overwhelmed, appalled, and betrayed by the news that was brought to my attention. After engaging in further research, I discovered information that couldn't be ignored. According to the Environmental Working Group, Enlist Duo's toxic formula—a mixture of 2,4-Dichlorophenoxyacetic acid (an herbicide invented in 1946) and glyphosate (the main ingredient in RoundUp)—are two highly toxic chemicals that have been "linked to multiple adverse effects on human health and the environment." If the EPA moves forward with this proposal, the use of 2,4-D nationwide could more than triple by 2020. Such an increase would accelerate herbicide resistance and expose communities near 2,4-D-resistant corn and soybean fields to eight times more 2,4-D than today's current rates.
The actions and decisions conveyed recently by the EPA, especially in regards to the issues pertaining to genetically modified organisms and toxic chemicals in our food supply, has caused me and my peers to question the sanctity and reputation of the organization altogether. If the EPA's Environmental Risk Assessment for 2,4-D found "information gaps, key uncertainties and insufficient information" in the analysis of its impact on non-target organisms, then why is approval still an option? If the EPA also admitted concerns for direct and indirect effects on birds, mammals, insects and plants, then again I ask, why is approval still an option?
Above all, I find it hard to understand that the EPA could base all of its safety determinations on a study that was conducted by the chemical company itself. Even to the untrained eye, the biases here are blatantly clear. As the next generation of global citizens and procreators, we are charged with the task of bringing new life into this world and to responsibly regenerate the existence of humanity. With this in mind, I'm curious as to how our current generation of leaders expects us to be successful, while well aware of (and contributing to) the present obstacles that face our health and the environment. 
While I understand that the EPA will be issuing its final decision later this summer, I believe that the EPA cannot and should not ignore the thousands of signatures from citizens concerned for our future and environmental organizations such as Food & Water Watch, Center for Food Safety and the Pesticide Action Network. I cannot stand here and allow one company to poison our shared planet and jeopardize the health of my family, friends, peers, neighbors and our future generations. With my peers standing by my side, I hope you will take our concerns into consideration and not be involved in a decision that would demean our right to health in lieu of corporate profits. I greatly honor and admire your expertise in environmental health, which is why I believe that it is essential for us to protect and abide by EPA's own mission "to protect human health and the environment." Let us set an example together by banning this toxic band-aid of a solution and taking a step in the right direction; the direction of repair and sustainability for our planet and its resources on which we so heavily rely.
Sincerely,
Ashley Ugarte
EcoWatch Daily Newsletter
Extreme weather events supercharged by climate change in 2012 led to nearly 1,000 more deaths, more than 20,000 additional hospitalizations, and cost the U.S. healthcare system $10 billion, a new report finds.
Giant sequoia trees at Sequoia National Park, California. lucky-photographer / iStock / Getty Images Plus
A Bay Area conservation group struck a deal to buy and to protect the world's largest remaining privately owned sequoia forest for $15.6 million. Now it needs to raise the money, according to CNN.
This aerial view shows the Ogasayama Sports Park Ecopa Stadium, one of the venues for 2019 Rugby World Cup. MARTIN BUREAU / AFP / Getty Images
The Rugby World Cup starts Friday in Japan where Pacific Island teams from Samoa, Fiji and Tonga will face off against teams from industrialized nations. However, a new report from a UK-based NGO says that when the teams gather for the opening ceremony on Friday night and listen to the theme song "World In Union," the hypocrisy of climate injustice will take center stage.
Vera_Petrunina / iStock / Getty Images Plus
By Wudan Yan
In June, New York Times journalist Andy Newman wrote an article titled, "If seeing the world helps ruin it, should we stay home?" In it, he raised the question of whether or not travel by plane, boat, or car—all of which contribute to climate change, rising sea levels, and melting glaciers—might pose a moral challenge to the responsibility that each of us has to not exacerbate the already catastrophic consequences of climate change. The premise of Newman's piece rests on his assertion that traveling "somewhere far away… is the biggest single action a private citizen can take to worsen climate change."

Volunteer caucasian woman giving grain to starving African children.
Bartosz Hadyniak / E+ / Getty Images
Food will be scarce, expensive and less nutritious," CNN warns us in its coverage of the UN's new "Climate Change and Land" report. The New York Times announces that "Climate Change Threatens the World's Food Supply."
By Adam Vaughan
Two-thirds of people in the UK think the amount people fly should be reined in to tackle climate change, polling has found.
Climate Week NYC
On Monday, Sept. 23, the Climate Group will kick off its 11th annual Climate Week NYC, a chance for governments, non-profits, businesses, communities and individuals to share possible solutions to the climate crisis while world leaders gather in the city for the UN Climate Action Summit.
By Pam Radtke Russell in New Orleans
Local TV weather forecasters have become foot soldiers in the war against climate misinformation. Over the past decade, a growing number of meteorologists and weathercasters have begun addressing the climate crisis either as part of their weather forecasts, or in separate, independent news reports to help their viewers understand what is happening and why it is important.