This website uses cookies to ensure you get the best experience while browsing it. By clicking 'Got It' you're accepting these terms.
EPA Chief Gina McCarthy Calls Out Climate Deniers
Sep. 26, 2014 09:29AM EST
Climate
In a speech yesterday at environmental think tank Resources for the Future, U.S. Environmental Protection Agency (EPA) head Gina McCarthy said it was "sad" that those who deny the need for action on climate change hide behind the excuse that it will hurt the economy. She made the case that it was not taking action that would do, defending the steps that President Obama has announced in recent weeks, including at this week's UN Climate Summit, as a boon to the U.S. economy.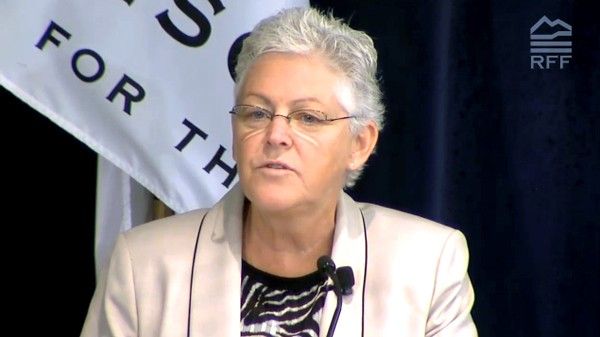 "Simply put: the economy isn't a reason to fear action, it's a reason to take it," she said. "We don't have to choose between a healthy environment and a healthy economy. They're not separate—they're intertwined. A world-leading economy depends on a healthy environment and a stable climate." 
Much of her speech played on the traditional image of America as a country with a fierce pride in its can-do attitude.
"Can you imagine President Kennedy looking up at the moon and saying, 'Nah ... we'll just wait for someone else do it,'" she said, referring to Kennedy's memorable "We choose to go to the moon" speech of September 1962 in which he said "We choose to go to the moon in this decade and do the other things, not because they are easy, but because they are hard, because that goal will serve to organize and measure the best of our energies and skills, because that challenge is one that we are willing to accept, one we are unwilling to postpone and one which we intend to win."
She pointed to America's leadership in another battle as well: saving the ozone layer.
"The world needed a solution," she said. "It needed a leader. The United States didn't temper its resolve, despite the hesitation of other nations. American science identified the problem. American industry innovated the solution. Because we acted, the ozone layer is healing. Our people are safer. And our economy is stronger."
She reminded her audience that it was the same old story with the nearsighted deniers then too: "Back when we took action to heal the ozone layer, special interest critics manufactured doomsday predictions. They spun stories of supermarket refrigerators shutting off and manufacturing plants shutting down. Guess what? None of it happened. If those scare tactics sound familiar, it's because they're the same ones we hear today on climate change."
McCarthy enumerated the ways in which failing to take action will cost the economy: food and gas prices, the cost of combatting fires, droughts and floods, health impacts, insurance. And she talked about actions already taken including fuel efficiency standards for vehicles, the exponential growth in solar and wind energy and the jobs they have already created, states that have enacted standards to cut emissions, saying "When it comes to the American economy, cutting pollution doesn't dull our competitive edge, it sharpens it."
She then lit into the naysayers.
"It's sad to see a small but vocal group of critics hide behind the word 'economy' to protect their own special interests; when the truth is, climate action is in everyone's best interest," she said. "It's worrisome when we hear those critics say, quote, '… I'm not a scientist, but climate action is going to ruin the economy …' Well, as President Obama has said, those critics have one thing right: they are not scientists. They're not economists, either. ... Those same critics point fingers at other nations dragging their feet as an excuse for the United States to stand still. We don't hide behind the inaction of other nations as an excuse for mediocrity. We are not about stagnation, we are about innovation."
She said that states like Oklahoma, Louisiana, Texas and Arkansas that produce some of the most vocal climate deniers could see an annual net benefit of about $16 billion by embracing solutions to climate change.
Predictably, those with a financial interest in the status quo responded as if they weren't even listening.
Laura Sheehan, senior vice president for communications at the American Coalition for Clean Coal Energy retorted, "Administrator McCarthy must be wishing on a star to compare President Kennedy's space mission, which had real-world benefits, to President Obama's climate plan, that will hurt the U.S. economy, cost Americans jobs and do virtually nothing to impact climate change in any meaningful way. With other nations pursuing smart, economically viable energy policies, President Obama's approach makes America the loser when it comes to energy and manufacturing innovation. The Obama administration's failure to come clean about the facts, choosing instead to hide behind over-the-top, scare-inducing rhetoric, affirms that we must expose the truth about the proposal's economic consequences and stop it from moving forward."
YOU MIGHT ALSO LIKE
World Leaders, Listen to the People Not the Polluters
To Change Everything We Need Everyone
EcoWatch Daily Newsletter
DESIREE MARTIN / AFP / Getty Images
Wildfires raging on Gran Canaria, the second most populous of Spain's Canary Islands, have forced around 9,000 people to evacuate.
Wolves in Mount Rainier, Washington. Ron Reznick / VW Pics / Universal Images Group via Getty Images
The last four members of an embattled wolf pack were killed in Washington State Friday, hours before the court order that could have saved them.
Plateau Creek near De Beque, Colorado, where land has been leased for oil and gas production. Helen H. Richardson / The Denver Post / Getty Images
By Randi Spivak
Slashing two national monuments in Utah may have received the most attention, but Trump's Interior Department and U.S. Forest Service have been quietly, systematically ceding control of America's public lands to fossil fuel, mining, timber and livestock interests since the day he took office.
Aerial view of lava flows from the eruption of volcano Kilauea on Hawaii, May 2018. Frizi / iStock / Getty Images
Hawaii's Kilauea volcano could be gearing up for an eruption after a pond of water was discovered inside its summit crater for the first time in recorded history, according to the AP.
Global SO2 Emission Hotspot Database / Greenpeace
A new report by Greenpeace International pinpointed the world's worst sources of sulfur dioxide pollution, an irritant gas that harms human health. India has seized the top spot from Russia and China, contributing nearly 15 percent of global sulfur dioxide emissions.
The huge surge this year in Amazon deforestation is leading some European countries to think twice about donations to the Amazon Fund. LeoFFreitas / Moment / Getty Images
By Sue Branford and Thais Borges
Ola Elvestrun, Norway's environment minister, announced Thursday that it is freezing its contributions to the Amazon Fund, and will no longer be transferring €300 million ($33.2 million) to Brazil. In a press release, the Norwegian embassy in Brazil stated:
Gina Lopez, the Philippine secretary of the environment, at a meeting with residents affected by a mine tailing disaster. Keith Schneider
Gina Lopez, a former Philippine environment secretary, philanthropist and eco-warrior, died on Aug. 19 from brain cancer. She was 65.
Trump speaks to contractors at the Shell Chemicals Petrochemical Complex on Aug. 13 in Monaca, Pennsylvania. Jeff Swensen / Getty Images
Thousands of union members at a multibillion dollar petrochemical plant outside of Pittsburgh were given a choice last week: Stand and wait for a speech by Donald Trump or take the day off without pay.