Feb. 07, 2014 11:31AM EST
EPA Approves Another Pesticide Highly Toxic to Bees
Flying in the face of recent science demonstrating that pollinator populations are declining, the U.S. Environmental Protection Agency (EPA) has made the decision to unconditionally register another pesticide that is known to be highly toxic to bees—almost one year after the EPA registered sulfoxaflor, disregarding concerns from beekeepers and environmental groups.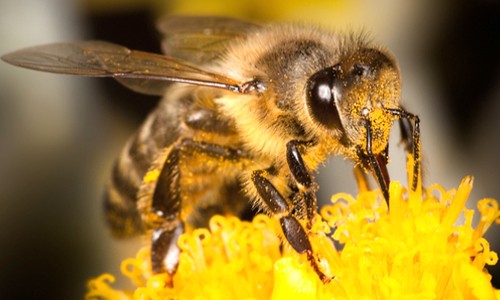 Photo courtesy of Shutterstock
The announcement, posted in the Federal Register on Wednesday, set tolerances for the pesticide cyantraniliprole in foods ranging from almonds and berries, to leafy vegetables, onions and milk. The EPA establishes the allowable limit of the chemical residue, called tolerances, based on what the EPA considers "acceptable" risk. The EPA's ruling details that "there is a reasonable certainty that no harm will result from aggregate exposure to the pesticide residue," despite all evidence that cyantraniliprole is toxic to bees and harmful to mammals.
In July 2013, beekeepers filed suit against EPA for their decision to register sulfoxaflor when it failed to demonstrate that it will not cause any "unreasonable adverse effects on the environment" as required by the Federal Insecticide, Fungicide and Rodenticide Act (FIFRA). Several comments were submitted by concerned beekeepers and environmental advocacy groups, like Beyond Pesticides, during the public comment period that stated that approval of a cyantriliprole. The pesticide would only exacerbate the problems faced by an already tenuous honey bee industry and further decimate bee populations. However, instead of denying or suspending registration in the face of dire pollinator losses, the EPA has chosen to register another insecticide that is toxic to bees, dismissing concerns regarding bee health in its response, and setting itself up for further litigation.
Cyantraniliprole is a systemic insecticide that works by impairing the regulation of muscle contractions causing paralysis and eventual death in insects. Beyond its impact to target pests—which include sucking and chewing insects such as whiteflies and thrips—the EPA's most disturbing conclusions relate to the impact of cyantraniliprole on the livers of mammals: "With repeated dosing, consistent findings of mild to moderate increases in liver weights across multiple species (rats, mice and dogs) are observed. Dogs appear to be more sensitive than rats and mice…show[ing] progressive severity with increased duration of exposure."
The EPA notes that cyantraniliprole also alters the stability of the thyroid as tested on laboratory rats as a result of enhanced metabolism of the thyroid hormones by the liver. Although the agency states that "cyantraniliprole is not a direct thyroid toxicant," any indirect effects on thyroid function are likely to disrupt the endocrine system. Given that its current endocrine disruptor screening program (EDSP) is currently still in the process of validating tests, the EPA's registration of a new active ingredient that shows a propensity for endocrine disruption is cause for alarm.
In addition to these findings, the EPA has registered cyantraniliprole as a seed treatment although it is considered "highly toxic on acute and oral contact basis" for bees. The EPA is aware that pesticide-treated seeds directly threaten foraging bees and other non-target organisms, which are exposed to contaminated dust plumes during planting. Studies have documented high bee mortality following seed sowing and exposure to contaminated dust from agricultural fields. Moreover, the EPA acknowledges the need to reduce fugitive toxic dust. However, with emerging science increasingly attributing pesticide exposures as one of the major causes of pollinator declines and the recent precautionary measures taken in the European Union to ban the use of pesticides known to impact bees, the EPA's registration of cyantraniliprole raises serious concerns.
Beekeepers nationwide have experienced honey bee losses of more than 40 percent over the 2012/2013 winter period—2013/2014 winter losses are likely to be released soon—with some beekeepers reporting losses of more than 70 percent, far exceeding the normal rate of 10 to 15 percent. Some have even been driven out of business. Current estimates of the number of surviving hives in the U.S. show that these colonies may not be able to meet the future pollination demands of agricultural crops.
The EPA's approach to registration reinforces the urgent need for a national transition to organic. The takeaway for organic, as it grows beyond its current $35 billion market share, is the need for rigorous science-based decision making that requires precaution on the allowance of chemical products in the face of hazards and scientific uncertainty. We must keep in mind the underlying standards of the organic rule, which requires that practices "maintain or improve soil organic matter content in a manner that does not contribute to contamination of crops, soil, or water by plant nutrients, pathogenic organisms, heavy metals, or residues of prohibited substances."
Visit EcoWatch's BIODIVERSITY page for more related news on this topic.

Will Rose / Greenpeace
Eleven peaceful activists from the Greenpeace ship Arctic Sunrise have taken to the water in inflatable boats with handheld banners to oppose the Statoil Songa Enabler oil rig, 275 km North off the Norwegian coast, in the Arctic Barents sea.
The banners say: "People Vs. Arctic Oil" and are directed at Statoil and the Norwegian government, which has opened a new, aggressive search for oil in the waters of the Barents Sea.
Keep reading...
Show less
Jul. 21, 2017 10:34AM EST
Dominion Pipeline Monitoring Coalition
The Federal Energy Regulatory Commission (FERC) paved the way Friday for the 600-mile, 42-inch fracked gas Atlantic Coast Pipeline to proceed when it issued the final environmental impact statement (FEIS). A joint project of utility giants Duke Energy and Dominion Energy, the Atlantic Coast Pipeline would move fracked gas from West Virginia into Virginia and North Carolina.
In April, the Sierra Club submitted more than 500 pages of legal and technical comments on FERC's draft EIS, which were joined by more than 18,000 individual comments detailing opposition to the project. The pipeline has been met with widespread opposition, with more than 1,000 people participating in public hearings across the three affected states. The Sierra Club recently requested that FERC issue a new environmental review document analyzing information that came in after or late in, the public comment process.
Keep reading...
Show less
Jul. 21, 2017 08:25AM EST
Greenpeace / PolluterWatch
By Jessica Corbett
"It's time Rex Tillerson step down or be removed," said Gigi Kellett of Corporate Accountability International, following an announcement on Thursday that ExxonMobil will pay $2 million for violating U.S. sanctions against Russian officials while the now-secretary of state was the company's CEO.
"ExxonMobil demonstrated reckless disregard for U.S. sanction requirements," according to enforcement filing released by the Treasury Department's Office of Foreign Assets Control (OFAC), which issued the penalty. Though the fine is reportedly the maximum penalty allowed, it's pittance to one of the world's most profitable and powerful corporations, which last year reported a profit of $7.8 billion.
Keep reading...
Show less
Jul. 21, 2017 11:15AM EST
New analysis from Amory B. Lovins debunks the notion that highly unprofitable, economically distressed nuclear plants should be further subsi­dized to meet financial, security, reliability and climate goals. The analysis, which will appear shortly in The Electricity Journal, shows that closing costly-to-run nuclear plants and reinvesting their saved operating costs in energy efficiency provides cheaper elec­tricity, increases grid reliability and security, reduces more carbon, and preserves (not distorts) market integrity—all without subsidies.

Keep reading...
Show less
Jul. 21, 2017 08:44AM EST
Oil Change International / Twitter
By Christian Detisch and Seth Gladstone
In the wake of Senate Republicans' ever-deepening debacle over their flailing attempts to strip health insurance from 22 million people, Majority Leader Mitch McConnell is desperate to do something—anything—to show that he can get legislation passed. To this end, he's bypassing the standard committee review process to push a complex 850+ page energy bill straight to the full Senate floor. Perhaps not surprisingly, this legislation, the Energy and Natural Resources Act of 2017, would be a disaster for public health and our climate.
Keep reading...
Show less
Jul. 21, 2017 08:11AM EST
Rooftop solar panels on a beach house in southern Florida. TAI VIINIKKA / CC BY-NC-ND 2.0
A new law passed this week in South Miami will require all new homes built in the city to install solar panels. The measure, which was inspired by a proposal from a teenage climate activist, will go into effect in September.
The text of the ordinance details the climate impacts facing South Miami.
Keep reading...
Show less
Jul. 21, 2017 10:27AM EST
www.youtube.com
Keep reading...
Show less
Jul. 21, 2017 08:49AM EST
iStock
By Katherine Paul and Ronnie Cummins
A recent series of articles by a Washington Post reporter could have some consumers questioning the value of the U.S. Department of Agriculture's (USDA) organic seal. But are a few bad eggs representative of an entire industry?
Consumers are all for cracking down on the fraudulent few who, with the help of Big Food, big retail chains and questionable certifiers give organics a bad name. But they also want stronger standards, and better enforcement—not a plan to weaken standards to accommodate "Factory Farm Organic."
Keep reading...
Show less