Enviros Blamed for Bursting Frack Bubble
Here's The Script, in four despicable acts:
Act 1. Fracking boom goes bust as production from shale gas and tight oil wells stalls out and lurches into decline.
Act 2. Oil and gas industry loudly blames anti-fracking environmentalists and restrictive regulations.
Act 3. Congress rolls back environmental laws.
Act 4. Loosened regulations do little to boost actual oil and gas production, which continues to tank, but the industry wins the right to exploit marginal resources a little more cheaply than would otherwise have been the case.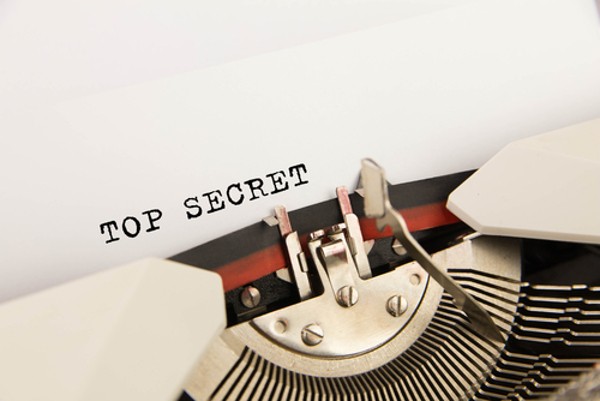 Photo courtesy of Shutterstock
You can bet The Script is being written in operational detail right now at corporate headquarters in Oklahoma City and Houston, and in the offices of PR firms in New York and Boston. Each of its elements has the inevitability of events in a Shakespearean tragedy.
It's fairly clear that the fracking bubble will burst soon—almost certainly within the decade. Our
ongoing analysis at Post Carbon Institute
documents the high per-well decline rates (a typical well's production drops 70 percent during the first year), the high variability of production potential within geological formations being tapped and the dwindling number of remaining drilling sites in the few "sweet spots" that offer vaguely profitable drilling potential. Meanwhile, as the
Energy Information Administration (EIA) has recently documented
, the balance sheets of fracking companies are loaded with debt while surprisingly short on profits from sales of product—with real profits coming mostly from sales of assets (drilling leases).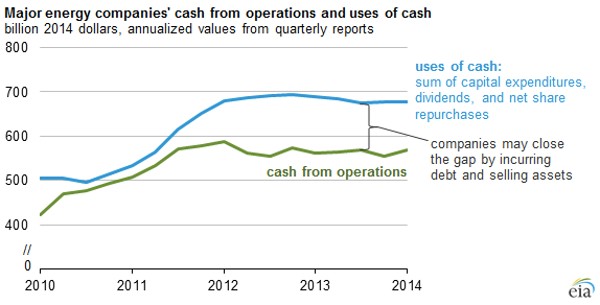 Step 1. Borrow money and use it to lease thousands of acres for drilling.
Step 2. Borrow more money and drill as many wells as you can, as quickly as you can.
Step 3. Tell everyone within shouting distance that this is just the beginning of a production boom that will continue for the remainder of our lives and the lives of our children and that everyone who invests will get rich.
Step 4. Sell drilling leases to other (gullible) companies at a profit, raise funds through Initial Public Offerings or bond sales, and use the proceeds to hide financial losses from your drilling and production operations.
No, this is all business. Environmentalists will merely be handy scapegoats. Blaming environmentalists for the bursting of the fracking bubble will divert public attention from the industry's own bad business practices. But even more usefully, telling receptive members of Congress that falling oil and gas production rates are due to anti-fracking, fear-mongering, business-hating enviros will set the stage for new and powerful calls to roll back local, state and national regulations. Congress's likely response: "Poor you! What can we do to help? How about some further exemptions to the Clean Air and Clean Water acts? Maybe a preemption of local fracking ordinances with a new industry-friendly national rule? Would you care for some drilling leases on millions of acres of federal land as an appetizer, while you're waiting? They're on the house."
One way or another, the current fracking bubble is likely to constitute the last gasp of production growth for U.S. oil and gas. The Script can't solve all the industry's problems. But it might yield a few consolation prizes.
What could keep The Script from succeeding? The industry's PR offensive will be much less effective if mainstream media prominently and repeatedly publish good analyses of what's going on in the geology of the fracking fields and the balance sheets of the drilling companies; and if public officials understand and talk about the real reasons for the coming stall and drop in U.S. oil and gas production.
Glyphosate, the main ingredient in Monsanto's widely used herbicide Roundup, will be added July 7 to California's list of chemicals known to the state to cause cancer, according to a Reuters report Tuesday. This news comes after the company's unsuccessful attempt to block the listing in trial court and requests for stay were denied by a state appellate court and California's Supreme Court.
California's Office of Environmental Health Hazard Assessment (OEHHA) announced the designation on Monday under the Safe Drinking Water and Toxic Enforcement Act of 1986, or Proposition 65.
Keep reading...
Show less
www.facebook.com
Keep reading...
Show less
Researchers from the Marine Animal Response Society examine one of the dead right whales. Marine Animal Response Society
Canadian government officials and marine biologists are investigating the mysterious deaths of six North American right whales. The endangered animals all turned up dead between June 6 and June 23 in the Gulf of St. Lawrence, off Canada's southeastern coast.
North Atlantic right whales are the rarest of all large whale species and among the rarest of all marine mammal species, with only about 450 right whales in the North Atlantic.
Keep reading...
Show less
Scott Pruitt testifies during his Senate confirmation hearing for EPA administrator, January 2017.
The U.S. Environmental Protection Agency's (EPA) chief of staff pressured the leader of its Board of Scientific Counselors to change her congressional testimony to downplay the impact of the agency's mass dismissal of scientists from the board, the New York Times reports.
Keep reading...
Show less
By Jason Mark
Sequoiadendron giganteum. That's the scientific name for the giant sequoia: the mammoth trees found in California's Sierra Nevada that are the largest organisms on Earth, and among the longest-lived. Biologists estimate that about half of all sequoias live in Giant Sequoia National Monument, a 328,000-acre preserve in the Southern Sierra Nevada established by President Clinton in 2000.
Now that national monument is in jeopardy.
Keep reading...
Show less
By Andy Rowell
Donald Trump this week is launching an "energy week," pushing the argument that the U.S. will become a net exporter of oil and gas.
The president and his cronies are talking about a new era of "U.S. energy dominance," which could stretch for decades to come. However, no one believes the president anymore.
Keep reading...
Show less
UN
By Colleen Curry
The United Nations has designated 23 new sites around the world to its World Network of Biosphere reserves—stunning natural landscapes that balance environmental and human concerns and strive for sustainability.
The forests, beaches and waterways were added to the list this year at the International Coordinating Council of the Man and the Biosphere Programme meeting in Paris earlier this month.
Keep reading...
Show less
Jun. 26, 2017 01:48PM EST
www.elysee.fr
By Andy Rowell
There is a growing feeling within European capitals that a quiet, but deeply positive, revolution is happening under Emmanuel Macron in France.
Macron's opinion poll rating is high, especially boosted in how the young French president has reacted to Donald Trump on the international stage.
Keep reading...
Show less
Jun. 26, 2017 12:32PM EST
www.facebook.com
Keep reading...
Show less