Enviros Blamed for Bursting Frack Bubble
Here's The Script, in four despicable acts:
Act 1. Fracking boom goes bust as production from shale gas and tight oil wells stalls out and lurches into decline.
Act 2. Oil and gas industry loudly blames anti-fracking environmentalists and restrictive regulations.
Act 3. Congress rolls back environmental laws.
Act 4. Loosened regulations do little to boost actual oil and gas production, which continues to tank, but the industry wins the right to exploit marginal resources a little more cheaply than would otherwise have been the case.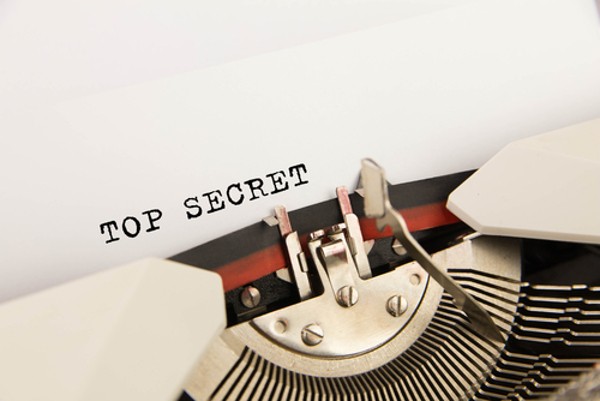 Photo courtesy of Shutterstock
You can bet The Script is being written in operational detail right now at corporate headquarters in Oklahoma City and Houston, and in the offices of PR firms in New York and Boston. Each of its elements has the inevitability of events in a Shakespearean tragedy.
It's fairly clear that the fracking bubble will burst soon—almost certainly within the decade. Our
ongoing analysis at Post Carbon Institute
documents the high per-well decline rates (a typical well's production drops 70 percent during the first year), the high variability of production potential within geological formations being tapped and the dwindling number of remaining drilling sites in the few "sweet spots" that offer vaguely profitable drilling potential. Meanwhile, as the
Energy Information Administration (EIA) has recently documented
, the balance sheets of fracking companies are loaded with debt while surprisingly short on profits from sales of product—with real profits coming mostly from sales of assets (drilling leases).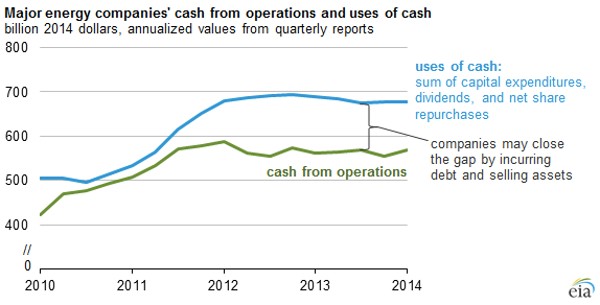 Step 1. Borrow money and use it to lease thousands of acres for drilling.
Step 2. Borrow more money and drill as many wells as you can, as quickly as you can.
Step 3. Tell everyone within shouting distance that this is just the beginning of a production boom that will continue for the remainder of our lives and the lives of our children and that everyone who invests will get rich.
Step 4. Sell drilling leases to other (gullible) companies at a profit, raise funds through Initial Public Offerings or bond sales, and use the proceeds to hide financial losses from your drilling and production operations.
No, this is all business. Environmentalists will merely be handy scapegoats. Blaming environmentalists for the bursting of the fracking bubble will divert public attention from the industry's own bad business practices. But even more usefully, telling receptive members of Congress that falling oil and gas production rates are due to anti-fracking, fear-mongering, business-hating enviros will set the stage for new and powerful calls to roll back local, state and national regulations. Congress's likely response: "Poor you! What can we do to help? How about some further exemptions to the Clean Air and Clean Water acts? Maybe a preemption of local fracking ordinances with a new industry-friendly national rule? Would you care for some drilling leases on millions of acres of federal land as an appetizer, while you're waiting? They're on the house."
One way or another, the current fracking bubble is likely to constitute the last gasp of production growth for U.S. oil and gas. The Script can't solve all the industry's problems. But it might yield a few consolation prizes.
What could keep The Script from succeeding? The industry's PR offensive will be much less effective if mainstream media prominently and repeatedly publish good analyses of what's going on in the geology of the fracking fields and the balance sheets of the drilling companies; and if public officials understand and talk about the real reasons for the coming stall and drop in U.S. oil and gas production.
A coalition of conservation groups and others announced Thursday that a historic number of comments and petitions of support have been submitted to the U.S. Department of the Interior in support of Bears Ears National Monument. Despite the entirely inadequate 15-day comment period ending on May 26, more than 685,000 comments in support of Bears Ears National Monument have been collected.
Keep reading...
Show less
Rink Glacier in western Greenland, with a meltwater lake visible center. NASA/OIB
Scientists have had their eyes on Greenland as its iconic glaciers have begun disappearing due to a warming climate. But, what they didn't expect to see was a whole new type of melting.
Keep reading...
Show less
Mountain View Fire
By Lena Moffitt
An oil tanker in Mead, Colorado exploded, killing one and injuring three on Thursday. Authorities are continuing to investigate the cause of the explosion.
Keep reading...
Show less
Banner created by Alliance for Climate Education
Keep reading...
Show less
Twenty-two GOP senators sent a letter Thursday urging Donald Trump to pull out of the Paris agreement. They argued remaining in the deal could "upend" the administration's ability "to fulfill its goal of rescinding the Clean Power Plan."
Keep reading...
Show less
By Cheryl Johncox
The Federal Energy Regulatory Commission (FERC) rejected on Thursday Energy Transfer Partners' request to resume horizontal directional drilling at two sites for its Rover fracked gas pipeline. This rejection comes after numerous leaks into Ohio's wetlands, and Clean Air and Clean Water act violations. FERC has halted the process at only eight locations of the 32 where drilling is taking place under Ohio's wetlands and streams.
Keep reading...
Show less
By Nadia Prupis
A majority of people in eight countries say they are ready to change their lifestyles if it would prevent climate catastrophe, a survey on global threats released Wednesday found.
Keep reading...
Show less
May. 25, 2017 01:55PM EST
Bill Maher is sick of billionaires' obsession with Mars, more like "Mars-a-Lago," he said.
In a new animation produced by ATTN:, the popular talk show host of Real Time, discusses the perils of our planet, including how "climate change is killing us."
Keep reading...
Show less