This website uses cookies to ensure you get the best experience while browsing it. By clicking 'Got It' you're accepting these terms.
Enviros Blamed for Bursting Frack Bubble
Aug. 11, 2014 08:37AM EST
Here's The Script, in four despicable acts:
Act 1. Fracking boom goes bust as production from shale gas and tight oil wells stalls out and lurches into decline.
Act 2. Oil and gas industry loudly blames anti-fracking environmentalists and restrictive regulations.
Act 3. Congress rolls back environmental laws.
Act 4. Loosened regulations do little to boost actual oil and gas production, which continues to tank, but the industry wins the right to exploit marginal resources a little more cheaply than would otherwise have been the case.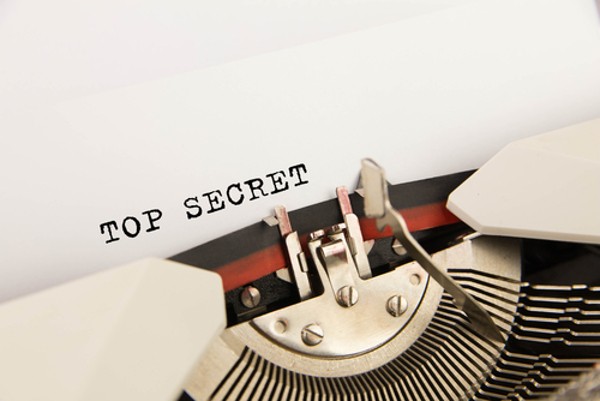 Photo courtesy of Shutterstock
You can bet The Script is being written in operational detail right now at corporate headquarters in Oklahoma City and Houston, and in the offices of PR firms in New York and Boston. Each of its elements has the inevitability of events in a Shakespearean tragedy.
It's fairly clear that the fracking bubble will burst soon—almost certainly within the decade. Our
ongoing analysis at Post Carbon Institute
documents the high per-well decline rates (a typical well's production drops 70 percent during the first year), the high variability of production potential within geological formations being tapped and the dwindling number of remaining drilling sites in the few "sweet spots" that offer vaguely profitable drilling potential. Meanwhile, as the
Energy Information Administration (EIA) has recently documented
, the balance sheets of fracking companies are loaded with debt while surprisingly short on profits from sales of product—with real profits coming mostly from sales of assets (drilling leases).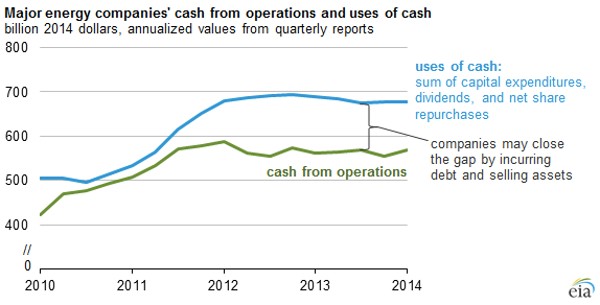 Step 1. Borrow money and use it to lease thousands of acres for drilling.
Step 2. Borrow more money and drill as many wells as you can, as quickly as you can.
Step 3. Tell everyone within shouting distance that this is just the beginning of a production boom that will continue for the remainder of our lives and the lives of our children and that everyone who invests will get rich.
Step 4. Sell drilling leases to other (gullible) companies at a profit, raise funds through Initial Public Offerings or bond sales, and use the proceeds to hide financial losses from your drilling and production operations.
No, this is all business. Environmentalists will merely be handy scapegoats. Blaming environmentalists for the bursting of the fracking bubble will divert public attention from the industry's own bad business practices. But even more usefully, telling receptive members of Congress that falling oil and gas production rates are due to anti-fracking, fear-mongering, business-hating enviros will set the stage for new and powerful calls to roll back local, state and national regulations. Congress's likely response: "Poor you! What can we do to help? How about some further exemptions to the Clean Air and Clean Water acts? Maybe a preemption of local fracking ordinances with a new industry-friendly national rule? Would you care for some drilling leases on millions of acres of federal land as an appetizer, while you're waiting? They're on the house."
One way or another, the current fracking bubble is likely to constitute the last gasp of production growth for U.S. oil and gas. The Script can't solve all the industry's problems. But it might yield a few consolation prizes.
What could keep The Script from succeeding? The industry's PR offensive will be much less effective if mainstream media prominently and repeatedly publish good analyses of what's going on in the geology of the fracking fields and the balance sheets of the drilling companies; and if public officials understand and talk about the real reasons for the coming stall and drop in U.S. oil and gas production.
Prince William and British naturalist David Attenborough attend converse during the World Economic Forum annual meeting, on January 22 in Davos, Switzerland. Fabrice Cofferini /AFP / Getty Images
Britain's Prince William interviewed famed broadcaster David Attenborough on Tuesday at the World Economic Forum's annual meeting in Switzerland.
During the sit-down, the 92-year-old naturalist advised the world leaders and business elite gathered in Davos this week that we must respect and protect the natural world, adding that the future of its survival—as well as humanity's survival—is in our hands.
Electric vehicle sales took off in 2018, with a record two million units sold around the world, according to a new Deloitte analysis.
What's more, the accounting firm predicts that another 21 million electric cars will be on the road globally over the next decade due to growing market demand for clean transportation, government subsidies, as well as bans on fossil fuel cars.
Teenager Alex Weber and friends collected nearly 40,000 golf balls hit into the ocean from a handful of California golf courses.
Alex Weber /
CC BY-ND
Southwest Greenland had the most consistent ice loss from 2003 to 2012. Eqalugaarsuit, Ostgronland, Greenland on Aug. 1, 2018.
Rob Oo / CC BY 2.0
Greenland is melting about four times faster than it was in 2003, a new study published Monday in the Proceedings of the National Academy of Sciences found, a discovery with frightening implications for the pace and extent of future sea level rise.
"We're going to see faster and faster sea level rise for the foreseeable future," study lead author and Ohio State University geodynamics professor Dr. Michael Bevis said in a press release. "Once you hit that tipping point, the only question is: How severe does it get?"
Finally, some good news about the otherwise terrible partial government shutdown. A federal judge ruled that the Trump administration cannot issue permits to conduct seismic testing during the government impasse.
The Justice Department sought to delay—or stay—a motion filed by a range of coastal cities, businesses and conservation organizations that are suing the Trump administration over offshore oil drilling, Reuters reported. The department argued that it did not have the resources it needed to work on the case due to the shutdown.
Most people have heard of the Amazon, South America's famed rainforest and hub of biological diversity. Less well known, though no less critical, is the Pantanal, the world's largest tropical wetland.
Like the Amazon, the Pantanal is ecologically important and imperiled. Located primarily in Brazil, it also stretches into neighboring Bolivia and Paraguay. Covering an area larger than England at more than 70,000 square miles, the massive wetland provides irreplaceable ecosystem services that include the regulation of floodwaters, nutrient renewal, river flow for navigability, groundwater recharge and carbon sequestration. The wetland also supports the economies of the four South American states it covers.
Demonstrators participate in a protest march over agricultural policy on Jan. 19 in Berlin, Germany. Carsten Koall / Getty Images Europe
By Andrea Germanos
Organizers said 35,000 people marched through the streets of the German capital on Saturday to say they're "fed up" with industrial agriculture and call for a transformation to a system that instead supports the welfare of the environment, animals and rural farmers.

The fire that erupted after a pipeline explosion in Mexico Friday. FRANCISCO VILLEDA / AFP / Getty Images
By Patrick Rogers
If you have ever considered making the switch to an environmentally friendly electric vehicle, don't drag your feet. Though EV prices are falling, and states are unveiling more and more public charging stations and plug-in-ready parking spots, the federal government is doing everything it can to slam the brakes on our progress away from gas-burning internal combustion engines. President Trump, likely pressured by his allies in the fossil fuel industry, has threatened to end the federal tax credits that have already helped put hundreds of thousands of EVs on the road—a move bound to harm not only our environment but our economy, too. After all, the manufacturing and sale of EVs, hybrids, and plug-in hybrids supported 197,000 jobs in 2017, according to the most recent U.S. Energy and Employment Report.