This website uses cookies to ensure you get the best experience while browsing it. By clicking 'Got It' you're accepting these terms.
Enviros Blamed for Bursting Frack Bubble
Aug. 11, 2014 08:37AM EST
Here's The Script, in four despicable acts:
Act 1. Fracking boom goes bust as production from shale gas and tight oil wells stalls out and lurches into decline.
Act 2. Oil and gas industry loudly blames anti-fracking environmentalists and restrictive regulations.
Act 3. Congress rolls back environmental laws.
Act 4. Loosened regulations do little to boost actual oil and gas production, which continues to tank, but the industry wins the right to exploit marginal resources a little more cheaply than would otherwise have been the case.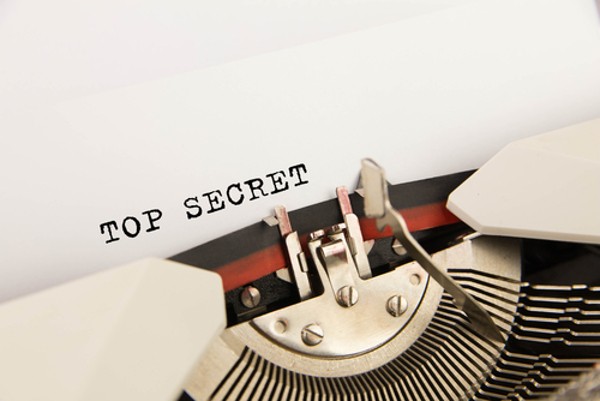 Photo courtesy of Shutterstock
You can bet The Script is being written in operational detail right now at corporate headquarters in Oklahoma City and Houston, and in the offices of PR firms in New York and Boston. Each of its elements has the inevitability of events in a Shakespearean tragedy.
It's fairly clear that the fracking bubble will burst soon—almost certainly within the decade. Our
ongoing analysis at Post Carbon Institute
documents the high per-well decline rates (a typical well's production drops 70 percent during the first year), the high variability of production potential within geological formations being tapped and the dwindling number of remaining drilling sites in the few "sweet spots" that offer vaguely profitable drilling potential. Meanwhile, as the
Energy Information Administration (EIA) has recently documented
, the balance sheets of fracking companies are loaded with debt while surprisingly short on profits from sales of product—with real profits coming mostly from sales of assets (drilling leases).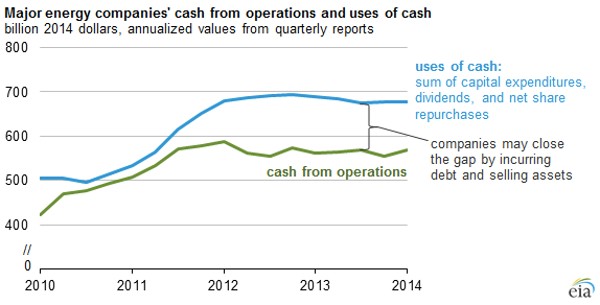 Step 1. Borrow money and use it to lease thousands of acres for drilling.
Step 2. Borrow more money and drill as many wells as you can, as quickly as you can.
Step 3. Tell everyone within shouting distance that this is just the beginning of a production boom that will continue for the remainder of our lives and the lives of our children and that everyone who invests will get rich.
Step 4. Sell drilling leases to other (gullible) companies at a profit, raise funds through Initial Public Offerings or bond sales, and use the proceeds to hide financial losses from your drilling and production operations.
No, this is all business. Environmentalists will merely be handy scapegoats. Blaming environmentalists for the bursting of the fracking bubble will divert public attention from the industry's own bad business practices. But even more usefully, telling receptive members of Congress that falling oil and gas production rates are due to anti-fracking, fear-mongering, business-hating enviros will set the stage for new and powerful calls to roll back local, state and national regulations. Congress's likely response: "Poor you! What can we do to help? How about some further exemptions to the Clean Air and Clean Water acts? Maybe a preemption of local fracking ordinances with a new industry-friendly national rule? Would you care for some drilling leases on millions of acres of federal land as an appetizer, while you're waiting? They're on the house."
One way or another, the current fracking bubble is likely to constitute the last gasp of production growth for U.S. oil and gas. The Script can't solve all the industry's problems. But it might yield a few consolation prizes.
What could keep The Script from succeeding? The industry's PR offensive will be much less effective if mainstream media prominently and repeatedly publish good analyses of what's going on in the geology of the fracking fields and the balance sheets of the drilling companies; and if public officials understand and talk about the real reasons for the coming stall and drop in U.S. oil and gas production.
EcoWatch Daily Newsletter
Offutt Air Force Base after flooding on March 17. U.S. Air Force / TSgt. Rachelle Blake
A regenerating stand of rainforest in northern Costa Rica. Matthew Fagan / CC BY-ND
By Matthew Fagan, Leighton Reid and Margaret Buck Holland
Tropical forests globally are being lost at a rate of 61,000 square miles a year. And despite conservation efforts, the global rate of loss is accelerating. In 2016 it reached a 15-year high, with 114,000 square miles cleared.
At the same time, many countries are pledging to restore large swaths of forests. The Bonn Challenge, a global initiative launched in 2011, calls for national commitments to restore 580,000 square miles of the world's deforested and degraded land by 2020. In 2014 the New York Declaration on Forests increased this goal to 1.35 million square miles, an area about twice the size of Alaska, by 2030.
Compassion Over Killing
By Cheryl Leahy
Do you think almond milk comes from a cow named Almond? Or that almonds lactate? The dairy industry thinks you do, and that's what it's telling the Food and Drug Administration (FDA).
For years, the dairy industry has been flexing its lobbying muscle, pressuring states and the federal government to restrict plant-based companies from using terms like "milk" on their labels, citing consumer confusion.
By Jeremy Deaton
A driver planning to make the trek from Denver to Salt Lake City can look forward to an eight-hour trip across some of the most beautiful parts of the country, long stretches with nary a town in sight. The fastest route would take her along I-80 through southern Wyoming. For 300 miles between Laramie and Evanston, she would see, according to a rough estimate, no fewer than 40 gas stations where she could fuel up her car. But if she were driving an electric vehicle, she would see just four charging stations where she could recharge her battery.
d3sign / Moment / Getty Images
Common sense should not be taken for granted when people are discussing nutrition.
A fire erupted Sunday at a petrochemical plant in Deer Park, Texas.
NowThis News / YouTube screenshot
By Andrea Germanos
A petrochemical plant near Houston continued to burn for a second day on Monday, raising questions about the quality and safety of the air.

The Deer Park facility is owned by Intercontinental Terminals Company (ITC), which said the fire broke out at roughly 10:30 a.m. Sunday. Seven tanks are involved, the company said, and they contain naptha, xylene, "gas blend stocks" and "base oil."
"It's going to have to burn out at the tank," Ray Russell, communications officer for Channel Industries Mutual Aid, which is aiding the response effort, said at a news conference. It could take "probably two days" for that to happen, he added.
The hillsides dyed orange with poppies may look like something out of a dream, but for the Southern California town of Lake Elsinore, that dream quickly turned into a nightmare.
The town of 66,000 people was inundated with around 50,000 tourists coming to snap pictures of the golden poppies growing in Walker Canyon as part of a superbloom of wildfires caused by an unusually wet winter, BBC News reported. The visitors trampled flowers and caused hours of traffic, The Guardian reported.
The Humane Society of the United States uncovered a one-year pesticide test on 36 beagles contracted by Dow AgroSciences at a Michigan lab.
The Humane Society of the United States / YouTube screenshot
A controversial pesticide test that would have resulted in the deaths of 36 beagles has been stopped, the Humane Society of the United States (HSUS) and the company behind the test announced Monday. The announcement comes less than a week after HSUS made the test public when it released the results of an investigation into animal testing at Charles River Laboratories in Michigan.
"We have immediately ended the study that was the subject of attention last week and will make every effort to rehome the animals that were part of the study," Corteva Agriscience, the agriculture division of DowDupont, said in a statement announcing its decision.