Enter the #DontFrackNY Video Contest
Jan. 16, 2013 01:00PM EST
Energy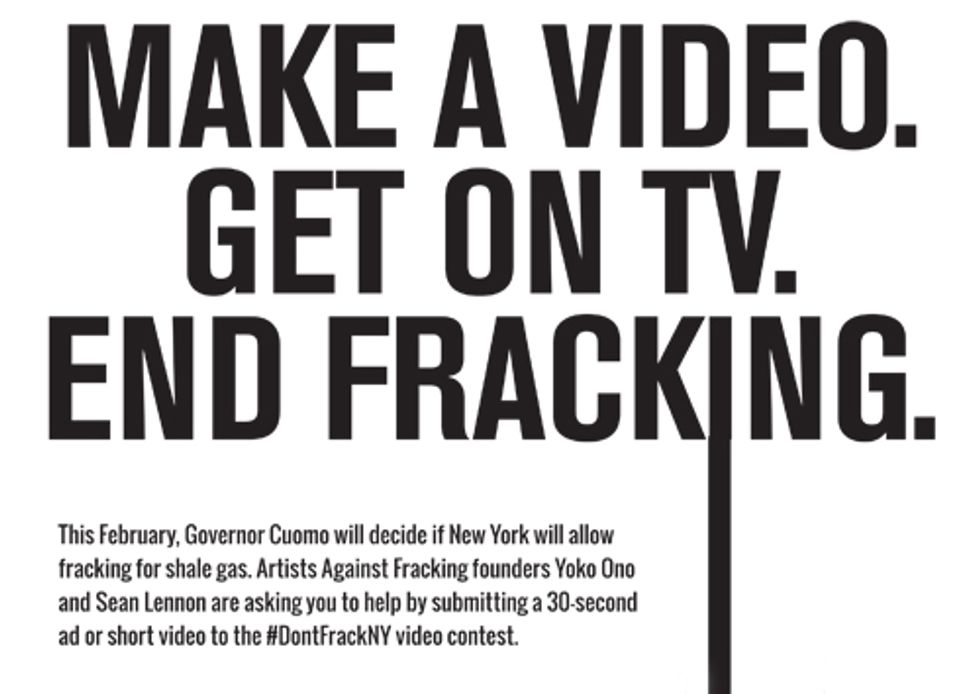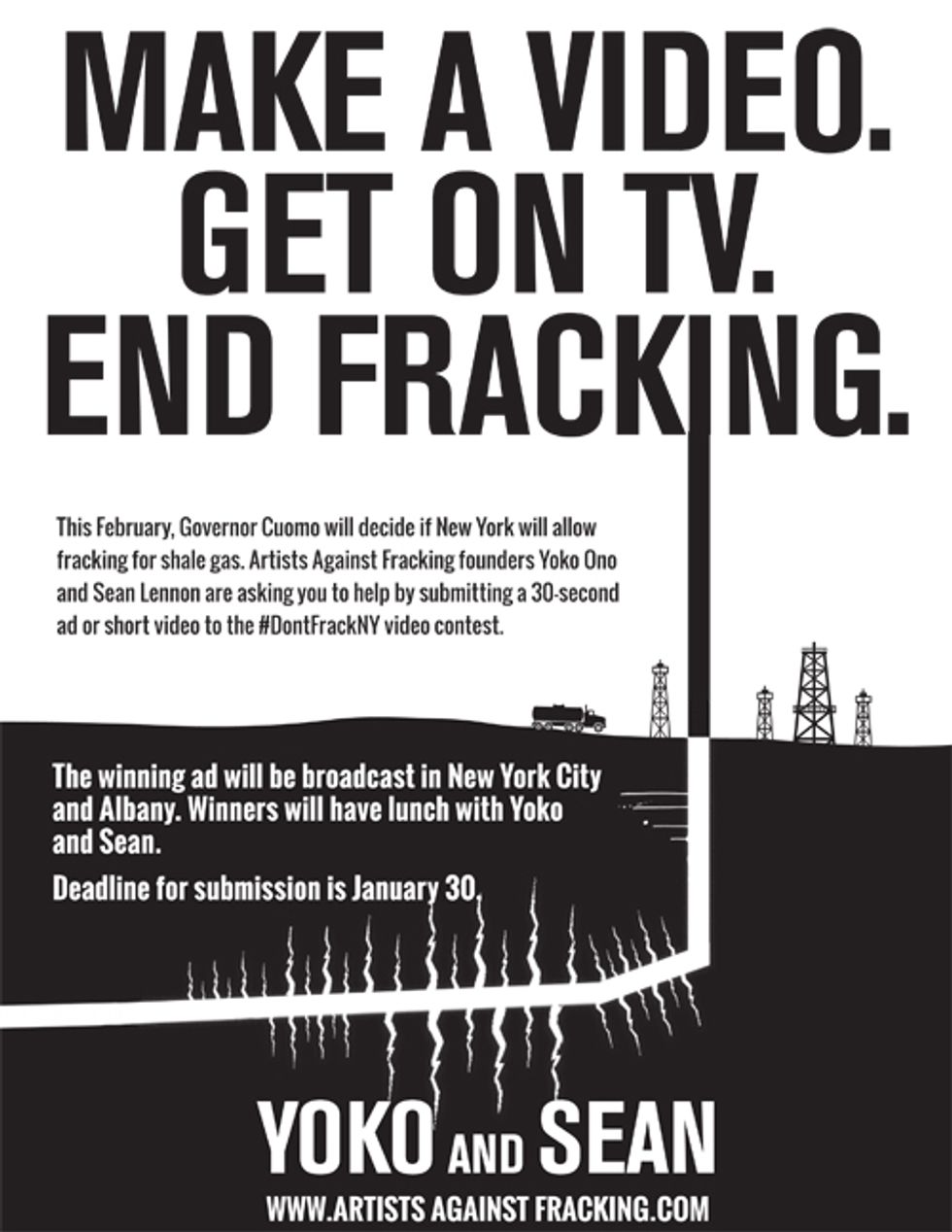 Yoko Ono and Sean Lennon have extended the deadline for submissions for the #DontFrackNY video contest to Jan. 30 at midnight EST. The decision has been made to allow more time for creative cultivation and high quality videos. The #DontFrackNY video contest launched Dec. 10 and placed a full-page ad in the New York Times to amplify the call on New York Governor Andrew Cuomo to ban fracking for gas in the state.
 
"We need the talent and power of creative people to show how dirty and dangerous fracking is," said Ono. "We need to shine a light on the blatant propaganda of the oil and gas companies."
 
Ono and Lennon will judge video submissions in two categories: 1) the best 30 second TV ad against fracking and 2) a short video of three minutes or less, educating people about the hazards of fracking.
 
Ono and Lennon will select one winning video from each category and treat the winners to lunch with them both in New York City. In addition, the winning television ad will also be broadcast in the New York City and Albany media markets. Both the short video and the ad will be featured on www.artistsagainstfracking.com and www.causes.com, plus the websites of numerous activist organizations.
 
"The #DontFrackNY video contest is about empowering creative people and agencies to help protect our health, air, water, beautiful rural areas and climate from fracking," said Lennon. "Help us convince Governor Cuomo to ban fracking and instead make New York the Clean Energy Empire State."
 
The ad in the New York Times on Dec. 10, calls on Governor Cuomo to "Imagine There's No Fracking… and give clean energy a chance." It points out how cement leaks in wells at great depths used in fracking, poisoning drinking water with gases and toxic chemicals. The ad reads:
"No amount of regulation can ever make fracking safe. No one can be sent thousands of feet under the earth to make repairs once the cement fails—and it will. The enormous pressure and temperature changes at those depths guarantee it."
The ad continues:
"Fracked gas is not climate friendly. Methane is a powerful greenhouse gas that leaks from the failed wells, fractured rock and pipelines…. New York can become the Clean Energy Empire State. With an economy bolstered by insulating all buildings. This way we could save far more energy and create FAR more jobs than fracking, plus save consumers money forever. And let's scale up solar and wind power with a smart grid for truly clean, economical energy."
Ono and Lennon launched Artists Against Fracking in August. It now has more than 200 members including Lady Gaga, Paul McCartney, Ringo Starr, Anne Hathaway, Alec Baldwin, Gwyneth Paltrow, Cindy Sherman, MGMT, Wilco, Bonnie Raitt, Liv Tyler, Mario Batali, Robert De Niro, Mark Ruffalo, Uma Thurman, Joseph Gordon-Levitt and many others.  
 
For information on the video contest, visit www.artistsagainstfracking.com. Sign and share the petition to ban fracking at www.causes.com/banfracking.
Visit EcoWatch's FRACKING page for more related news on this topic.
——–
Sign the petition today, telling President Obama to enact an immediate fracking moratorium:

EcoWatch Daily Newsletter