This website uses cookies to ensure you get the best experience while browsing it. By clicking 'Got It' you're accepting these terms.
ENERGY WEEK DAY 3: Power from the People
Sep. 27, 2012 07:54AM EST
Renewable Energy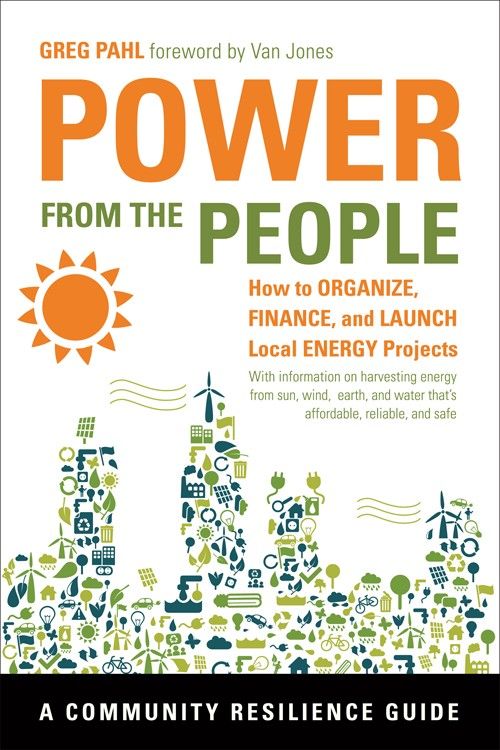 Released just last month as the second book in our Community Resilience Guide series, Power from the People, with a forward by Van Jones, explores how homeowners, co-ops, nonprofits, governments and businesses are putting power in the hands of local communities through distributed energy programs and energy-efficiency measures.
Author Greg Pahl explains how to plan, organize, finance and launch community-scale energy projects that harvest energy from sun, wind, water and earth. He shows that community power is a vital step on the path to energy security and community resilience—particularly as we face peak oil, cope with climate change and transition to a more sustainable future.
More than ninety percent of the electricity we use to light our communities, and nearly all the energy we use to run our cars, heat our homes and power our factories comes from large, centralized, highly polluting, nonrenewable sources of energy.
Renewable, community power is a necessary step on the path to energy security and community resilience, particularly as we face peak oil, cope with climate change and address the need to transition to a more sustainable future.
"Greg Pahl's superb guide to community energy and how to unlock its potential is essential reading for anyone interested in the economic future of the place they live. As a Community Resilience Guide it is just that—a powerful guide showing how enhancing your community's resilience is a key form of economic development. And there is nowhere better to start than with rethinking our relationship to energy," said Rob Hopkins, author of The Transition Companion. "You will find yourself waking up at 3 a.m. to scribble down the ideas and actions that this book has inspired. Make sure you keep a pen and paper by the bed."
This book—the second in the Chelsea Green Publishing Company and Post Carbon Institute's Community Resilience Series—also profiles numerous communitywide initiatives that can be replicated and scaled broadly.
Visit EcoWatch's ENERGY page for more related news on this topic.
EcoWatch Daily Newsletter
Large food companies are following in the footsteps of fast-food restaurants such as Burger King and KFC by offering meat alternatives. Getty Images
By Elizabeth Pratt
Hormel, Kellogg's, and Kroger are among the large companies now planning to offer "fake meat" products at grocery stores.
Experts say the trend toward plant-based meats coincides with consumers' desires to eat less meat.
However, experts urge consumers to closely check package labels as a product isn't necessarily healthy just because it's described as plant-based.
In grocery stores and fast-food outlets around the U.S., a revolution is taking place.
Colombia rainforest. Marcel Oosterwijk / CC BY-SA 2.0
Many of us think of the Amazon as an untouched wilderness, but people have been thriving in these diverse environments for millennia. Due to this long history, the knowledge that Indigenous and forest communities pass between generations about plants, animals and forest ecology is incredibly rich and detailed and easily dwarfs that of any expert.
picture-alliance / Newscom / R. Ben Ari
By Wesley Rahn
Plastic byproducts were found in 97 percent of blood and urine samples from 2,500 children tested between 2014 and 2017, according to a study by the German Environment Ministry and the Robert Koch Institute.

Pexels
Medically reviewed by Daniel Bubnis, MS, NASM-CPT, NASE Level II-CSS
Hot yoga has become a popular exercise in recent years. It offers many of the same benefits as traditional yoga, such as stress reduction, improved strength, and flexibility.
Lara Hata / iStock / Getty Images
By SaVanna Shoemaker, MS, RDN, LD
Rice is a staple in many people's diets. It's filling, inexpensive, and a great mild-tasting addition to flavorful dishes.
An image of the trans-alaskan oil pipeline that carries oil from the northern part of Alaska all the way to valdez. This shot is right near the arctic national wildlife refuge. kyletperry / iStock / Getty Images Plus
The Trump administration has initialized the final steps to open up nearly 1.6 million acres of the protected Alaskan National Wildlife Refuge to allow oil and gas drilling.