Energy Justice Summer: Young People Take on Fracking in Pennsylvania
Jun. 11, 2014 03:44PM EST
Fracking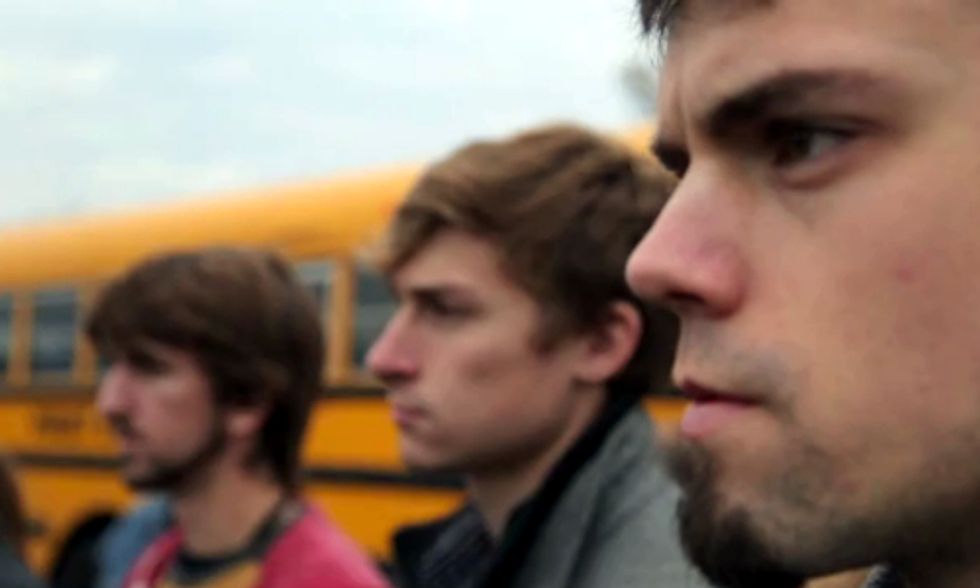 School is out, seniors have graduated and some regions are starting to feel the heat of summer.
For some young people, this summer will not be a time to relax by a pool or sleep in, but to stand in solidarity with communities on the frontlines of fracking. They are the participants in Energy Justice Summer, a joint project of Energy Justice Network and community groups in the shalefields of northeast Pennsylvania.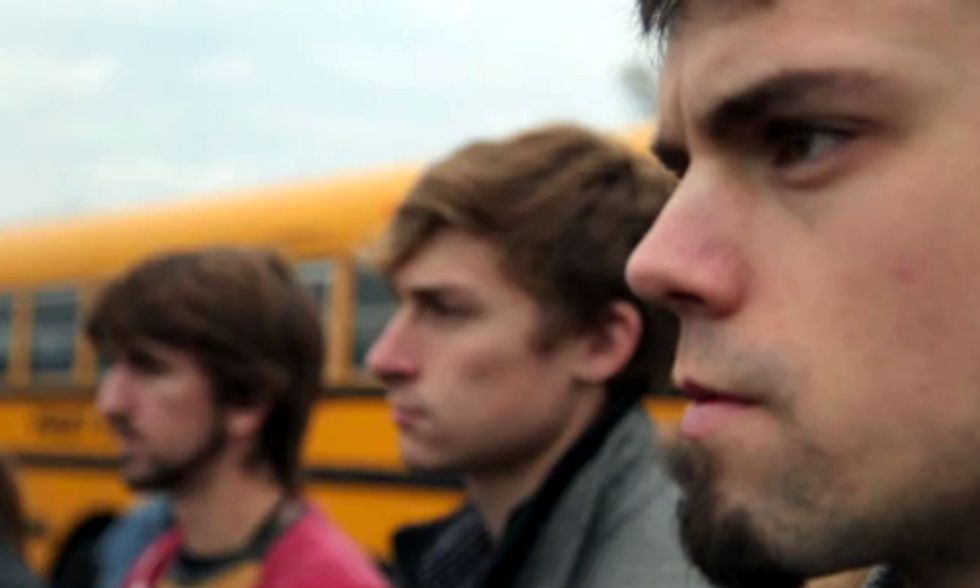 Photo credit: Energy Justice Summer
The state of Pennsylvania is currently being fracked for natural gas from the Marcellus Shale. An associated number of risks and concerns have been identified, including high gas levels in drinking water wells, fracking wastewater contamination, health problems and decreased property values, among other threats to the climate and air and water quality.
Who are these young organizers making a difference in Pennsylvania? In the words of Energy Justice Summer:
We seek a world where everyone has access to sustainable energy and no one suffers unjustly because of our fossil fuel economy. We believe that fracking presents a grave threat to people everywhere, especially those on the frontlines of extraction. This summer, we will work in solidarity with communities in Pennsylvania to stop the expansion of fracking and move towards renewable energy.  
Hear some firsthand accounts of these young activists:
Here's what Energy Justice Network and SustainUS have planned:
Community Workshops: Host workshops with expert scientists to teach residents how to monitor the environmental and socioeconomic impacts of fracking.

Student Training: Convene students from across the Northeast and prepare them to launch campaigns against fracking on campus.

Impactful Research: Analyze the violations of gas companies and socioeconomic impacts of shale gas development, resulting in valuable materials for regulatory appeals and legal fights, as well as researching a path toward a just energy transition.

Creative Actions: Support ongoing local fights to stop the expansion of harmful fracked gas infrastructure, including the Cove Point LNG export terminal.
Spencer Johnson, who joined Energy Justice Summer this month, reports back via Inhabitat from the frontlines of frack fields in rural Pennsylvania:
Working on this Energy Justice Summer project will allow me to fully appreciate the life I am fortunate enough to live, away from the environmental damages our fossil fuel-addicted lifestyles create. In addition, it'll mean dealing with those damages firsthand and interacting with policymakers and townspeople who have the power to raise their voices and make this societal shift a reality.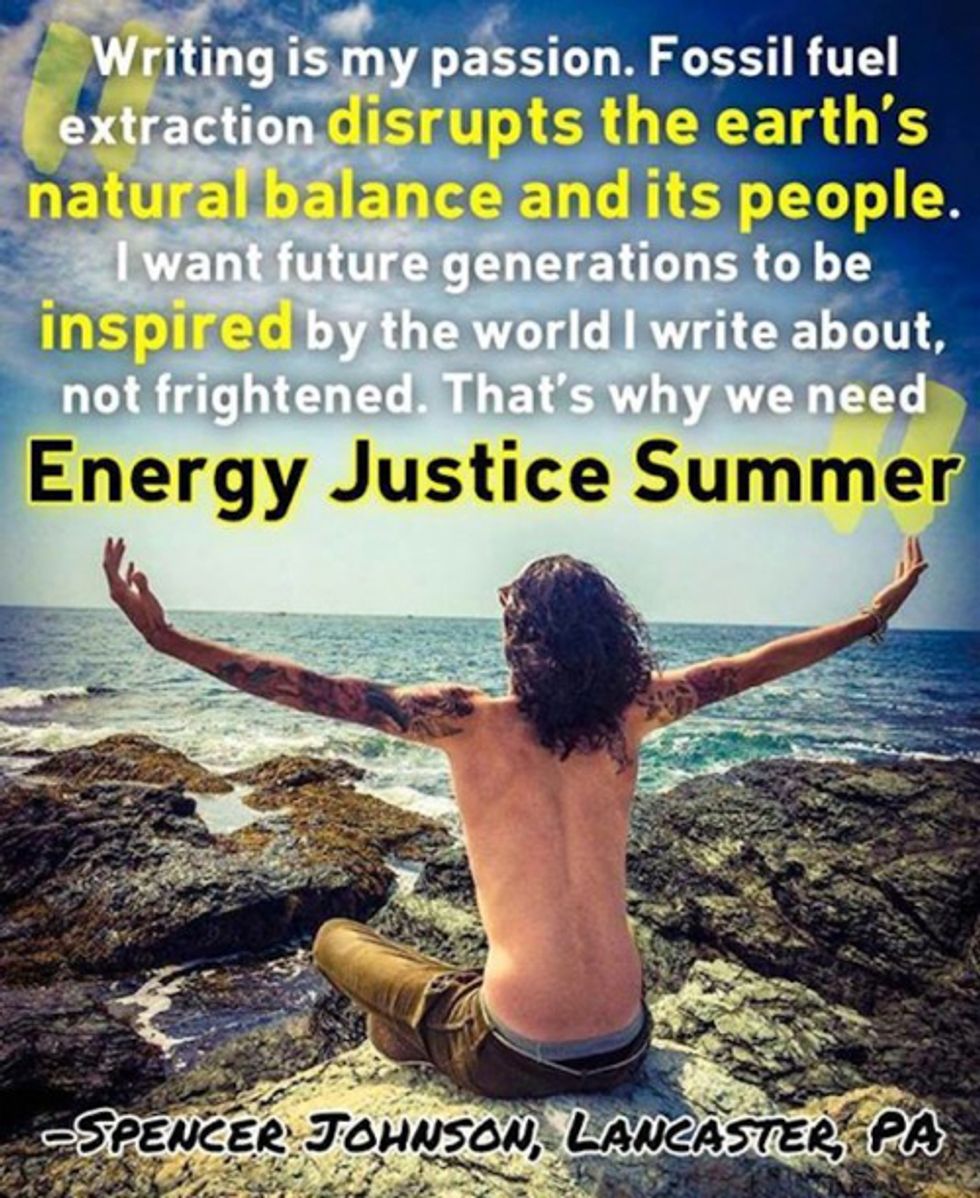 Photo credit: Tim Garlington
Energy Justice Summer shows that fracking is an unacceptable practice and that young people will stand in solidarity with those communities most impacted.
"It's time for me to step outside my comfort zone, to carry my home on my back, to fight for a safe and sustainable future. I look forward to the experiences, the friends and the opportunities I will have in the months to come," Johnson reflects. "Fracking and related infrastructure is something we should all know more about and discuss. The time is now. We are the change we wish to see in the world. That's why we need Energy Justice Summer."
EcoWatch Daily Newsletter
Related Articles from EcoWatch
Recent Stories from EcoWatch