This website uses cookies to ensure you get the best experience while browsing it. By clicking 'Got It' you're accepting these terms.
Energy in Depth Goes Undercover at Fracking Rally
Jan. 22, 2013 09:37AM EST
Energy
By Blair Koch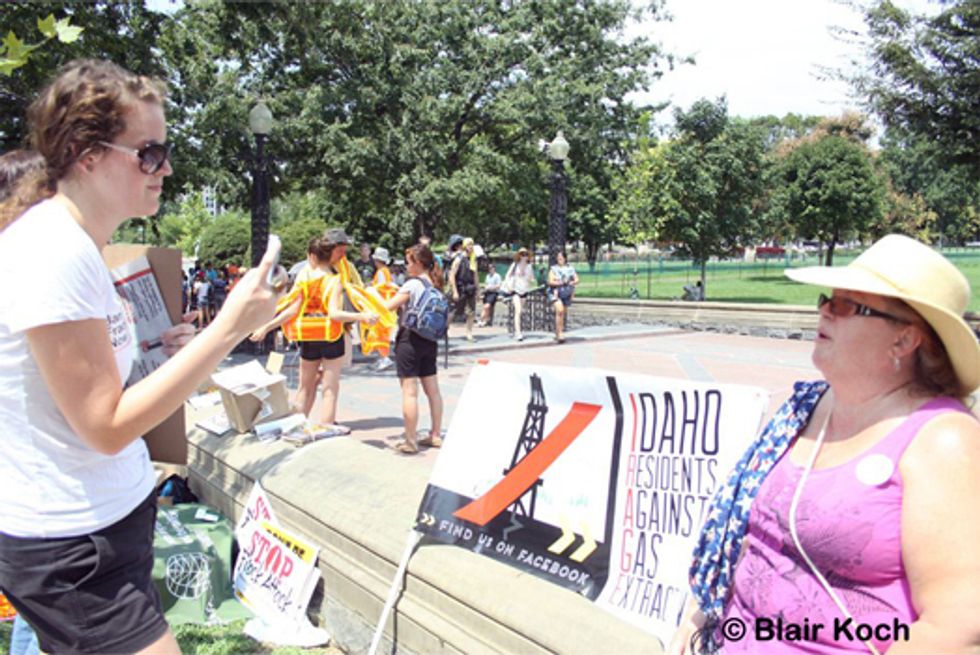 Energy in Depth staff geologist Dana Bohan (left) claimed to be a reporter while talking to Tina Fisher, of New Plymouth, Idaho, at the Stop the Frack Attack rally in Washingto, DC in July.
It's no surprise the gas industry doesn't care for Focus Feature's new movie Promised Land.
Even prior to its Jan. 4 nationwide release, the drilling industry was planning its attack on the script, written by Matt Damon and co-star John Krasinski and based on a story by Dave Eggers.
In an interview earlier this year journalist and filmmaker Phelim McAleer tried to cast doubt on the edgy plot twist where Krasinski's character, Dustin Noble, an eco-activist, turns out to be working under cover for the very same company which employees Steve, the landman played by Damon.
The industry would try and have you believe they would never misrepresent who they are, that they would never go under cover for their own benefit.
Except they do.
On July 28, Tina Fisher, of New Plymouth, Idaho, was approached by a woman claiming to be learning more about natural gas development and why people had traveled near and far to attend the day's Stop the Frack Attack rally on the Capitol's West Lawn.
With her long brunette curls pulled into a casual pony tail and a "Ban Fracking Now" sticker affixed to her t-shirt, she looked like many on the sprawling green. In one hand she held anti-fracking and Stop the Frack Attack rally memorabilia and in the other hand, a camcorder.
Fisher spoke on the record with the reporter. At the time, legislators had passed sweeping new laws setting the stage for oil and gas development in Idaho. Today, Fisher can see what is one of Idaho's first gas wells flaring less than a mile from her home.
"I feel disgusted and distressed," Fisher said about Idaho's burgeoning oil and gas industry.
She feels the same about being misled about who was interviewing her back in July. Instead of talking with an independent blogger, Fisher was recorded by Energy in Depth staff geologist Dana Bohan.
Energy in Depth is the pro-oil-and-gas front group, that in early 2011 DeSmogBlog reported had been created with the financial backing of several major industry players to respond to what it saw as attacks.
"If they work for the industry, they should say who they are," Fisher said.
I traveled with Fisher and fellow Idahoan Alma Hasse to Stop the Frack Attack rally and chatted with Bohan after their interaction. I told Bohan I looked forward to seeing her blog when I got back to Idaho and would follow up via the email address she had provided.
When she didn't respond I grew suspicious. After a little bit of research online, I quickly tracked her down to Energy in Depth's main Washington D.C. office and picked up the phone.
Bohan didn't identify the organization she was with because she, "wanted to talk with people without polarizing the situation."
"I was just out and gathering information and interested to see what people were talking about. You know that's part of our job, seeing, to know what people are saying on both sides of the aisle and what's going on ... I just wanted to gather general intel and have an open dialogue with people and I think that's what we achieved," Bohan said.
Bohan is no Dustin Noble but her actions were "under cover" just the same.
Visit EcoWatch's FRACKING page for more related news on this topic.
——–
Sign the petition today, telling President Obama to enact an immediate fracking moratorium:

EcoWatch Daily Newsletter
The Visible Infrared Imaging Radiometer Suite on the Suomi NPP satellite acquired this image of forest fire smoke hovering over North America on Aug. 15, 2018. NASA Earth Observatory
New York City isn't known for having the cleanest air, but researchers traced recent air pollution spikes there to two surprising sources — fires hundreds of miles away in Canada and the southeastern U.S.
If temperatures continue to rise, the world is at risk from global
sea-level rise
, which will flood many coastal cities as seen above in Bangladesh. NurPhoto / Contributor / Getty Images
The mounting climate emergency may spur the next global financial crisis and the world's central banks are woefully ill equipped to handle the consequences, according to a new book-length report by the Bank for International Settlements (BIS), as S&P Global reported. Located in Basel, Switzerland, the BIS is an umbrella organization for the world's central banks.
Two ice fishers with a truck cut a hole in the ice near an ice fishing hut on frozen Lake Winnebago.
Richard Hamilton Smith / Corbis NX / Getty Images
By Susan Cosier
Come February in Wisconsin, almost everything will be covered in ice and snow. In little shanties on frozen Lake Winnebago, a 30-by-13-mile lake in the eastern part of the state, fishers will keep watch over rectangular holes cut into the ice with a chainsaw. When they spot a fin passing below, they'll jab their spears down deep. The lucky ones will earn themselves a lake sturgeon, a species that has prowled the earth's waters for more than 150 million years.
Fresno, California, seen above, is receiving $66 million for walking trails, sidewalks, bike lanes, and more. DenisTangneyJr / iStock / Getty Images
Grecia Elenes grew up in Fresno, California. She says some parts of the city have been neglected for decades. When she moved back after college she realized nothing has changed.
People are seen embracing at Numeralla Rural Fire Brigade near the scene of a water tanker plane crash on Jan. 23 in Cooma, Australia. Three American firefighters have have died after their C-130 water tanker plane crashed while battling a bushfire near Cooma in southern NSW this afternoon. Jenny Evans / Getty Images
Three U.S. firefighters gave their lives battling Australia's historic wildfires Thursday when their airborne water tanker crashed.