Energy Company Reveals Plan to Power Northwest with Dirty Coal for Next 20 Years
May. 31, 2013 11:52AM EST
Climate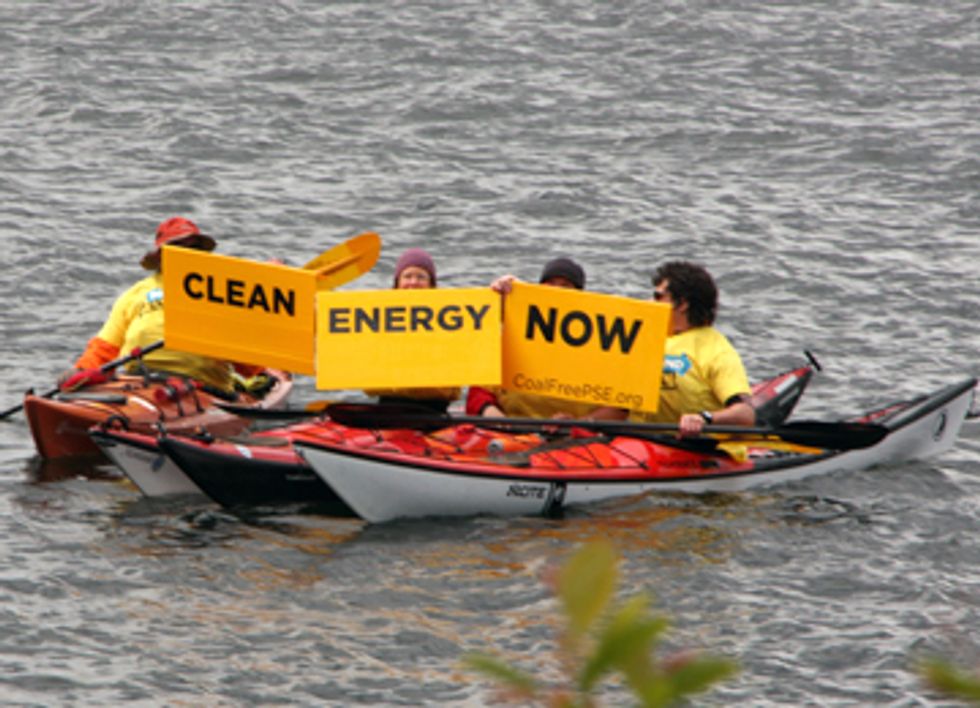 Yesterday, Puget Sound Energy (PSE) released its final Integrated Resource Plan that maintains the Northwest region's reliance on coal for another generation. PSE is the largest owner of the outdated, dirty coal plant in Colstrip, MT, and generates about 30 percent of its electricity from the plant and other increasingly-expensive coal sources.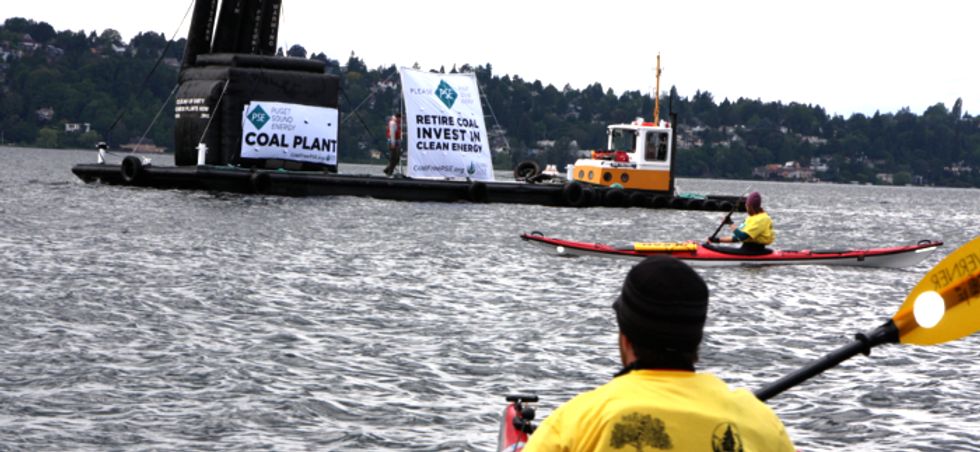 Calling on PSE to invest in clean energy solutions as well as Washington communities, the Sierra Club and community partners barged an inflatable coal plant with a sign reading "PLEASE PSE, RETIRE COAL. INVEST IN CLEAN ENERGY" surrounded by "Clean Energy" kayaks. These images served as a backdrop to a press conference where local leaders and concerned residents spoke out against the utility's continued practice of burning coal to power Washington.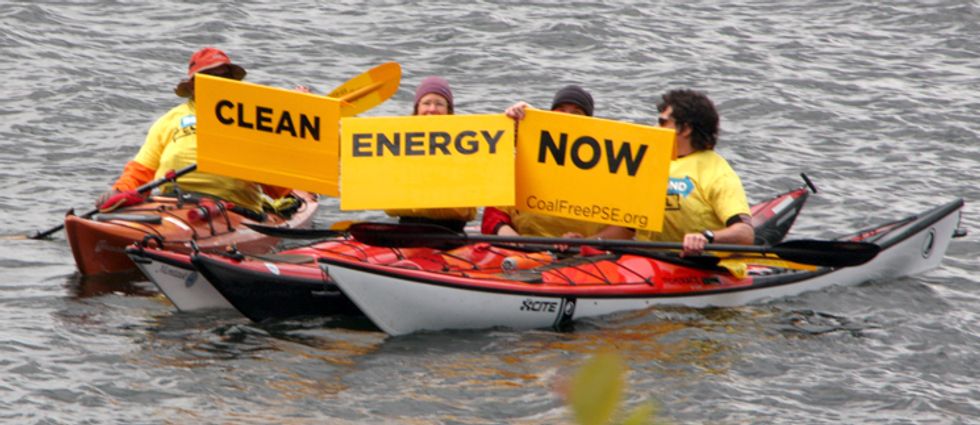 "While PSE supports many clean-energy programs, it also owns the largest, most polluting coal-fired power plant in the Northwest," said Doug Howell of the Sierra Club. "Right now, PSE has a momentous opportunity to invest in clean energy and create good jobs in Washington State by moving beyond coal. Instead of continuing to rely on this toxic fossil fuel, which harms people's health and the environment, it's time for PSE to completely replace coal with cleaner forms of energy."
The movement to help PSE transition from coal to clean energy has recently galvanized Washingtonians who see costly coal pollution as standing in the way of much needed local clean energy jobs and a sustainable energy infrastructure. Residents say that PSE's plan for another 20 years of coal fired pollution from its coal plant should serve as a wake up call to take immediate action.
"Our future does not lie in old, dirty coal-fired power, but in making homes more sustainable, lowering electricity bills, and creating a wave of innovation in the wind and solar industries," said Dave Asher, a Kirkland, WA, city council member. "As we upgrade our buildings and invest in new sources of energy, we can create jobs, stimulate new businesses, and create a diverse and safe energy future."
More than 150 coal plants across the country, including the Northwest's TransAlta and Boardman plants, are on a path to retirement as the U.S. moves away from its reliance on coal. This has opened up the doors to a flood of clean energy investment and a new era of healthy air and clean power.
"PSE's final recommendation puts ratepayers at risk because its coal plant is riddled with potential liabilities," said Eric de Place of Sightline Institute. "PSE's customers could find themselves facing more costs for addressing public health concerns, complying with clean air laws and reducing carbon emissions."
Activists from all around PSE's territory joined in yesterday's event. Annie Newcomb, an activist from Issaquah, WA, says that in the next few years, PSE will be faced with increasing costs for pollution controls at its aging coal plant. "They, and we, have a choice to make—dump hundreds of millions of dollars of our hard-earned money into an outdated coal plant, or invest in clean energy jobs here in the Northwest," said Newcomb.
Chiara D'Angelo, a high-school student from Bainbridge Island, says that the threat of climate disruption concerns many of her friends and classmates, and she worries about what the future will look like if the problem worsens. "This coal plant is a huge contributor to climate change, an urgent threat to our families, communities and to future generations. The cost of climate change impacts is too great to ignore. I expect my PSE to create a more sustainable future," said D'Angelo.
The group urged local residents to make sure their voices are heard by sending comments to the Utility and Transportation Commission to call for a true assessment of costs for PSE's coal consumption. The public comment process commenced yesterday with the release of PSE's Integrated Resource Plan.
Visit EcoWatch's COAL page for more related news on this topic.
——–
Click here to tell Congress to Expedite Renewable Energy

EcoWatch Daily Newsletter
Related Articles from EcoWatch
Recent Stories from EcoWatch