This website uses cookies to ensure you get the best experience while browsing it. By clicking 'Got It' you're accepting these terms.
Energy Companies Want Judge to Dismiss Historic Lawsuit Over Oklahoma Earthquakes
Dec. 10, 2015 10:00AM EST
Energy
Energy companies are trying to legally distance themselves from the fracking-linked earthquakes currently rattling Oklahoma. According to a new report from the Associated Press, Lincoln County District Judge Cynthia Ferrell Ashwood is hearing two energy companies' motion to dismiss a major liability lawsuit.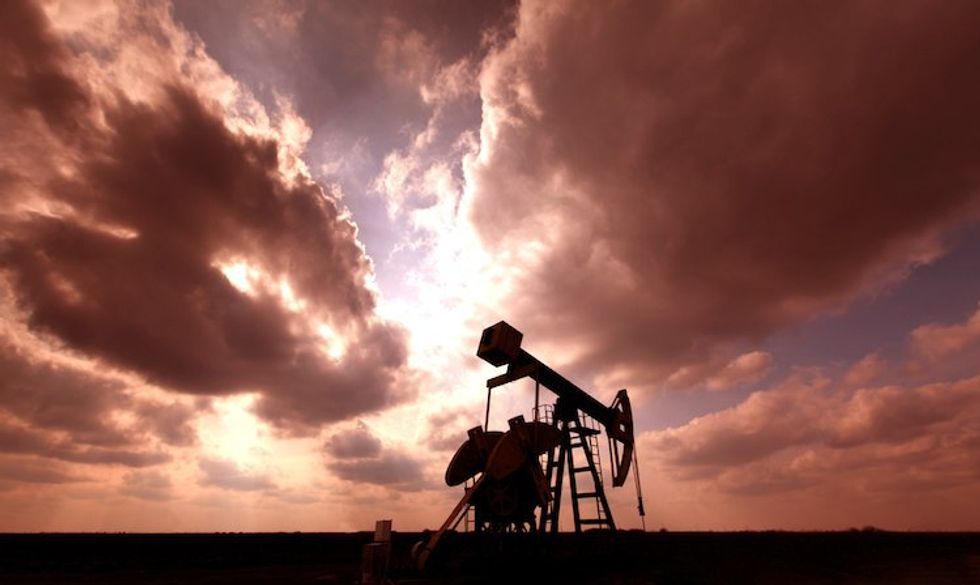 Photo credit: Shutterstock
The lawsuit in question was brought by Sandra Ladra, an Oklahoma woman who claims she was injured after a 5.6-magnitude quake—the largest ever recorded in the state—hit the city of Prague in 2011. She alleges that the earthquake was caused by the injection of wastewater from oil and gas production into underground wells.
Ladra is specifically suing Spess Oil Co., in Cleveland, Oklahoma, Tulsa-based New Dominion LLC as well as 25 unnamed parties. According to the Associated Press, Ladra claims the large tremor crumbled her two-story fireplace and caused rocks to fall on her legs and left a gash her knee. Ladra is asking for $75,000 in actual damages plus punitive damages.
Steve Spess, a manager of Spess Oil, said in an August 2014 statement that his company injects water at low pressure and they don't believe that is causing the earthquakes.
This lawsuit is particularly significant because it could "for the first time, legally acknowledge that the oil and gas industry may have something to do with the swarm of earthquakes the state," as Newsweek observed.
Oklahoma has been a hotbed of frequent and ongoing earthquakes ever since the state's fracking boom kicked off in 2009. Before 2009, Oklahoma had two earthquakes of magnitude 3.0 or greater each year, but now there are two a day. In the past year alone, there have been more than 2,100 earthquakes of magnitude 1.5 or greater.
The scientific consensus is that the seismic activity is caused by the massive quantities of wastewater that is injected underground and triggering faults. This joint study by the University of Oklahoma, Columbia University and the U.S. Geological Survey even says that the devastating 2011 quake was linked to fluid injection.
"When you look at the actual science and you look at the data, you can't help but go, 'It's the injection wells, stupid.' It's just that obvious," Scott E. Poynter, Ladra's lead attorney, told the Associated Press. "Oklahoma shouldn't have more earthquakes than anywhere on the planet, but it does."
Interestingly, this is not the first time that Judge Ashwood has seen Ladra's case. In 2014, she dismissed the lawsuit after ruling that the district court does not have jurisdiction over the matter and that it should be handled by the Oklahoma Corporation Commission (OCC).
However, in July the Oklahoma Supreme Court overturned Ashwood's decision to dismiss the suit. The ruling ultimately paved the way for more lawsuits against fracking companies, and Laura's lawsuit is now among several other pending lawsuits across the country, including one from Oklahoma's Sierra Club.
"I am angry and offended that the oil and gas industry has been so slow to protect Oklahoma and its citizens in the face of this earthquake crisis," Barbara Vanhanken, chairwoman of the Oklahoma chapter of the Sierra Club, said in a statement last month. "Stopping this ever-strengthening earthquake crisis is critical to the health and well-being of all Oklahomans. To ignore the human cost being paid for the earthquake problems tied to oil and gas operations in Oklahoma is cold-blooded and heartless. It reinforces the concept that profits matter more than people."
Regulation proponents say these lawsuits could result in safer drilling practices, according to the Associated Press.
Despite the mounting scientific evidence, many energy companies have long defended their practices and maintained that the earthquake swarms are natural or based on "unsettled science."
The companies also claimed that Ladra's lawsuit could cripple energy production in oil rich Oklahoma.
Kim Hatfield, president of Crawley Petroleum, which operates in Oklahoma and Texas, told the Associated Press that the ramifications of lawsuits such as Ladra's could cripple Oklahoma's main economic industry.
"Are you familiar with 'The Grapes of Wrath?' This would make that look like a comedy," Hatfield said. "That would be a self-inflicted wound of tremendous magnitude for the state, and oil companies will say, 'We're not going to drill in Oklahoma.'"
"It would be a tragedy of just monumental proportions," he said.
State regulatory agencies have ordered changes and the shut down of several wells to slow the earthquake rate but there are massive hurdles. Just this week, EcoWatch reported on Al Jazeera America's bombshell new documentary Earthquake State, which highlights the tight grip that Big Oil & Gas has on state politicians and scientists.
In the upcoming documentary (which airs this Sunday), state representative Cory Williams (D-Stillwater), claims that Oklahoma legislators have done little to address residents' concerns, and from 2009 until 2014, no earthquake-related bills were introduced.
"You know some days I come to work and I feel like I work in the 'Devon Energy House of Representatives,'" Williams said, referring to the Oklahoma City-based natural gas and oil producers.
Former Oklahoma Geological Survey head seismologist Austin Holland also told Al Jazeera America about the pressure he's faced for drawing a connection between earthquakes and wastewater disposal.
Soon after the report's release, Holland says he was summoned into a meeting with university president David Boren and Continental Resources oil executive Harold Hamm, who has contributed more than $30 million to the university, according to Al Jazeera.
"[Hamm] basically said to me, 'You have to watch how you say things,'" Holland says.
Holland also described pressure to sign a 2014 position paper by former dean Larry Grillot, concluding that the majority of Oklahoma's earthquakes were natural.
YOU MIGHT ALSO LIKE 
Oklahoma Earthquakes: Bombshell Doc Reveals Big Oil's Tight Grip on Politicians and Scientists
Another Earthquake Hits Oklahoma: Officials Worry Stronger Quake Could Threaten National Security
Strong Earthquake Rattles Oklahoma, Felt in 7 Other States
It's Official: Oklahoma Experiences More Earthquakes Than Anywhere Else in the World
EcoWatch Daily Newsletter
The Rio San Antonio, in the headwaters basin of the Rio Grande in New Mexico, will lose federal protections under a new rule. Bob Wick / BLM California
By Tara Lohan
The Santa Fe River starts high in the forests of New Mexico's Sangre de Cristo mountains and flows 46 miles to the Rio Grande. Along the way it plays important roles for wildlife, irrigation, recreation and other cultural uses, and provides 40 percent of the water supply for the city of Santa Fe's 85,000 residents.
Climate activists protest Chase Bank's continued funding of the fossil fuel industry on May 16, 2019 by setting up a tripod-blockade in midtown Manhattan, clogging traffic for over an hour. Michael Nigro / Pacific Press / LightRocket / Getty Images
By Julia Conley
Climate campaigners on Friday expressed hope that policymakers who are stalling on taking decisive climate action would reconsider their stance in light of new warnings from an unlikely source: two economists at J.P. Morgan Chase.
Protesters holding signs in solidarity with the Wet'suwet'en Nation outside the Canadian Consulate in NYC. The Indigenous Peoples Day NYC Committee (IPDNYC), a coalition of 13 Indigenous Peoples and indigenous-led organizations gathered outside the Canadian Consulate and Permanent Mission to the UN to support the Wet'suwet'en Nation in their opposition to a Coastal GasLink pipeline scheduled to enter their traditional territory in British Columbia, Canada. Erik McGregor / LightRocket / Getty Images
Tensions are continuing to rise in Canada over a controversial pipeline project as protesters enter their 12th day blockading railways, demonstrating on streets and highways, and paralyzing the nation's rail system
Horseshoe Bend (seen above) is a horseshoe-shaped meander of the Colorado River in Page, Arizona.
didier.camus
/ Flickr /
public domain
Millions of people rely on the Colorado River, but the climate crisis is causing the river to dry up, putting many at risk of "severe water shortages," according to new research, as The Guardian reported.