This website uses cookies to ensure you get the best experience while browsing it. By clicking 'Got It' you're accepting these terms.
Endangered Species Found Dead, Likely Result of Illegal Fishing
Mar. 07, 2016 12:59PM EST
Animals
Sea Shepherd Conservation Society has vowed to increase night patrols of the Vaquita Refuge in the Gulf of California after two endangered species were found dead this weekend—a presumed result of illegal fishing activity in the area.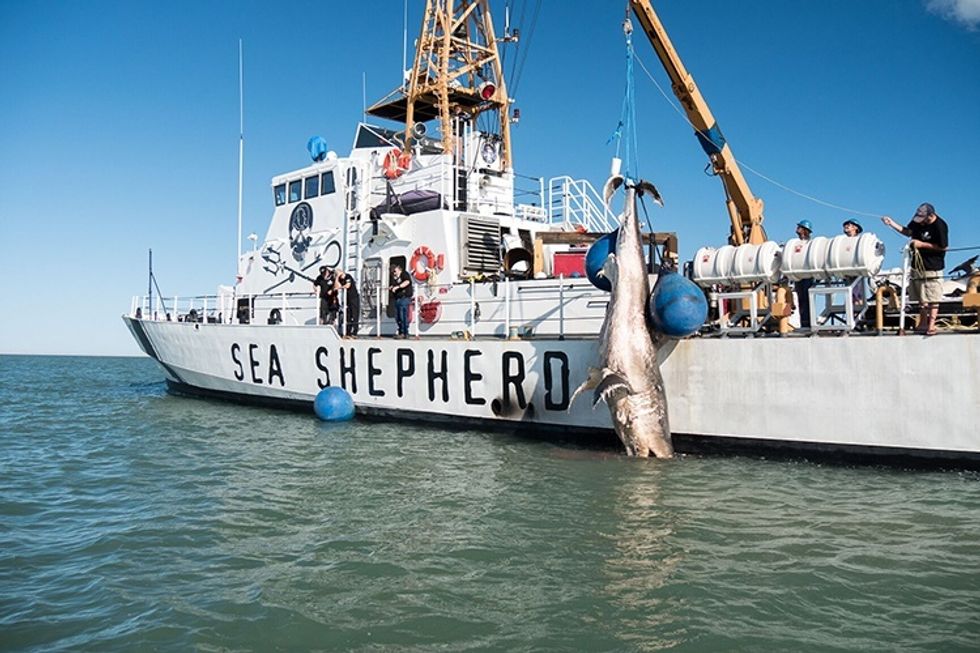 While patrolling the Vaquita Refuge in the Gulf of California March 4, crew onboard Sea Shepherd Conservation Society's research vessel, the R/V Martin Sheen, found a dead vaquita porpoise floating in the water. Nearby, the crew also found a dead totoaba bass, along with a dead common dolphin. The dolphin had a hook piercing the body below the pectoral fin. In addition to finding the dead vaquita and totoaba, the crew of the M/V Farley Mowat's small boat, the Wolf, found a dead totoaba just off San Felipe March 5. The totoaba's belly was cut open and the swim bladder was removed. This swim bladder can fetch an estimated $20,000 on the illegal wildlife black markets in Asia. The vaquita and totoaba are both endangered and protected species.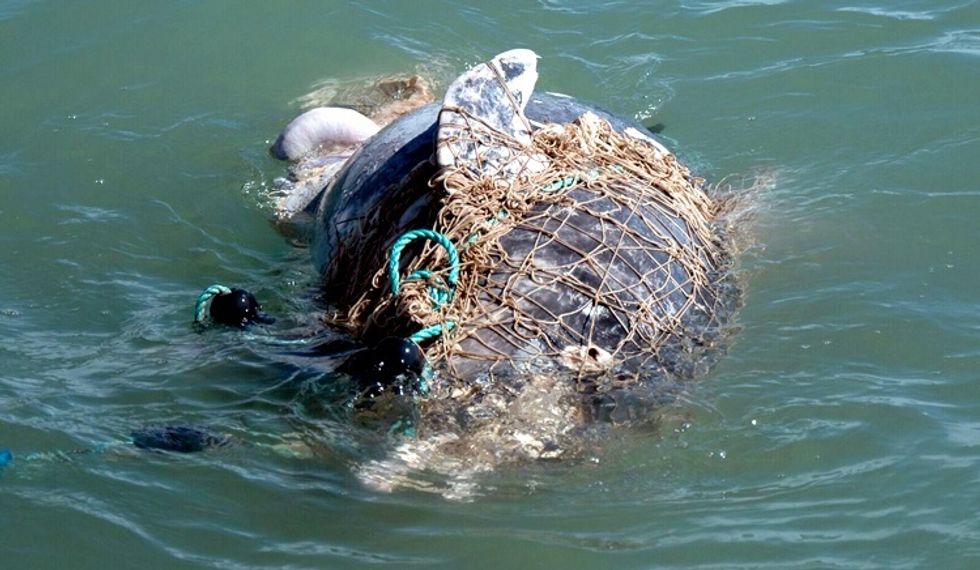 After this devastating discovery, crews then found the body of a vulnerable species: a great white shark on March 6. The shark measured approximately four meters long and was entangled in a totoaba gillnet along with a dead dolphin. The past three days of Operation Milagro demonstrate why all gillnets must be permanently banned. Gillnets are indiscriminate killers, trapping any marine life that comes into contact with them. It is presumed that all of the deaths are a result of illegal fishing activity in the refuge and Sea Shepherd will therefore increase night patrols to protect these endangered species.
In recent weeks, crews of the R/V Martin Sheen and M/V Farley Mowat have been successfully dragging specially constructed hooks to find the illegal fishing gear. Just two weeks ago, the crews were able to free a humpback whale that was entangled in a gillnet. The gillnet was set for totoaba. Totoaba are targeted by poachers for their swim bladders while vaquita are often caught and drown in the gillnets used to catch totoaba, due to their similar size. Scientists studying the vaquita estimate that there are less than 100 individuals left and that the population is declining at 18.5 percent each year.
In April, 2015, Mexican President Enrique Peña Nieto announced a two-year ban on the use of gillnets in a 13,000 square kilometer range of the Gulf of California. Sea Shepherd's ships the R/V Martin Sheen and M/V Farley Mowat, a former U.S. Coast Guard Cutter, have been patrolling the Vaquita Refuge since November 2015 in an effort to stop poaching of the totoaba and remove any illegal fishing gear to save the vaquita.
"Finding the dead vaquita was heartbreaking and my biggest fear became reality," commented Operation Milagro campaign leader and M/V Farley Mowat captain, Oona Layolle. "The crew of both Sea Shepherd ships have worked so hard alongside the Mexican Navy and PROFEPA to save the vaquita. With so many poachers operating at night, we will increase our night patrols to protect the vaquita."
Since Dec. 31, 2015, the Mexican government authorized Sea Shepherd to remove gillnets and other illegal fishing gear in the gillnet ban zone.
Captain Layolle continued, "This may seem like a horrible setback (and it is certainly horrible), but our efforts to save the vaquita will continue, stronger than ever. We are and will keep, doing our best so these beautiful and shy animals will not become extinct on our watch."
YOU MIGHT ALSO LIKE
Ocean 'Artivist' Creates Breathtaking Coral Reef Sculptures
Young Humpback Whale Found Dead, Exposes Devastating Impacts of Ocean Trash
TED Talk: 'It's Not Too Late for Our Oceans'
Whale Found Dead With Small Pieces of Plastic Garbage in Its Stomach
EcoWatch Daily Newsletter
The staircase to a subway station in SOHO with a temporary closure, flood control installation sign. Jeffrey Greenberg / Universal Images Group / Getty Images
The Metropolitan Transit Authority in New York City tested out a new system designed to protect its subways stations from flooding when another super storm hits, creating a bizarre sight on Wednesday, as The Verge reported.
Flat-lay of friends eating vegan and vegetarian Thanksgiving or Friendsgiving dinner with pumpkin pie, roasted vegetables, fruit and rose wine. Foxys_forest_manufacture / Royalty-free / iStock / Getty Images
Thanksgiving can be a tricky holiday if you're trying to avoid animal products — after all, its unofficial name is Turkey Day. But, as more and more studies show the impact of meat and dairy consumption on the Earth, preparing a vegan Thanksgiving is one way to show gratitude for this planet and all its biodiversity.
Residents wear masks for protection as smoke billows from stacks in a neighborhood next to a coal fired power plant on Nov. 26, 2015 in Shanxi, China. Kevin Frayer / Getty Images
By Matt Berger
It's not just kids in the United States.
Children worldwide aren't getting enough physical activity.
That's the main conclusion of a new World Health Organization (WHO) study released Wednesday.
By Tim Ruben Weimer
Tanja Diederen lives near Maastricht in the Netherlands. She has been suffering from Hidradenitis suppurativa for 30 years. Its a chronic skin disease in which the hair roots are inflamed under pain — often around the armpits and on the chest.