Endangered Species Found Dead, Likely Result of Illegal Fishing
Sea Shepherd Conservation Society has vowed to increase night patrols of the Vaquita Refuge in the Gulf of California after two endangered species were found dead this weekend—a presumed result of illegal fishing activity in the area.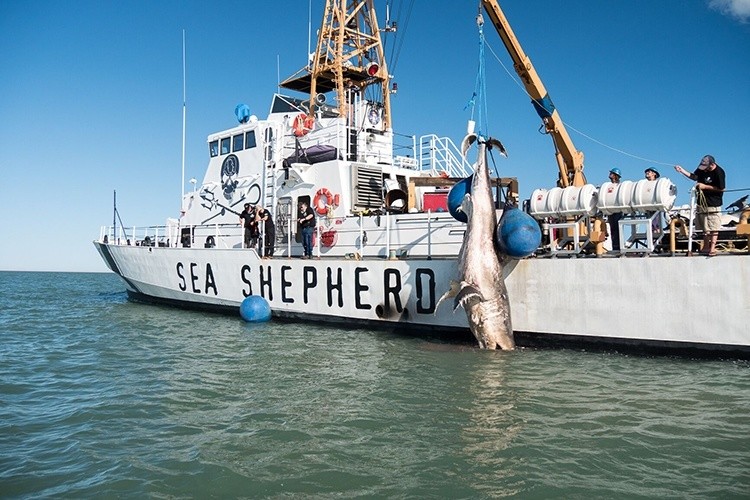 While patrolling the Vaquita Refuge in the Gulf of California March 4, crew onboard Sea Shepherd Conservation Society's research vessel, the R/V Martin Sheen, found a dead vaquita porpoise floating in the water. Nearby, the crew also found a dead totoaba bass, along with a dead common dolphin. The dolphin had a hook piercing the body below the pectoral fin. In addition to finding the dead vaquita and totoaba, the crew of the M/V Farley Mowat's small boat, the Wolf, found a dead totoaba just off San Felipe March 5. The totoaba's belly was cut open and the swim bladder was removed. This swim bladder can fetch an estimated $20,000 on the illegal wildlife black markets in Asia. The vaquita and totoaba are both endangered and protected species.
After this devastating discovery, crews then found the body of a vulnerable species: a great white shark on March 6. The shark measured approximately four meters long and was entangled in a totoaba gillnet along with a dead dolphin. The past three days of Operation Milagro demonstrate why all gillnets must be permanently banned. Gillnets are indiscriminate killers, trapping any marine life that comes into contact with them. It is presumed that all of the deaths are a result of illegal fishing activity in the refuge and Sea Shepherd will therefore increase night patrols to protect these endangered species.
In recent weeks, crews of the R/V Martin Sheen and M/V Farley Mowat have been successfully dragging specially constructed hooks to find the illegal fishing gear. Just two weeks ago, the crews were able to free a humpback whale that was entangled in a gillnet. The gillnet was set for totoaba. Totoaba are targeted by poachers for their swim bladders while vaquita are often caught and drown in the gillnets used to catch totoaba, due to their similar size. Scientists studying the vaquita estimate that there are less than 100 individuals left and that the population is declining at 18.5 percent each year.
In April, 2015, Mexican President Enrique Peña Nieto announced a two-year ban on the use of gillnets in a 13,000 square kilometer range of the Gulf of California. Sea Shepherd's ships the R/V Martin Sheen and M/V Farley Mowat, a former U.S. Coast Guard Cutter, have been patrolling the Vaquita Refuge since November 2015 in an effort to stop poaching of the totoaba and remove any illegal fishing gear to save the vaquita.
"Finding the dead vaquita was heartbreaking and my biggest fear became reality," commented Operation Milagro campaign leader and M/V Farley Mowat captain, Oona Layolle. "The crew of both Sea Shepherd ships have worked so hard alongside the Mexican Navy and PROFEPA to save the vaquita. With so many poachers operating at night, we will increase our night patrols to protect the vaquita."
Since Dec. 31, 2015, the Mexican government authorized Sea Shepherd to remove gillnets and other illegal fishing gear in the gillnet ban zone.
Captain Layolle continued, "This may seem like a horrible setback (and it is certainly horrible), but our efforts to save the vaquita will continue, stronger than ever. We are and will keep, doing our best so these beautiful and shy animals will not become extinct on our watch."
YOU MIGHT ALSO LIKE
Ocean 'Artivist' Creates Breathtaking Coral Reef Sculptures
Young Humpback Whale Found Dead, Exposes Devastating Impacts of Ocean Trash
TED Talk: 'It's Not Too Late for Our Oceans'
Whale Found Dead With Small Pieces of Plastic Garbage in Its Stomach
Bill Maher is sick of billionaires' obsession with Mars, more like "Mars-a-Lago," he said.
In a new animation produced by ATTN:, the popular talk show host of Real Time, discusses the perils of our planet, including how "climate change is killing us."
Keep reading...
Show less
Dr. Benjamin D. Santer, research scientist
A group of prominent climate scientists have written a study explicitly refuting statements made by the U.S. Environmental Protection Agency Administrator Scott Pruitt on climate data. During his Senate confirmation hearing, Pruitt claimed in a written response that satellite data shows a "leveling off" of warming over the past two decades.
Keep reading...
Show less
By David Pomerantz
The Nevada Assembly passed a bill Wednesday that would dramatically increase the growth of renewable energy in the state, but Sheldon Adelson, the casino magnate and major donor to Donald Trump, is attempting to prevent the bill from becoming law.
Keep reading...
Show less
Matt Crossick
By Yosola Olorunshola
Whether it's through fashion or protest, Vivienne Westwood is not a woman afraid of making a statement.
On May 23, she rocked up to the residence of the Archbishop of Canterbury in London with a special guest—the Grim Reaper—to issue a strong statement on the Church of England's position on fracking.
Keep reading...
Show less
Military veterans from across Virginia released a letter Thursday opposing two proposed fracked-gas pipelines: Dominion Energy's Atlantic Coast Pipeline and EQT's Mountain Valley Pipeline. These pipelines would cross through pristine areas of Virginia, taking private property by use of eminent domain, removing mountain ridgetops and threatening valuable drinking water resources. The veterans view this as contrary to their service to protect and defend the freedom and security of American citizens.

Keep reading...
Show less
By Paul Brown
The food industry and big agricultural concerns are driving climate change and at the same time threatening to undermine efforts to feed the world's growing population, according to GRAIN, an organization that supports small farmers.
Particularly singled out for criticism are the large chemical fertilizer producers that have gained access to the United Nations talks on climate change. GRAIN accuses them of behaving like the fossil fuel companies did in the 1990s, pushing false information in the hope of delaying real action on climate change.
Keep reading...
Show less
May. 24, 2017 06:55PM EST
By Sydney Robinson
President Trump has no doubt been given a long list of extravagant, elaborate gifts in his lifetime, but the gift given to him today by Pope Francis may not make it on his most favorite list.
Keep reading...
Show less
May. 24, 2017 07:17PM EST
By John Rogers
Maybe it's because I first started working on clean energy while serving in the Peace Corps he founded, or maybe it's my years of working on these issues from his home state. But I can't help thinking about the 100th anniversary of John F. Kennedy's birth, and connecting his stirring rhetoric to the energy challenges of our times.
Here's what our 35th president might have said about the challenges of energy transition and the opportunities in clean energy:
"Change is the law of life. And those who look only to the past or present are certain to miss the future."
Keep reading...
Show less


Get EcoWatch in your inbox