This website uses cookies to ensure you get the best experience while browsing it. By clicking 'Got It' you're accepting these terms.
End Nuclear Power Now, Says World Uranium Symposium
Apr. 25, 2015 09:19AM EST
Uranium mining across the world should cease, nuclear power stations be closed and nuclear weapons be banned, according to a group of scientists, environmentalists and representatives of indigenous peoples.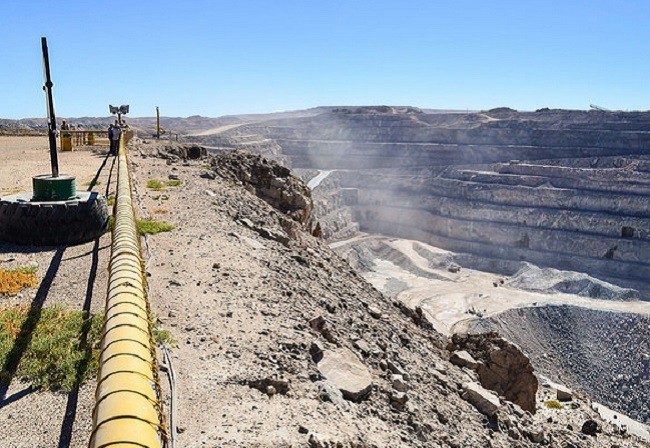 Three hundred delegates from 20 countries that produce uranium for nuclear power, weapons and medical uses called for an end to all uranium mining in a declaration launched on Earth Day this week at a meeting in Quebec, Canada.
The venue for the World Uranium Symposium was chosen because Quebec state is currently considering whether to continue its moratorium on uranium mining, having already closed down its only nuclear power plant in 2013.
Symbolic choice
The city of Quebec is also symbolic because this is where Canada, the U.S. and the UK made a cooperation agreement in 1943 that led to the building of the world's first nuclear weapons. Two of the resulting atomic bombs were used to destroy the Japanese cities of Hiroshima and Nagasaki in 1945.
But the symposium was more concerned about the damage that existing uranium mining is doing to the welfare of indigenous peoples, and the "erroneous view" that nuclear power can help solve the problem of climate change.
The declaration applauded the expansion of renewable energy and the significant strides in phasing out nuclear power following the growing awareness that "nuclear power is not a cost-effective, timely, practical or safe response to climate change."
It called for "a worldwide ban on uranium exploration, mining, milling and processing, as well as the reprocessing of nuclear waste and the irresponsible management of radioactive waste."
Dr. Eric Notebaert, associate professor of medicine at the University of Montreal, co-president of the Symposium, and member of the Canadian Association of Physicians for the Environment, said that the symposium delegates all agreed that "the risks to health, safety and the environment represented by the entire nuclear fuel chain—from uranium mines, to power reactors, to nuclear weapons, to radioactive wastes—greatly exceed the potential benefits for society."
Dr. Juan Carlos Chrigwin, a physician affiliated with McGill University, and president of Physicians for Global Survival, said: "The issuing of this World Declaration on Uranium is the culmination of essential work carried out over many years by international coalitions who, despite geographical and cultural differences, share common objectives and who desire to shape a common vision of a better world.
"Uranium does not provide a viable or sustainable approach for dealing with climate change, nor for providing isotopes for medical use. Today, there are a number of medical and energy alternatives that are cheaper and safer."
The declaration is open for organizations and individuals to sign on the internet and is bound to put further pressure on an industry already suffering from falling confidence.
The price of uranium has dropped from $138 a tonne in 2007 to less than $40 a tonne currently as plans to build more nuclear stations have been shelved in several countries.
While the search continues for rich new uranium deposits—particularly by China in Africa and the U.S. in Greenland—it is unlikely to be economically viable to exploit them at current prices.
Carbon footprint
According to the World Nuclear Association, 52 percent of the world's production comes from 10 mines in six countries. The largest is in Canada, followed by one in Australia, but the largest single producer is Kazakhstan, which has four mines in the top 10 in the world. In Africa, Niger and Namibia are also big producers.
While many pro-nuclear governments—including the UK's—regard nuclear power as a clean, low-carbon form of energy, the politicians ignore the carbon footprint of the mines and the consequences for the health of workers.
It is in developing countries that the miners and the local environment tend to suffer most because of open cast mines. For example, large areas of Kazakhstan are too dangerous to inhabit as a result of mountains of uranium tailings and mildly radioactive dust.
The Symposium's co-president, Dr. Dale Dewar—a physician who is associate professor at the University of Saskatchewan and is co-author of the book, From Hiroshima to Fukushima to You—summed up by saying: "We are calling on national and international leaders to protect our planet and our populations from any further nuclear catastrophes. Anything less would be irresponsible."
YOU MIGHT ALSO LIKE
How Ohio's Energy Economy Became a Radioactive 19th Century Relic
NY Fracking Ban, People's Climate March and Recycling Center Celebrated at Awards Event
14-Year-Old 'Kid Warrior' Rallies Youth Around the World to Protect the Planet
EcoWatch Daily Newsletter
Mizina / iStock / Getty Images
Oats are widely regarded as one of the healthiest grains you can eat, as they're packed with many important vitamins, minerals, and fiber.
JPMorgan Chase building in New York City. Ben Sutherland / CC BY 2.0
By Sharon Kelly
A report published Wednesday names the banks that have played the biggest recent role in funding fossil fuel projects, finding that since 2016, immediately following the Paris agreement's adoption, 33 global banks have poured $1.9 trillion into financing climate-changing projects worldwide.
Sriram Madhusoodanan of Corporate Accountability speaking on conflict of interest demand of the People's Demands at a defining action launching the Demands at COP24. Corporate Accountability
By Patti Lynn
2018 was a groundbreaking year in the public conversation about climate change. Last February, The New York Times reported that a record percentage of Americans now believe that climate change is caused by humans, and there was a 20 percentage point rise in "the number of Americans who say they worry 'a great deal' about climate change."
The head of England's Environment Agency has urged people to stop watering their lawns as a climate-induced water shortage looms. Pexels
England faces an "existential threat" if it does not change how it manages its water, the head of the country's Environment Agency warned Tuesday.
Pexels
By Jessica Corbett
A new analysis revealed Tuesday that over the past two decades heat records across the U.S. have been broken twice as often as cold ones—underscoring experts' warnings about the increasingly dangerous consequences of failing to dramatically curb planet-warming emissions.
A flock of parrots in Telegraph Hill, San Francisco.
~dgies / Flickr
By Madison Dapcevich
Ask any resident of San Francisco about the waterfront parrots, and they will surely tell you a story of red-faced conures squawking or dive-bombing between building peaks. Ask a team of researchers from the University of Georgia, however, and they will tell you of a mysterious string of neurological poisonings impacting the naturalized flock for decades.
Fire burns in the North Santiam State Recreational Area on March 19. Oregon Department of Forestry
An early-season wildfire near Lyons, Oregon burned 60 acres and forced dozens of homes to evacuate Tuesday evening, the Oregon Department of Forestry (ODF) said, as KTVZ reported.
The initial cause of the fire was not yet known, but it has been driven by the strong wind and jumped the North Santiam River, The Salem Statesman Journal reported. As of Tuesday night, it threatened around 35 homes and 30 buildings, and was 20 percent contained.
Edwin Hardeman is the plaintiff in the first U.S. federal trial claiming that Roundup causes cancer. NOAH BERGER / AFP / Getty Images
A second U.S. jury has ruled that Roundup causes cancer.
The unanimous verdict was announced Tuesday in San Francisco in the first federal case to be brought against Monsanto, now owned by Bayer, alleging that repeated use of the company's glyphosate-containing weedkiller caused the plaintiff's cancer. Seventy-year-old Edwin Hardeman of Santa Rosa, California said he used Roundup for almost 30 years on his properties before developing non-Hodgkin's lymphoma.
The decision comes less than a year after a jury awarded $289 million to Bay-area groundskeeper Dewayne Johnson over similar claims. The amount was later reduced to $78 million.
"Today's verdict reinforces what another jury found last year, and what scientists with the state of California and the World Health Organization have concluded: Glyphosate causes cancer in people," Environmental Working Group President Ken Cook said in a statement. "As similar lawsuits mount, the evidence will grow that Roundup is not safe, and that the company has tried to cover it up."
Judge Vince Chhabria has split Hardeman's trial into two phases. The first, decided Tuesday, focused exclusively on whether or not Roundup use caused the plaintiff's cancer. The second, to begin Wednesday, will assess if Bayer is liable for damages.

"We are disappointed with the jury's initial decision, but we continue to believe firmly that the science confirms glyphosate-based herbicides do not cause cancer," Bayer spokesman Dan Childs said in a statement reported by The Guardian. "We are confident the evidence in phase two will show that Monsanto's conduct has been appropriate and the company should not be liable for Mr. Hardeman's cancer."
Some legal experts said that Chhabria's decision to split the trial was beneficial to Bayer, Reuters reported. The company had complained that the jury in Johnson's case had been distracted by the lawyers' claims that Monsanto had sought to mislead scientists and the public about Roundup's safety.

However, a remark made by Chhabria during the trial and reported by The Guardian was blatantly critical of the company.
"Although the evidence that Roundup causes cancer is quite equivocal, there is strong evidence from which a jury could conclude that Monsanto does not particularly care whether its product is in fact giving people cancer, focusing instead on manipulating public opinion and undermining anyone who raises genuine and legitimate concerns about the issue," he said.
Many regulatory bodies, including the U.S. Environmental Protection Agency, have ruled that glyphosate is safe for humans, but the World Health Organization's International Agency for Research on Cancer found it was "probably carcinogenic to humans" in 2015. A university study earlier this year found that glyphosate use increased cancer risk by as much as 41 percent.
Hardeman's lawyers Jennifer Moore and Aimee Wagstaff said they would now reveal Monsanto's efforts to mislead the public about the safety of its product.
"Now we can focus on the evidence that Monsanto has not taken a responsible, objective approach to the safety of Roundup," they wrote in a statement reported by The Guardian.
Hardeman's case is considered a "bellwether" trial for the more than 760 glyphosate cases Chhabria is hearing. In total, there are around 11,200 such lawsuits pending in the U.S., according to Reuters.
University of Richmond law professor Carl Tobias told Reuters that Tuesday's decision showed that the verdict in Johnson's case was not "an aberration," and could possibly predict how future juries in the thousands of pending cases would respond.