This website uses cookies to ensure you get the best experience while browsing it. By clicking 'Got It' you're accepting these terms.
Encourage your Senators to Implement Strong Air Standards
Dec. 01, 2011 06:59PM EST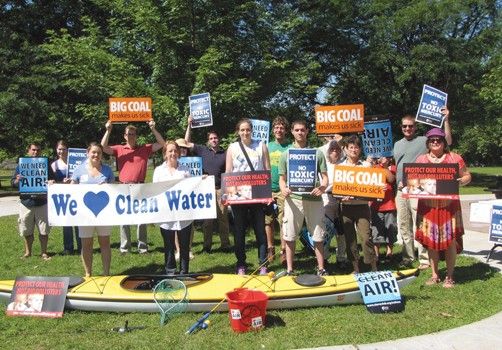 by Marnie Urso
My work on mercury pollution began one cold December morning in 2003 when I bundled my four month old baby in her bunting and drove through the slosh to Burke Lakefront Airport in Cleveland along the Lake Erie shore. Upon arrival, I joined dozens of protesters to greet the U.S. Environmental Protection Agency (EPA) Secretary at the time, Mike Leavitt. Secretary Leavitt had descended upon Cleveland to promote the new Bush Administration rules to regulate mercury pollution from power plants.
At first, you would think that a new mother and environmental activist would welcome such news. After all, coal-fired power plants are the single largest source of mercury pollution, arsenic and acid gases, and account for 25 percent of all toxic metal emissions in the U.S. These pollutants are linked to cancer, heart disease, neurological damage, birth defects, asthma attacks and premature death. Coal-fired power plants are responsible for 99 percent of all mercury emissions from the power sector in the U.S. Mercury pollution poses particular risks to children, affecting their ability to walk, talk, read and write.
Unfortunately, the Bush Administration's proposed rules were severely flawed and fell far short from what was necessary to protect people, animals and the environment from toxic mercury pollutants. Instead of seizing the opportunity to protect the public health from this harmful neurotoxin, as mandated by the courts, the Bush Administration took the opportunity to protect the polluters. Those rules were eventually tossed out by the courts because they did not adequately protect the public's health.
Fast forward to a sunny brisk spring day in 2011, when I dropped off my 7 year old daughter at school and headed to Cleveland's Rainbow Babies and Childrens' Hospital. There I met with parents, children, health professionals, and environmental health advocates to applaud the Obama Administration's new mercury regulations that will for the first time cut mercury emissions from power plants nationwide by 91 percent, reduce arsenic and acid gases by 91 percent, prevent 12,200 trips to the hospital and save up to 17,000 lives each year once implemented. Hundreds of Audubon members and concerned citizens from across Ohio spent that spring and summer submitting comments on the proposed protections. We all eagerly awaited the final rules that were scheduled to come out in July.
I watched as the Plain Dealer editorialized that the mercury rules were too much too fast and I then celebrated my daughter's eighth birthday in August. She was, along with other children in Northeast Ohio, still being subjected to the dangers of high levels of mercury pollution. Unfortunately, as we prepare for the winter holidays, nothing has changed in how mercury is regulated, as the U.S. EPA has delayed the implementation of its rules to reduce mercury emissions from power plants. Further there is pressure from many in the Congress to delay and weaken them even further or eliminate them all together.
The mercury contamination problem in the U.S. is so widespread that as many as one in six women of childbearing age is likely to have mercury levels in her blood high enough to put her baby at risk for mercury poisoning. The health benefits associated with these updated standards are $59 billion to $140 billion in 2016. This means that for every dollar spent to reduce pollution from power plants, we get $5 to $13 in health benefits. The U.S. EPA needs to stand its ground and move forward with the strongest air toxics protections possible to defend public health and protect children from toxic mercury pollution.
We need to keep the promise we made to future generations and implement rules that will clean the air by reducing harmful air pollution toxins like mercury, arsenic, carbon dioxide and ozone. We need leadership that will oppose the polluters who say our kids are not worth the cost of reducing these dangerous emissions. Clean air programs have provided strong public health protections that have saved hundreds of thousands of lives and prevented countless asthma attacks, heart attacks and early deaths.
Contact U.S. Senators Sherrod Brown (D-OH) and Rob Portman (R-OH) at 202-224- 3121 and tell them that we have waited long enough. Our families should be able to breathe fresh air and drink clean water without worrying about mercury in their bloodstream or soot in their lungs. Tell them to support the implementation of the Mercury and Air Toxics Rule, and stop further delay.
For more information, visit www.audubon.org.
--------
Marnie Urso is the grassroots coordinator for Audubon Ohio. The mission of Audubon Ohio is to conserve and restore natural ecosystems, focusing on birds, other wildlife, and their habitats in Ohio by promoting conservation and biodiversity through education and advocacy. She can be reached at murso@audubon.org.
EcoWatch Daily Newsletter
Tuna auctions are a tourist spectacle in Tokyo. Outside the city's most famous fish market, long queues of visitors hoping for a glimpse of the action begin to form at 5 a.m. The attraction is so popular that last October the Tsukiji fish market, in operation since 1935, moved out from the city center to the district of Toyosu to cope with the crowds.

gmnicholas / E+ / Getty Images
Kristan Porter grew up in a fishing family in the fishing community of Cutler, Maine, where he says all roads lead to one career path: fishing. (Porter's father was the family's lone exception. He suffered from terrible seasickness, and so became a carpenter.) The 49-year-old, who has been working on boats since he was a kid and fishing on his own since 1991, says that the recent warming of Maine's cool coastal waters has yielded unprecedented lobster landings.
Aerial view of lava flows from the eruption of volcano Kilauea on Hawaii, May 2018. Frizi / iStock / Getty Images
Hawaii's Kilauea volcano could be gearing up for an eruption after a pond of water was discovered inside its summit crater for the first time in recorded history, according to the AP.
The Eqip Sermia Glacier is seen behind a moraine left exposed by the glacier's retreat during unseasonably warm weather on Aug. 1 at Eqip Sermia, Greenland. Sean Gallup / Getty Images
hadynyah / E+ / Getty Images
By Johnny Wood
The Ganges is a lifeline for the people of India, spiritually and economically. On its journey from the Himalayas to the Bay of Bengal, it supports fishermen, farmers and an abundance of wildlife.
The river and its tributaries touch the lives of roughly 500 million people. But having flowed for millennia, today it is reaching its capacity for human and industrial waste, while simultaneously being drained for agriculture and municipal use.
Here are some of the challenges the river faces.
By Jake Johnson
As a growing number of states move to pass laws that would criminalize pipeline protests and hit demonstrators with years in prison, an audio recording obtained by The Intercept showed a representative of a powerful oil and gas lobbying group bragging about the industry's success in crafting anti-protest legislation behind closed doors.
Reposted with permission from our media associate Common Dreams.

DESIREE MARTIN / AFP / Getty Images
Wildfires raging on Gran Canaria, the second most populous of Spain's Canary Islands, have forced around 9,000 people to evacuate.